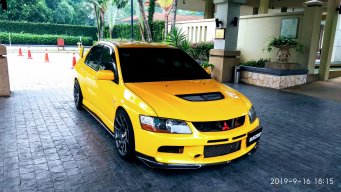 Oct 8, 2010
6,756
1,299
1,713
So can travel long distance together with family. Won't be too loud or bumpy but still got sufficient power. Almost like your VR.

But that actually looks like what the Evo X is trying to do. It does seemed more user friendly and comfortable than the CT9A series before it. Previous Evo are all spartan and equipped with basic stuffs only. I think Evo X is the only Evo that differs the most from the rest of the family.
That's why IMHO Evo X is kinda missing the point (just like Evo VII GTA) and was very disappointed when it came!

It tried to be exactly what you said, tried to cater for different type of people but then ended up disappointing many real Evo fans and yet unable to attract new target market that its aiming for! That's why also CP9As & CT9As are still very highly regarded as legendary JDMs while Evo X is just meh and maybe caused the death of this legendary car. You just see the price of Evo IX compared to X which is about the same now, I think that kind of reflect what I said. Just wait a few more years, I suspect Evo X prices will drop lower than IX, or even a good condition VIII MR.
Honestly speaking, before i really drive sst and i felt same as most of you guys, unless you planning to make tremendous power, else stop bashing sst, i had seen a lot of sst with bolts on only last more than 100k km without issues, of course must be with proper maintenance and sst cooler upgrade , some are Singaporean who go to sepang track days as well, even with higher power, sst have clutch upgrade as manual do, it is all abt the money u spending, even manual, if you make high hp on manual you still need clutch upgrade what
It's not just about power or if the transmission can handle more power. It's more about having the purest of driving fun with the manual transmission in a car that's just basically created as a street legal rally car, dollar-for-dollar one of the quickest car ever created.