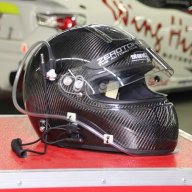 Jul 6, 2000
5,486
3,190
5,213
Bad weather frequently haunts the Malaysian GP. Even this week, being the final show at Sepang Circuit, saw intermittent showers throughout the day and even put a stop to today's first Free Practice session. It must have been a nightmare for the teams, operating under all that water drama, not to mention humidity and inconvenience. They were only allowed to go out at Free Practice 2
Needless to say, the teams and drivers will then have to capitalize on their second practice session. However, just shortly after commencement of FP2, the session ended with a bang. Yes, there was a crash. Sepang was faced with yet another red light session.
This time it's not rain, it's the drain.
It was Romain Grosjean. He was seen exiting the high speed Turn 12 and upon clipping the inside curb of T13 on entry, sent his Haas car into a spin instantly. The entire rear right tyre was completely destroyed and its carcass was launched into the air. Grosjean, still carrying plenty of speed, subsequently ploughed through the gravel trap and smacks the tyre wall with more force than just a thud. It was the rear, towards the rear left tyre that had collided with the tyre wall.
A stray drain cover was the culprit. It is virtually unavoidable, nestled at the very edge of the curb at Turn 13, where most drivers would naturally travel wide upon exiting Turn 12 and brush the said curb.
Further examination revealed that, the drain cover was seen dislodged out of place right after Valtteri Bottas passed the site. Then came Kimi Raikkonen, who somehow just managed to avoid clipping the drain cover and marched on. It was Grosjean who had to bite the dust.
https://www.youtube.com/watch?v=j0c2_TFyxEI
Amidst the drama, at least Grosjean was unhurt as he was seen exiting the car almost immediately after the impact.
"So we shall re-weld where necessary and then tonight we shall check everything. We have to get it fixed for tomorrow." said*Charlie Whiting.
Charlie Whiting, FIA Formula One Race Director, also the Safety Delegate and Permanent Starter plus head of the F1 Technical Department said the covers are typically welded down but has the piece had somehow managed to break loose. Unsafe pieces will be replaced.
If you're wondering wether the Formula 1 management would carry out inspection throughout the entire 5.5KM circuit to repair each and every drain cover, Charlie says,
"Yes. For the rest of the day we shall concentrate on that. They've been welded a long time, I expect"