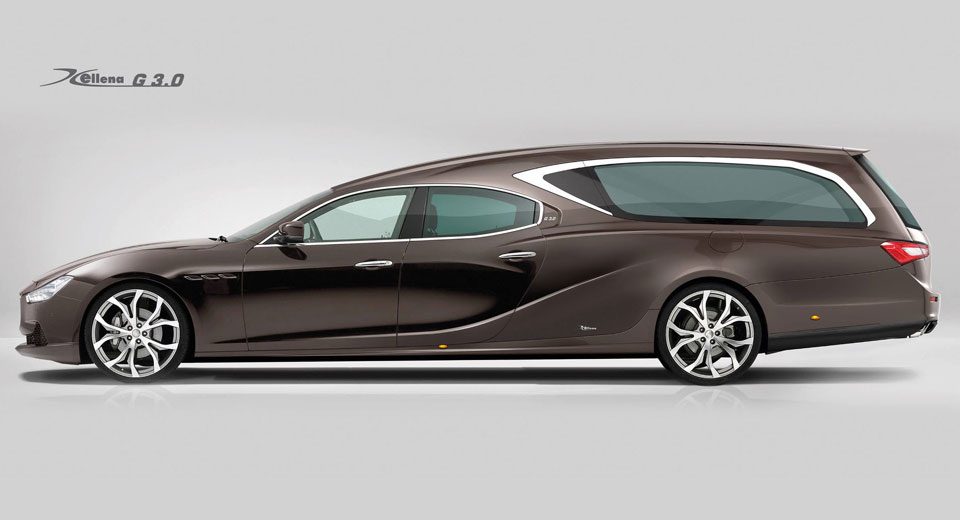 Maserati designers may just be shocked to death at the sight of this. Never have they thought that an Italian firm, Ellena srl Autotrasformazioni would turn the beautiful Maserati Ghibli into a hearse. Ellena srl Autotrasformazioni is a company that provides fancy last rides for people, with Mercedes-Benz lineup being the other two model in its fleet.
It is not clear why the Ghibli was chosen by the firm in the first place, but the final result resembles a child from a result of last year's one-night-stand between a spaceship and the Ghibli. A flashy way to throttle oneself out of mortality for sure.
The front half of the car looks just like any other Ghibli, but from the half of rear doors, that's where major changes take place. The entire roofline has been replaced with new panels that arch upwards before levelling out at the new rear section, giving additional "headroom".
The rear axle has been re-positioned, adding about a meter to its wheelbase. Its rear end meanwhile gets an extended bumper, apart from reprofiled rear-wheel fenders that starts from rear doors. Quad tailpipes and tail lights however are from regular Ghiblis.