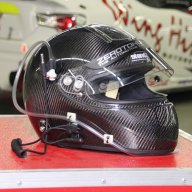 Jul 6, 2000
5,553
3,223
5,213
The latest 5th gen Turbo CR-V is also Honda's greatest SUV ever, and it's now here in Malaysia. Since its inception in 1995, the CR-V has sold over 8.7mil units worldwide. History was made when Honda Malaysia spawned its locally assembled CR-V at their Melaka plant in 2003, contributing over 68,000 units throughout its lifetime.
The stats really boomed in 2013 when the 4th gen CR-V itself topped over 30,000 units as of 2017. It truly is the best performing SUV in it's class.

Turbo Power
You've heard about it by now, Honda's newest 1.5L VTEC turbo engine that was seen in the Civic will also power the CR-V. This new force fed engine makes 193ps and 243nm, which means the CR-V gets 20 PS and 23 Nm more than the current turbo Civic
1.5L Turbocharged Premium 2WD,
1.5L Turbocharged 2WD, and
1.5L Turbocharged 4WDA 2.0L i-VTEC (2WD) naturally aspirated engine option will be available for those who wish to opt out of Honda's boosted variants.
<iframe class="instagram-media instagram-media-rendered" id="instagram-embed-0" src="https://www.instagram.com/p/BWbpTnpjGRO/embed/captioned/?cr=1&v=7&wp=556#%7B%22ci%22%3A0%2C%22os%22%3A1025.04%7D" allowtransparency="true" data-instgrm-payload-id="instagram-media-payload-0" scrolling="no" style="background: rgb(255, 255, 255) none repeat scroll 0% 0%; border: 1px solid rgb(219, 219, 219); margin: 1px 1px 12px; max-width: 658px; width: calc(100% - 2px); border-radius: 4px; box-shadow: none; display: block; padding: 0px;" height="810" frameborder="0"></iframe>
<script async="" defer="" src="//platform.instagram.com/en_US/embeds.js"></script>
Statement By Honda Malaysia MD & CEO Katsuto Hayashi
Honda Malaysia Managing Director and Chief Executive Officer, Mr. Katsuto Hayashi says, "To set a higher benchmark in the segment and exceed customers' expectations, Honda Malaysia has shifted to focus more on Advanced Technology starting with the introduction of the 1.5L VTEC Turbocharged Civic and New Jazz Sport Hybrid i-DCD.
We are very excited to show you the 5th Generation All-New CR-V that is equipped with three key Advanced Technologies, the '1.5L VTEC Turbocharged Engine', 'Honda SENSING' and advanced features such as 'Programmable Power Tailgate'. We believe this focus transition will lead us to make 'Tomorrow's Dream, Today's Reality'. We are also proud to note that Malaysia is the first country in ASEAN that is introducing Honda SENSING, the Next Generation Advanced Safety Technology in the All-New CR-V."
CVT Transmission
All CR-V variants will come with Honda's Earth Dreams CVT 'box that promises fast gearshifts as well as an engaging drive. This CVT transmission will also feature steering mounted paddle shifters

New Body
The CR-V has a bold new look now. It's strong wing face and angular body lines were reprofiled to display a meaner stance and the results show. The CR-V also possess a higher ground clearance at 198mm on the 2WD models and even higher 208mm on the more adventurous 4WD models.
LED lighting powers all sides of the CR-V today. The new LED headlights feature unique daytime running lights as well as new LED foglights. LED taillights and brake lights are featured on the rear.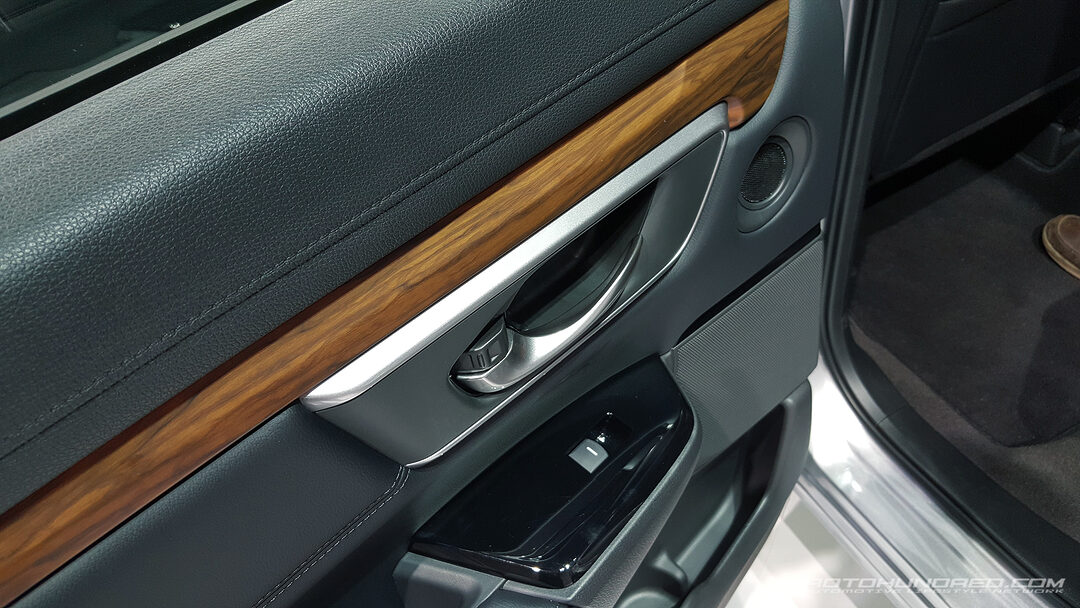 Man Maximum, Machine Minimum
Honda's new signature concept of "Man Maximum, Machine Minium" design principle is clearly seen in the new CR-V. Promising an even larger cabin space than ever before, they've bumped rear legroom by a substantial 90mm and the flexible configuration of the rear seats now provide increased convenience by laying flat to extend cargo space by up to 1,084 litres. This is up to 250mm more space than its predecessor.

Power Tailgate
Yes, this piece of tech is has now reached the CR-V. Rather than just allowing operation of the rear bootlid via a one-push button to open, stop and hold, Honda's pushed the envelope further by integrating a "Programmable Power Tailgate" function which enable users to control the height and opening of the tailagate. It is yet another premium feature offered by Honda Malaysia for the first time.

New CR-V has Advanced Tech Features
You've heard about Honda Sensing haven't you? So what is it?. It's Honda's next gen advanced safety tech to assist drivers in avoiding potentially dangerous driving conditions. This also Honda Malaysia's virgin introduction of the system in the country.
There are 3 safety categories suites that comprise of 7 functions.
a) Driver Cruising Aid

Adaptive Cruise Control (ACC)
Low-Speed Follow (LSF)

b) Frontal Collision Deterrence3. Forward Collision Warning (FCW)4. Collision Mitigation Braking System (CMBS)
c) Side Collision Deterrence:5. Lane Departure Warning (LDW) 6. Road Departure Mitigation (RDM) 7. Lane Keep Assist System (LKAS)

Prices, Sales & Aero Package
Honda plans to sell
700
of these per month and judging by their current momentum, they might just meet or surpass that figure.
//www.zerotohundred.com/2017/honda-malaysia-positive-about-selling-100k-cars-here-in-2017/
Here are the prices without insurance of the four variants:
2.0L 2WD priced at RM142,400
1.5L Turbocharged 2WD priced at RM155,700
1.5L Turbocharged 4WD priced at RM161,600
1.5L Turbocharged Premium 2WD priced at RM167,700
The CR-V's Aero Package is compatible with its non Premum variants and is available as an option for the 2.0L 2WD and 1.5L VTEC Turbocharged variants at RM5,900 and RM5,700 respectively. The Aero package comprises of:
Front Aero Bumper
Running Board
Rear Aero Bumper
Exhaust Pipe Finisher (2.0L 2WD only)
These accessories package prices are after 10% discount, giving savings of up to RM665.
CR-V Body Colours
The All-New CR-V is available in five colour options:
Dark Olive Metallic: an all-new colour for any new Hondas
White Orchid Pearl: new colour for the CR-V
Obsidian Blue Pearl: new colour for the CR-V
Lunar Silver Metallic
Modern Steel Metallic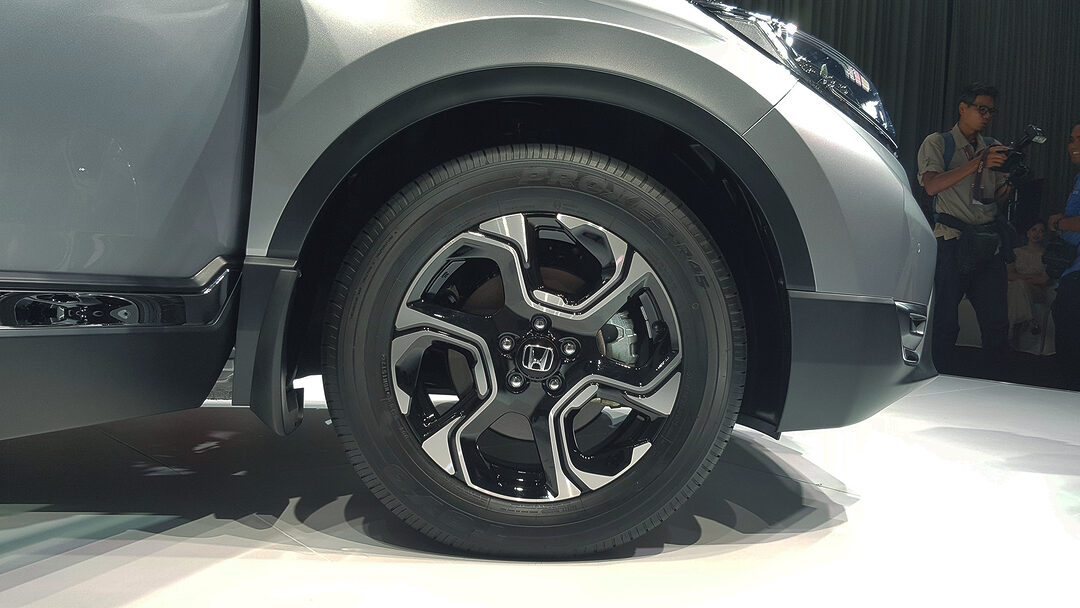 Specifications
<table id="specification_table"> <tbody> <tr> <th class="specification_title">Models</th> <td class="specification_title" align="center">Honda CR-V 2.0 2WD</td> <td class="specification_title" align="center">Honda CR-V 1.5 TC 2WD</td> <td class="specification_title" align="center">Honda CR-V 1.5 TC 4WD</td> <td class="specification_title" align="center">Honda CR-V 1.5 TC-P 2WD</td> </tr> <tr> <td class="main_subrow" colspan="5">Engine</td> </tr> <tr> <td>Engine Type</td> <td align="center">4 Cylinder, 16 Valve, SOHC
i-VTEC</td> <td align="center">4 Cylinder, 16 Valve, DOHC VTEC TURBO</td> <td align="center">4 Cylinder, 16 Valve, DOHC VTEC TURBO</td> <td align="center">4 Cylinder, 16 Valve, DOHC VTEC TURBO</td> </tr> <tr> <td>Fuel Supply System</td> <td align="center">Electronic Fuel Injection (PGM-FI)</td> <td align="center">Electronic Fuel Injection (PGM-FI)</td> <td align="center">Electronic Fuel Injection (PGM-FI)</td> <td align="center">Electronic Fuel Injection (PGM-FI)</td> </tr> <tr> <td>Displacement (cc)</td> <td align="center">1997</td> <td align="center">1498</td> <td align="center">1498</td> <td align="center">1498</td> </tr> <tr> <td>Maximum Power [PS(kW)@rpm]</td> <td align="center">154(113)@6,500</td> <td align="center">193(142)@5,600</td> <td align="center">193(142)@5,600</td> <td align="center">193(142)@5,600</td> </tr> <tr> <td>Maximum Torque (Nm[kg-m]@rpm)</td> <td align="center">189(19.3)@4,300</td> <td align="center">243(24.8)@2,000-5,000</td> <td align="center">243(24.8)@2,000-5,000</td> <td align="center">243(24.8)@2,000-5,000</td> </tr> <tr> <td class="main_subrow" colspan="5">Performance</td> </tr> <tr> <td>Maximum Speed (Km/h)</td> <td align="center">193</td> <td align="center">200</td> <td align="center">200</td> <td align="center">200</td> </tr> <tr> <td>Acceleration 0 - 100Km/h (seconds)</td> <td align="center">11.3</td> <td align="center">8.8</td> <td align="center">9.2</td> <td align="center">8.8</td> </tr> <tr> <td class="main_subrow" colspan="5">Transmission</td> </tr> <tr> <td>Transmission Type</td> <td align="center">Continuous Variable Transmission (CVT)</td> <td align="center">Continuous Variable Transmission (CVT)</td> <td align="center">Continuous Variable Transmission (CVT)</td> <td align="center">Continuous Variable Transmission (CVT)</td> </tr> <tr> <td class="main_subrow" colspan="5">Steering System</td> </tr> <tr> <td>Type</td> <td align="center">Electric Power Steering (EPS)</td> <td align="center">Electric Power Steering (EPS)</td> <td align="center">Electric Power Steering (EPS)</td> <td align="center">Electric Power Steering (EPS)</td> </tr> <tr> <td>Turning Radius at Body (m)</td> <td align="center">5.9</td> <td align="center">5.9</td> <td align="center">5.9</td> <td align="center">5.9</td> </tr> <tr> <td class="main_subrow" colspan="5">Brake System</td> </tr> <tr> <td>Front</td> <td align="center">Ventilated Disc</td> <td align="center">Ventilated Disc</td> <td align="center">Ventilated Disc</td> <td align="center">Ventilated Disc</td> </tr> <tr> <td>Rear</td> <td align="center">Solid Disc</td> <td align="center">Solid Disc</td> <td align="center">Solid Disc</td> <td align="center">Solid Disc</td> </tr> <tr> <td>Parking Brake Type</td> <td align="center">Electric Parking Brake</td> <td align="center">Electric Parking Brake</td> <td align="center">Electric Parking Brake</td> <td align="center">Electric Parking Brake</td> </tr> <tr> <td class="main_subrow" colspan="5">Suspension System</td> </tr> <tr> <td>Front</td> <td align="center">MacPherson Strut</td> <td align="center">MacPherson Strut</td> <td align="center">MacPherson Strut</td> <td align="center">MacPherson Strut</td> </tr> <tr> <td>Rear</td> <td align="center">Multi Link</td> <td align="center">Multi Link</td> <td align="center">Multi Link</td> <td align="center">Multi Link</td> </tr> <tr> <td class="main_subrow" colspan="5">Dimensions</td> </tr> <tr> <td>Overall Length (mm)</td> <td align="center">4584</td> <td align="center">4584</td> <td align="center">4584</td> <td align="center">4584</td> </tr> <tr> <td>Overall Width (mm)</td> <td align="center">1855</td> <td align="center">1855</td> <td align="center">1855</td> <td align="center">1855</td> </tr> <tr> <td>Overall Height (mm)</td> <td align="center">1679</td> <td align="center">1679</td> <td align="center">1689</td> <td align="center">1679</td> </tr> <tr> <td>Wheelbase (mm)</td> <td align="center">2660</td> <td align="center">2660</td> <td align="center">2660</td> <td align="center">2660</td> </tr> <tr> <td>Tread Front (mm)</td> <td align="center">1601</td> <td align="center">1601</td> <td align="center">1598</td> <td align="center">1601</td> </tr> <tr> <td>Tread Rear (mm)</td> <td align="center">1617</td> <td align="center">1617</td> <td align="center">1613</td> <td align="center">1617</td> </tr> <tr> <td>Curb Weight (kg)</td> <td align="center">1520</td> <td align="center">1543</td> <td align="center">1595</td> <td align="center">1549</td> </tr> <tr> <td>Ground Clearance (mm)</td> <td align="center">198</td> <td align="center">198</td> <td align="center">208</td> <td align="center">198</td> </tr> <tr> <td>Boot Capacity Rear Seat Up (Litre)</td> <td align="center">522</td> <td align="center">522</td> <td align="center">522</td> <td align="center">522</td> </tr> <tr> <td>Boot Capacity Rear Seat Down (Litre)</td> <td align="center">1084</td> <td align="center">1084</td> <td align="center">1084</td> <td align="center">1084</td> </tr> <tr> <td class="main_subrow" colspan="5">Wheels and Tyres</td> </tr> <tr> <td>Alloy Wheels</td> <td align="center">17"</td> <td align="center">18"</td> <td align="center">18"</td> <td align="center">18"</td> </tr> <tr> <td>Tyre Size</td> <td align="center">235/65R17</td> <td align="center">235/60R18</td> <td align="center">235/60R18</td> <td align="center">235/60R18</td> </tr> <tr> <td>Spare Tyre</td> <td align="center">Full Size</td> <td align="center">Full Size</td> <td align="center">Full Size</td> <td align="center">Full Size</td> </tr> </tbody> </table>
For more on the All-New CR-V, test drives and such,