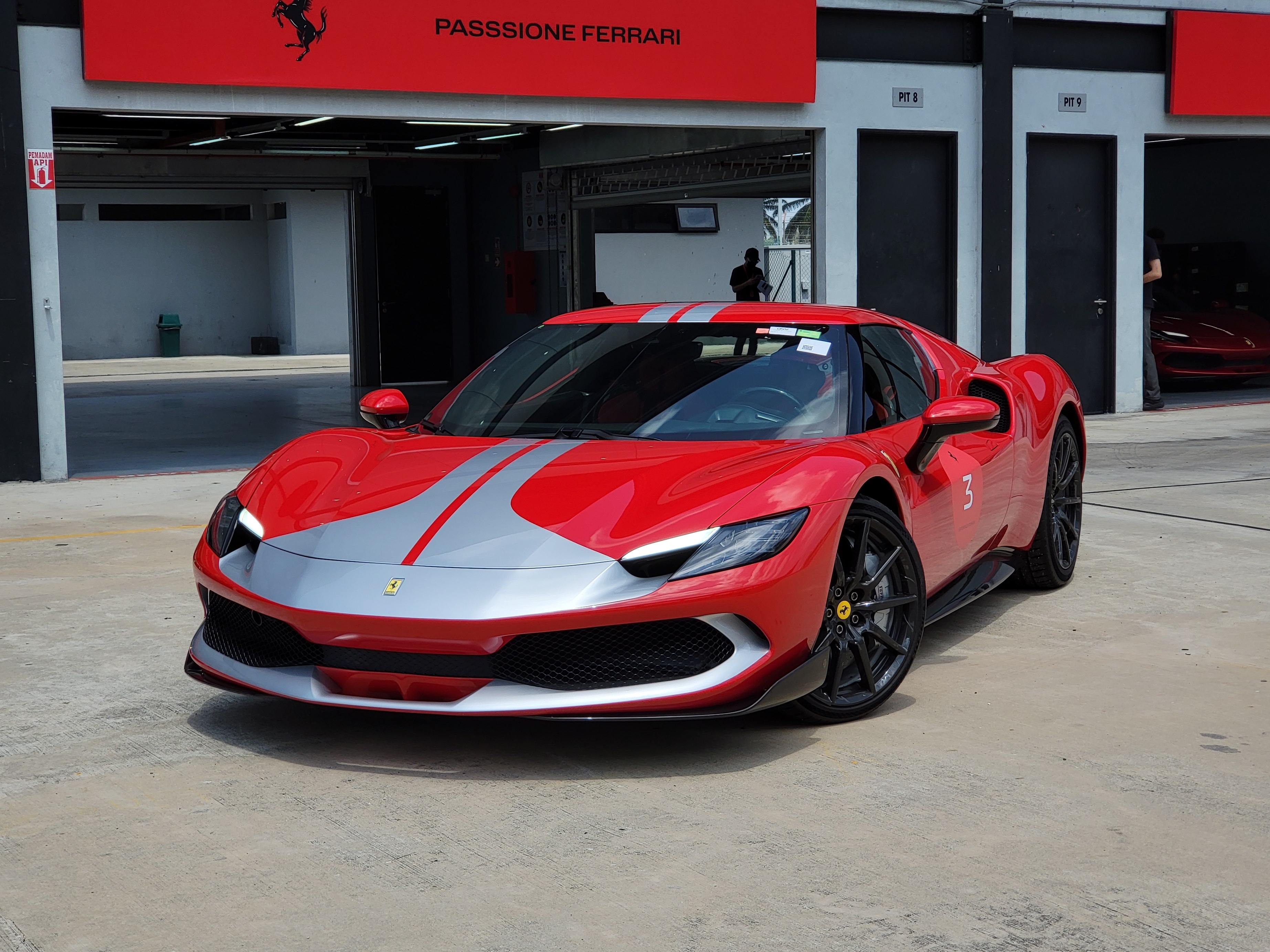 2.9 sec / 830ps total / 740nm / 8,000rpm 663ps 2.9L V6 120° twin turbo + 167ps MGU-K electric motor / 8 speed wet DCT / 1,470kg / 330kmh /
Wheelbase 2,600 mm L:4,565 mm W: 1,958 mm H: 1,187 mm / RM1.228M onwards
First Impressions from the Esperienza Ferrari at Sepang Circuit organised by Ferrari Malaysia
Quite unlike the iconic V8 Berlinettas of past and present, this new, shorter, 830ps V6TT "successor" feels obviously next gen, not just because of its bonus hybrid power, or increment in outright performance, but how it delivers that ability in total, via an all-evolved approach and polished body.
New 296 GTB may look and feel shorter than a F8 but it's no baby Ferrari.
The visually larger, jet fighter-like F8 / 488 we've come to know seem more majestic in comparison to their latest try at the new 296's slightly smaller, cleaner silhouette, which is also inherited from the SF90. It looks less over the top, perhaps more approachable as a daily supercar than the V8 predecessors.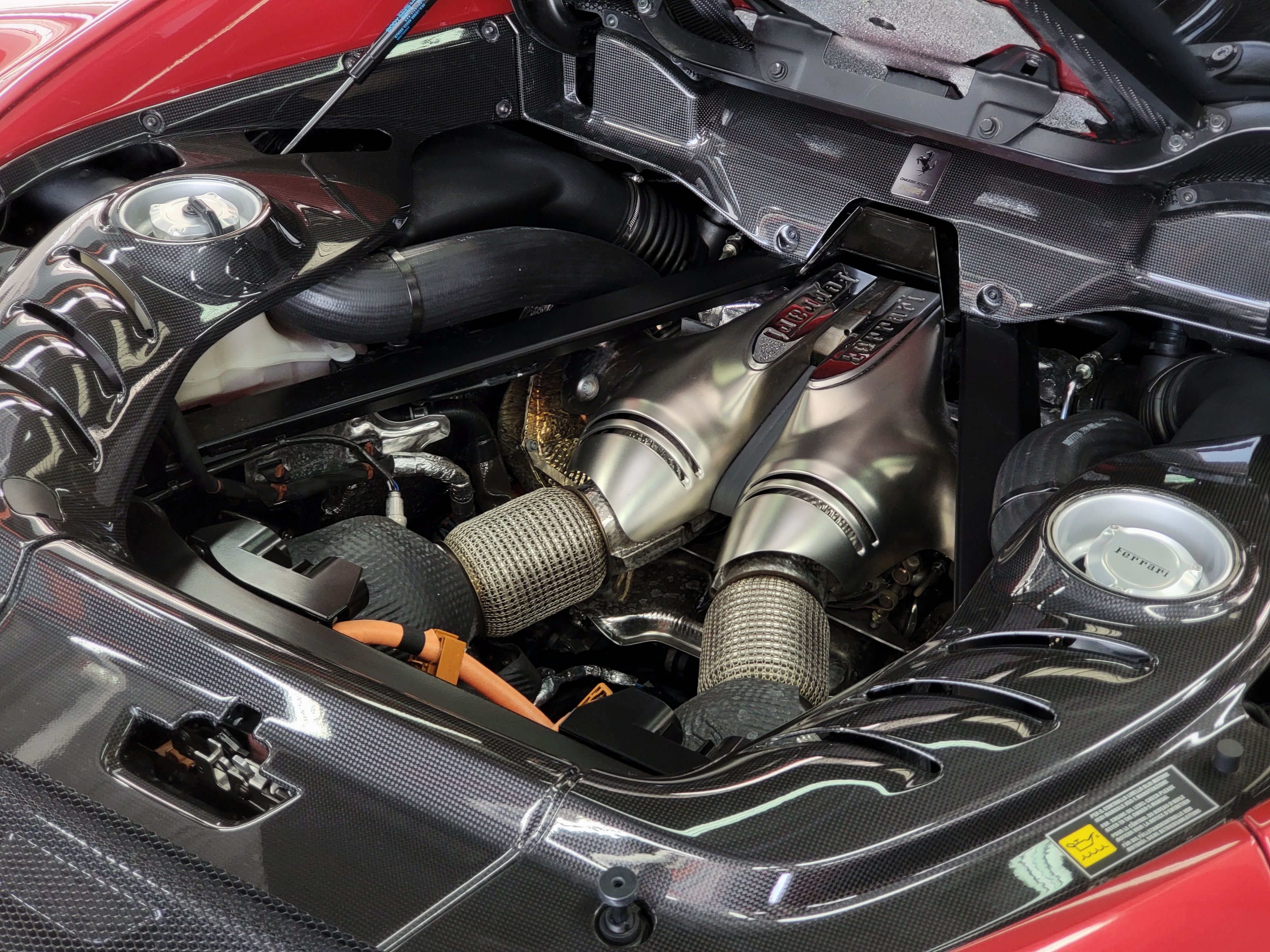 Power
Strangest Thing – Even at first encounter, it is easy to like the 296's newly introduced 2.9L V6 TT. Which may be 2 cylinder down, 1L short, less vocal than their older 710ps V8 TT, yet as a whole, with the addition of hybrid power taking it to 830ps, this smaller power unit actually over delivers in real life.
Joy gotten from the brand new engine does compensates for the decline in sound.
In a first drive with the 488 GTB a couple of years ago, it'd hit 250 kmh before the 200M braking marker on the main straight of Sepang. The new 296 GTB saw 272kmh at the same stretch.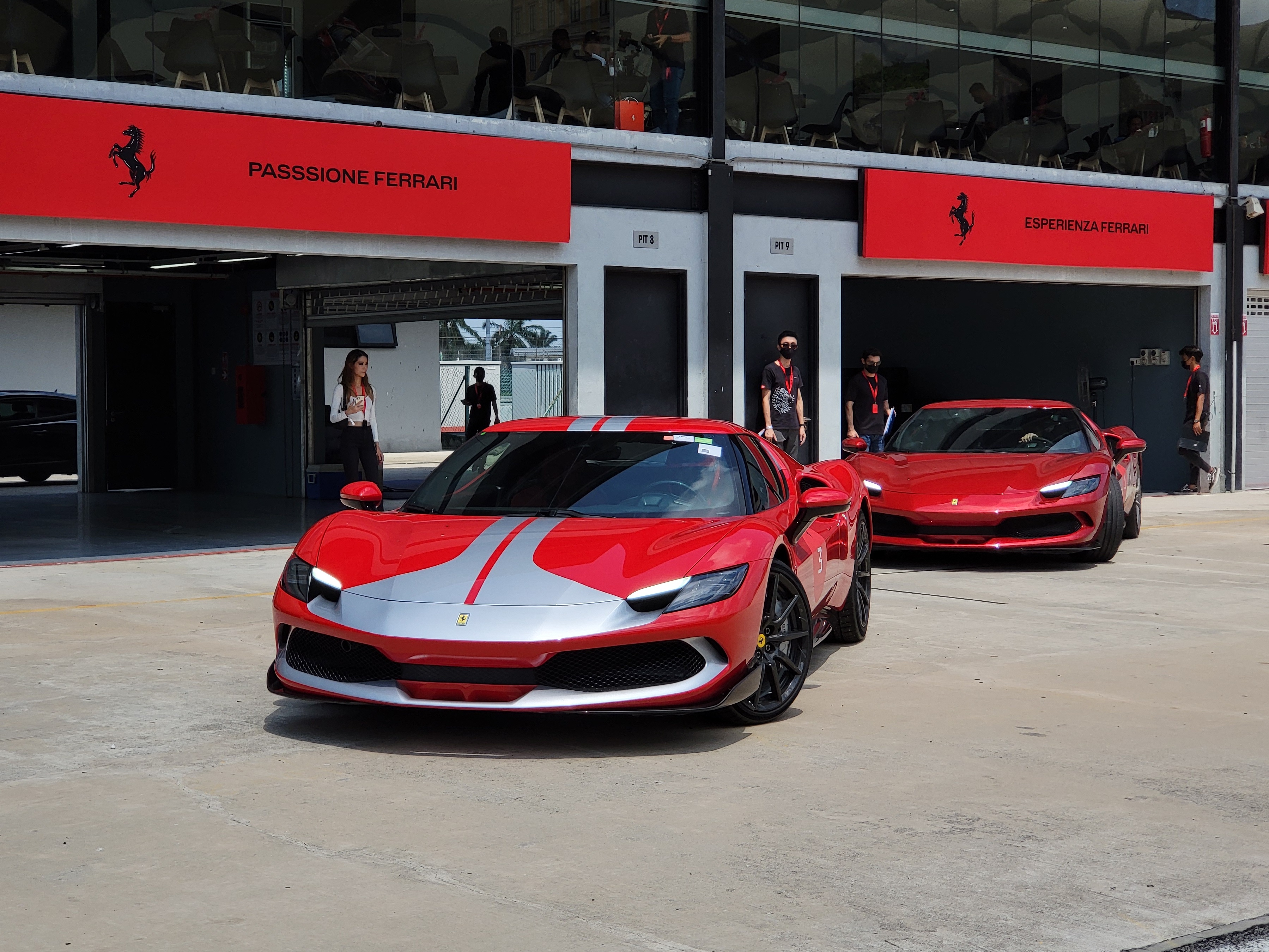 Hybrid
The 296 GTB starts in e drive.
At the initial move off on electric power, there's that familiar, serene PHEV magic carpet sensation, an unusual occurance in a purebred Italian stallion, which works as faultlessly as any good hybrid system out there right now.
It is the best thing to ever happen to a supercar and is guaranteed to please even the purists, simply because it more than compliments the performance of the 296 GTB.
Basically a MGU-K (motor generator unit, kinetic) that sits sandwiched between engine and transmission, derived from big bro SF90.
The 160hp MGUK electric motor also allows full e drive range of 25km at 135kmh and takes juice from its 7.45kwh, 80 cell li-ion battery.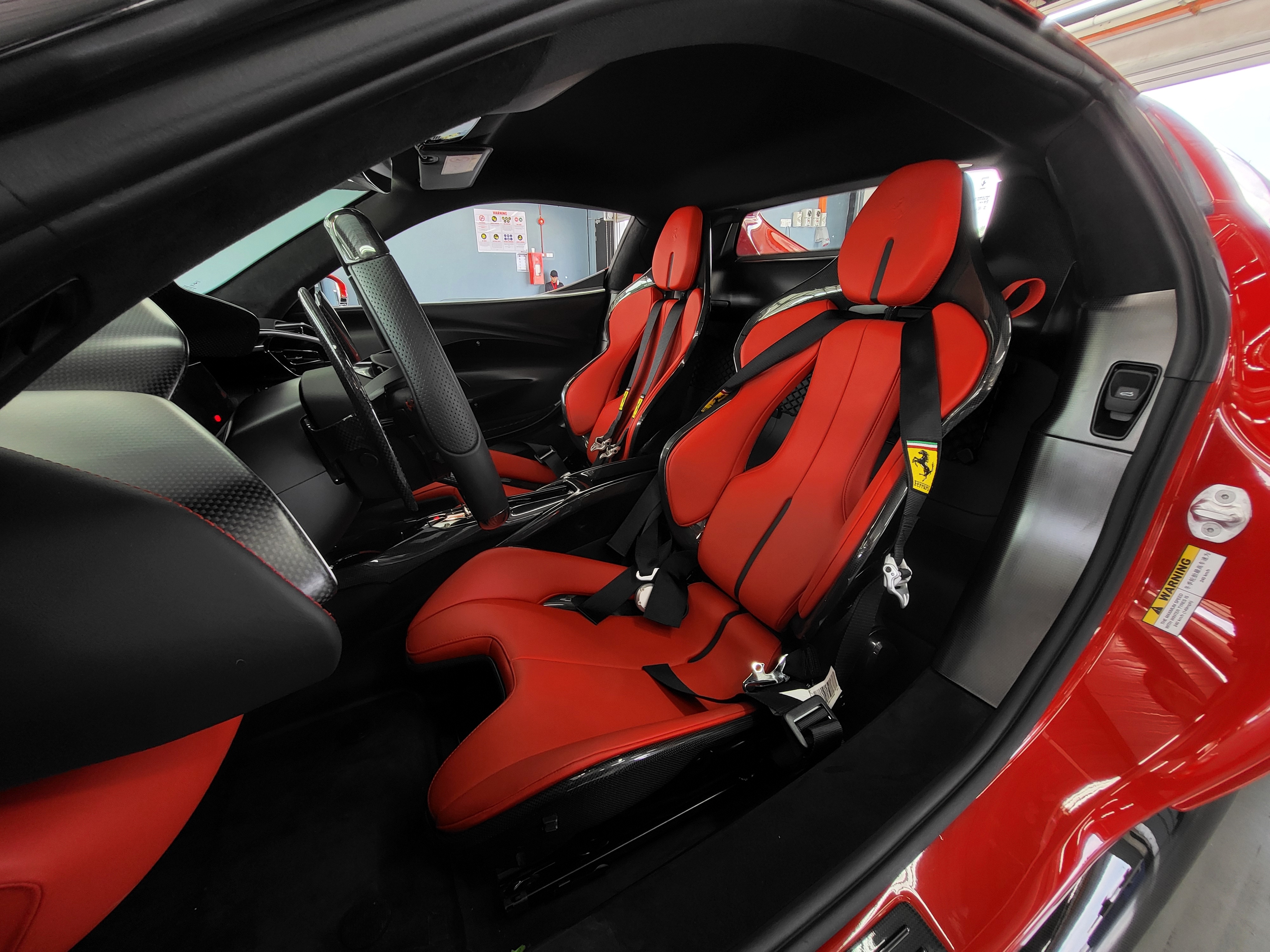 Drive
The overall ambience of the 296 GTB isn't as visceral, or intimidating as it would have been from the previous iterations with the V8 TT. Instead it is more impressive for its ability to contain speed than it is exciting in flaunting speed. If you get the drift.
The 296 is in fact very friendly to drive, also markedly refined from previous Ferrari iterations. Everything just feels cleaner, polished, perfected. It is without a doubt quicker, faster, nimbler, more capable in every way when compared to the already sublime sibling F8, except perhaps in the sound department or looks department, for now.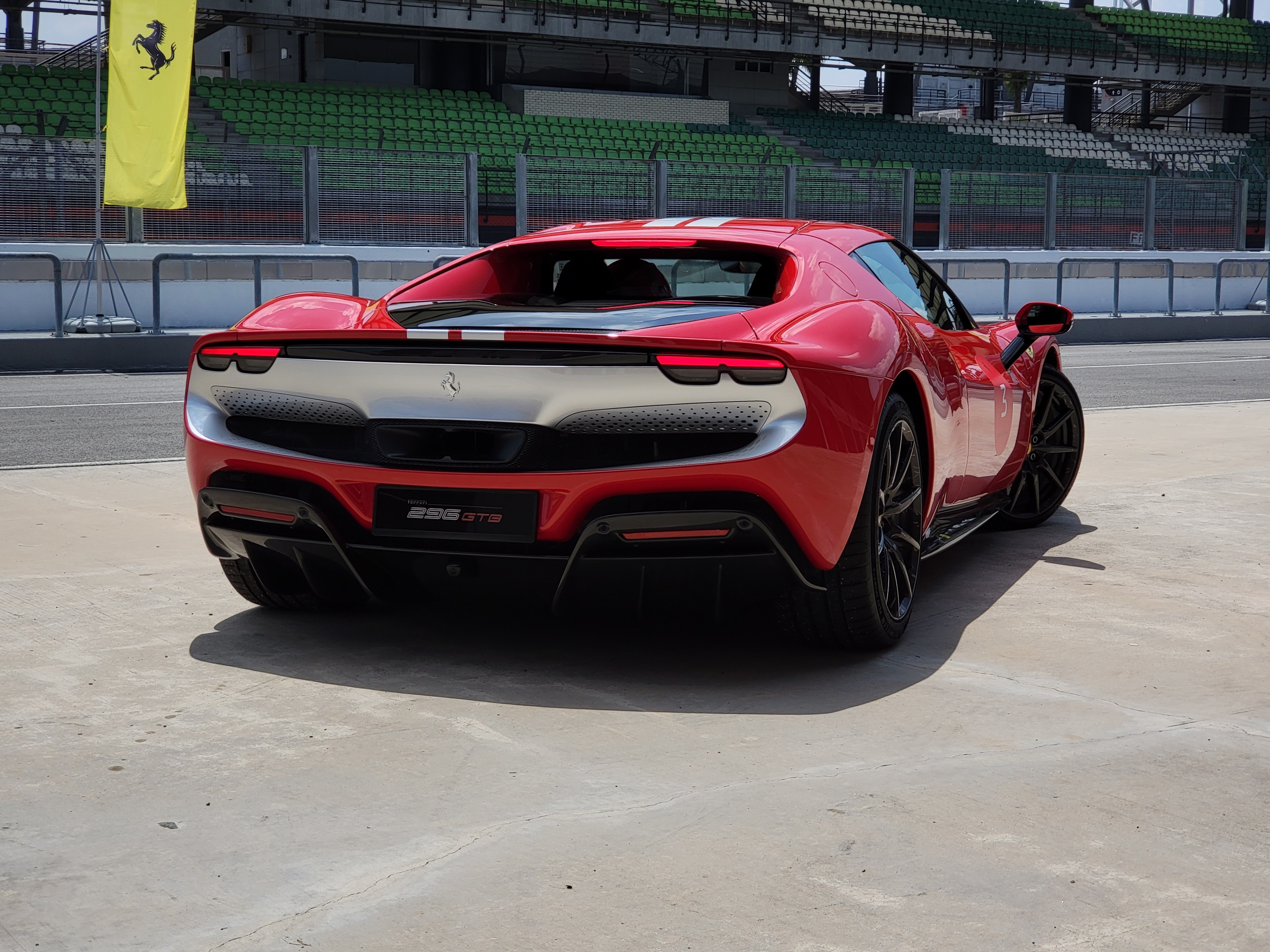 Handling wise, some obvious traits from the 296 GTB's 15mm shorter wheelbase over its typical V8 siblings, at a circuit like Sepang would be the distinctly responsive front end, which feels reactive at the point of initiating the steering,
The chassis actually feels noticeably sharp and agile all round, more able, reassuring, planted and secure at speed when compared with a previous encounter in the 488 GTB rignt here at Sepang, which does seem more on edge all the time, in comparison to the calmer, yet much faster 296 GTB.
This should translate to an even more competitive on the road performance, especially b roads and mountain drives like Genting Highlands
Sound
As much as the grapevine claims how the new V6 296 is as or more musical than the V8 F8, even citing certain similarities to the V12. In reality it is nothing like either, not in volume nor as violent. It's got its own tune now, one with the natural sharpness from a 6 cylinder, pleasing, polished, but without the big V bark and howl special effects we've been familiar with.
Gears
There's no need to paddle through the shifts even, as experienced in this first circuit drive. It is almost pointless because by the time your finger reaches for either flaps, the telepathic 8 speed box would have executed them all perfectly, at any speed and any rate of acceleration or deceleration. Does it take the joy away? Not really. Instead, it is impressively accurate, just as entertaining, convenient almost, efficient for sure. Also, the upshifts are as seamless as it can possibly get. Think F8 Tributo, maybe cleverer.
The V6 TT engine bay is a sight to behold. Possibly more than that of the V8 TT's. This entire power unit is much more compact, sits even lower in its nest and is partially made possible by the new hot-in-vee placement of the turbines.