In motorsports, it's not everyday that a civilian gets to sample a highly guarded race car, other than the team's own trusted drivers. It's risky, it's sensitive, it costs. But just last month, we received that very opportunity. It's a chance of a lifetime. Better than that, it's one of the country's best engineered touring production example, and the only pair of FR candidates competing in the sanctioned races at Sepang. This is Team Wing Hin Motorsports' engineered, TRD 86 racing twins.
I have been a huge fan of the 86 ever since I took it out back in 2012 when we were involved in its debut at the TIMETOATTACK (video). The 86 is a true sports coupe. But unlike most other sports coupe that had power but little control, this is a sports coupe that has little power but plenty of control. A worthwhile tradeoff for smooth operators.
Video 1 : My First Laps in Wing Hin Motorsports' 86 at Sepang – 2:34.2
Update – Video 2 : My Qualifying Lap at MMER 12hr in Wing Hin Motorsports' 86 at Sepang – 2:32.221
Update – Video 3 : My MMER 12hr On-Board Race Stint No. 2/4 in Wing Hin Motorsports' 86 at Sepang – 70 minute video
The 86
is a precise modern representation of the classic AE86, to me. Simply because it feels like a brilliant modern day Corolla but in coupe form, rear wheel drive and does what it do extremely well. It's one of those cars that are so good, power becomes secondary.
This new Hachiroku hasn't been popular though. At least not in this part of the world in racing with similarly categorized FF contenders such as the FD2Rs and DC5s. The flat-four Subaru boxer engine is disadvantaged by power as compared to its enemies and worse, even lesser potential to make more. Slow developments in the aftermarket industry for race reliable products for the said FA20 boxer hasn't helped either. But enough of the sad facts.
This must be one of the cleanest, neatest, most well-sorted racecar I have ever driven. It has a lot to do with how they engineered it in the first place. Plenty of underlying details remind discerning motorsport enthusiasts the level of devotion that has gone into the build(s).
Little expense were spared in building both their 86s. They're practically identical. Apart from being a premier dealer of Toyota cars in Malaysia, hence the reason for racing Toyotas, Wing Hin also distributes TRD products locally and when it comes to racing Toyotas competitively anywhere in the world, TRD, as the full name suggests is the definitive motorsports entity to be reckoned with.
While a majority of both the cars, like the race conversion of its base shell, roll cage engineering and such are sourced from reliable providers namely TRD, many other developments are executed locally here, in Wing Hin Motorsports' facility lead by their in-house trained team of race engineers.
Moving on to my drive experience in Wing Hin's race 86, particularly car number 88 which i was tasked is absolutely amazing. It was nothing like how i pictured prior. From the outside, just the fact that it's one of two 86s currently competing in the local races is enough to describe its exclusivity. I've toured the car(s) while visiting Wing Hin Motorsports' facility sometime back and am well informed the parts list that has gone into the build.
Getting into the race 86 is an experience. Firstly I can begin to appreciate the beauty of the TRD crafted cage. It's certainly a work of art judging from the welds and how the tubes meet at the ends. As I climbed into the cockpit, I am greeted by a collapsible steering that folds away to ease entry or exit. Its not revolutionary or anything but is definitely cool to have. Sitting into the Bride bucket immediately positions me center stage to everything I have at my disposal. Seating position is perfect, everything feels right. Someone's definitely put plenty of thought into designing the cockpit. Nice.
There are other toys such as the radio communication system just behind a cool-suit water circulation contraption for long hauls, even the factory VSC traction control function remain and apart from the usual buttons donning the usual carbon panels and consoles, there's also a jaw-dropping Motec C185 display logger's digital LCD screen replacing the view of factory instrument clusters. Now this thing is ultra cool.
Instead of the usual G-Shock Tron glow Motec display loggers I am used to seeing on other race cars, This new C185 is a full colour LCD display with 10 fully customizable LEDs in both usage and colours.
But here comes the best part. I have personally sat down at Wing Hin's facility hours later after my drive and seen what the new Motec i2 update was able to capture and present. It really blew my mind. It had this option where It plays an animated simulation of Kenny Lee and me in blue and red dots respectively, chasing each other on a Sepang Circuit layout in slots like a Tamiya MINI 4WD plastic track. At the same time, it even marks a zone on the track where both drivers start and ends their braking. It can even be overlayed and played on Google Maps! These are among other readings and pages, vast UI improvements, etc etc.
2 functions here that could help greatly in Team Wing Hin's race strategies are the factory ABS and traction control. There's no overriding the ABS here though and as for the traction control system, it is there just in case team drivers' Kenny Lee and William Ho needs it. – When it rains.
For this particular test, Team Wing Hin has got 86 car number 88 setup for Sepang's MME race (known as the Sepang 12 Hour Race from 2014 onwards). This means race slick tyres, albeit used units from 2013's race but still pretty grippy and MME tuned TEIN coilovers to match that extra grip.
So I'm all strapped in and ready to go. This will be my first drive in session 1 of 2 for the day. Heading out the pit exit is no special occasion and right after utilizing the entire outlap to warm up the slicks and myself, I started upping the pace gradually. Charging down turn 1 at lap 3/5, as I passed the 100m braking marker to hit the brakes at 80m I was taken aback by the car's inability to stop as usual at the limit. I decided to head back into the pits.
Clocking in at 2:38.xx, I consulted Kenny Lee, Team Wing Hin's resident driver. He quickly assured me that it's a natural occurrence with the presence of ABS. It had plenty to do with the used slicks in fact. While it's normal in circuit driving to experience a certain degree of slip under braking, with ABS, you can't. ABS is bound to kick in when slip is detected and further lengthens braking distance thus the slight fright I'd experienced.
Kenny also mentioned that it's crucial to trust the brakes and adapt to the 86's shorter gear ratios. This means, when braking hard and late for a slow corner, never ride the brakes a blink longer than needed. Instead, assist the brakes with immediate and rapid down shifts. This effectively eliminates ABS kicking in. A fact that is totally new to me.
So once more
I headed out. This time, more confident and proceed to take advantage of precious track time on the outlap. Immediately as I arrive turn 9 in 5th, stomping the brakes later than my usual marker, subsequently cycling through the shift gates to 3rd. Now, the brakes were massively impressive. Almost as impressive as a formula car I've experienced before. These Endless monoblock calipers are the business!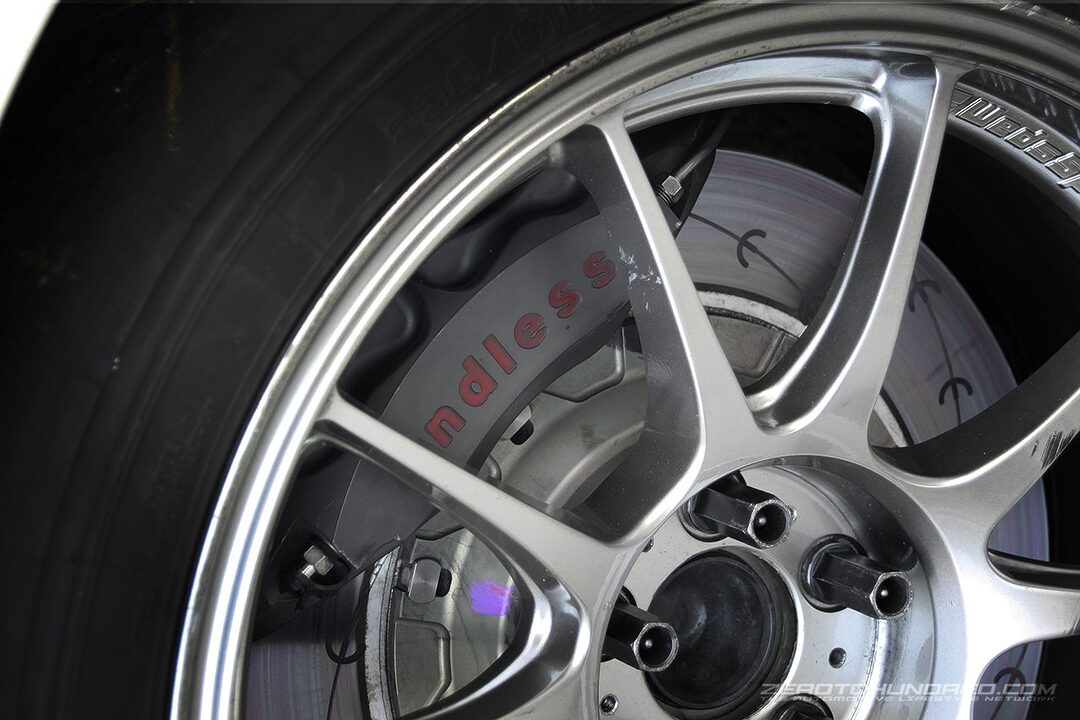 Now that I've learnt the brakes, I could focus on the corners. The 86 is extremely communicative. With each passing corner, I was getting closer to the limits. Almost immediately, my lap times begin to drop. Passing the start/finish line at the 3rd lap during my 2nd session, I saw a 2:34.xx, I was more than pleased to be honest.
As I approached the 5th lap towards the end of my session, I'd decided to pit in. As I was returning to the pits, It'd struck me right away the purpose for selecting an FR in a FF world. At least when it comes to hours of endurance racing. Firstly there's an unmatched level of comfort.
Not comfort as in air con comfort or comfort from a couch, but the discounted quantities of stress from extended racing. In a FR, where drive comes from the rear wheels and the front wheels have but one purpose, to steer. The only sensation transmitted through the steering wheel is unadulterated tyre feedback. As opposed to an FF racer, where there's a constant need to juggle between grip and drive from the front wheels, incurring additional factors to overcome during a race.
Both platforms are enjoyable for sure, no doubt. But the benefits are clear especially in extended driving hours. In the FR, there's no CV joints to break, in fact, loads are more equally distributed throughout the drivetrain making it a durable candidate. However it does come with a price since more components are required in a FR to drive the rear wheels and more components also mean more weight.
So what's my verdict? Well for one, I just wished it had just a little more juice. That's pretty much it. I really love everything else about this particular 86 racer from Wing Hin especially how intuitive it is to drive. It is precise, it is silky and above all, easy to drive. It doesn't expect you to understand it, it doesn't bite you as you explore. It is rather submissive.
Catch Team Wing Hin Motorsports' with their twin 86s at the upcoming Sepang 12 Hour race on the last weekend of August 2014. I've been told there'd be some changes in both cars, so stay tuned!
Wing Hin's Toyota 86 has raced and is racing in:
Follow Wing Hin Motorsports on Facebook: