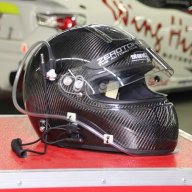 Jul 6, 2000
5,506
3,198
5,213
CLAWS has spent the last 4 years developing their performance suspension system for the Malaysian market. While they have yet to officially launch their products here, they have been busy testing their effort on the circuit, with the recent HPC-MAM 4hr Endurance as their latest test bed.
While the decision to participate in the race was an impromptu one, it wasn't much of a rush to get their 4A-GE powered Corolla SEG setup, as the 1600cc race car was already a legendary race winning machine prepared by Kegani Autotech. Suspension-wise, all it needed was further adjustments to syncronize with the Team Drivers' feel.
Only race drivers would be able to provide accurate feedback to help engineers setup to the latter's exact needs. But in this case, CLAWS had the best of both worlds. The man behind the wheel of the race car is incidentally CLAWS lead design and development, Lim Chun Beng. There were lots at stake especially it being a debut race for Mr. Lim himself and his brand, CLAWS.
The punishing 4-Hour endurance sent many teams and drivers' home, smashed dreams, robbed egos, and even our very own Team Zerotohundred.com X Exotic Mods 1800cc Celica retired just under 40laps in.
But As with many happy endings of humble beginnings, Team CLAWS KEGANI managed to clinch Third in the 1600cc category. A major feat considering even seasoned teams would have popped champagne bottle just to finish, Team CLAWS KEGANI's virgin race earned them a podium spot.
Lim Chun Beng of CLAWS would like to personally thank Kegani Autotech for the opportunity to have their winning product debut on one of their legendary Toyotas.
Lim Chun Beng, as known as
Alchemis
on Zerotohundred.com can be contact for enquiries.