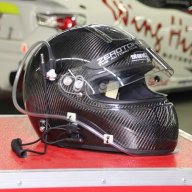 Jul 6, 2000
5,524
3,201
5,213
Assuming you're in the market for a set of suspension to replace the current system in your car, what do you do?. Like most people, they'd be browsing off-the-shelf items that they have either came to trust or big brands that has been heavily marketed for years. It's a safe bet for most, when their desire is simply to improve the stance of their cars or firm things up a little.
Basic lowering springs or springs and damper combos are the most affordable. Adjustable coilovers require more serious thought, backed up by research through peers or the internet forums for the sake of making a wise choice and most importantly, bang for buck. There are even cheaper, used or reconditioned items if you're desperate.
If typical, one-size-fits-all product isn't your option, you should read further. How many times have you bought something so highly recommended by people and yet turns out to be rubbish when you get your hands on it? When feel comes into play, it is as subjective as taste. So are Custom built systems with all the measuring and tailoring fool-proof? Far from yes. To even begin building a set dedicated to your car, substantial amount of engineering expertise is of utmost importance.
Inverted Chrome Tubes manufactured to the highest standards, Used in Rally, Race & Road cars.
While there are only a handful of companies out there locally who offer such services, there is only one, as far as I know who combines years of racing and chassis development expertise to provide the best a man can get. Enter RCS, short for Radical Chassis Solutions.. Headed by Nanda Kumar, he is backed by 15 years in rally driving and is a rare breed in the the field of chassis development. He has been trained by Lotus Engineering and has served as an engineer there for years. If there's anyone who knows the ins and outs of Lotus ride and handling, it's Nanda.
Nanda Kumar applying his knowledge as derived from Lotus Engineering
Then again experience can only get you so far. Where RCS comes in is in the application of real-life chassis data to determine the best setup for a particular car, driver and preference. To gain crucial data of a particular car, RCS employs a corner weighing scale to accurately record the differences in weight distribution for all four corners of a car and further process those numbers through a Kinematic Software developed in-house by Nanda himself, which the software is designed based on years of motorsport data acquisition. The Kinematic Software processes weight, it's distribution, suspension geometry and angles to provide recommended spring rate, bound and rebound figures for various applications such as road, fast road or motorsport purposes.
Velocity Sensitive Damping working pistons Designed and Manufactured in Malaysia by Nanda.
If RCS's race experience and unique tools aren't enough' to convince you, then their house specialty just might. The heart of a well designed coilover is in it's shock absorber. What makes it tick is in the working piston. Other suspension builders take the easy way out by utilizing commonly available suspension designs and internals, be it the twin-tube or stronger inverted monotube to the all-important working piston and shims.
Nanda & Clayton pulling dampers apart for re-valving.
The RCS difference lies in its Velocity Sensitive damper that magically adjusts itself to the ever changing road conditions and speed in which the car is traveling. I shall not go into the detailed science of it but it is mostly in the working piston feature. Other piston designs are mostly passive, meaning a set bound and rebound no matter the scenario.
The shims are like a valve that governs fluid flow amount through the working piston
.
Where RCS's velocity sensitive piston comes in is its ability, through fluid dynamics to provide a supple, comfortable glide through harsh terrains and sharp bumps and humps, yet in microseconds, firm up for that anti-roll, 90 degree or high-speed corner. A good example of this similar application is RenaultSport's derived hot hatches. If you had the privilege of driving the latest Renault Megane RS 250, or its recent RenaultSport siblings, you'd know the confidence in speed and road holding it inspires. It almost feels unreal.
RCS Tuned ride and handling
This long RCS review won't be as convincing if I hadn't paid in full and enjoyed the results of my good judgement. Which honestly, was gained through expensive, long and tedious process of trying out the different custom built suspension outfits out there. I have a 1989 BMW E34 5 series that is very special to me. It's my first ever car and it has seen a few transformation throughout my 12years of usage. It has a heavier engine and wheels bigger than it was meant to run on.
A Floating Piston that separates the gas from the oil.
I wanted it to ride low, I wanted it to handle. I entrusted the car to Titan Suspension at first and then Hot bits by Speedworks. However, I have never been truly satisfied with either of their works. Don't get me wrong, both Titan and Hot bits do produce some nice products and might suit your needs. But in terms of providing custom suspension solutions for demanding road performance or motorsport purposes, I find them lacking. At least in the in-depth know-how that all clients deserve.
Titan makes great and bullet-proof shock absorbers and can replace your current units in favour of a firmer and well damped ride. Easily surpassing OEM replacements. But that's mostly it. What i got out of it was a set of coilovers that gave me the ability to dial in my desired ride height. The ride remained questionable. I've had better experience with Titan before in my previous BMW E30. Try searching for Titan on google. However, i am most happy with their heavy duty suspension top mounts. Total spent with Titan? Over RM4000 and sold for RM1000.
Next up, i went for Hot Bits, owned by the more established Speedworks, that seemed credible. The stuff they made even looked good. I have heard good reviews of their products for mass produced cars. They understood my concerns and demands so I went ahead. but surprisingly, it came out worse than my first venture and there's no way to try out the different spring rates to salvage the given setup, something Titan would happily oblige to. So you're kind of stuck with what they've decided for you. Of course, company policies differ, so i opted to invest in their heavier spring rates, and then shocks revalved for increased damping and shorter travel plus damping adjustable knobs just to solve the shocks from deteriorating over a short drive and the irritating issue of the suspension bottoming out. It improved just slightly, but from what was a mistake to begin with. It would have been a better experience if the CEO himself actually admits to what he's promised in the first place instead of bulldozing remarks from clients that have put trust and monetary investment into his products. Total spent with Hot Bits? over RM6000 and sold for RM1500.
Tedco Sport's Clientele
I was hitting the wall with my suspension woes. Until I found RCS. Highly recommended by Reuben Wong from
Tedco Sport
. who apart from building performance cars and serving as a race engineer for race teams, Reuben also races professionally and most recently for the ever successful, but recently retired, Honda Malaysia Racing Team in the MME FD2R.
Corner Weight Scales used to Calculate exact Spring Rate and Damping Values required for each car.
A trip to RCS was made, this time I was extra careful. Nanda was very detailed about his expertise and you can tell where his forte lies. The keywords to my basic ride demands again were stance and handling. It was peanuts for Nanda. There was nothing he couldn't explain well and I was most intrigued with his Velocity sensitive dampers. The Kinematic Software and corner weighing service sealed the deal. In no time, I rode shotgun in their WRX version 8 fitted with their prized product. Clayton Check, business strategist at RCS, who incidentally is an accomplished race and rally driver took the wheel and showed off the abilities of their product.
Clayton Check Business strategist at RCS
First test, going over the speed hump at insane speeds. Though by itself doesn't justify performance as a whole, is a good way of highlighting the ability of the Velocity Sensitive damper. It is a surreal sensation, almost mind-blowing. I expected the top mounts to explode through the bonnet but the Subaru didn't even squeak. It remained almost flat.
Test two, maneuvering through what they call obstacles on regular roads at moderate speeds. The WRX rode on almost stock ride height, is supple on most terrains and yet showed almost no signs of body roll when the steering is jerked as the car swerved through the obstacles repeatedly.
Test three involved the high speed corners where the WRX is put to the test in excess of 150km/h. Again the suspension handled it flawlessly with minimum roll, yet compliant and isn't in rock hard race setting. The car even ran on factory stock anti roll bars.
The recommended figures as provided by RCS's Kinematic Software
I was more than convinced. I had to have it. After all, its been too long a wait for that illusive suspension system that fit my needs. The BMW was left to RCS's care. In the span of 2 weeks for the building process, I was provided with interesting data of the car while waiting like the above.
Partially completed set for the BMW E34
Fast forward to my impression of the RCS custom built velocity senstive coilovers? Well, I shall not bore you with a long report. Here's a summary of my findings. The ride and feel was spot-on right out of the box. There was no immediate need for a re-tune as there weren't any guesswork to begin with. The RCS Kinematic software managed to provide an optimized recommendation based on real-life rally and race data samples, what more for a road car.
There are some teething problems associated with low ride height like subtle hopping on certain terrains and slight inherent knocking from the Hot-Bits pillow-ball camber adjustable top mounts (which are my favourite items of all from Speedworks).
But in all, the car has never felt better with the confidence it now inspires, took corners faster with added steering feel and less roll, absorbed harsh roads with ease through active damping and braked better with the, now-optimized suspension travel.
What's the damage? RM5500 for the 4 corners. Granted, it's not a price what many would expect for a locally produced product with little over a year of establishment, the brand or packaging. Heck, it's not even damping adjustable, or attached with fancy anodized knobs for you to play with. Top up just a little and you may even get yourself a fully imported, "branded" set that comes in a box complete with instruction manual and cool stickers.
But to pay for something that works perfect, all the time, every time? There's no need for on-the-fly damping adjustments when you have these. Though "ready-made" sets for common cars like the Evos, WRX, FD2Rs and DC5Rs are cheaper at under RM5K. it's quite a smart investment since it's easily serviceable, tuneable and supported by RCS. There aren't similar products available locally so it's not fair to even compare.
Learn more about RCS, get a quote or arrange for a no-strings preview.
Nanda Direct: 0129232782
Tel:+603-56319178
Shop Address:
No. 78 Jalan PJS 11/7, Bandar
Sunway, Petaling Jaya 46150
Selangor Malaysia
Priming to ensure no air bubbles are left inside.
The Nitrogen is injected into the damper through a 1 way rubber valve.
Gas Pressure is precisely controlled with a pressure gauge and bleed valve.
Aragostas replaced with RCS version says a lot
Clayton explaining how The RCS bumpsteer measurement gauge works.
RCS Honda DC5 Suspension with bump-steer kit, eliminating inherent bump-steer issues with the DC5.
RCS Honda DC5 Inverted Monotube Damper with bump-steer kit.