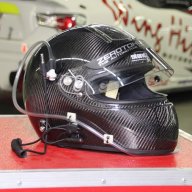 Jul 6, 2000
5,561
3,229
5,213
<iframe src="https://www.youtube.com/embed/2ufoRMk-AhE" allowfullscreen="" frameborder="0" height="315" width="700"></iframe>
After a wait of close to 4 months, Sepang International Circuit is now reopened. Having just completed its first and latest major circuit resurfacing, many seasoned racers, track day goers and spectators have wondered how the changes made so far would affect driving and lap times, so please allow me to describe the revisions through my on-board video during our first outing just last week in a bit.
This recent revamp of the original Sepang circuit was carried out primarily to right some wrongs, namely the dreaded drainage issues, updates to safety aspects and general circuit amenities.
<iframe src="https://www.youtube.com/embed/4K6AQxIY4vU" allowfullscreen="allowfullscreen" frameborder="0" height="315" width="700"></iframe>
After all, Sepang Circuit hasn't conducted any major resurfacing since its establishment in 1999 and of late, the circuit is said to be running full steam 98% of the time, that means at any given day of the calendar year, chances are there'd be teams or individuals doing their laps, not to mention continuous hosting of majors events such as Formula 1, MotoGP, races ranging from GT cars to Formula to Touring car races or our very own TIMETOATTACK for that matter. Even after dusk, sees plenty of action from sprint events like Saturday Night Fever or Sepang's own Drag Battle. Now that's plenty of usage.
Raising the inside of Turn 2 deletes the iconic dip permanently
While alterations made were said to be only skin-deep, the fact that the entire circuit was resurfaced brings about a number of profile changes to the corners, such as positive and negative cambers, elevation and depression angles, kerbs and run offs to name a few.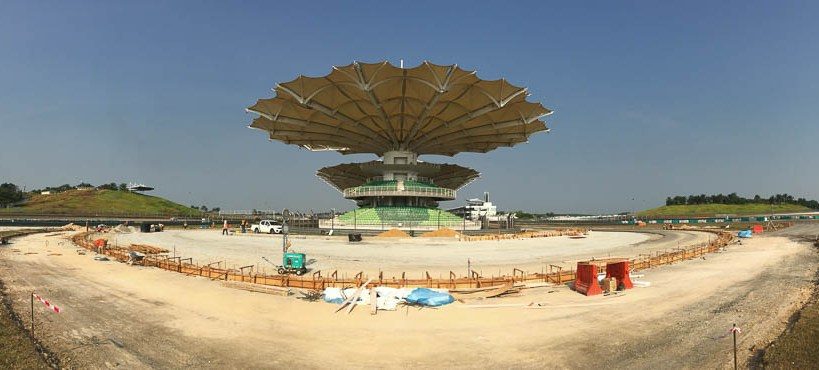 Drivers would be happy to know many of the corners have been treated to a teaspoon or so in negative camber, however one can say for all the negative camber that were added they've pumped equal that in positive camber all into one final corner, Turn 15. Which is now insanely off-camber.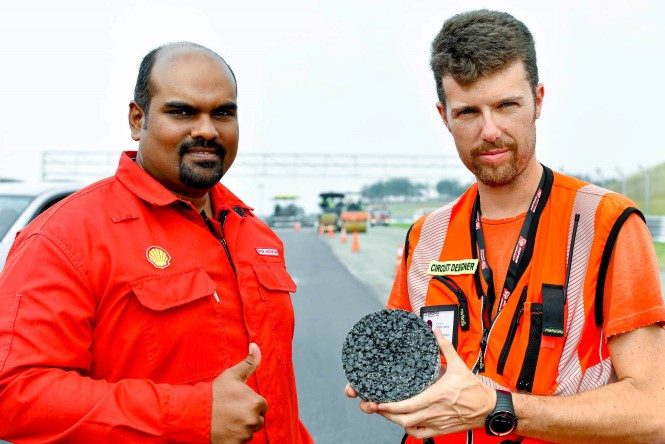 Jarno Zaffelli (Right) The Circuit Designer, owner of Dromo Circuit Design was commissioned for the resurfacing of Sepang Circuit, he holds what looks like a sample of the track surface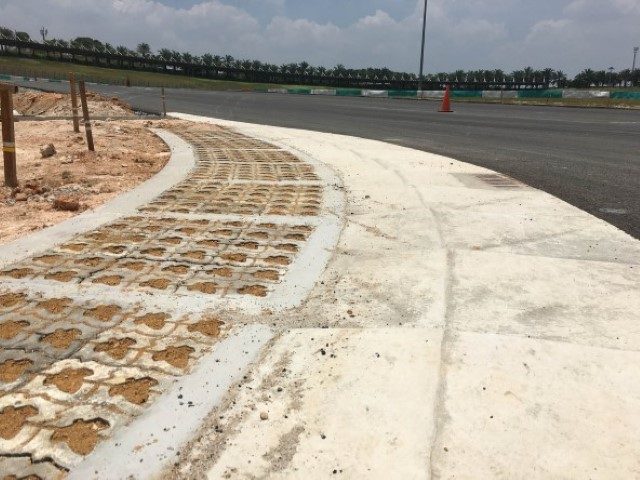 Turn 9 is now re-profiled with added negative camber and revised curbs
Dromo, the circuit design company headed by Jarno Zaffelli who was also responsible for recent changes at the Imola Circuit said the changes made are at turns 1, 2, 4, 5, 7, 8, 9, 12 and 15. They have also upgraded drainage systems, kerbs and the run-off area at turns 1, 4, 9, 12 15. Although for any Sepang regular, the more obvious and notable changes that will be felt are at Turns 2, 5, 9 and 15
Turn 2
Now completely flattened, and with the inside of Turn 2 heightened, drivers can take the same old approach but without the need to tip toe through the inside dip, allowing drivers to power out much earlier and effectively raising top speed through T3 to T4
Turn 5
Previously a rather intimidating high speed left before a quick transition to Turn 6, this newly updated Turn 5 is smoother, eliminating the familliar descending roller coaster sensation and is now given twice the camber than before
Turn 9
This uphill left corner, one of the slowest corners in Sepang is now much more linear and has received increased camber, allowing significantly less braking and higher speeds throughout.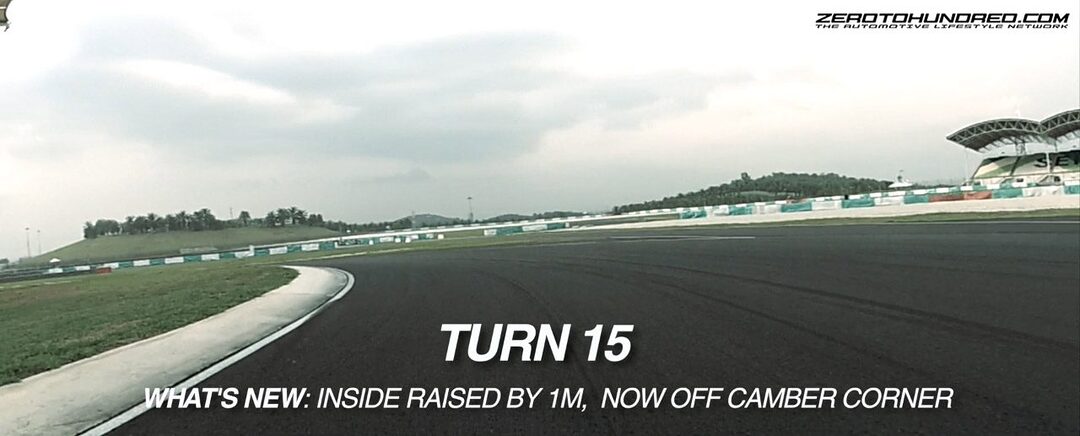 Turn 15
This is where the biggest change was made. Turn 15 used to be a major puddle magnet during rain, not anymore now. With an additional 1m height increase on the inside, this new Turn 15 is monumentally off-camber. Notice how the horizon starts to tilt and ascend on entry from my video.
This new Turn 15 will likely become one of the best features at Sepang very soon. I bet the regulars are going to like the change and the official races are to commence next weekend, so can't wait to see the action unfold. Lap times are bound to drop as well, so that's pretty nice.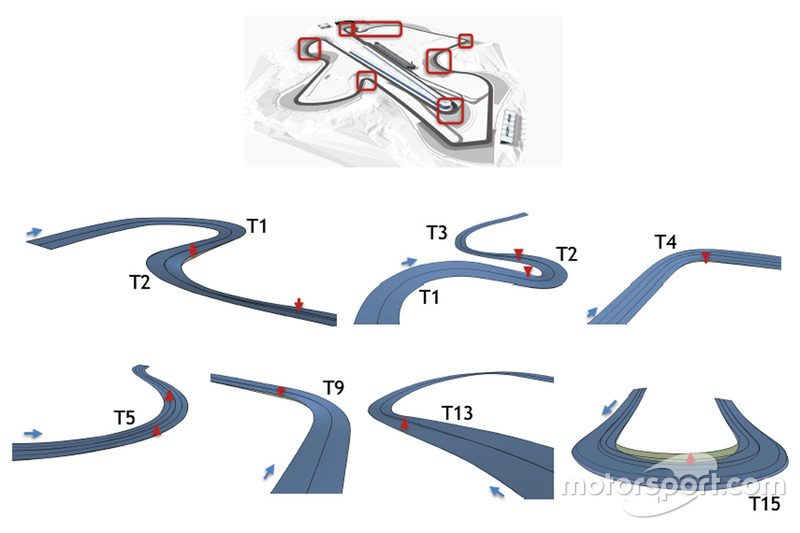 Verdict
I can safely say that Sepang is still as awesome to drive on as before and although the recent resurfacing would make it seem easier to drive now, it is at the same time faster and more demanding.
But on the most part these updates are definitely a refreshing touch to the 17 year old circuit. Try it yourself
Photo Credits to: