Four weeks ago the Sepang International Circuit (SIC) hosted the final Malaysian Formula One Grand Prix. It should have been a time to celebrate the past, express sadness at it's departure, and to go out with a bang.
Unfortunately this celebration was overshadowed by a number of negative remarks made by certain SIC management in the press.
Razlan Razali
If the Malaysian motorsport fans were not so passionate, then maybe this unfortunate media coverage would have been overlooked. But as always, social media became the platform for an outcry of anger. Many comments even calling for the resignation of SIC CEO Dato Razlan Razali.
I too was quite shocked at what I was reading during Grand Prix week, so I sat with the SIC Chairman, Tan Sri Azman Yahya to get his views on the cancellation of Formula 1 and his plans for the future of Malaysia's only racing circuit.
Tan Sri Azman Yahya is a racer himself, so he is the ideal candidate for the chairmanship of SIC, being able to implement developments from his years of racing, and visiting circuits around the world. He currently competes in the Caterham Motorsport Championship and looks after the burgeoning racing career of his son Nazim, who is competing in the Formula Renault Eurocup next year.
F1 Excitement
Azman has been following F1 closely since the 1980s, and he gets it: "F1 is not just about the 300km race on Sunday. To appreciate F1, one must appreciate what goes behind the scene – the cutting edge technology , the race strategy, the tactical changes that often happen during the race, the choice of tyres, the pit stops and so on. Of course the actual racing itself can improve, especially on certain circuits where wheel-to-wheel racing and overtaking is next to impossible.
"I've been following F1 closely since the early 80s and I appreciate the different approach to racing that F1 adopts. In fact I follow almost all forms of motorsports but I have to confess that there are times during the F1 race that I toggle between the channels."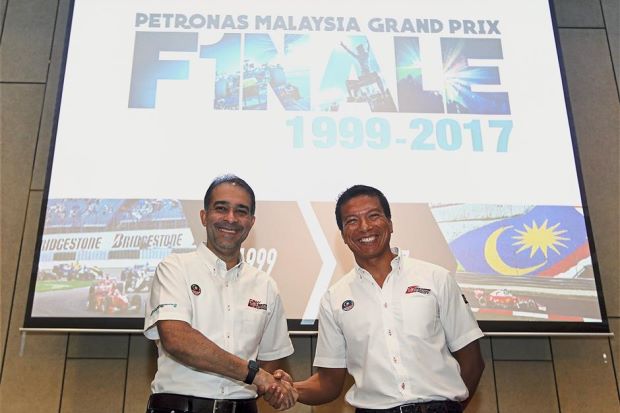 MotoGP vs Formula 1
"One cannot compare F1 to say MotoGP where the racing is pure and intense. But I am pleased to see that F1 races this year have been more exciting, and I hope Ross Brawn will be able to put a package together that will allow for more on-track racing in the near future.
"I guess there are motor racing fans who cannot, and will not, focus on 90 minutes of F1 style racing as compared to 40 minutes of MotoGP racing, but there are also those that can.
Not even if F1 was for free
The comments that spurred the anger amongst local Formula 1 fans were those of SIC CEO Dato Razlan Razali when he said that "even if F1 was offered to SIC for free, that Malaysia would still not want to host it."
I had to ask if this was the view of the whole SIC board. "No," said Azman. "That's Razlan's personal view and his quote was taken out of context. What he meant was that it has been a challenge for SIC to draw local spectators to the F1 event.
"This year we decided to drop the ticket prices by about two thirds to match the MotoGP ticket prices, and yet we were not able to sell all the seats despite this being the last Malaysian Grand Prix.
"So Razlan was alluding that even if we were offered the F1 race for free and we in turn offer free admission, we may not fill up the seats. But of course if we were offered F1 for free, we wouldn't be silly enough not to grab that as we have been generating positive economic benefits from hosting F1 all these years, albeit on a declining trend."
Price and Promotion
It's easy to understand the frustrations of the SIC board, knowing the exorbitant fees they need to pay to host the race, and the very limited revenue streams available to make a decent return on investment such as ticket sales, and the fact that attendance has been so low the past few years.
It is also easy to come to suggest that maybe SIC haven't been doing enough to promote the race. Just walk through the CBD in the weeks leading up to the Grand Prix and you wouldn't know there is a race going on. But then again, F1 fans know the race dates, and is it really worth non-F1 fans to travel all the way out to Sepang?
"I think motor racing fans who want to come to the F1 race would have already known the calendar and when the race will be held," continues Tan Sri. "Several years ago, to arrest the decline in F1 spectatorship, we doubled the promotion and advertising budget over a couple of years but did not see any discernible increase in ticket sales. Incidentally we hardly did any promotion of MotoGP, but we sold out every single grandstand ticket two months ago!"
And take into account the Singapore night Grand Prix, which is now considered the jewel in the crown for Formula 1. Surely this has had a negative affect on the Malaysian race. So would it have been better to host both races one week apart, or even a lot further apart to benefit international visitors? "Of course Singapore GP has had an impact on our sales. Not so much on the retail fan based sales but on international corporate sales.
"We proposed the race to be run a week apart which makes a lot of sense for international spectators but we were told that the Singapore promoters did not agree. We also ran our races earlier in the year until 2 years ago. However, the team felt the timing for promotion after the finalised race calendar is published was too short, and we decided to revert to later part of the calendar."
Liberty Media
Which brings me to the other comment made by Dato Razlan about Liberty Media not working hard enough for SIC to change their minds: "The negotiations between us and Liberty Media is subject to non-disclosure," explained Azman. "Suffice to say we felt not enough was offered both in terms of financial terms and the product itself that warranted an extension of the contract. However, I have to express my appreciation to Liberty Media for agreeing to an early termination of the current contract."
Negative Ambiance
One thing I and my colleagues, plus many other spectators noticed walking around the Sepang circuit was the lack of atmosphere from both previous years at Sepang, but also from earlier Grand Prix.
There was quite a negative ambiance and speaking to people from Formula One Management, SIC management and Formula One teams, everyone had something bad to say about each other. Whether it be about security, facility maintenance and general lack of cooperation from everyone involved.
Speaking about his personal experience of the ambiance on the weekend, Azman explained: "This is the first year that I have been observing from near the working arrangements between SIC and FOM. I can say that whatever the comments you heard from FOM, the same is felt by the SIC team – and more!
"And this had been ongoing for many years and not just this year. Everything is controlled by FOM and they are very inflexible in many aspects – not all for good reason. It has not been easy dealing with FOM in the past, which explains the frustrations expressed by Razlan and his team.
"However I am seeing some positive changes since Liberty Media took over. I personally have had good working relationship with Sean Bratches, the Commercial Director of FOM. "
Circuit Facilities
And what about the facilities? There was much uproar from spectators about leaking grandstand roofs and poor bathrooms and also about food and beverage stalls closing before the start of the race due to lack of stock.
"On the facilities, I must confess the maintenance have been below par," continued Azman. Primary due to lack of funding. Since I took over Chairmanship, I managed to persuade the government to allocate some funding to SIC to upgrade the facilities.
"We  started with the go kart track as I was often there and experienced myself of the poor conditions which are very embarrassing as the participants and their families come from all over Asia.
"After the main events of this year ie. F1 and MotoGP, we will commence with replacing the membrane roof over the grandstand. The present roof was replaced some 10 years ago and has passed its useful life. The membrane is rather expensive so we are studying options to replace it with something that is both cheaper and more durable.
"Likewise all toilets will be overhauled – but we can only do major repairs after the MotoGP events. We shall however, do the minor repairs, whatever we can, as soon as possible.
"Trade and vending had always been a problem with F1 as they control the rental charges and many local guys simply cannot afford the rent which explains the low number of outlets.
"Contrast this with MotoGP where Dorna allows us to manage and set the rental charges – we totally sold out all the spaces and even have a long waiting list of potential vendors.
"But having said all that there is no excuse for poor facilities. Give us 6 to 9 months to do the repairs. As you may already know, we also have issues with excess demand for track time. We have started installing test lights along turn 3 and should finalise the design after MotoGP. Installation will take no more than 6 months so we will be able to run the track in the evenings by second quarter next year."
Circuit Management
And does Tan Sri Azman feel that the SIC management are experienced and passionate enough about motorsports to run successful events? A number of local race promoters have a tough time with SIC cooperation for their events.
"Many people see Sepang International Circuit as being responsible for all aspects of motorsports.They don't really appreciate is that SIC is primarily a track owner. In a perfect world, all races and events are promoted by third parties and our job will be simply to rent out our facility like any other sporting venue owner.
"Unfortunately we saw in Malaysia there isn't enough motorsports events at all levels – grassroots, national and international. We took it upon ourselves to promote events such as the MCS, the Sepang 12H etc often at a financial loss as we needed to give these events a kickstart.
"All theses would not have been possible if the SIC team is not passionate about motorsports. I can understand the perception out there is that the SIC team seems prefer 2 wheels, and to some extent it is true. From a return on investment perspective, 2 wheels events have been far more successful than 4 wheels.
"If you think us as a company that is tasked by the shareholder (government) to be self sufficient and provide return in form of dividends, you will understand why. Having said that, we actually run more 4 wheels events than 2 wheels despite the lower return of investment, if any at all.
"From a personal perspective, I see Razlan as being more passionate on motorcycle racing whereas I am more passionate on 4 wheels racing which is a good combination!
"We intend to start allocating some fund to start off 4 wheels racing at the grassroots level in 2018, most likely in karting. Hopefully we can emulate our success in the Asia Talent Cup for motorcycle racing."
Again we read news about the plans to build a motorsport village at Sepang, with hotels, theme parks, workshops etc. Something that is always discussed at this time of year. How concrete are these plans, and has anything been set in motion yet?
"These have always been part of the overall masterplan but the biggest issue in developing facilities that require long term commitment such as a hotel or a theme park is that our lease on the land where the circuit is located, is too short.
"We want a third party to invest in these facilities but they require longer leases which are out of our hands. The land issue is a matter between the government and Malaysia Airports.
"But this will not stop the immediate development plans that I talked about earlier – the lighting up of the circuit, the redevelopment of the go kart track and an off road circuit, the driving experience centre, the roof replacement and the general upgrade of facilities. All these are in the concrete planning stage and will take off next year.
"Let us fix the immediate problems first before we talk about the long term vision. I believe if you cannot sort out small irritants such as toilet door locks, no one will pay serious attention on your longer term plans."
Future of Sepang Circuit without F1
A lot of the public have been thinking that since Formula One will no longer be in Malaysia, that that spells the end of motorsport in the country. But what the public don't understand is that SIC is booked over 300 days a year with other events ranging from many other race series from around Asia, track days, corporate days and more.
Azman highlights that actually with Formula One no longer coming to Sepang, it will be a lot better for local motorsports because now SIC will have more resources to develop other aspects of the motorsport industry: "With the end of F1, which to me is a sad but necessary occurrence, SIC can look forward to transform itself into exactly what you said.
"F1 took so much resource from SIC – management time, financial, track closure that we compromised on all the other stuff that we should be doing. We will be looking at new race series and giving more promotion on existing ones.
"We want to interact more with the public. I welcome all forms of suggestions and constructive criticism in order for us to remain relevant to the motorsports community and the public."
As I mentioned at the start of this story, Tan Sri Azman Yahya is himself a competitor, a real racer at heart. So I had to ask how his racing experience and passion for all kinds of motorsport will move SIC and Malaysian motorsport into the future.
"I will try my best and hope I can make a difference. As you know this is not my main job as I have other commitments especially my own businesses. I take it as a national service albeit in a non-executive role.
As long as the government have faith in me, I will do my damnest to make SIC not just self sufficient financially but also as a catalyst to promote Malaysian motorsports. I have the advantage of being involved from as low as the karting scene with my son Nazim's participation in the early years.
Like many parents, I have suffered at various terrible facilities in the country including Sepang. I have been to karting tracks in Europe and talked to various promoters to understand what it takes to move motorsports in a world where others forms of sports such as football dominate. We will do what we can but then please remember we are essentially a track owner. We are not event promoters although we continue to play that role to fill the gap. And we are certainly not the main body to shape the motorsports scene in Malaysia – this is the responsibility of MoYS and the AAM. Nevertheless we will do whatever we can within our zone."
Spoken like a true Chairman who really cares about the industry he loves, and the venue that he himself uses on a regular basis. It would be hard for any local Malaysian motorsport enthusiasts not to trust that Azman will be able turn things around at SIC.
Final Words
On the Saturday night of the Formula One Grand Prix, Petronas hosted a BBQ in the paddock. Everyone who is anyone of the F1 world was there, having fun, and a good feed. But what the general public didn't see was that new F1 CEO Chase Carey and ASIC Chairman Tan Sri Azman Yahya gave inspiring speeches about Malaysia's contribution to F1 and the future of motorsports in Malaysia.
So I asked if Azman could finish with some final words from that speech on Saturday night.
"There has been mixed views on F1 in Malaysia," started Azman. "Let me set the record straight from SIC's perspective. The Malaysian F1GP has been a huge success. It has put Malaysia and Sepang on the world map, being the first of the new wave for F1 destinations back in 1999. We were also the first of the modern Hermann Tilke designed tracks, and arguably is still one of his best. That worked to our advantage.
"And Sepang has also been successful for F1. It opened up opportunities for other new countries to also explore hosting the event. It was only after the success of Sepang that we saw the proliferation of F1 events in new destinationsc around the globe. This is why I think Bernie Ecclestone has always had a sweet spot for Sepang despite his sharp comments.
"Given the cost of hosting the event that runs in tens of millions of dollars, there is no way we can recoup the investment on ticket sales. The government looks at the overall economic impact which includes indirect benefits such as tourism and media exposure. Over time, the value of these indirect benefits especially media exposure, diminishes. It makes sense for the government to reallocate the resources into areas that the government feels will give a higher economic return. It is the responsible thing to do.
"Please understand the decision to terminate F1 was an economic and not a political one.
"For me, I accept that albeit with a heavy heart, but also with a clear appreciation of the reason. Now it's time to move forward and let us all work together to develop Malaysian motorsports both as a sport and as an industry."
The final sentence of that last paragraph should resonate within everyone who has something to do with Malaysian motorsport. Whether you're a competitor or promoter and organizer of local grassroots events, or involved in the higher level series, and even fans and spectators – Malaysian motorsport will only flourish if we all work together and do what's best for the sport.