What a weekend it has been
TIMETOATTACK 2015 Season has finally concluded! Last weekend's HKS Premium Day themed TIMETOATTACK Final Round has got to be our biggest, most competitive round in the history of Time Attack circuit events in the region! For the first time ever, competitors and spectators from Malaysia and Singapore were able to converge with the 2 of Japan's current most incredible circuit icons! The HKS GT1000+ R35 GTR and Nobuteru Taniguchi.
We've come a long long way since the birth of TIMETOATTACK in 2010 where time attack based competition was just taking shape. It was a time when the sport was seen as a glorified track day with a timestamp. Today, the penetration of time attack sport has taken average track day goers onto a whole new dimension.
TIMETOATTACK has provided circuit junkies a higher purpose and multiple levels of competition classes to pursue. They no longer head to the circuit for just a workout or to sharpen their skills. Instead these days, circuit junkies head to Sepang Circuit to develop talents in all available aspects, anything from driving skills, hardware engineering and now, even aero. Lap times have become the primary gratification of their progress.
The Supercar class is a permanent feature at TIMETOATTACK
We at Zerotohundred.com, the pioneers of TIMETOATTACK are proud to have contributed in more than a few ways a platform to enable just about anyone to partake in competitive motorsports. Yes, anyone with adequate skills and a proper car can sample the thrill of time attack events. Such thrilling moments were previously limited to the almost-inaccessible world of sanctioned race events. It is also one of the safest forms of circuit competition where one doesn't race against each other, but purely against time.
2015 TIMETOATTACK Season Finale
For obvious reasons, prior to last weekend's HKS Premium Day themed TIMETOATTACK Final Round, It's almost hard to comprehend the nervous yet prepared, proud yet humbling moments we, the organizing team experienced. It was the 13th TIMETOATTACK event we've mobilized so far since 2010. Though we were armed with plenty of experience from past events, nothing could prepare us for the sheer event scale we faced.
TIMETOATTACK Parade Laps are a breathaking moment for all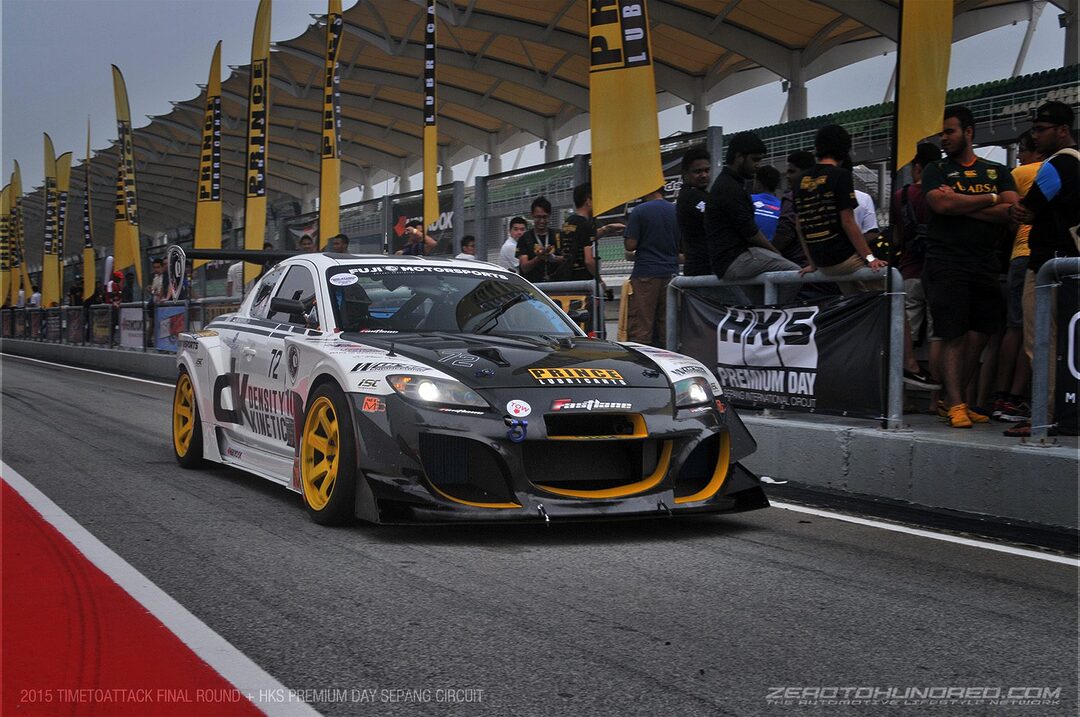 A Special mention to Mr Koh and his RX-8 by Fuji Motorsports. Mr Koh held the earliest time attack events in Malaysia back in 2007
3 main aspects that were introduced exclusively for this round
HKS Premium Day Malaysia exhibition at Level One
HKS GT1000+ GTR Attack & Japanese star driver Nobuteru Taniguchi
HKS Dyno Challenge
First ever 2-day weekend event
Special Segments that were reintroduced include:
RevoZport 100 Supercar parade lap
100 JDM performance car parade lap
VW Wing Hin Autohaus on-site Test Drive campaign
Racechip Super Stock Trophy Challenge for 50 cars
GTR Taxi Ride by Nobuteru Taniguchi
Toyota 86 Taxi Ride by Nobuteru Taniguchi
If anything, it was hands down the largest TIMETOATTACK event we ever had.
The 2 main segments namely the Track Day and Time Attack were no longer packed into 1 day but split between Saturday and Sunday respectively. Both of which held over 100 participating cars each. However, the call to expand TIMETOATTACK onto both days were the best we made. This allowed generous track time for participants to practice and to test components before the big day on Sunday
Autograph sessions with Nobuteru Taniguchi
with a long queue line
Happy people!
Look what we have here, our esteemed guest, His Royal Highness Tunku Idris and Mr NOB!
The Royal stable
Tunku Idris spent some time at the HKS Premium Day hospitality
More so, the 2 day event gave fans plenty of face time to access the grand attack, HKS's Premium Day, GT1000+  GTR and of course, the legendary NOB. Exclusive autograph signing ceremonies and rare taxi rides in either a R35 GTR and Toyota 86 in NOB's hands  were offered periodically throughout the weekend.
Today's internet legends, the RWB and Liberty Walk creations
Motorsport Playground's GT1000+ Replica and Jeremy's modern tofu car
The TIMETOATTACK Car Park is yet another scene not to be missed
With icons to drop jaws for
RaceChip's Super Stock Trophy candidate
Supercars blends in well with the scene
The latest, most extreme Megane Trophy R was on site courtesy of Renault Malaysia and owner Syed Rizal, also a TIMETOATTACK competitor..
..in a R56 MINI Cooper GP-2!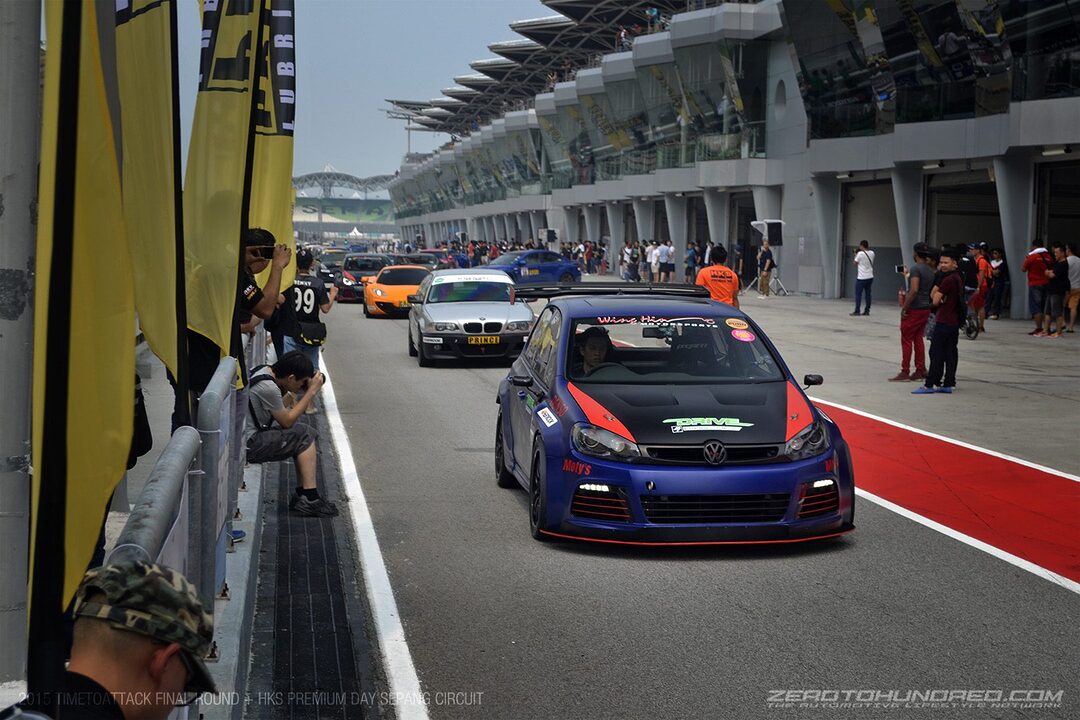 The Euro to watch for. ProArt's Golf6R – The Fastest Euro ever at TIMETOATTACK!
The Untouchables
Plenty of all-new lap records by the participants were set and smashed right up till the very end of the event. It's just amazing how so much progress can be made in between events being only a handful of months a part. I'd like to take this opportunity to mention a few names and teams that shone particularly well, in no specific order or favour of course. In any case, we'll be highlighting more teams and names throughout the entire off-season of TIMETOATTACK as well.
Team ST Powered's Double Dragon Evos
Team ST Powered proved how their Double Dragon pair of Time Attack Evos 8 and 9 were right on the edge by matching their previous lap times with a deficit of only a couple of a hundreds of a second. Still, ST Powered owner and driver, Desmond Soh took top honours by clinching TIMETOATTACK Fastest Man of the Year 2015 with his blisteringly fast lap time of 2:15.331 from our April's Round 1
Team ProArt Wing Hin's Monstrous Golf 6 R
Team ProArt Wing Hin is yet another top candidate that has demonstrated exponential progress via their prized VW Golf 6 R. From the very humble beginnings of a tuned AWD hatch into a street legal class Time Attack monster R it is today. It's just brilliant how ProArt were able to wring so much performance from a non-track specced car. At their peak on April 27th at last year's Round 1, they recorded an incredible 2:27.063. During last weekend's 2015 Final Round however, William Ho, ProArt's resident driver managed an unbelievable lap of 2:24.914!! Easily makes them the fastest Euro classed competitor in the history of TIMETOATTACK!
Underdog Eugene Lee
An underdog, a privateer, a senior marketing manager at McDonald's, TIMETOATTACK loyalist Eugene Lee has inspired many with his unrelentless passion for lap domination. Hailing from a basic Megane RS 250 and armed with Track Day experience, Eugene has worked his way up the ladder with consistent improvements in both his motor skills and motorcar. He has attended more off season trackdays and done more to his Megane than some pro teams have and I bet he practices even in his sleep. Rumoured to churn over 300hp, Eugene's Megane is now at its peak with his personally concocted lightening programme, race purposed Nitron coilovers and more. Unfortunately however, Eugene weren't able to duplicate his all-time best of 2:28.630 from the trackday a day before the attack and walked away third within the Euro Class with a lap time of 2:31.298.
HKS Invasion
Team HKS Japan, the formidable force had for the first time entered TIMETOATTACK via 2 of their greatest GTR incarnation. This time, they featured one of Japan's most successful and incredibly talented Nobuteru Taniguchi. Nob as many calls him is HKS's in house driver for anything from product development, circuit racing, drift and of course Time Attack events.
Ken Ji's HKS GT1000 GTR – TEAM HKS GARAGE R RACING
Used to campaign in his Ferrari Rosso Red HKS Hiper S15 Silva in prior years of TIMETOATTACK, Ken Ji has since moved on from his 500hp S-chassis JDM onto Godzilla territory. Based off HKS's GT800 kit at the very beginning, Ken Ji's GTR has gone through multiple conversions, while in keeping within his chronic demands for a clean and daily GTR. Ken Ji's, still daily GTR now sees well over 1000hp via the HKS GT1000 upgrade with bespoke HKS titanium race exhaust and Hipermax 4 coilovers.
Even before the 3 items mentioned were implemented, while in GT800 suit and development stage, Ken Ji was able to clock his best of 2:20.57 unofficially. In full suit during last weekend attack in NOB's hands, the legendary japanese drive was able to bring Ken Ji's GTR to 2:17.529 crowning the NOB / Ken Ji duo Fastest GTR ever at TIMETOATTACK! Beating previous dynamic duo's winning GTR Arthur Lo / Shaun Yip from Ascendant Motorsport's 2:17.653 by just hundreds of a second!
Nobuteru Taniguchi's HKS GT1000+ GTR – TEAM HKS JAPAN
HKS's cream of the crop GTR has every available HKS part thrown into it. Producing in excess of 1200hp. Like Ken Ji's GTR, the GT1000+ begins life from a 4.1L stroked VR38 featuring reinforced components and a further improved head to achieve the appropriate flow. It is then matched with not 6 but 12 pieces of 575cc injectors to provide enough race juice for when twin GT1000 turbochargers introduce an atomic surge of boost at full chat.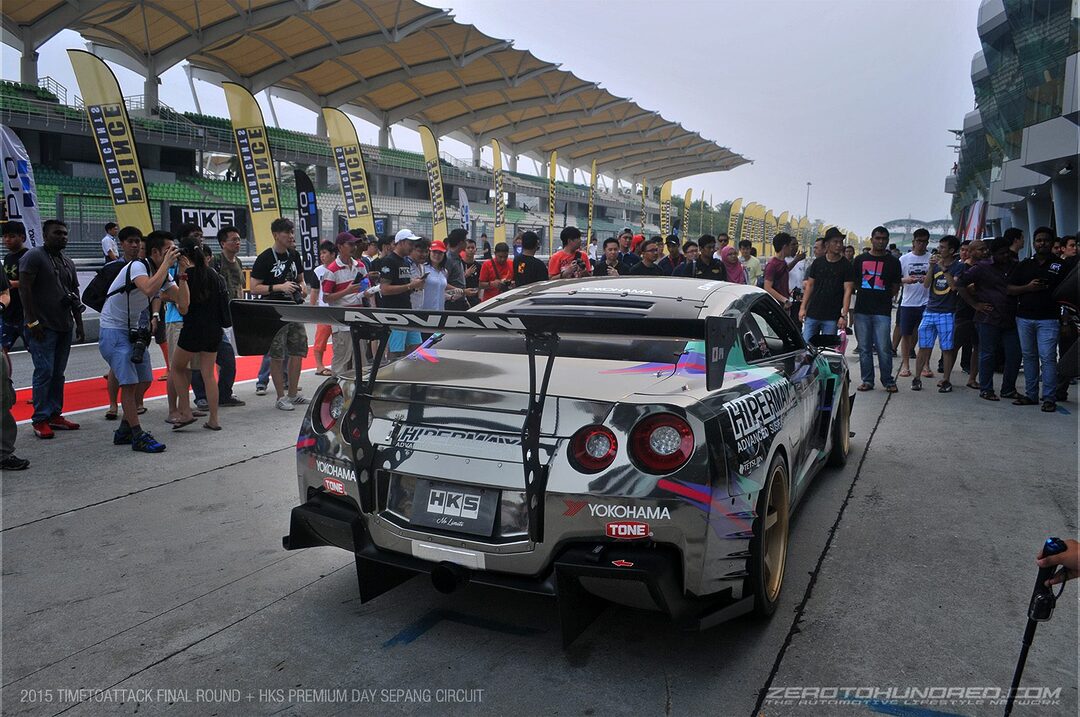 The GT1000+ GTR won't go far if not for the work that had gone into transmission engineering. The standard twin clutch box had been reworked with bigger and stronger gearset, ensuring the 'box's ability to withstand up to 1400hp. Exterior and Aero wise, a huge part was contributed by BenSopra in everything from the front and rear bumpers, diffusers and such.
The HKS GT1000+ if you hadn't already know runs on Advan full slicks and during the attack weekend, it was a classified as a demo contender. The TIMETOATTACK platform allows for Semi Slick tyres only. Even so, the sheer rarity and performance of the HKS GT1000+ GTR has inspired many at the last weekend, clocking in at an untouchable lap of 2:07.193!
It is no doubt the lowest lap time figure we've seen throughout the years of TIMETOATTACK and is one to be inspired from and perhaps see a worthy contender challenge it in the near future.
Many milestones were reached throughout these 13 events from our very first in 2010. None of these events would have even been possible without our talented team of organizing committee, event partners, sponsors, visitors, media friends and above all, the passionate participants.
It is hard to comprehend how much support these people have given us, to be able to garner people from various walks of life to come together for this one event, the TIMETOATTACK. We are proud and at the same time, very humbled by such an great achievement.
We have many people to thank for this amazing feat but please do allow me to specifically mention the esteemed entities that were involved during last weekend's HKS Premium Day themed TIMETOATTACK Season Finale 2015.
Do visit www.timetoattack.net for complete results, lap times and everything about TIMETOATTACK! Stay tuned as we update you on our plans for 2016!