"DOUBLE HEAD" EXHAUST GROUNDING kit
RM88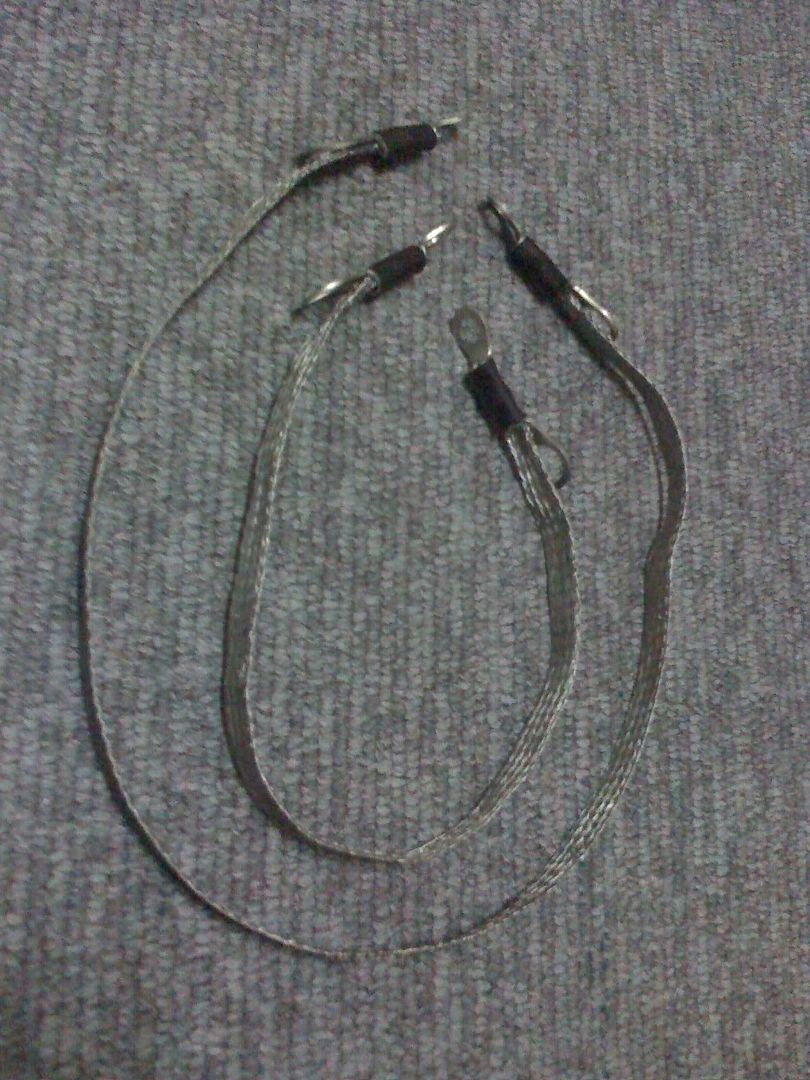 **JUNKee Garage - DO IT YOURSELF EngineerinG**
now offers specialized earthing straps to properly ground your cars, trucks and SUVs exhaust system to the chassis. Based on research and development of the Hyper Ground System, the new exhaust earth is designed to maximize exhaust efficiency." "DOUBLE HEAD" exhaust and muffler ground wire can be install to your cars, trucks and SUVs stock exhaust system, or aftermarket performance cat back and universal muffler system. Universal Hot Earth Exhaust Ground System for cars, trucks and SUVs Features:
* Increase torque response
* Reduced static electricity in exhaust
* Reduced vibration noise from exhaust
* Easy installation with common hand tools.
-The Theory Behind the Product:
There's a lot of static electric will be created once your started your engine by the friction between the exhaust gas and the exhaust pipe inner surface which eventually will become a
resitance
for your exhaust gas flow.With our "DOUBLE HEAD" grounding strap,the static electric will ground it away from your exhaust system so you'll experiece
SMOOTHER
exhaust gas flow
which means
Better Throttle Response
!! And nevertheless,for some car with poorer chassis grouding your O2 Sensor will be benefit too with this simple move.
ITEM DESCRIPTION
"Double Head" Exhaust ground strap comes with 2 copper ring connector which will fit any screw or bolt size M6(10mm Spanner),M8(12mm Spanner) and M10(14mm Spanner).The strap are made by quality Braided Copper(hi conductivity).Package Come with 2 straps in the length of Approx 30cm & 50cm.
we tested on our strap with 2 meters in length, & its only 0.3 ohm
* this is the product that similar with those aftermarket branded like "SUN AUXX muffler earth", but with cheaper price.
* we do custom on any length you want, mail us the length, we will give you a quote.
SHIPPING
*free shipping to everywhere around Malaysia
*ship by POST LAJU.
*item will ship out ASAP, after payment receive.
*please provide us your name, hp no., mailing address, after payment makes.
*Singapore buyer are welcome. (price of item, shipping fees, will quote accordingly.)
PAYMENT
*Maybank2U, cash deposit/ATM fund transfer, interbank fund transfer.
FAQ
:help:
1) where & how to install ?
ANS: example of the installation. 1 strap install around the catalyst converter, another strap install around the muffler is recommended.
CONTACT
*SMS :
012-7115375 MJ
,
+6591209510 LAM.
*email:
eichiban168@hotmail.com
/
respect_inc@live.com.sg
*PM here
our blog:
JUNKee GARAGE
others stuff of us
MUGEN header 4-1
H22A turbo header
HOSE CLAMP
thermal wrap
17" WORK EQUIP VOGGARD
P/S: goods sold are not refundable/returnable.
Last edited: