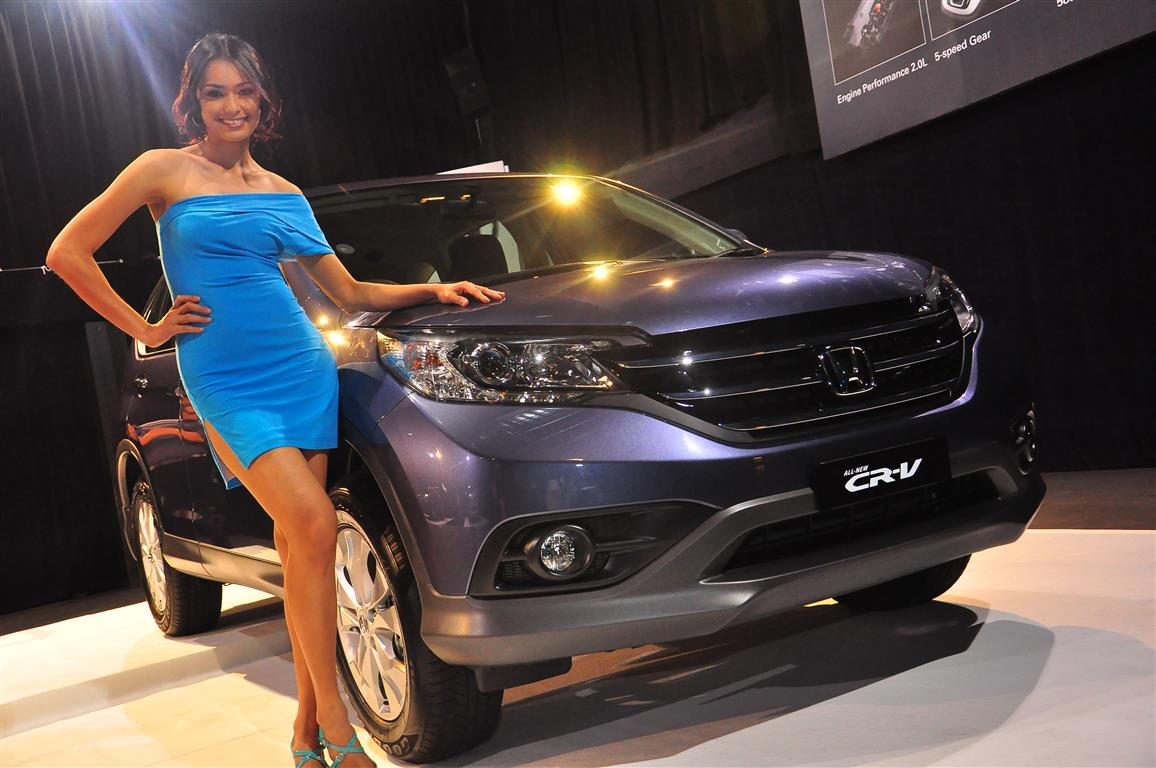 Honda's 4th generation Comfortable Runabout Vehicle (CR-V) was unveiled to the Malaysian media last night that saw the launch of the 4th generation Honda CR-V having fulfilled their the promised to make it smaller on the outside, larger on the inside and more responsive on the go – all at a lower price point than its predecessor.
It was a rather special occasion for Honda, especially for their new CR-V being the first CKD model launch for Honda Malaysia in 2013 as well as marking this year as the 10th anniversary since the CR-V rolled out from Honda Malaysia's Melaka plant. To date, the number of CR-Vs running about on Malaysian roads should be around 34,000 units at current.
This particular SUV has managed to capture 130 awards internationally with more than 5 million sold world-wide in 160 countries – a testament to its general popularity no doubt and Honda has managed to deliver the new CR-V based on the design philosophy of "Man Maximum, Machine Minimum".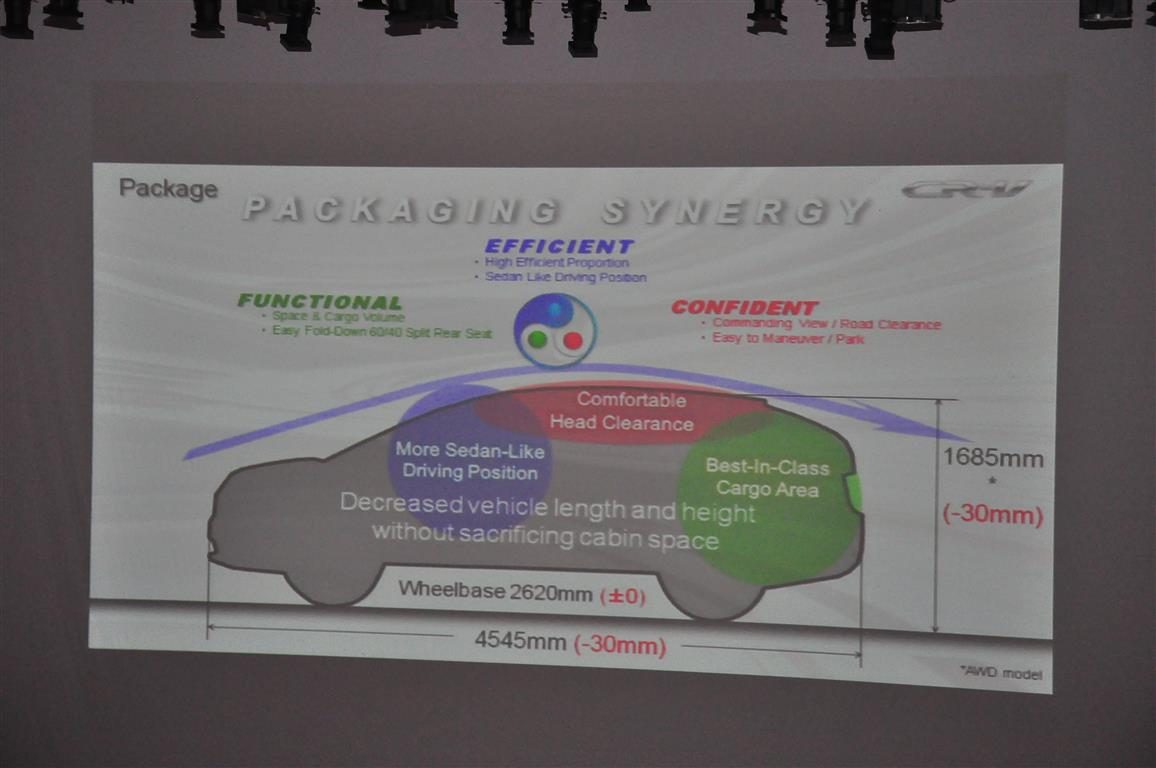 This has allowed the new CR-V to become a little more compact than its predecessor with a reduction of 30mm reduction in overall height and length, while the wheelbase remains the same.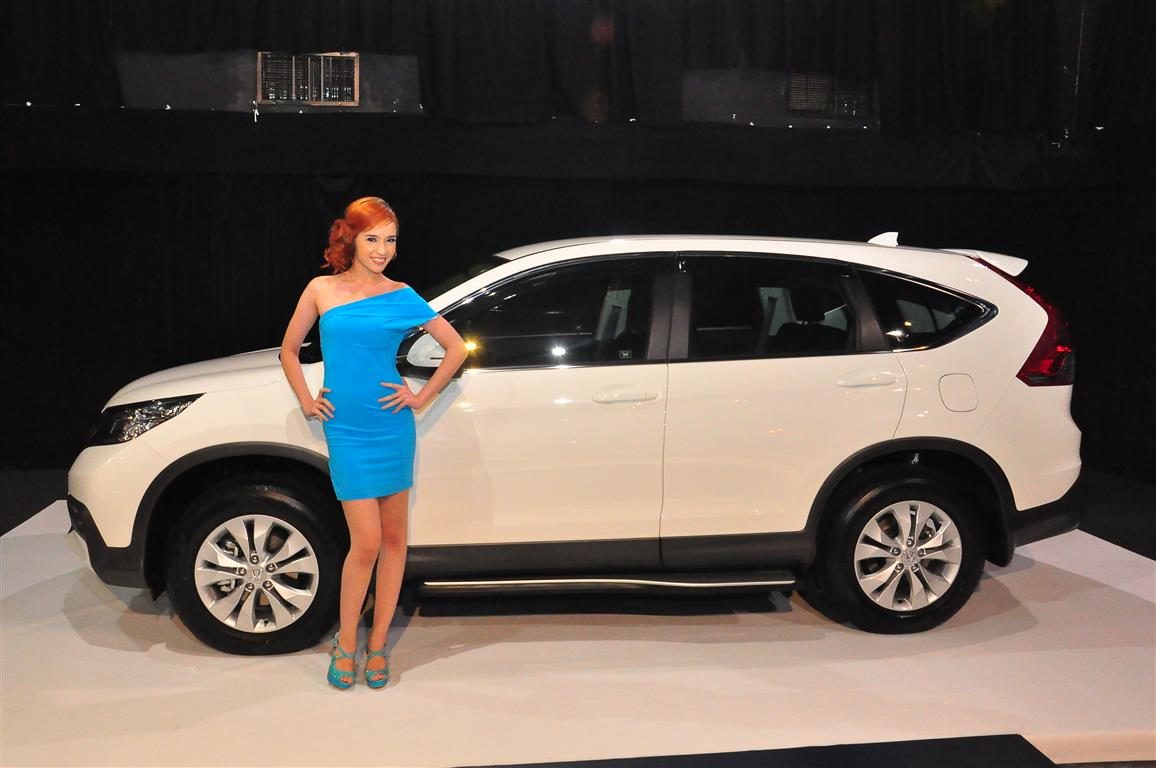 However, the interior has been an ergonomic look-over resulting in a more sedan-like driving position, Even though the new CR-V's overall height has been reduced, interior head clearance has still been maintained, while it's cargo area has been given a booster shot of 140L giving it a total cargo capacity of 1,570L thanks to its fully foldable back seats that's been taught to perform a disappearing act. Loading and unloading at the rear has been revised by lowering the rear cargo area's floor by 25mm.
The amount of revisions done to the new CR-V could be deemed rather extensive, reaching as deep as the chassis itself; becoming 9% more torsionally rigid, 3dB lower in NVH, 8% more aerodynamic along with an additional 5bhp from its 2.0L i-VTEC engine that has a total output of 153bhp at 6,500rpm and 190Nm of torque at 4,300rpm, while mated to a 5-speed automatic transmission.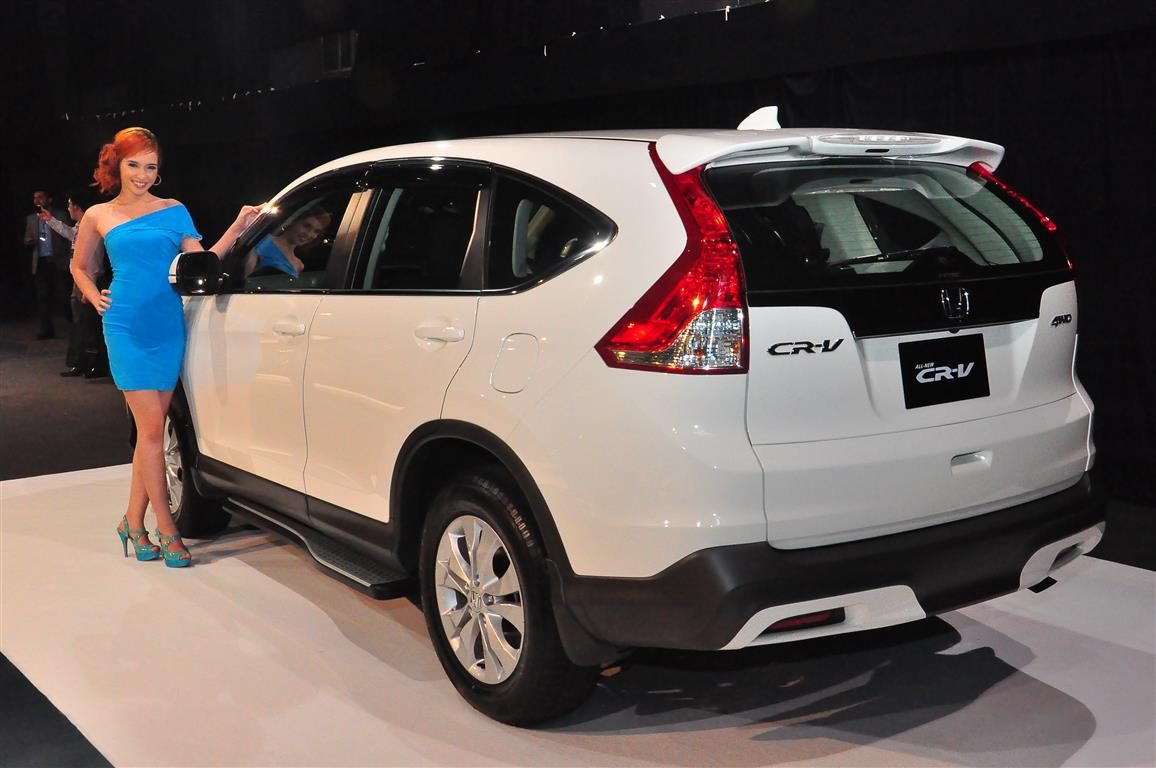 Honda's also saying that the new CR-V is far more responsive than before, about 40% more responsive in fact, but to help drivers save fuel, an ECON button and Honda's Eco Assist systems now find themselves becoming a standard feature, while you ride on 17″ alloy rims wrapped by 225/65 rubbers.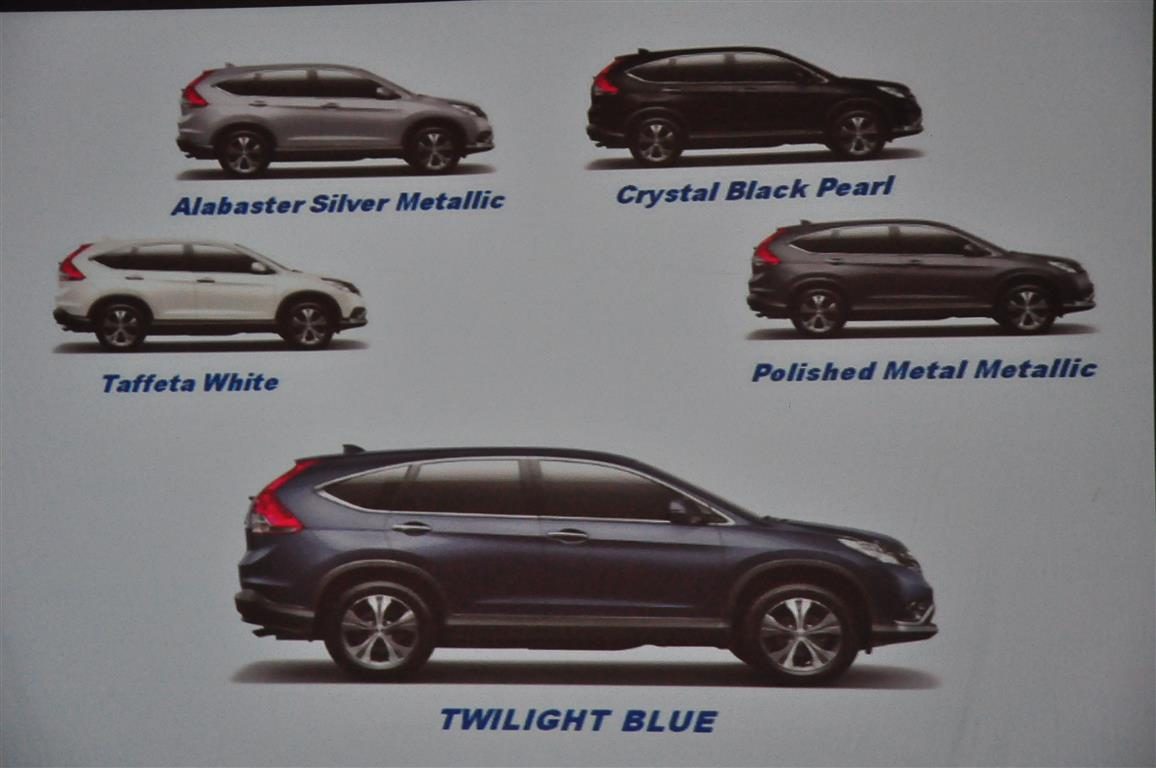 Currently, 5 colours have been available for the Honda CR-V and comes in your choice of Twilight Blue Metallic, Taffeta White, Alabaster Silver Metallic, Crystal Black Pearl and Polished Metal Metallic with a price tag of RM148,800 (OTR + Ins).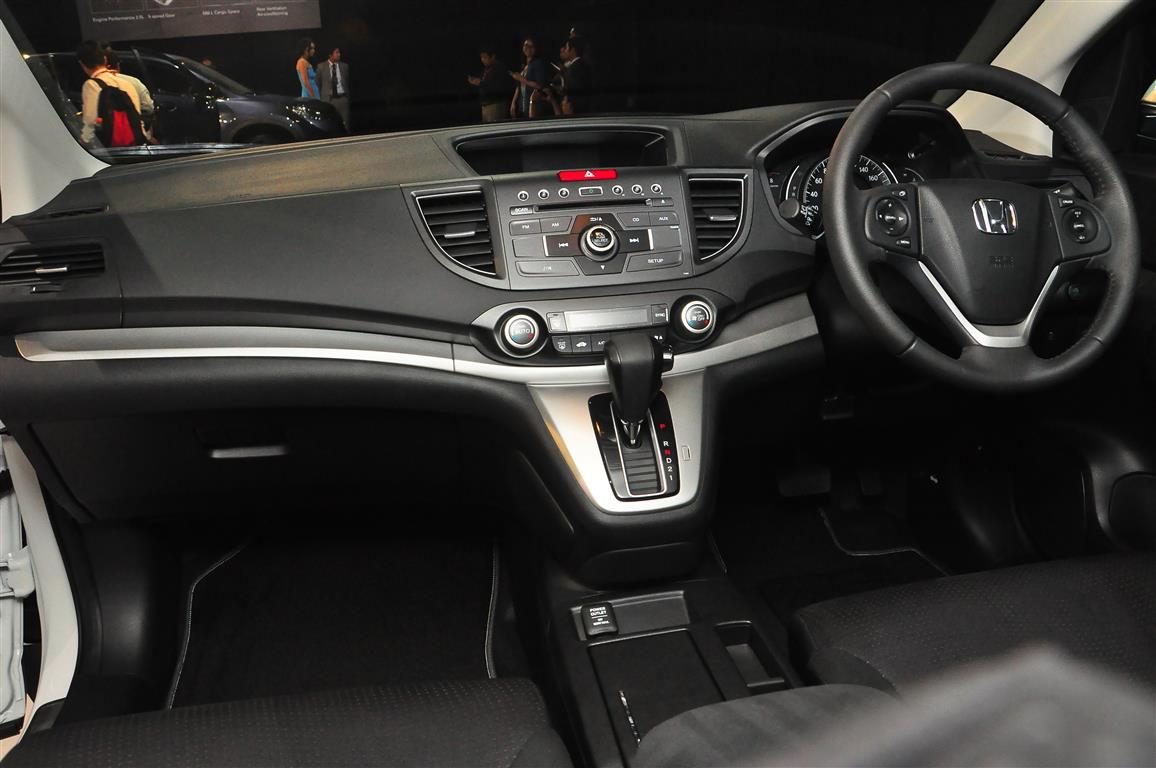 In terms of safety, the new CR-V comes equipped with Dual Front SRS airbags, Side Airbags with Occupant Position Detection System (OPDS), Electronic Brake Distribution (EBD), Anti Lock Braking System (ABS) and Vehicle Stability Assist (VSA) as standard.
In addition, the 4th Generation CR-V now comes with a 5-year warranty with unlimited mileage and a new service interval of 10,000km. New CR-V owners are also given 6 free labour services that alternate with paid services with 62 Honda dealerships located nationwide participating in this.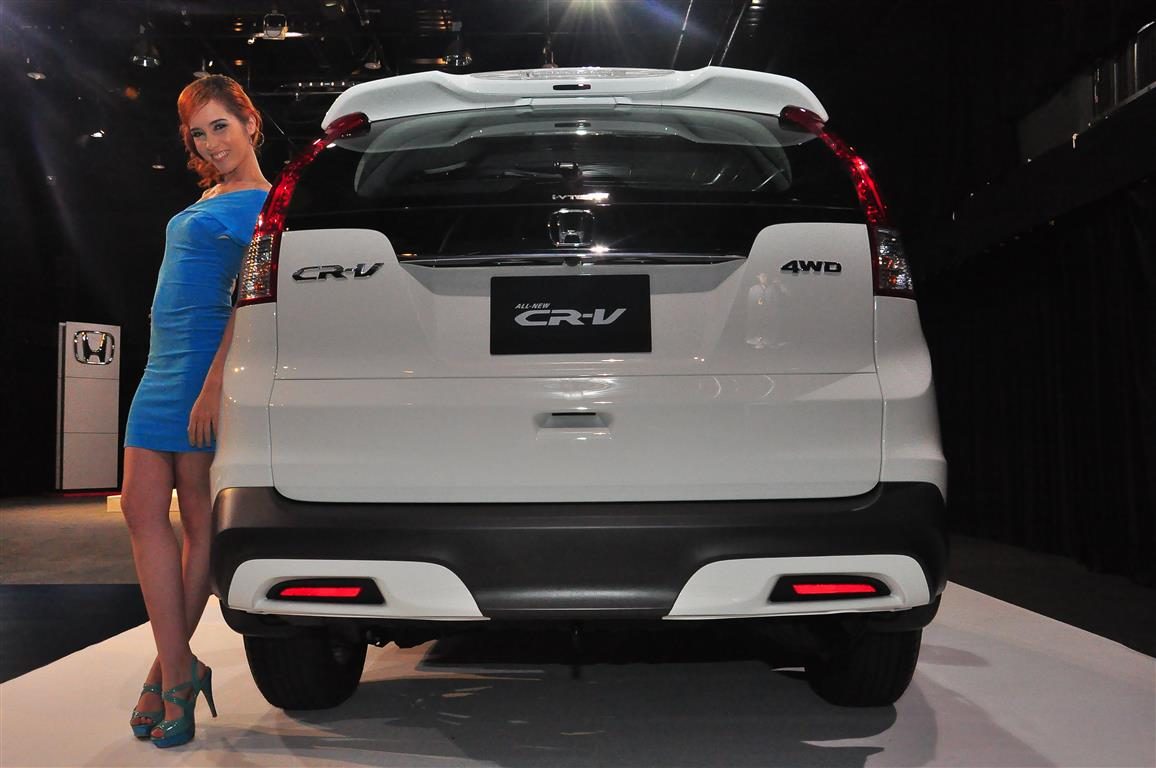 Lastly, Honda Malaysia has also indicated that there will be a more powerful variant equipped with a 2.4L engine, costing around the RM190,000 mark and is due to make an appearance sometime in June 2013.
http://youtu.be/DZJSoI28xZM