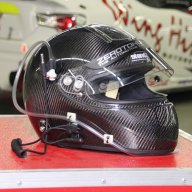 Jul 6, 2000
5,553
3,223
5,213
NEWS RELEASE BY GOODYEAR:

Goodyear Launches EfficientGrip Performance SUV Tire for a Quieter Ride

New Efficient Grip SUV tire promises a quieter, more comfortable drive with wet performance

Buriram, Thailand, 31 July 2017 – Goodyear today launched its latest tire in the luxury SUV highway segment, the EfficientGrip Performance SUV, in a regional event held in Buriram, Thailand. Designed with consumer-driven needs at the heart of its tire innovations, the EfficientGrip Performance SUV delivers a quieter driving experience with maximized comfort and exceptional wet braking performance.
The SUV segment is clearly a growth market, expected to increase with a compound annual growth rate of 26% from 2012 to 20171 in Asia Pacific. To meet the growing demand, Goodyear has introduced the EfficientGrip Performance SUV tires as part of its commitment to continued innovation and development of high performance tires.
The EfficientGrip Performance SUV is packed with advanced technology, including Goodyear's QuietTred Technology. Its innovative noise dampening tread design has an increased number of pitches and optimized sequence, coupled with closed shoulder grooves design to deliver optimal quiet performance. The tires are also equipped with FlexContact Technology, designed with a shock absorbing cushion layer compound with optimized formulation that promises a more comfortable drive. These technologies are paired with new innovative polymers tread compound for increased grip in wet road conditions, ensuring superior wet performance in the region's unpredictable weather.
"Goodyear is always at the forefront of innovation, dedicated to offering superior tires developed with our consumers' needs at the core. We understand that today's urban luxury SUV drivers are looking for a comfortable, quiet escape from the hustle and bustle of everyday life, and the EfficientGrip Performance SUV is our answer to that. With the advanced QuietTred and FlexContact Technology, together with exceptional wet braking performance, we are confident that the EfficientGrip Performance SUV will provide consumers with an invigorating drive through every day's journeys," said Chris Delaney, President, Goodyear APAC.
QuietTred Technology Minimizes Noise with Dampening Tread Design
With Goodyear's QuietTred Technology, the EfficientGrip Performance SUV comes with advanced noise dampening tread design for superior quiet performance. The increased number of pitches with optimized distribution, coupled with closed grooves and shoulder design, lowers noise generation, providing a quieter ride. In addition, the improved footprint shape and pressure distribution results in less vibrations and regular wear throughout the tire's lifetime, enhancing longevity.
FlexContact Technology Pushes the Boundaries for Maximized Comfort
The EfficientGrip Performance SUV is designed with FlexContact Technology with improved material and construction for greater comfort and a smoother drive. The tire comes with a shock absorbing cushion layer compound with optimized formulation, as well as increased insulation of the tire structure. It is also equipped with an innovative hexagonal bead shape to enhance rim contact. Altogether, these features reduce tire vibrations, resulting in a comfortable drive.
Superior Wet Performance with Cutting Edge Technology from Europe
Fitted with new innovative polymers from Germany within the high-performance cap compound, the EfficientGrip Performance SUV has optimized microstructures for increased grip in wet road conditions. It also has wider and reinforced shoulder blocks with wider centerline sipes that offers increased contact area during braking, providing shorter braking distances thus making it safer.
Availability and Sizes
For the Malaysian market, the new Goodyear EfficientGrip Performance SUV tires will be offered in 17" to 20" rim diameter variants, with up to 20 sizes available. Consumers can purchase the EfficientGrip Performance SUV tires at Goodyear Autocare or Servitekar outlets, as well as authorized Goodyear dealers nationwide from October 2017 onwards.
To learn more about Goodyear EfficientGrip Performance SUV, as well as other Goodyear tires, please visit Goodyear Malaysia's Official Website -
http://www.goodyear.com.my/
, or find us at Goodyear Malaysia's Facebook page -
https://www.facebook.com/GoodyearMalaysia

About Goodyear Malaysia
In 1908, The Goodyear Tire & Rubber Company began buying rubber from Malaysia via Singapore for its worldwide operations, with the sale of Goodyear products in Malaysia beginning in 1929. Goodyear Malaysia Berhad established its own manufacturing plant based in Shah Alam, Selangor in 1972, which went on to become the company's first tire plant to be certified for ISO 9002 standards in 1992. Today, Goodyear is one of the leading tire companies in Malaysia producing and selling a wide range of products for passenger, light truck, truck, bus and 4X4 vehicles. For more information about Goodyear Malaysia or its products, go to
www.goodyear.com.my
.