Car Clubs Gathering @ The 19 USJ City Mall NYE Countdown to 2013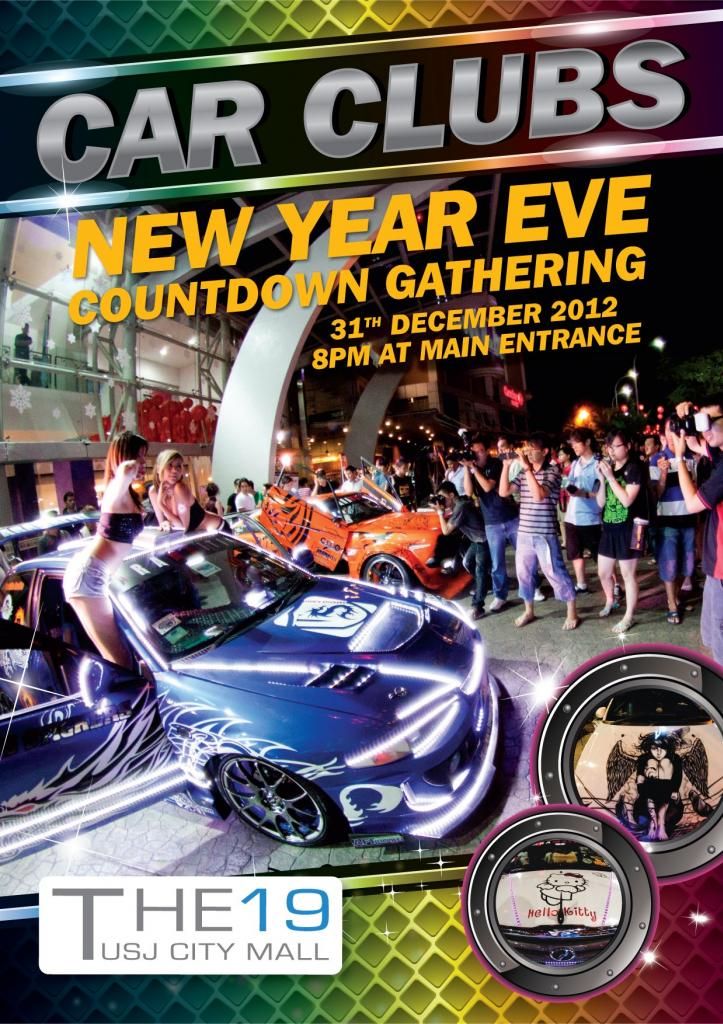 Event Name:
Car Clubs Gathering @ The 19 USJ City Mall NYE Countdown to 2013
Time:
31st DEC 2012(Monday, 8pm - 12.30am)
Venue:
The 19 USJ City Mall, Subang Jaya
Confirmed Car Clubs:
1)Civic Type-R Club Malaysia
2) Honda CR-Z Club Malaysia
3) Satria GTi Club Malaysia
4) Satria Neo R3 Club Malaysia
5) Satria Neo Club Team (SNCT)
6) Proton Inspira Owners Club (PIOC)
7) Wira Owners Club (WOC)
8) Prime Perdana Club (PPC)
9) Proton Persona Owners Club (PPOC)
10) Prevé Owners Club ( PREVOC)
11) ProtonCoupe
12) Satria Tuners Club (STC)
13) Waja Malaysia Club (WMC)
14) Kelab Kereta Lama (KKL)
15) Antera Motorsport
16) Merc W201 Malaysia
Special GUEST:
Competition Autoshow Cars by Team Impact Malaysia & Specially TUNED Satria Neo CPS by GT AUTO Sunway
GT Model Search:
1) Christine Pang
2) Moon
3) PuiLing
4) Jane Wong
5) Amelia
6) Chloe
Supporting Booth:
1) Proton Edar
2) Momentom Motorsport
4) ASC (Ameron)
Event Itinerary:
6.00pm – 8.00pm Car Clubs Arrival
8.00pm – 9.00pm Visitors Registration
9.00pm – 10.00pm Event Starts / Speech / Autoshow Cars
10.00pm – 11.00pm GT Model Walk Show / Photo-shooting
11.00pm – 11.45pm Live Performances / Crowning of GT Queen / Countdown party
11.45pm – 12.00am Countdown / Fireworks / Flame Throwing Cars
12.00am – 12.30am New Year 2013 Celebration
12.30am – 1.00am Event Ends
We are allocating 15 exclusive parking spaces for each invited car clubs at the designated area. (PM us if your car club wish to participate)
And, a complimentary NYE meal courtesy from sponsored restaurant/café and event merchandise will be given to each car club members (T&C apply).
Besides, on-board passengers are entitled for dine-in discount vouchers as well (first come first served basis).
We sincerely hope that this gathering / countdown event will further enhance the bonding between car enthusiasts from various car clubs.
Quick Links:
Past event page from LowYat.Net
Past event page from Zerotohundred
Previous event page from

Facebook
Facebook
Event RSVP Page
So, what are you waiting for??
Do not hesitate to call/sms/whatsapp us for more info.
Hope to see you there.
Regards,
Vaux RS Team
Tel: +6016- 212 4113 (Patrick Seow)
Tel: +6016- 2383837 (Goh Wei Luck)
Email:
[email protected]
Facebook:
www.facebook/VauxRS
Last edited: