It is no mistake to think that Japan is the land of JDM – because it is! Although, don't be mistaken that they're not into Supercars and American Muscles too. Whilst the Malaysian high-end cars scene is growing; in Japan, they've full blown and all down into modifications. In a word – Insane!
Of course the coolest and maddest work is by LB-Performance. They came 13 car strong with the majority being their widely enhanced Lamborghini Murcielago LP640s; along with the widened 458 Italia and Spider. But the attention isn't all focused to one as there are rare gems and hidden within Makuhari Messe for us to discover. Ahead now is our highlights of the Euros, Supercars and American Muscles at Tokyo Auto Salon 2014.
Let's begin with this 95% loaded carbon fibre Porsche 964. Its been enlightened, widened and madly prepped for high speed. Its a revised replica of the famous 'blackbird' comic icon that ruled the Wangan in Japan and personally for me; this was the Supercar highlight at TAS14. Just a pure, beautifully prepped and crafted 911.
Done up by a company called NEXTFORM – this 964 is an absolute showstopper for the enthusiasts. It just looks so menacing and ready to punch a hole through the laptimes. Unlike the RWB Porsches, this is designed to run high speed around the track.
Speaking of RWBs – this was the only RWB that made it to TAS14. Its the famous Rotana 993 RWB; which has travelled all the way from Thailand and now back again in Japan for TAS14. This very one is certainly one of a kind with the custom rear wing set up. No one can deny the presence of Rauh-Welt Begriff, and it does look a lot more dazzling than the NEXTFORM 964.
How would you like that wing on your Datsun? Something to most definitely attract ricers. Soon we'll probably see this set up on your average saloons.
We are still seriously bummed by this Roberuta air-suspension fitted F40 Lightweight. Its certainly killed the essence of an F40; and watching it going up-and-down at its booth broke our hearts. But its still an F40.. So…
In Japan – they tend to forget sometimes that racing cars are really meant to be raced; and everything needs to be prepped for that purpose. This 458 Challenge however has gone through some reworked items; including new wheels and redesigned bumper and wing. It does look good though! Like seriously handsome..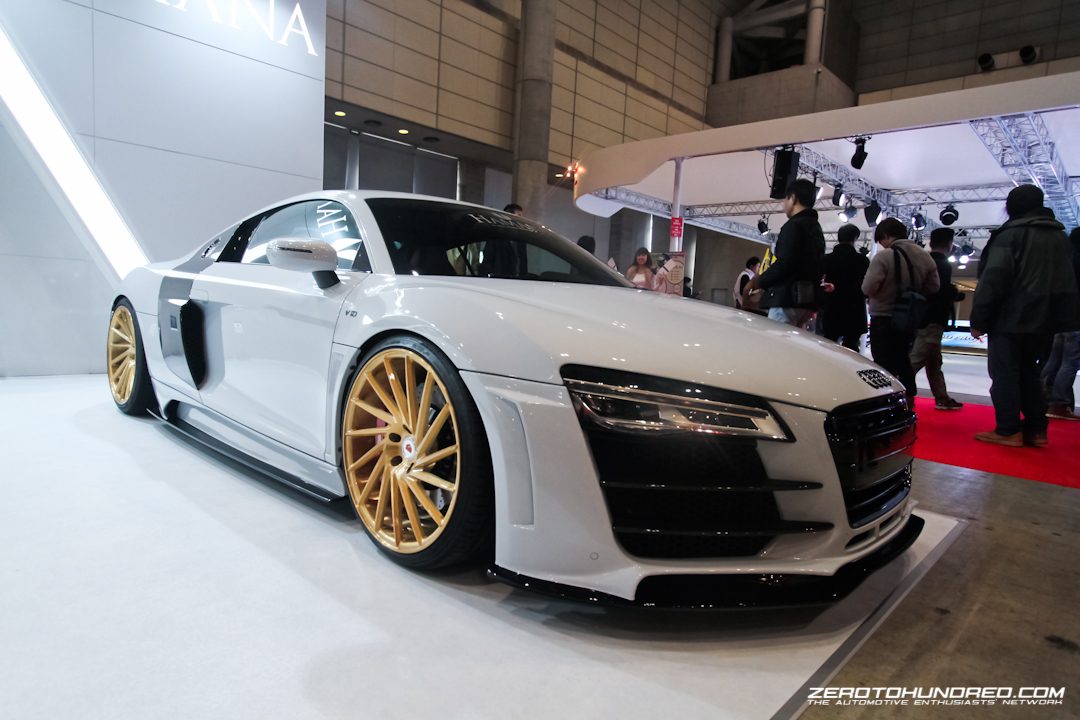 Another handsome looking ride was this R8 V10 Plus fitted with Hamana bodykit and Vossen 15-spoke wheels. The sleeper clean white persona naturally turns this R8 into an exotic run of the mill car. Why have we not seen this kit much? This kit deserves more attention.
Its great to know that the white theme is still living its legacy. If you're into SUVs then this FAB Design Cayenne Turbo will knock your socks off. Standing an even wider stance, this is probably one of those bad-ass rides that would scare children away. And those wheels? Well they'll win the "Coolest Wheel Award 2014" from us.
The all-new Range Rover has only been in the market for a while; but it seems to have caught the attention of tuners so quickly already. Mansory is one of the early birds and here it is! We think the front is a little overdone for a classy SUV such as the RR.
But from the back; it just looks the business. Flashy enough to show that its different but subtle enough to carry its expensive stature around. Word on the street is – one like this just landed here in Malaysia. We'd love to feature it if so.
Lets take a look at the Americans that took part at the show. Hennessey Performance Japan had just gotten their hands on the Corvette Sting Ray C7 that made that high speed record recently at a toll road. Packing even more power courtesy of a Supercharger kit; it'll fly off your rear view mirror before you can even spot it.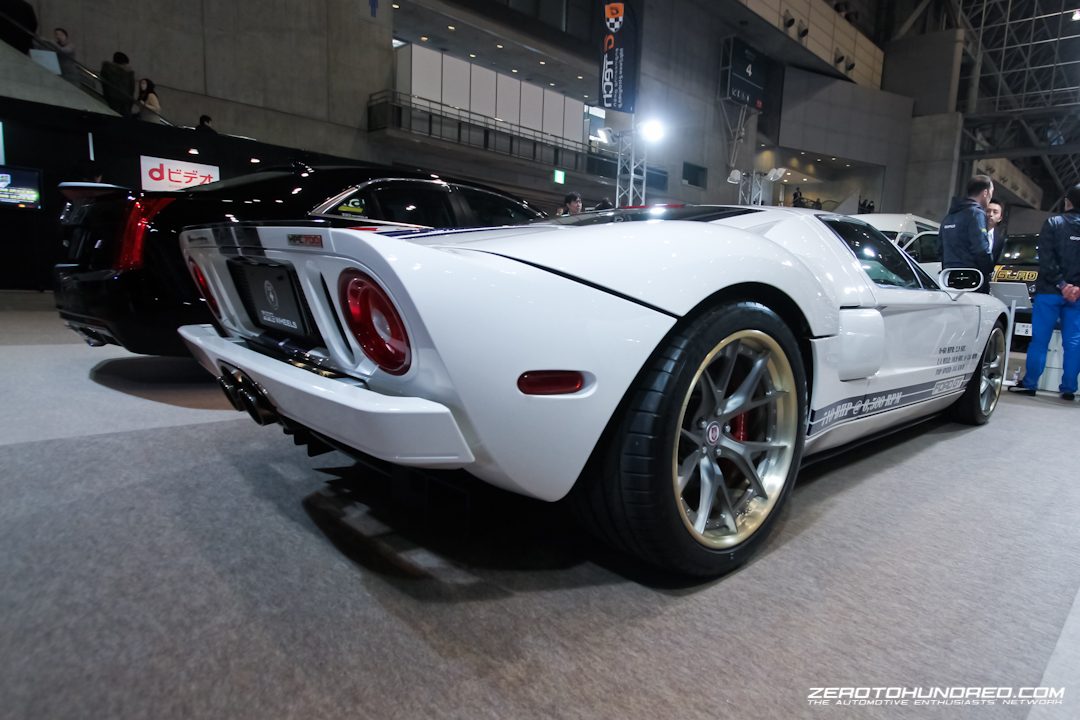 Hennessey Performance also had a Ford GT at their booth thats been fitted with the HPE700 kit. And yes you guessed it, it has 700bhp. Mind you; Hennessey also makes them with 1000bhp and 2000bhp. That'll be the kind of madness you can get from an American V8.
Oddly enough – not everything American came with ultimate straight line speed. Rather something like this Chevrolet Silverado from the 90s sits slam on to the show grounds. Fitted with massive 24″ wheels.
Also, this 300C comes with scissor doors at 24″ wheels. You'd be surprise how mad these customs can get. No forgiveness at all if you hit a pot hole with those wheels and low profile (25 series!) tyres. It'll be a jolt directly to the spine.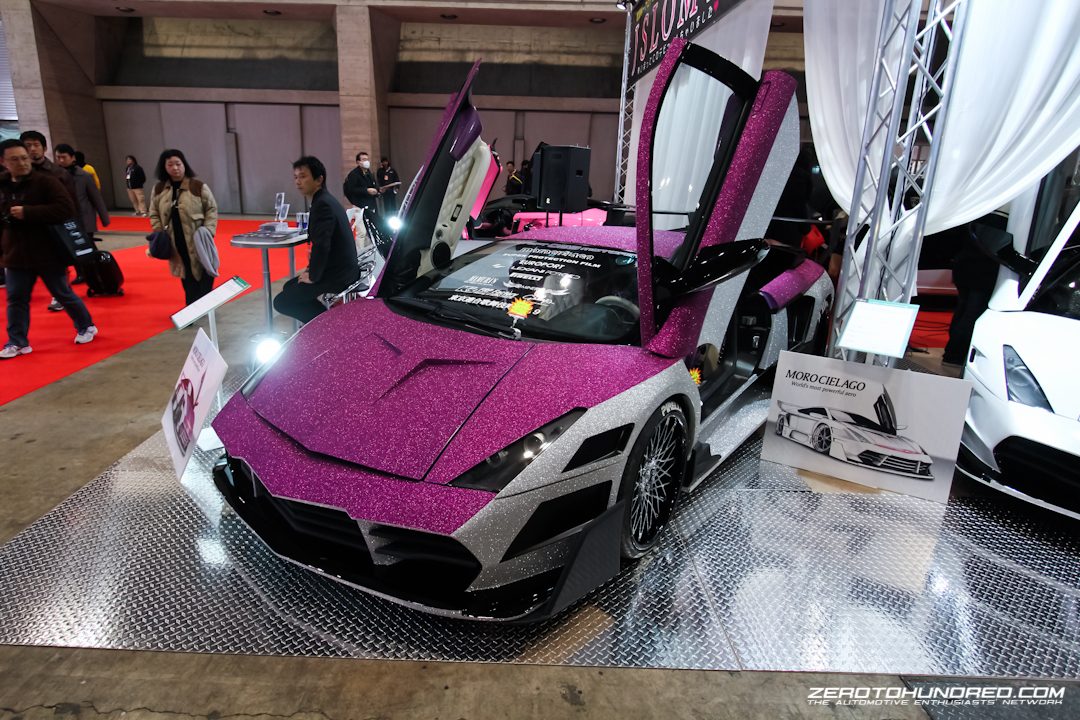 Not all things are that great at TAS14. For example – this really odd looking Murcielago tagged with a rather ludicrous colour scheme is one of most appalling styling choices in TAS14. But if you're into something different – then you might actually really like something like this.
This booth was filled with crazily modded Lambos that wern't exactly the kind of styling you'd imagine to go on your expensive Supercar. The most tolerable was probably this Liberty Walk widebody Murcielago; but how can we approve of that leopard print artwork?
And if your thick and you love the works of the bling gods – then these Mercedes SL600s fully covered in Swarovski Diamond will catch you attention too. These two cars were so shiny; you could see it from a mile away and the term "shine bring like a diamond" is absolutely moot for these cars.
But the VIP styling is a thing in Japan – and although this trend is not so big here in Malaysia, they really enjoy it over in the Land of the Rising Sun. Most of the cars that'll be hitting the streets in this styling are usually the mini buses like Alphards and Vellfires.
Done right and you could actually get a result like this. Yes – its a Pagani Zonda S which has been modified and turned into an even 'out of this world' looking thing. It is undoubtedly a love-or-hate modification; throwing away many expensively crafted components like wheels and brakes in favour of a more bling outlook.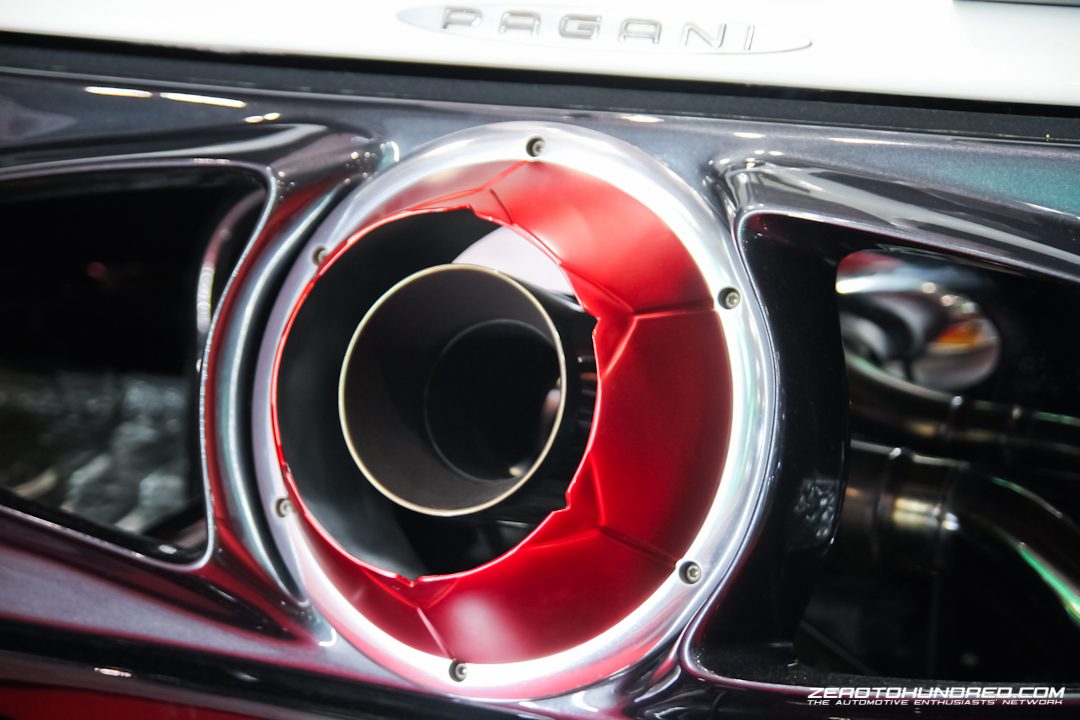 But we do envy the custom job of this very Zonda S. Particularly the exhausts exit. No one in this world would be brave enough to change the outlook of a Pagani, and yes Horacio will most definitely disapprove this; but we might actually like it. Just because of its bold and brave move to change a Pagani Zonda.
And sitting just next to the modified Zonda was this Diablo VT. Its one handsome looking brute and we really approve of the bodykit fitted on it. Not overdone like the widebody conversions; and yet elegant and tough.
Have a look at that exhaust work. Titanium all the way. We would have loved to hear the music it would make but too bad it was in an enclosed space. Green with envy.
So this ends our Part 3 of the Tokyo Auto Salon overview. For your viewing pleasure, we have uploaded another gallery of the good stuff from TAS14 and no; it doesn't end here as we still have the Parking Lot and a special on GT86s. Do await for that but until then; hope you've enjoyed our preview.