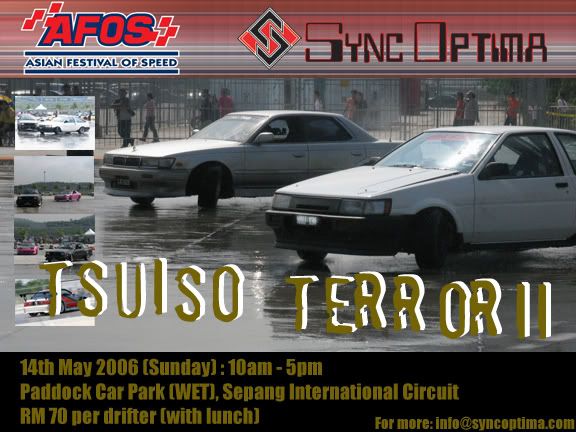 TSUISO TERROR (TWIN BATTLE)
is back with its 2nd installment. Working closely with Asian Festival of Speed (AFOS), Sync Optima had been appointed as the event organizer for the add-on activities on the race day and also to bring you the TSUISO TERROR II !!!!!
This inaugural event will take place at the Sepang International Circuit at the (WET) paddock car park on the 14th May 2006 (Sunday) intervening with the AFOS race series (Formula BMW Asia, Formula Renault Asia, Porsche Carrera Asia and Asian Touring Car Championship) which will take place on the track!!!
As the name suggest, drifters will be divided into a group of 12 drifters (of your own choice or to be decided by the organizers), and will have the opportunity to pair up with in their members for some close, two up, TSUISO drifting !!!! In fact you won't just be limited 2 cars but if your group is confident enough, the whole 12 drifters could all take it to the course for some team drift action!!! Each group will be given a time allocation of 15 minutes per run and while waiting for the next one, drifters are encouraged to park their cars and enjoy the other festivities planned by AFOS and Sync Optima; which includes: numerous car club display & challenge, sound challenge, games, entertainment, food and other fun stuff. (Groups will be given their time schedules for the whole event as to enable the members the freedom to roam around)
Track condition will be wet to ensure that a decent threaded tyre would last the whole day but drifters are advised to bring a set of spares.
Lunch will be provided to all drifters through out the event!!!
All in all, this is going to be a party of an event where we drifters are able to showcase our talent to the international media that will be attending the event!!!
Contact/SMS Jane at 012 4870487 NOW to book your slot !!!!
Because this event will be limited to only 48 drifters at RM70 (Drift + Lunch + 4xAFOS tickets) per drifter. Payment to be made on Wednesday 10th May 2006 at Sunway Extreme Park Café from 7.00pm to 9.30pm.
Updates will be posted in this forum and in the meantime
Stay OFF THE STREETS !
For more info, please do not hesitate to contact Sync Optima at 012 4870487 or email at info@syncoptima.com.
Last edited: