;) Hi to all Forumer...
..
'Selamat Berpuasa for Muslim people'
:D Today i'm selling '
Petronas Fuel Card (SmartPay Card)
'...~(Card only can be use for fuel your car & any vehicle tank at any nearest Petronas Station only)
Item price per-unit :

RM75.00

(new updated price effective 01/09/2011)
(So RM50.00 automatically inside the card already have the value amount to use..you may reload further more on your own)..
All card condition is new item card
*For now,.Available stock quite limited with me ..what you see that's standard price..further day i not sure yet the price will be increase or what
Maximum limit can reload:
99,999,999 (actually there's no limit to reload inside the fuel card at petronas cashier counter)
Minimum limit can reload:
RM10.00 above
There's no tax, hidden charge cost while active using this petronas fuel card
..it's not like credit card procedures
*There's no expiry date for the card, it's a lifetimes purposes usage..even kad debit ATM mana-mana bank pun ade tarikh luput every year..
Tiada tarikh luput untuk menggunakan fuel card ini..As long as there is still remain value of money inside the fuel card,.selagi tu boleh guna (similiar like kad debit)
>>You may able to check the balance at petronas cashier counter,.just ask the staff to assist you on checking the balance
(Kindly refer picture) This petrol card ,user may use it at this automatic machine whereby the credit card user always insert when purchasing the petrol
First time use you have to key-in break code: 0000 >>press enter...next time after that you may enter whatever number that u like to proceed with fuel the tank

Shipping item outside KL, i suggest better use POSLAJU...quite convinient
Poslaju charge cost: RM10.00 only..even you purchase2,3 pieces the poslaju charge cost still remain RM10.00 For Sabah & Sarawak Poslaju charge cost: RM15 *If you purchase the fuel card over than 5 pieces i'll give a mystery free gift


How to reload the PETROL CARD

:

Just went to any petronas cashier counter, mention that you wanted to reload the fuel card...how much the amount you wanted give the cash ... then that's it.settle...easy as that much




This Petrol card

give us convenient to fuel our vehicle tank at any time at Petronas station...
Just when you went out the car insert the petrol card, after that insert the mesra card(collecting point)..then key-in the desire amount

This

Petrol Card

also can be use to pay any food or beverage that you purchase in Kedai Mesra at any Petronas station as long as the petrol card have enough money value inside the card....just give the card to the cashier staff at counter to settle the total amount...pretty easy though!

I'm totally use this petronas fuel card for daily purposes, and my working hour...when night time quite save to use this card without bring a lot cash money ...

So far when traveling outstation i oftenly use this fuel card bcos easy to budget person like me ...

I do give to my parent to use because it's quite easy/convenient to use...No need to bring a lot of cash money all the time

Interested or inquiry..please do call/sms me 24/7:

Location to self collect at Manjalara, Petronas Station or Carrefour or Jusco Kepong (F.O.C)
Outside KL.,like (Wangsa Maju, Gombak, Keramat)..RM10 charge for delivery
Selangor area buyer need to add RM10 for direct delivery

Any inquiry you may ask me at

Yahoo Messenger

: vc_2216

Skype:

local_supplier

012-655 6027

(Ahmad ,Selayang-K.L)

017-669 0 665

(Peter, Manjalara-KL)

There's no minimum order or maximum order..you can order as many as you like from me...
Further more information: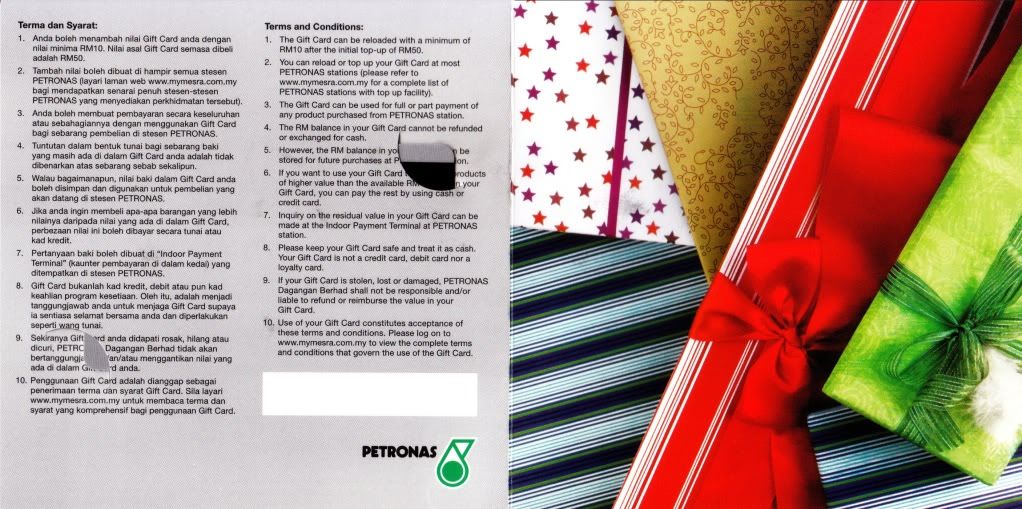 [hr]
---------- Post added at 11:54 PM ---------- 6 hour anti-bump limit - Previous post was at 11:49 PM ----------
Customer testimony you may check at this section:
[WTS]Petrol Kad Petronas - Boleh di top-up di semua stesen minyak petronas - CariGold Forum
Last edited: