The highly anticipated electric executive is now here in Malaysia and is the latest BMW to feature the premium automaker's superb eDrive system, making this the first ever Plug-in Hybrid 5 Series.

What's New in the 530e Sport?
It is said to be the most innovative plug-in hybrid model in its class that offers full range of BMW 5 Series driver assistance features in all modes including eDrive.
The premium business sedan is set to to deliver dynamic driving experience, a well known trait of any BMW and is combined with notable fuel efficiency and a seamless hybrid drive
The air stream kidney grille works to manage incoming air depending on drive situation and opens or closes to aid engine cooling when needed or to provide increased aerodynamic efficiency
The new 530e Sport comes with their Sport Line package which features LED headlights for both low and high-beam, side lights, and daytime running lights that adds to the sportiness of the new PHEV 5 series.
What's most noticeably different is the rear '530e' badge that marks the feature of the plug-in hybrid variant.
The i logo above the side air breathers as well as the eDrive logo on the C-Pillars are exclusive to the 530e Sport and further identifies the hybrid 5 series.
It comes with Comfort Access, basically a keyless entry system which provides seamless access into the car without the need for the key fob for unlocking the car doors to starting the engine as well as contactless boot operation
Double round exhaust tailpipes are featured on both sides of its rear end which adds to the athleticism of the business sedan
19″ V-Spoke wheels on all four corners hints at the driving agility of the 530e Sport PHEV

Boost Juice
252hp and 420nm is what the 530e Sport produces in total. Primary power comes from its renowned 184hp / 320nm 2L 4 cylinder petrol engine, a formidable compact engine that is featured in the latest BMWs and MINIs.
Electric propulsion is derived from BMW i's state of the art 111hp electric motor and is energized via lithium-ion high-performance battery. Intelligent energy management governs this aspect and optimizes the effectiveness of the electric drivetrain with a predictive operating strategy.
Performance wise, the 530e Sport will achieve Zerotohundred in 6.2 seconds while top speed is rated at 235km/h. Fuel consumption wise, it'll do 2.0L/100km with a CO2 emission of 46g/km
In Full electric mode, the 530e Sport can travel for a maximum range of 48km in distance with a top speed of 140km/h. Which is claimed to be the best in its segment
The driver selectable eDrive system drive modes dictate how the 530e Sport perform in driving mood, fuel efficiency and even electric juice usage. The modes range from:

AUTO eDrive
Combines the power of both combustion engine and electric motor, allows for driving  up to 80km/h on electric mode only.
MAX eDrive
Forces the 530e to drive solely on electric power and is able to reach a maximum speed of 140km/h
Battery Control
Allows its driver to manually engage a charge-only mode to store electric juice to be availed for pure-electric driving later in the journey.

Charging the electric BM
The 530e Sport can be charged at home via existing domestic socket outlet.
The standard BMW iWallbox will be the most effective solution to reducing charge time to approximately three hours for a full charge.
Then there is the BMW iWallbox Plus, which enables charging control via a smartphone app that provides a record of the charge history.
Now comes the even faster charging solution, the BMW i AC Fast Charging Cable which is compatible for public charging, can achieve up to 3 times the charging speed compared to the standard charging cable.
The 530e's standard-compliant charging port ensure owners can connect the car to any public charging station and comes with the registration of the ChargeNow Card online.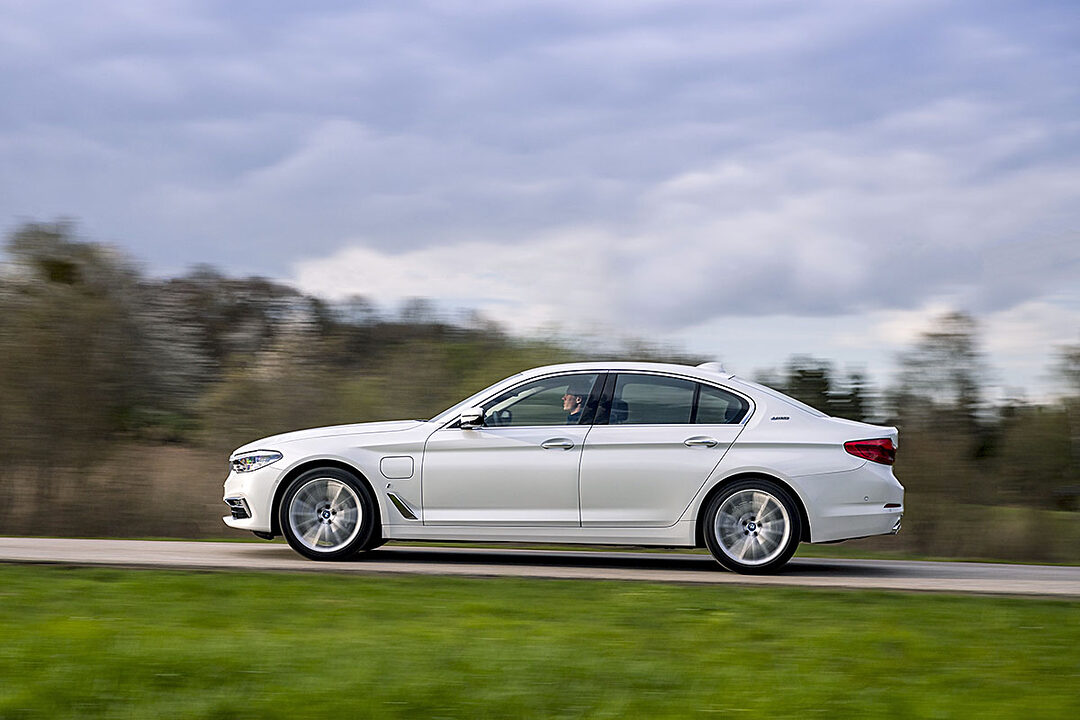 More Goodies
Illuminated sill panels shows off the "eDrive" lettering and is lit when the door opens.

Its interior mimics the sporty stance of the 530e with its high-gloss black trims while ambient lighting accentuates the premium ambiance on the inside.

There's a 12 speaker in car entertainment system and is controlled via the BMW Sport leather steering wheel equipped exclusively for the 530e Sport.

Also included are BMW's Lane Change Warning and Blind Spot Monitor, plus an extensive range of assistance systems including Dynamic Damper with ADAPTIVE Mode.
The ADAPTIVE mode is the fourth of the Driving Experience Control system which include COMFORT, SPORT and ECO PRO driving modes. This works alongside its Dynamic Damper Control (DDC) and Navigation System Professional where the steering, DDC and Steptronic systems adapt to current driving style and route ahead automatically.
Park Assist is equipped as standard and offers convenience with parallel and reverse parking parallel to the road. It is classified as level two autonomous driving technology.

Colours
The new 530e are available in these exterior finishes:
Bluestone Metallic
Mediterranean Blue
Alpine White
Black Sapphire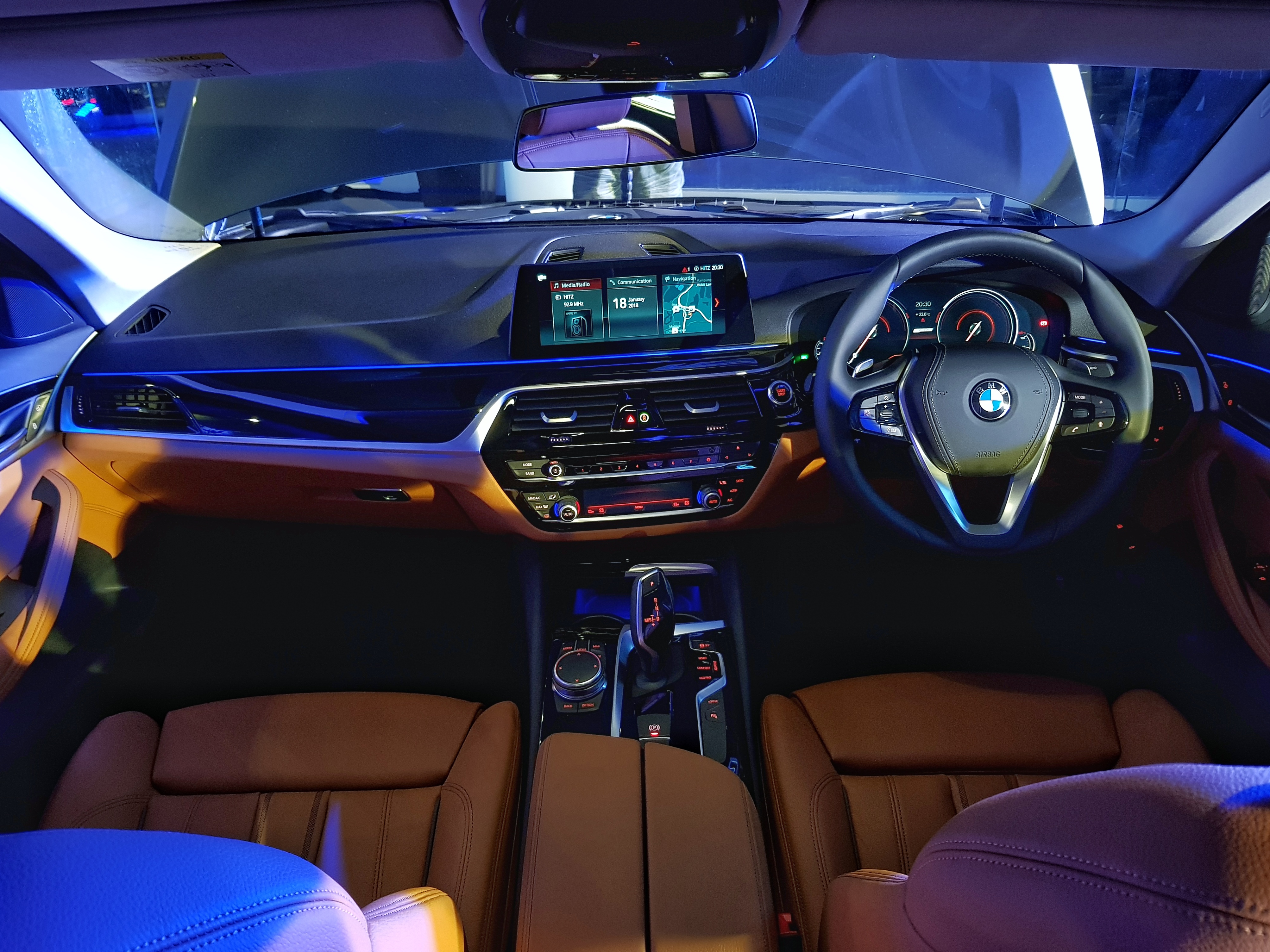 While on the choice of interior upholstery, these are what's offered:
Leather Dakota Black, which is said to pair well with all exterior colour offerings
Leather Dakota Cognac is recommended to be paired with best paired with either Black Sapphire, Bluestone Metallic, or Alpine White.
Buying the 530e Sport
The 530e Sport is priced at RM343,800 and will be made available immediately at all BMW showrooms from today onwards and will be offered with installment plans via BMW Credit Malaysia Balloon Financing at RM3,588 monthly. Also available is BMW Full Circle Programme from BMW credit Malaysia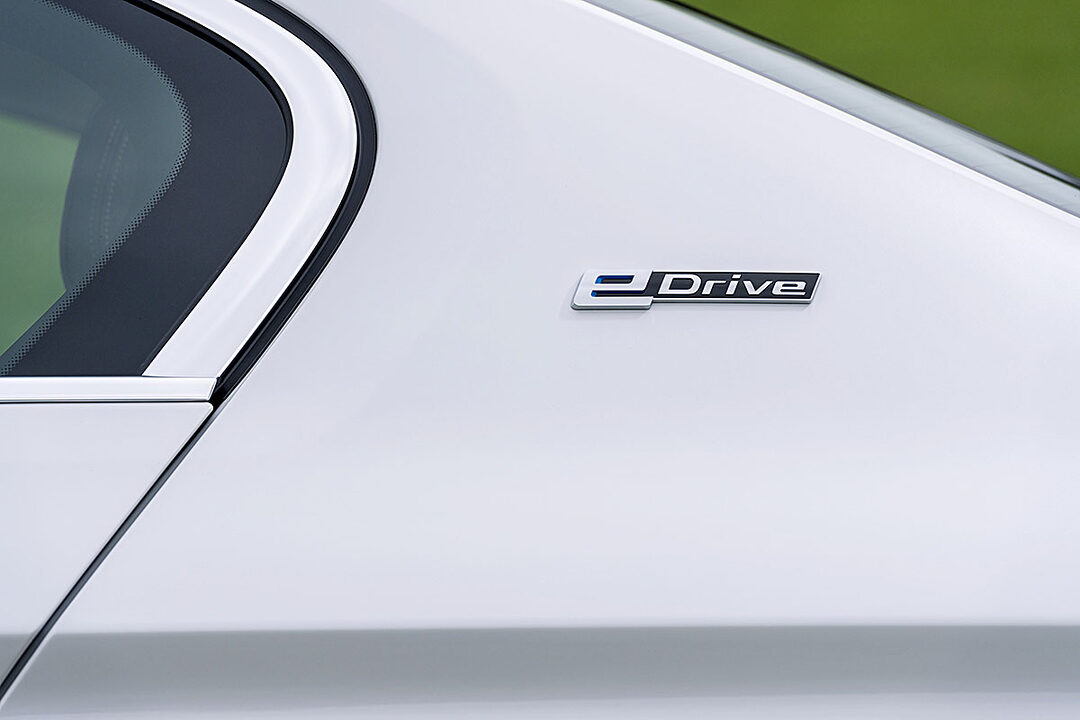 Malaysian Green Tech
Speaking at the launch ceremony, Dr. Mohd Azman Zainul Abidin, Group Chief Executive Officer of Malaysian Green Technology Corporation said, "A key strategy for Malaysia to move towards low carbon mobility is through industry wide cooperation and partnerships. We at GreenTech Malaysia are pleased to have BMW Group Malaysia as a partner from the very beginning, to ensure necessary and sufficient infrastructure is provided to support the new innovation of Plug-in Hybrid technology and eventually Electro Mobility. This will increase consumer confidence in the viability of electric vehicles and plug-in-hybrid vehicles. It is reassuring to see BMW Group Malaysia taking initiative to further propel Malaysia into a futuristic future of electromobility, while we continue to grow the number of ChargEV charging stations across the country."
Raymond Tan says
Mr. Raymond Tan, Head of Sales, BMW Malaysia said, "The All-New BMW 5 Series now offers eDrive Technology, an innovation taken from the Mobility of the Future – BMW i. More than this, however, is the fact that the All-New BMW 530e Sport also increases our portfolio of premium Plug-In Hybrid vehicles here, enabling us to offer the largest portfolio offering by any automaker in the country and to further demonstrate our commitment to Visionary Mobility in Malaysia."
Charting more than half of BMW Malaysia's total sales volume in 2017 with a profound 55% units of BMW Hybrid with eDrive Technology delivered, BMW Group Malaysia has a stronghold as the most successful premium hybrid brand in Malaysia. Tan said, "In terms of model mix share, we are also proud to share that 55% of our total models for the country are hybrid vehicles with eDrive technology. This also makes us fifth in the world in terms of deliveries of plug-in hybrid vehicles."
In the details, BMW Group Malaysia set an all-time high sales record for the BMW X5 xDrive40e by delivering over 3,000 units in 2017 alone, making Malaysia the second largest market after America for the model. Malaysia is also the third largest market for the BMW 330e and the BMW 740Le xDrive with over 2,400 units and over 450 units delivered respectively in 2017. "The All-New BMW 530e Sport will be a meaningful addition to our iPerformance portfolio and we are confident it will further underpin us as leaders in shaping mobility of the future here in Malaysia," said Tan.