We've entered the 9th generation of the Honda Accord which, is quite possibly the most equipped Accord to date and likely the best looking so far. Unlike its predecessors that were either trying too hard or not at all, I must say this current Accord fits well within the executive car category and by today's standards at that.
I shall not bore you with history lessons or boot space and it's not performance oriented so let's keep this concise and dive right into my initial impressions of the latest 2.4VTi-L Accord and how well it serves its purpose.
Here are some points generated within my first day out, listed in chronological order with specifically the 2.4VTi-L Accord, powered by Honda's new "Earth Dreams" 175hp 225nm 2.4L DOHC i-VTEC engine.
Other notable difference in this top of the range 2.4VTi-L Accord from the 2.0VTi are its 18″ wheels, cool quad LED projector headlights among other gadgets.
Initial impressions:
Dynamic yet executive physique

At first glance, the Accord exudes a young-ish, almost sporty but definitely executive physique. 18″ diamond accent wheels improves the overall look further. Can't go wrong there. Plenty of potential for customization for sure.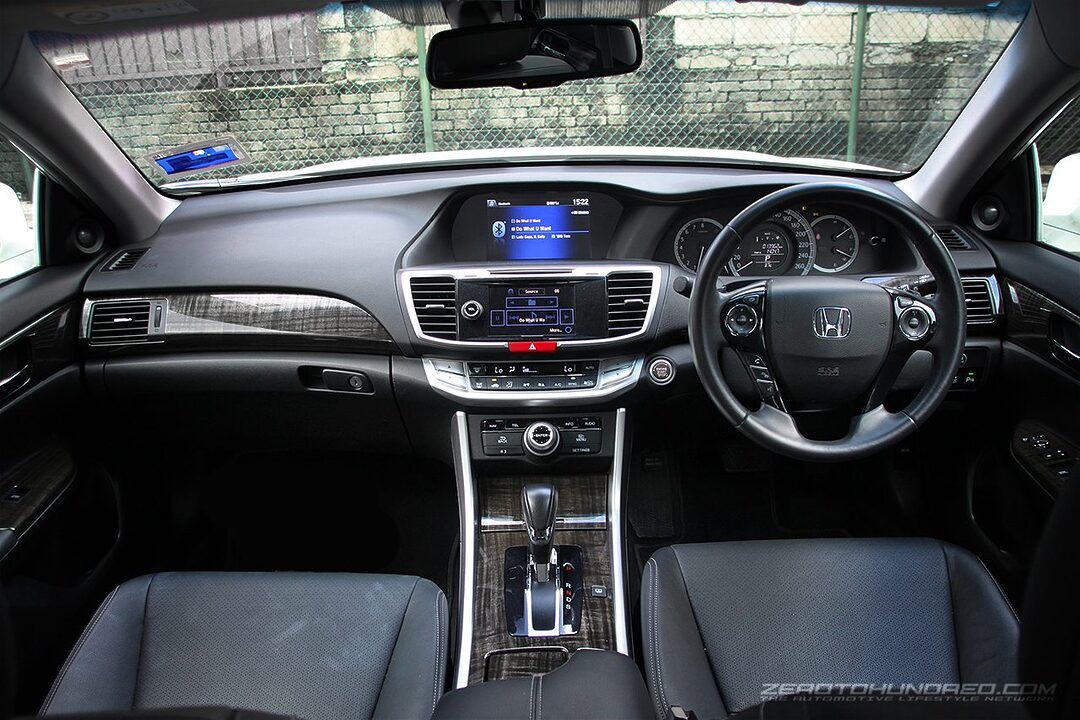 Improvement over typical JDM interior

Unlike the usual mostly plastic, dull, hardly entertaining interiors, this new Accord is partially not plastic, many faux-leather wrapped areas where it matter most and a good dose of glossy trims adds a dash of premium.
Driving position is great, seats are electric and fully adjustable, telescopic and tilt adjustable steering wheel adds plenty to the joy of seating position perfection.
Center console features a fascia seemingly influenced by Sony hi-fi systems, maybe in a good way but definitely easy to use.
In Car Entertainment is feature packed and easy to use

A heaven for Spotify users but substantial lag when switching songs
Has support for most smartphones, either via bluetooth, aux jacks, usb media (and for charging) No fuss connectivity, Double decked LCD screens displays mode choices and current modes respectively, BMW i-Drive inspired center knob works smoothly and is intuitive.
Audio quality is subjective, but if great car audio can be referred to say, a Pioneer home entertainment system, then this Accord factory audio quality would equal your typical LED TV speakers.
Brake feel much improved

Over sensitive brake pedal is not an issue here, in fact, brake feel as well as stopping power is commendable and is sure to compliment enthusiastic drivers.
Turn signal activates side view camera and hud for switching lanes

2.4VTi-L features Honda LaneWatch that toggles view of the passenger side, side mirror video camera in an effort to eliminate blindspots and assist insecure drivers with their lane changes. Guidelines appear on screen to help driver judge relative position. Not exactly revolutionary but extremely useful for certain people.
Suspension is pretty good, nice over bad roads but can be further refined

The Accord retains sufficient comfort over most scenarios, absorbs most imperfections well. Moderate tolerance for heavy-duty situations. Good suspension travel digests steep undulations well. Has a tinge of firmness for drivers who prefer. 18″ wheels may have contributed to it.
Handling is uninspiring but cruises well

The Accord looks manageable physically but has tendency to feel large when in operation. Could be a subjective matter although I've received similar comments from others. Nevertheless a matter of getting used to.
If you're not into driving enthusiastically, then it won't matter to you. But if you are and expect a level of sporting character in the new Accord, you'd not be pleased. There are SUVs out there that would reward you in the corners better. However, as a commuter, it does excel.
Acceleration is there but power not worthy of a 175hp 225nm 2.4L

Be it regular "D" mode or "S" selected on the gearknob, this top of the range Accord doesn't seem to have to have the spirit to pounce. 225nm of torque does provide the climb, so no issues there.
A NA 2.4 liter 16 valve engine by today's standards should posses greater performance figures than what is claimed on the Accord's brochure, this may have to do with Honda's "Earth Dreams" initiative to keep things as green as possible. But Still.
Transmission is silky, shift paddles on steering a great feature

All good here, conventional 5-speed automatic transmission operates flawlessly. Typical transition between gears is felt but faint.
Shift paddles on the steering is a great addition. No lag here, just immediate shifts as the paddles are clicked. Super smooth, yet assuring downshifts. Perfect when you need it. Great for hill roads.
Quad projector LED headlights a brilliant feature but not pivotal

From the outside, 2 pairs of projectors on each side adds a cool science fiction factor to the Accord's headlights. LED power means it's super advanced.
There are 2 perfectly cut-off beam levels here, a pair of beams for general illumination as with all cars and a secondary, lower level pair for the road surface within 10 feet from the bumper.
Good to have yes, but not exceptionally impressive. Being LED and everything is a good thing, but it doesn't go the distance compared to even the conventional HID projectors on other cars available today.
Pricing
The Verdict:
Now if you're in the market for an affordable Japanese executive, with the reliability of a Honda, looks good, is fuel efficient and does everything that's expected of it, you can hardly go wrong with the new Accord. Just as long as you're not expecting it perform on the road.
More at Honda Malaysia: http://www.honda.com.my/model/overview/accord