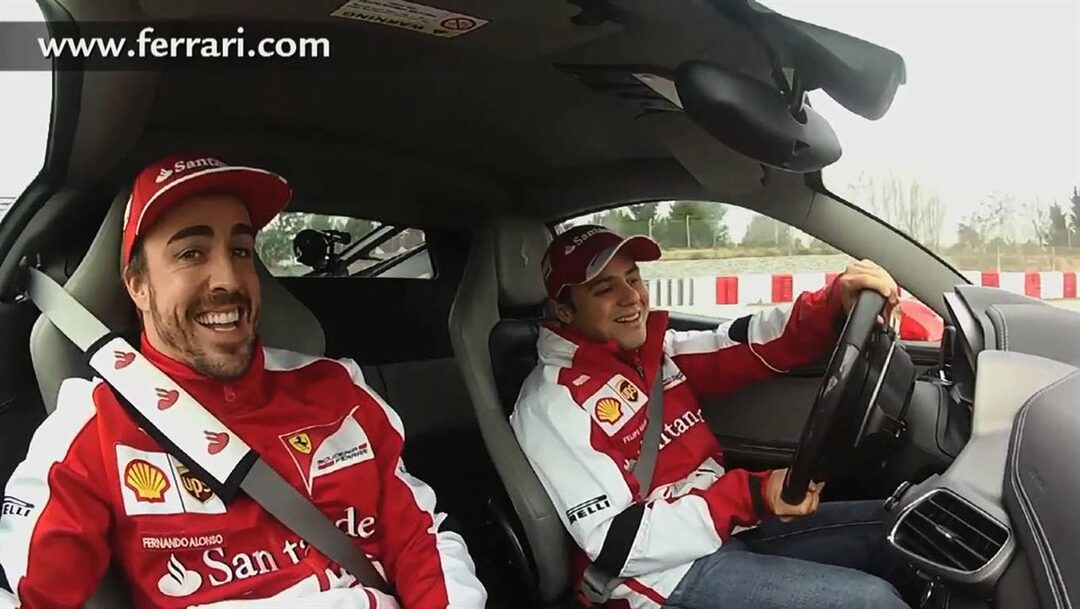 While Formula 1 is both a serious business and a sport, it's often times quite hard for F1 drivers to catch themselves a little time to have some fun in a road car – specifically a Ferrari 458 Italia out on Barcelona's Circuit de Catalunya with a pair of Scuderia Ferrari F1 drives of Fernando Alonso and Felipe Massa showing us how to manhandle the 458 as it should be while showing us their 'molto grande' smiles.
With a mid-mounted engine sending some 570bhp to the rears, who wouldn't be smiling in a Ferrari 458 Italia? Although some may squirm and possibly panic when all that power suddenly gets realized, unknowing as to how it should be man-handled. Hence, the 458 should never be taken too lightly, lest ye possess the necessary abilities to tame this particular tail-happy 'prancing horse' having witnessed a youtube clip that sent one off a wet road and straight into a barrier head first – thank goodness for crash tests, we say.
Though F1 drivers may be rather overly capable for road cars, being used to some 800-odd horses and extreme g-forces from their F1 racecars, not being in control of their vehicle at speed is a rather unnatural feeling.
Simply put, they've got their own way of tackling a car around corners and if it's not done the way they do it, they'll start feeling unnatural, sort of like a 'fish out of water' – come to think of it, we suppose that's how back-seat drivers came to exist.
If you watch closely, they seem to do a good job masking their expressions but thankfully, their smiles seem very much genuine. First at the helm is Alonso, with Massa riding shotgun as he watches how Alonso hunts down another 458 that's enjoying some tail-wagging moments too.
Into the pits for a quick driver change and it's time for Mass to show his mettle out on the circuit while Alonso keeps himself from squirming too much as Massa applies some much needed opposite lock around the bends.
Whatever the case may be, if you've got the 'dinaro' to own a piece of equipment like this, in all honesty, we think its should be driven as such whenever the chance presents itself.
Currently, Fernando Alonso has 18 points under his belt after finishing 2nd at the first F1 race of the 2013 season in Australia while Felipe Massa managed to finish 4th with 12 points, allowing Scuderia Ferrari to surge to the top of the constructors standings with 30 points.
http://youtu.be/bIaNgipAUz4