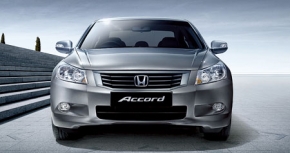 It has finally happened, the highly anticipated 2008 Honda Accord has been launched. As before, the Accord is launched with 3 engine variants. The 2.0L and 2.4L are locally assembled units while the range topping 3.5L V6 is a Thai import.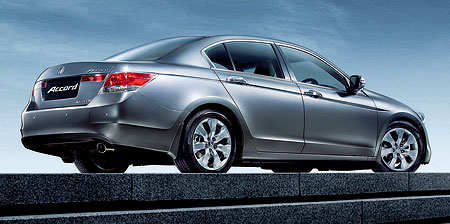 The 2.0 VTi variant features a new 2.0 liter R-series SOHC I-Vtec engine that was first introduced to the Malaysian market in the Honda CR-V. The 2.0 engine produces 156PS at 6,300rpm and a peak torque of 189Nm at 4,300rpm. Playing its part in the race for enhanced fuel economy, the engine is mated to a 5-speed automatic transmission with dual overdrive ratios.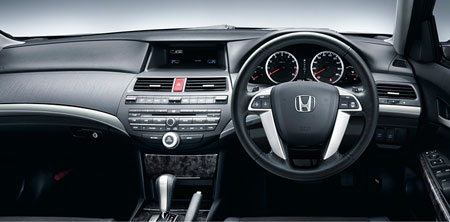 The 2.4L Vti-L model is powered by a well known K-series unit, the K24 DOHC I-Vtec engine but is now detuned to produce 177hp which is fully available at 6,500rpm. Torque peaks out at 222Nm at 4,300rpm with 180Nm available at 1,600rpm and 200Nm is made available at 2,000rpm. The entire powerplant is linked to a 5-speed automatic or manual sequential shifting via paddle shifters mounted where they always are.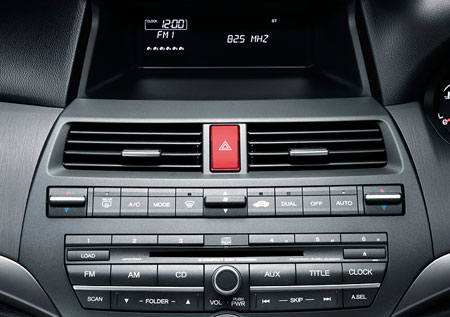 The 3.5L is of course our personal favourite for obvious reasons; power and class but manages to stay out of reach also for obvious reasons; price and road tax. If you're able to put that aside then the 3.5L is the choice for you. With Variable Cylinder Management and 275PS at 6,200rpm and an impressive 339Nm of torque at 5,000rpm. In case you're wondering, the Variable Cylinder Management system is there to be kind to your wallet since you already payed a lot to have it. It runs all six-cylinders when there is need for speed, and a choice of either four or three cylinder modes when there is a need to save the trees. And you should know that the switch from four to three or vice versa happens seamlessly.

The car that the Accord would most definitely face the most comparisons with is the Toyota Camry and the big question is, which is bigger. The numbers certainly stack up in favour of the Accord but we'll save the truth for the feature later on but with bigger dimensions, it also means a roomier interior and more space for extra gizmos and Honda hasn't skimped. The distance between the front occupants have been increased by 40mm, while rear knee space has been increased by 35mm. The boot's cargo length area has also been increased by 54mm, and it has a total loading capacity of 450 liters.
Besides the obvious difference in engine displacements and output, the gizmos that each variant offers is the ultimate difference among the three. As expected, the 2.0L model comes at entry level trim featuring 16inch wheels, a beige interior with manual adjusting fabric seats (!!), dual zone air conditioning with vents for the rear passengers, single exhaust tailpipe, dual SRS airbags, ABS, front active headrest, automatic halogen headlamps that turn on automatically in low light situations, retractable and electrically adjustable door mirrors, and a 6-CD changer audio system with features such as WMA, MP3 and a USB connector, and of course, steering mounted controls.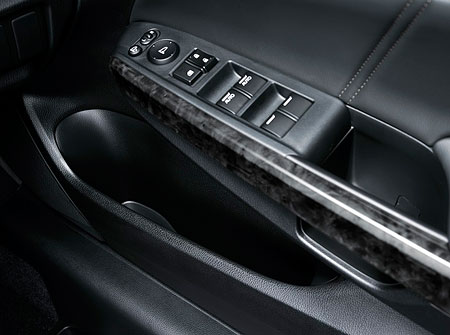 Immediately differentiating the 2.0L and the 2.4L is the dark grey interior with leather seats that the 2,4 variant features. Besides that, the automatic headlamps now also feature xenon High Intensity Discharge bulbs. While the wheel size increases from 16 to 17 inches, the door mirrors get turn indicators and hydrophilic mirrors. As for creature comfort, the driver seat gets an 8-way powered seat, while the front passenger gets a 4-way powered seat. And the usual include lighted vanity mirrors, footwell lighting and wood trimming in place the 2,0L had supposedly metal looking material. Not enough for you? Well the list doesn't just stop there, how could it? It all starts from the audio system which is expectedly upgraded to the premium version which supports 6 CDs, MP3, WMA and USB connectivity. For you ICE fans out there, there is a socket for a subwoofer but sadly it doesn't come standard. Besides having the paddle shift option, the car 2.4L gets cruise control, addition of two side airbags, VSA stability control and a LED third brake light.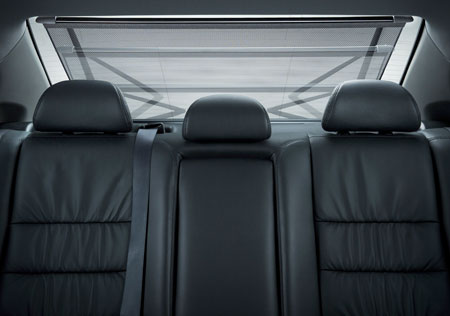 The features of the 3.5L V6 model seem to thwart its lesser siblings in almost every aspect. Visual upgrades include dual exhaust tailpipes, a sunroof, ambient interior lighting, a beige leather interior. Creature comfort and safety features include front sensors, electronically adjustable driver's seat with memory function, and 6 airbags. There are a few features that the 3.5L shares with 2.0L and 2.4L; the Variable Gear Ratio Steering that works similarly to a number of European rivals where it weights up at speed and magically looses the weight when maneuvering through traffic. The new Accord also features Shift Hold Control that is standard on every variant. The system prevents unnecessary upshifts which are dangerous through corners because of it potentially upsetting the balance of the car.
Here are the prices so you can do your math:
Honda Accord 2.0 VTi – RM141,800.00
Honda Accord 2.4 VTi-L – RM171,800.00
Honda Accord 3.5 V6 – RM249.800.00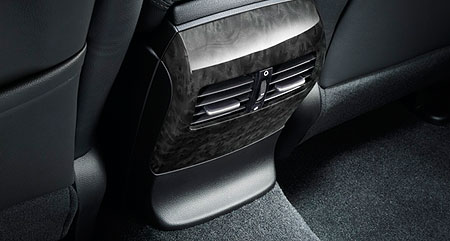 All prices are OTR with insurance. The new 8th generation Honda Accord is available in five colors: Polished Metal Metallic; Bold Beige Metallic; Nighthawk Black Pearl; Sparkle Gray Pearl; and Alabaster Silver Metallic.
The Accord also comes with a set of Modulo accessories that consist of a 5-piece set that include a front and rear lip, side skirts, and a trunk lid duck tail spoiler, all for RM5,300 and you can include that to the cost of your car. The individual prices are as following:
Front Lip – RM1,180
Rear Lip – RM1,370,
Side Skirts – RM2,180
Spoiler – RM830
Side Step Garnish – RM300
Interior Carbon Fiber Panelling – RM 730
Trunk Tray – RM450
Door Visors – RM450
Modulo Single Bar Design Front Grille – RM920
And for those of you who just like to get the entire thing done without the hassle of going from one shop to another just to get the kit fixed and painted, Honda is offering the Accord complete with bodykit at the following prices:
2.0L – RM147,100
2.4L – RM177,100
3.5L – RM255,100