Recently at Sepang, not only I got to find out how beastly the new, well-dressed C63s AMG is, I was taught a lesson while exploring the 500hp Merc by an on-board driving instructor who's incidentally an AMG GT GT3 race driver. Like a perfect storm, this rare occurrence offered a near glimpse into the world of GT racing.
C VILLAIN
 

What we have here is AMG Mercedes's most formidable C-Class Coupe. it is the entity's latest effort at creating a distinguished gentleman's hotrod 2.0.

a Majestic Coupe that exudes style and is cutting edge.

efficient yet unshaven.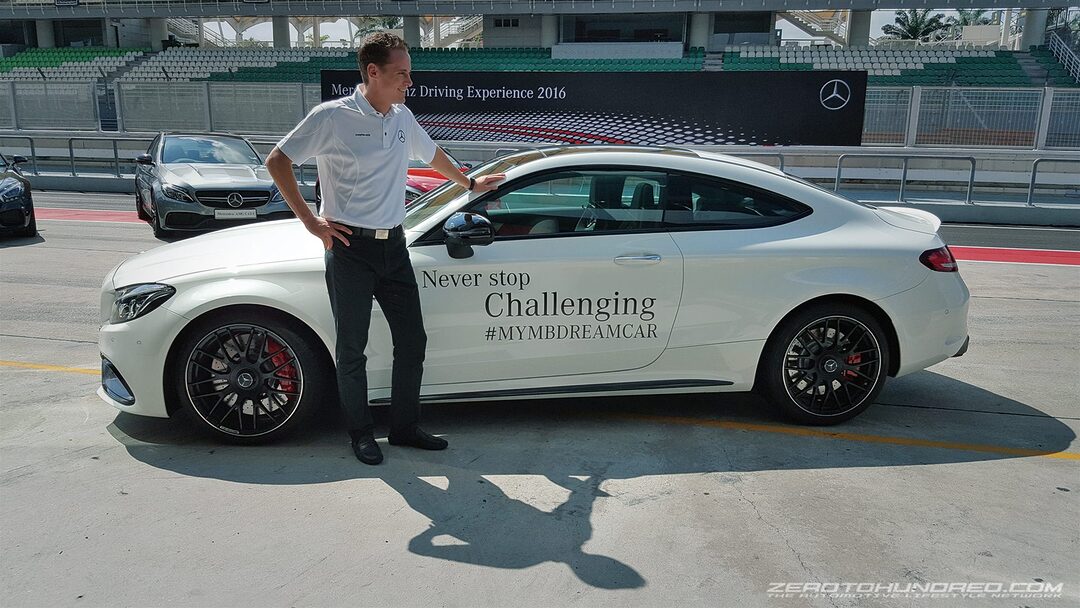 It was Mercedes Benz Malaysia's 2016's final product unveiling event and with that, they introduced the monster. AMG's latest C63s Coupe. Unlike the previous non-s Coupe, this beast has all-new body panels, adding to a wider track and is now 50mm wider than even the C63 4-door. It is quite dramatic when seen up close.
Engine Overlord
Ultimately, it is the big bad engine up front that is the star here. This monstrous lump pumps a colossal 700nm and 503hp via supercar derived 4L V8 twin turbo, based on the AMG GT with the only difference being not dry-sumped and intercooler placement.
Notice the turbochargers sit within the V as opposed to being on the outside of the cylinder head banks like we are used to. This literally mean the intakes and exhaust ports are swapped from conventional so the turbos sit on top, achieving a more compact engine, while enabling it to sit much lower, with an added benefit of improved exhaust heat management. It is a true engineering masterpiece of modern turbocharging.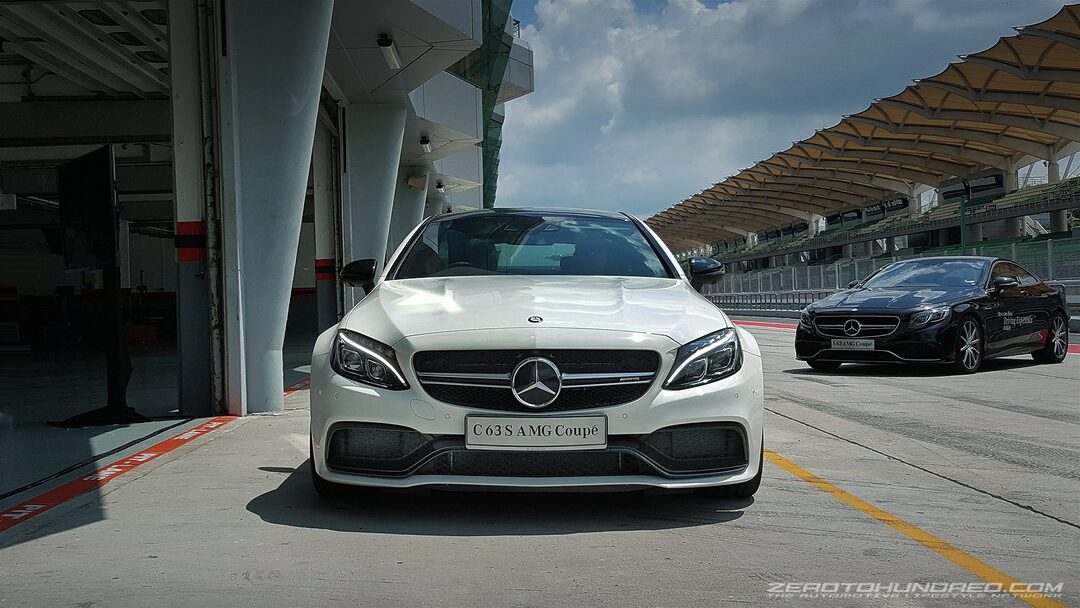 2017 MERCEDES C63S AMG COUPE

Engine: 3,982cc V8 Twin Turbo
Power: 503hp @ 5,500rpm – 6,250rpm
Torque: 700nm @ 1,750rpm – 4,500rpm
Zerotohundred: 3.9 seconds
Transmission: 7-speed SPEEDSHIFT MCT Automatic with Paddle Shifters
Dimensions: 4m750mm (L), 1,877mm (W), 1,402mm (H)
Weight: 1,750kg
Price: RM773,888 OTR without insurance, Add RM22,000 for Edition 1 option
Website: Mercedes Benz Malaysia C63s AMG Coupe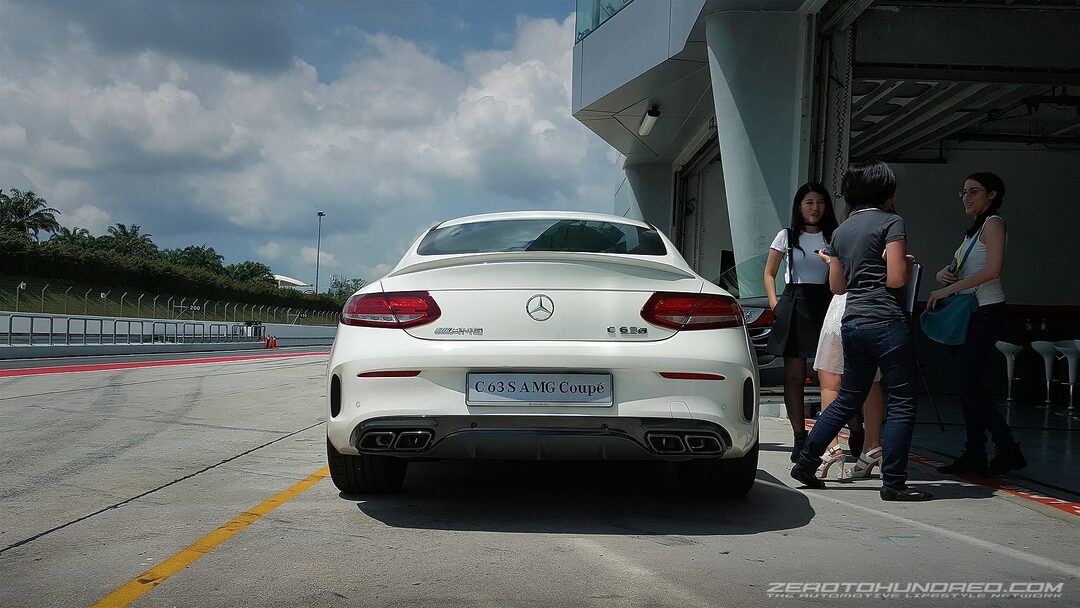 Sweet Chassis 
Which would be a huge injustice if its chassis didn't keep up. The C63s Coupe's revised platform is one made in heaven. With its massive addition in track width contributing to increased grip and stability, the AMG coupe also benefits from strengthened multilink rear suspension with an entirely new subframe dedicated to it. Active damping completes the chassis and just sorts itself out according to desired Comfort, Sport and Sport + modes.
Apart from all other heavy duty fittings, bearings and bushes that go into its chassis, AMG even dialed in a dose of negative camber onto the front of the C63s Coupe to improve turn in. Along with that are active engine and transmission mounts that magically induce rigidity when needed. Multiple ESP modes keep the savage Coupe completely tame in any scenario, or if you wish, at the very edge of losing control.
First Impression
On the familiar Sepang Circuit's 5.5KM terrain, as I explore its chassis in Race Mode, there is a sense that the C63s Coupe is trying hard to contain all of its 700nm from lighting up the rear end. The ESP definitely felt like it was striving to provide the best traction while capping all of my driving inputs on-the-fly. Even the severity of Race Mode can be further tweaked up or down via a separate knob. With further individualisation to Race Mode, this C63s Coupe may prove to be quite a driving toy.
At speed, I came to realise the slightly vague steering of the C63s Coupe and find myself hunting for that perfect turn in, despite being blessed with supposedly more negative camber. Especially when approaching T5 and T11. They could have made it better to be honest. This is the probably the only part of the Coupe that i'm not a fan of.
Elsewhere, in terms of high speed stability and transitions, the almost 1,800kg beast impresses with its ability to camouflage the inherent mass. Body roll is virtually cancelled out with AMG's superb contribution in active damping and mounts.
It is quite unreal how the big coupe remain composed on the high speed bends, but much of it is possible only with the presence of AMG ESP. I was able to experience the superiority of this electronic stability program first hand with my driving instructor Peter Hackett, AMG GT GT3 Driver.
Halfway through from Author: If you enjoyed reading my article, please leave a comment and do share, above all, follow us on our Instagram and Facebook!
Which brings me back to the introduction.
I have accomplished some proud personal achievements in my short years at touring car racing, but those are nothing compared to the unquantifiable driving experience that were gained throughout my time in motorsports.
Every notable experience is like an Achievement Unlocked moment, which are built on layers of knowledge acquired along this journey.
My circuit hours in both the FF and FR has been pretty equal, although more FR biased having graduated from the Sepang 12 Hour in 2014 with Team Wing Hin Motorsports in their TRD Toyota 86 and the subsequent year with a similar platform, although in the older Altezza. It was the best time of my life to be honest.
in this short "GT" episode with Peter, I remember very clearly the moments, right before certain corner exits where he would repeat "wait, wait, wait" or "hold, hold, hold". I first assumed it to be a general advise for all people. I hadn't a clue that Peter was in fact sharing his GT racing trade secret.
Okay, here's the scenario. In most cases while exiting a corner in just about any car, one would feed power just as or when the apex is passed. Generally earlier in the FF and later in the FR. But in a car that lashes out 700nm worth of torque as early as 1750rpm, it's quite a bitch to feed power progressively.
Coaxing the AMG beast into high speed turns 5 & 6 for example, I find that just about every minute throttle input would agitate the rear tyres mid corner. Even at transition into T6, its the same. Basically, you just can't give gas till you get straight.
Which explains Peter's strategy with the C63s Coupe just as how most GT racecars are, like point and shoot. So the trick here is to, as how Peter would put it, "you gotta pick the torque and hold on".
Because every throttle increase with that kind of power delivery would only provoke rear wheel grip, thus killing pace. So it pays to guide the beast into the turn as smooth as possible, lock in on that throttle position, and then only unleashing full 500hp / 700nm as the steering almost fully unwind. This ensures the cleanest and quickest exit possible. Let me know in the comments if you need to know more
Verdict
So, the C63s Coupe can't cut and slice just as well as the knife-edged BMW M car and still it doesn't matter. In here what matters is the extravagance that can be savoured. The exclusivity that the Merc exude from its bodacious body, bespoke details and ballistic engine render it a class higher.
On one hand, the Merc's sophistication simply outweighs the M car's high-strung attitude for daily serenity. It is also versatile in purpose. Operate the C63s Coupe calmly and the beast trots with red carpet grace.
Brewing a storm only takes the thunderous AMG a lightning second. Simply prod the throttle and the beast goes berserk like Bruce the Shark in Finding Nemo, destroying everything in its path, with or without on-board switches toggled.
In Sport Mode alone, the C63s Coupe lurches with dollops of added ferocity. Activate the exhaust flaps and the dirty V8 symphony plays loud trumpeting farts, pops and crackle. An absolute showstopper at any juncture.
If you enjoyed reading my article, please leave a comment and do share, above all, follow us on our Instagram and Facebook!
Video: AMG C63s Coupe Launch Control + First Drive