We at Zerotohundred.com, being avid followers of the WTAC, and coincidentally organizers of the TIMETOATTACK Sepang ourselves, we knew what we'd expect to see at this world event. Nothing but the pinnacle of Time Attack competitiveness and cutting edge lap crunching, downforce generating machines.
The WTAC Pro-Class participants are made up of high-budget privateers and big teams backed by major sponsors with only 1 mission in mind. To set an unbeatable lap record humanly possible, based on a road car. But these cars are no longer uprated daily drivers, instead, they are caged, stripped, shaved, tube framed and bolted with some engines generating well over 1000hp!.
Most cars are now equipped with either home-brewed or Formula inspired aerodynamics, maximizing every ounce of downforce the wind can give, especially because there are no slicks allowed in the WTAC. Semi slick tyres are the only option available, resulting in a circuit event that is not only more mere-mortal relevant but is able to inspire teams and participants in every engineering sense possible.
Take WTAC 2012 Pro Class Champ, Chris Eaton's EVO 7 for example. Just to give you the tip of the iceberg, it is a 900WHP, everything forged, 2.2L 4G63 engine that is dry sumped and mated to a Maktrak sequential box with paddle shifters. But that's just the powertrain.
What's as impressive is the Evo's body. As you can see from the above picture by Stefan Trajkovski, most of the bodywork is custom carbon fiber moulded, one-off pieces, featuring a one piece, aramid core, dry-carbon gull-wing door that stretches front to rear. Jaw dropping it is, but you'd be pleased to know every bit of the engineering that had gone into the body is aerodynamically tuned by Andrew Brilliant, a renowned aerodynamicist from Yokohama, Japan. More on Nemo Racing's Evo can be read here: http://www.nemo-racing.com/about
So has all the effort that had gone into this one-in-the-world time attack-only Evo paid off for Nemo Racing? Yes it most definitely did! A staggering 1:25.0200 was clocked, crowning it the champion of WTAC 2012 this year! My effort for making way to Eastern Creek for WTAC has also partly paid itself of with the above picture with Champ, Chris Eaton.
The car above, developed by Chasers Motorworks is owned and driven by 21 year old Malaysian, Alif Hamdan. Much like the recent glory that Datuk Lee Chong Wei has brought back for Malaysia, with a Silver win at the 2012 Olympics, Alif Hamdan managed to clinch 2nd place at the WTAC 2012 Open Class with a 1:33.4840!
So theoretically, other than the Silver medal by Datuk LCW for Badminton and Bronze by Pandelela Rinong for Diving, there is also a Silver for the World Time Attack! Equating 3 medals won by Malaysian sportsmen at an international sporting event for August 2012! Congrats to Alif Hamdan and full feature on him and his Evo to be published soon!
RE Amemiya and their new FD3S RX-7. Setting a new benchmark in Time Attack representation of Show and Go. Despite a Sixth-placing at 1:29.8020 driven by Nobuteru Taniguchi, which itself is an effort to be commended. Sponsored by Drive M7 / M7 Japan in the recent years, this RE Amemiya X Mutiara Motors partnership sure has been beneficial for both.
RE's theme this year must have something to do with Japanese idea of water, cloud or air or something. They've gone with an all-blue theme from the inside out!. Including colour-coded engine bits and pieces. That V-mounted intercooler in blue looks pretty good i must say. How this layer of paint or powdercoat affect cooling remains to be seen.
What have we here in the land down under? A long-lost cousin of our MINI?
Don't see many of these here, An AE92 Toyota Levin coupe. 38th place in the Open Class, clocking 1:45.7770
Speaking of Aerodynamics, check this EF chassis CRX.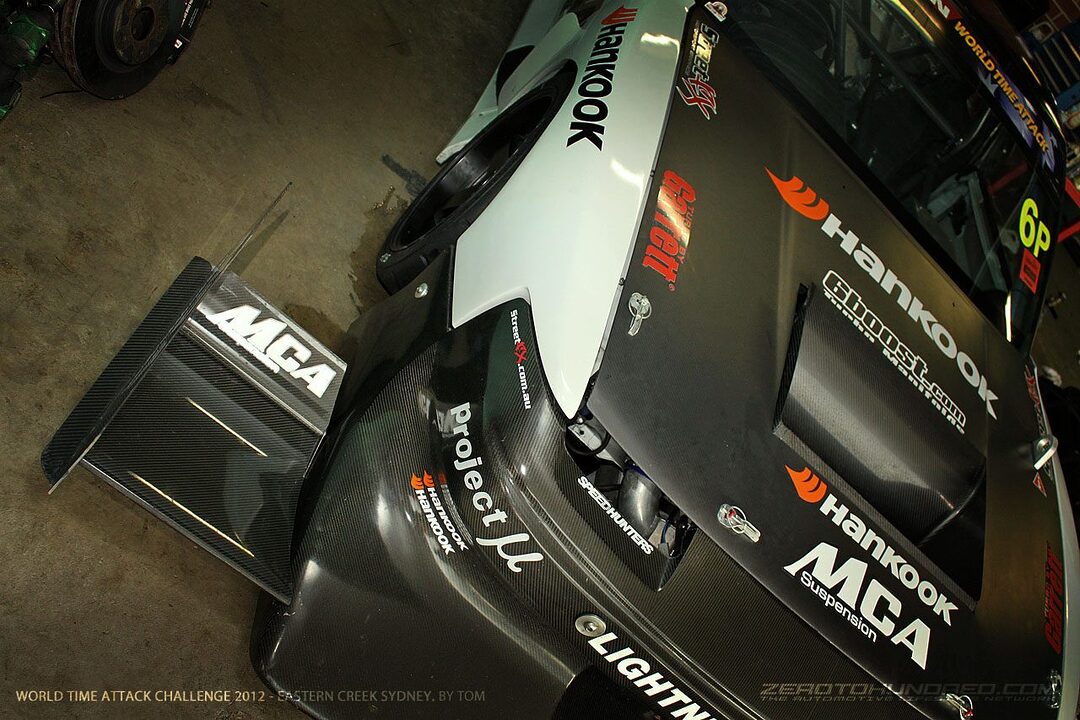 And this front side-winglet on either side of this S13 Silvia by MCA Suspension. The guys who proudly provided Nemo Racing with their bespoke suspension.
Extensive aero wins races? Maybe. As proven by MCA with a 3rd place in Pro Class at 1:27.8080, driven by Bamber. Brilliant effort for a rear-driven car as compared to the AWD Evos in 1st and 2nd place.
Side nose profile of Hankook / Morpowa's RX-7.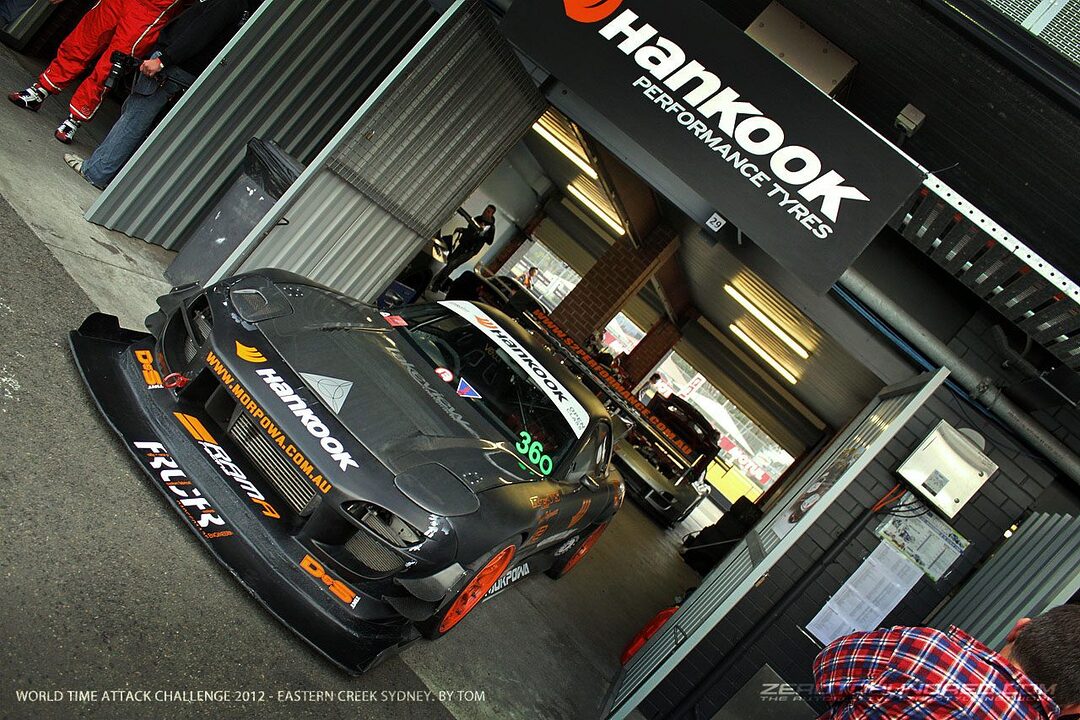 Taking 3rd place in the Open Class, just after Alif Hamdan's 2nd at 1:34.0910
A Yokohama Advan booth gimmick with their awesome, lightweight front-wheel driven tube-chassis! Dynoed at a massive 1-manpower, at the wheel!
What happened to Cyber Evo this year at WTAC?
This happened! – A race that wasn't meant to be, Team Cyber Evo initially wanted to retire their Evo since 2011's win at WTAC but had made a last minute decision to re-enter just March this year. Having confirmed their participation, Cyber Evo then carried out more mods to their Evo, but due to lack of time, they haven't had much of a shake-down practice either. They then had the Evo shipped to Sydney just hours before the event to also have Haltech finalize their tuning, completely missing Friday's WTAC Run.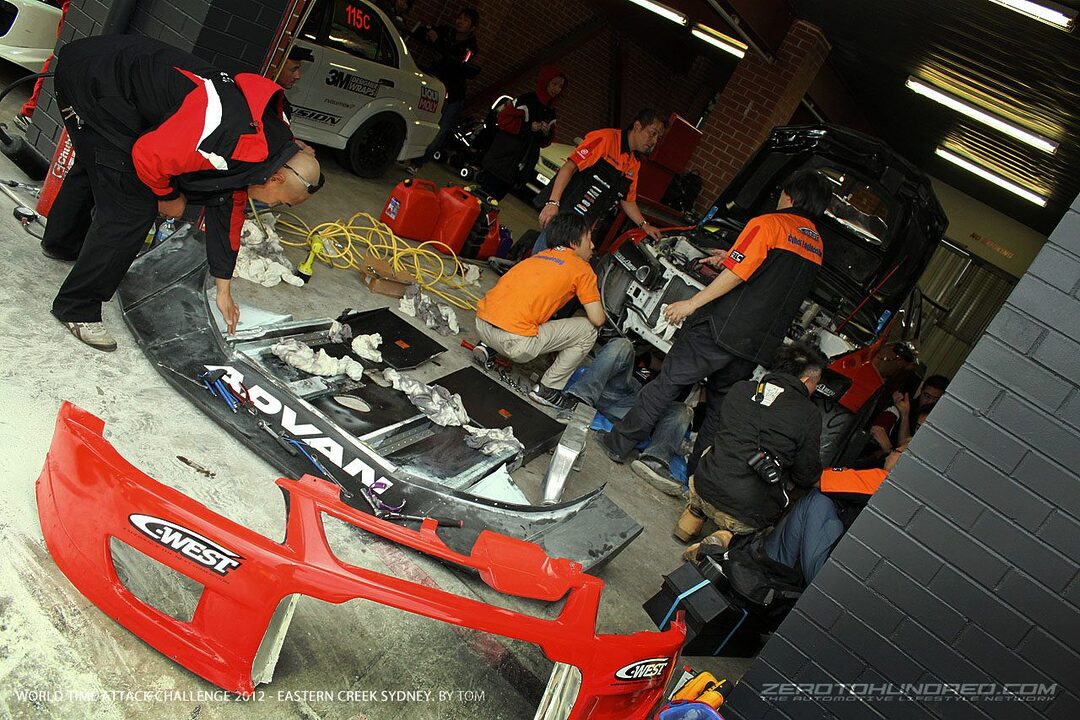 On Sunday, after a series of one-laps, for aero tuning, the Cyber Evo was ready for battle. As legendary time attack driver, Tarzan Yamada was taking the Evo out for its first WTAC Hot-Lap, tragedy struck. The engine rear main seal Evo had popped out of place, due to a blockage of the oil catch tank's breather line.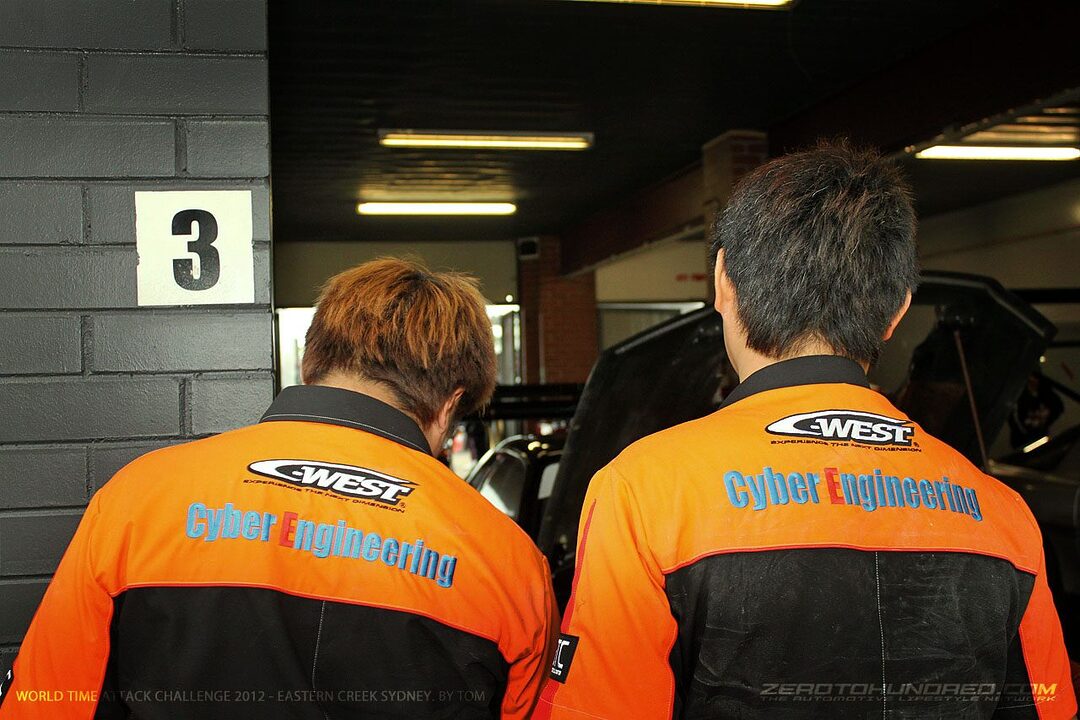 The crowds expelled a loud sigh of disappointment as huge cloud of white smoke and stream of oil spewed throughout the circuit rendering it inoperable for a good hour or so. Emergency remedies were carried out by Team Cyber right after, but they just couldn't make it for a last run. How unfortunate!
Top Fuel also made an appearance this year with their 1030kg 700bhp 2.2 F2oC S2000.
Driven by Nobuteru Taniguchi. Coincidentally taking 6th place for RE Amemiya and 5th for Team Top Fuel Japan in Pro Class, clocking in at 1:29.0520. What a driver!
Gorilla Industries' Supra
Panspeed's RX-8 at 13th place in Pro Class with a 1:35.5750
Driven by popular Best Motoring driver, Naoki Hattori-san
Sutton's S15 looking really good.
Does a good time too at 1:34.2750, claiming 4th place in the Open Class
V-Sport's EVO X
Taking 5th in the Open Class, at 1:34.3470
Tilton Interior's Evo 9 takes 2nd place at 1:27.1820  in the Pro Class right after Nemo Racing!
A V8 RX-7
One of the handful of GTR35s
Just look at the Aeros
WTAC official Course Car
Time Attack it may be, is bound to incur traffic at one point or another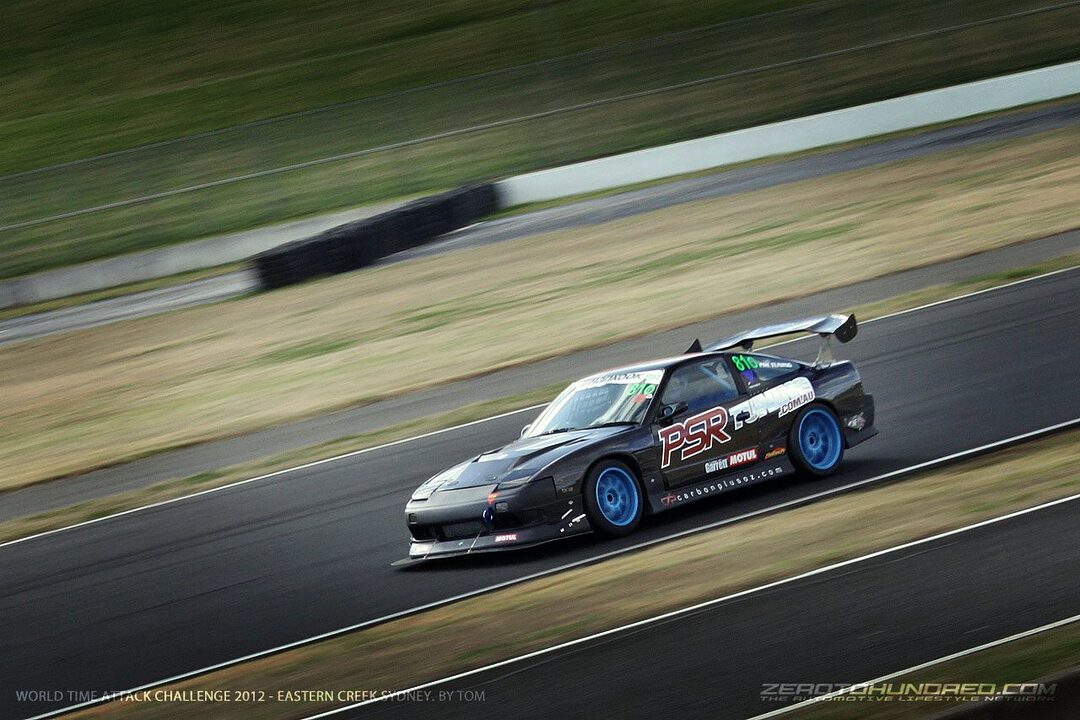 Fresh 180
EG 1
EG 2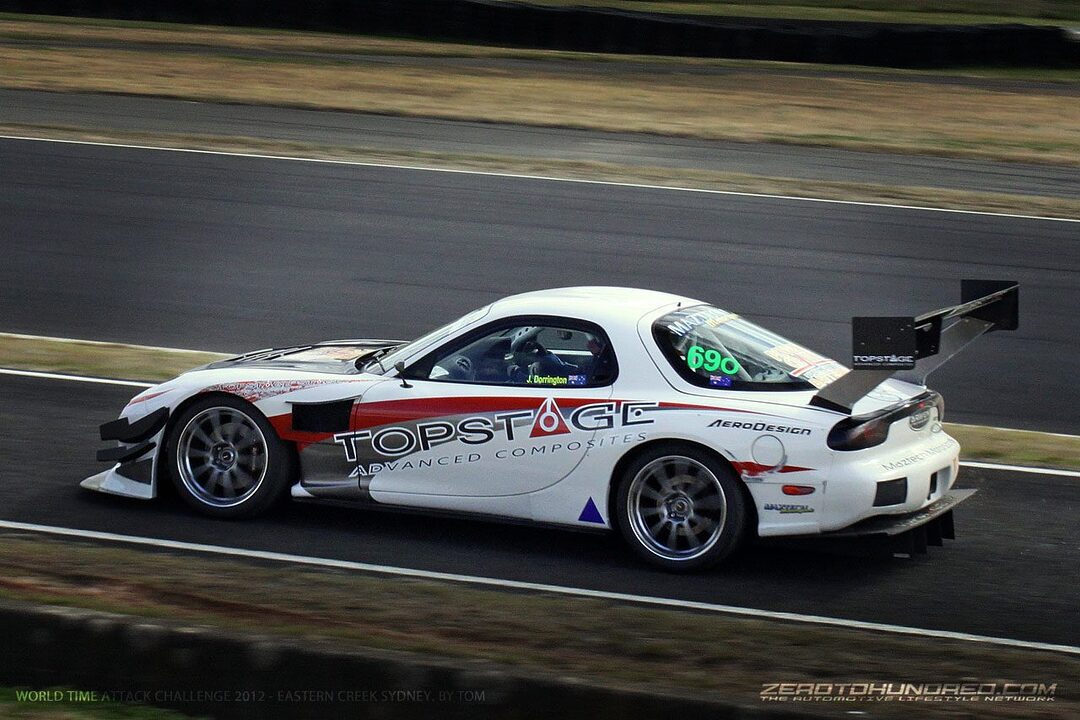 Top Stage's Open Class RX-7
Another RX-7 with massive aero
Out from the Pit exit and into the battle
17th Place in the Open Class at 1:37.2230. Evo 7 by PSR Tuning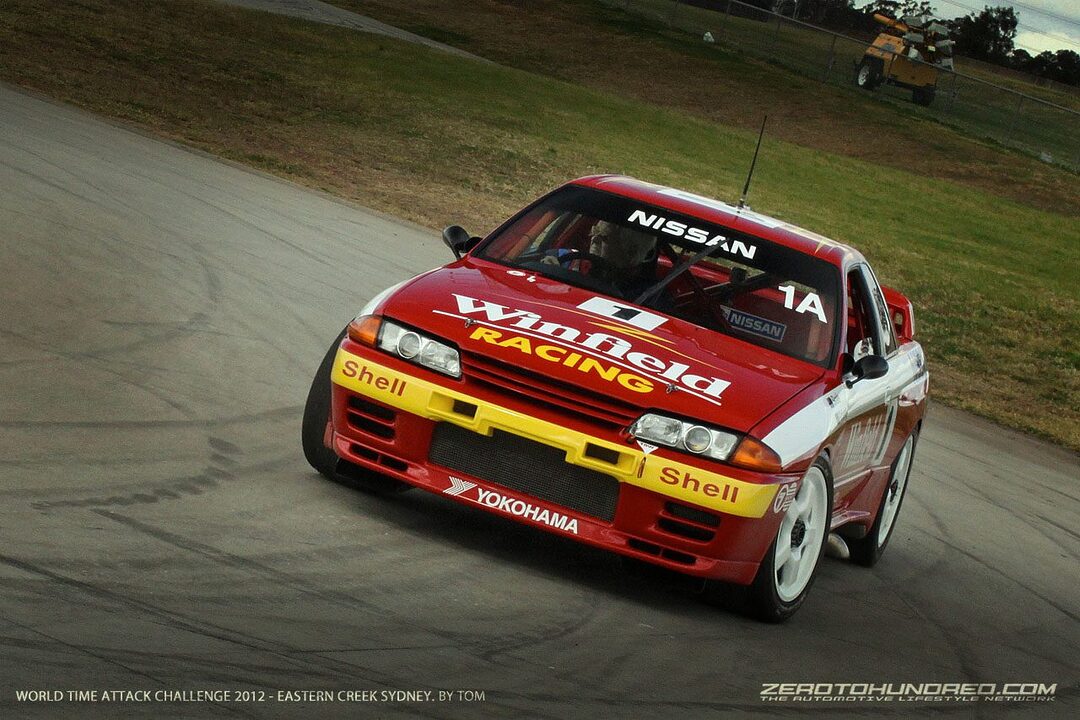 One of the 2 R32 GTRs by Motul's 'Legends Of The Turbo Era for Demo purposes
14th place in the Open Class, at 1:36.9540 is Notaras Motorsport's Evo 7 driven by Granger
Biting the dust
And Now, the Official World Time Attack 2012 Lap Times:
Pro Class
| | | | | |
| --- | --- | --- | --- | --- |
| POS | BEST LAP | COMPETITOR NAME | DRIVER | VEHICLE |
| 1 | 1:25.0200 | Nemo Racing (AUS) | W. Luff | Mitsubishi Evo 9 |
| 2 | 1:27.1820 | Tilton Interiors (AUS) | G. Walden | Mitsubishi Evo 9 |
| 3 | 1:27.8080 | MCA Suspension (AUS) | E. Bamber | Nissan S13 |
| 4 | 1:28.3290 | Scorch Racing (JAP) | U. Suzuki | Nissan S15 |
| 5 | 1:29.0520 | Team Top Fuel Voltex (JAP) | N. Taniguchi | Honda S2000 |
| 6 | 1:29.8020 | RE Amemiya (JAP) | N. Taniguchi | Mazda RX7 |
| 7 | 1:30.7732 | Advan Hi Octane Racing (AUS) | M. Berry | Nissan R34 GTR |
| 8 | 1:30.8640 | Pulse Racing (AUS) | S. Glenney | Mitsubishi Evo 9 |
| 9 | 1:32.4470 | Notaras Motorsport (AUS) | R. Bates | Mitsubishi Evo 9 |
| 10 | 1:33.4118 | Team RevolutioNZ (NZ) | J. Winslow | Mitsubishi Evo 9 |
| 11 | 1:34.7810 | Just Jap ATTKD Select (AUS) | M. Kinoshita | Nissan R35 GTR |
| 12 | 1:35.4540 | Redbrick Racing (UK) | G. Lloyd | Mitsubishi Evo 9 |
| 13 | 1:35.5750 | PanSpeed (JAP) | N. Hattori | Mazda RX8 |
| 14 | 1:48.7820 | Xspec Motorsport (UK) | A. Thompson | Subaru WRX |
| 15 | NOT RUN | Cyber Evo (JAP) | E. Yamada | Mitsubishi Evo 9 |
| 16 | NOT RUN | Prep'd Motorsport (AUS) | W. Luff | Lotus Exige GT3 |
Open Class
| | | | | |
| --- | --- | --- | --- | --- |
| POS | BEST LAP | COMPETITOR NAME | DRIVER | VEHICLE |
| 1 | 1:30.7260 | Dominator Evo | J. Willard | Lancer Evo 6 |
| 2 | 1:33.4840 | Chasers Motorworks | A. Hamdan | Mitsubishi Evo 6 |
| 3 | 1:34.0910 | Hankook / Morpowa | B.Trenwith | Mazda RX7 |
| 4 | 1:34.2750 | Andrew Sutton | A. Sutton /  W. Sutton | Nissan S15 |
| 5 | 1:34.3470 | V-Sport | R. Bates | Mitsubishi Evo 10 |
| 6 | 1:34.6620 | Hi Octane Racing | M. Berry | Nissan R32 GTR |
| 7 | 1:35.1260 | 101 Motorsport | R. Nguyen | Honda CRX |
| 8 | 1:35.4760 | Topstage Composites | A. Newton | Nissan R32 GTS-T |
| 9 | 1:35.6080 | Piazza Doro Espresso | N. Kalis | Mitsubishi Evo 9 |
| 10 | 1:35.7760 | Mick Sigsworth | M. Sigsworth | Mitsubishi Evo 9 |
| 11 | 1:36.2510 | Insight Motorsports | J. Boston | Honda S2000 |
| 12 | 1:36.7870 | BYP Racing | B. Tran | Honda Civic |
| 13 | 1:36.8770 | Jason Naidoo | J. Naidoo | Mitsubishi Evo 8 |
| 14 | 1:36.9540 | Notaras Motorsport | L. Granger | Mitsubishi Evo 7 |
| 15 | 1:37.1610 | Motive DVD | A. Hawkins / J. Boston | Nissan S14 |
| 16 | 1:37.1950 | Southern Motorworks | J. Boston | Lotus Exige |
| 17 | 1:37.2230 | PSR Tuning | D. Shiu | Lancer Evo 7 |
| 18 | 1:37.3140 | Allstar Garage / Hippo Creek | F. Esterbauer | Lancer Evo 9 |
| 19 | 1:37.3560 | Autech Engineering | J. Wright | Subaru WRX |
| 20 | 1:38.5710 | Russell Cunningham | R. Cunningham | Nissan R32 GTS-T |
| 21 | 1:39.5530 | Croydon Racing Developments | D. Hall | Nissan R34 GTR |
| 22 | 1:39.7840 | Ultimate Tunes | J. Hart | Subaru WRX |
| 23 | 1:39.9370 | STZ Automotive | M. Horvath | Mazda RX7 |
| 24 | 1:39.9390 | Mitchell Abrahall | M. Abrahall | Mazda RX7 |
| 25 | 1:41.1840 | Michael Bieshaar | J. Boston | Honda Civic |
| 26 | 1:41.8510 | Jason Luxon | J. Luxon | Nissan 180SX |
| 27 | 1:41.8920 | Wright 1 Motorsport | J. Wright | Subaru WRX |
| 28 | 1:41.9180 | Troy Fraser | T. Fraser | Nissan S15 |
| 29 | 1:42.0300 | Trent Levi | S. Podelewski | Mazda RX7 |
| 30 | 1:42.2720 | Adaptronic | R. Shaw | Mazda MX5 |
| 31 | 1:42.2860 | Bright Print Group | C. Burgess | Nissan R32 GTR |
| 32 | 1:42.3970 | Tilton Interiors | L. Ryall | Honda Civic |
| 33 | 1:42.4080 | Drew Blackwell | D. Blackwell | Mazda RX7 |
| 34 | 1:43.0870 | Mark Rundle | M. Rundle | Mitsubishi Evo 8 |
| 35 | 1:43.2610 | Steve Knight Racetech | S. Knight | Mitsubishi Evo 7 |
| 36 | 1:43.3300 | Topstage Composites | J. Dorrington | Mazda RX7 |
| 37 | 1:43.7870 | Pro Concept | J. Yick | Nissan S15 |
| 38 | 1:45.7770 | Andrew Collins | A. Collins | Toyota Levin |
| 39 | 1:46.1990 | AVO Turbo | J. Clements | Holden Commodore |
| 40 | 1:46.2720 | Allstar Garage / Hippo Creek | G. Simpson | Lancer Evo 9 |
| 41 | 1:46.7350 | Uber Motorsport | A. Quinn | Mitsubishi Evo 10 |
| 42 | 1:48.7330 | MFactory / Adrian's Secret Squirrel | L. Thio | Honda Integra |
| 43 | 1:50.7648 | Bright Print Group | A. Burgess | Mazda RX-7 |
| 44 | 1:50.9410 | Ryan Bestulic | R. Bestulic | Nissan Pulsar |
| 45 | 1:51.9220 | Euro Automotive | S. Najder | VW Golf R32 |
| 46 | 1:54.6780 | Pulse Racing | S. Glenney | Subaru WRX |
| 47 | NOT RUN | Revzone | G. Whenn | Mitsubishi Evo 2 |
| 48 | NOT RUN | SX Developments | J. Anderson | Nissan S15 |
| 49 | NOT RUN | Pro Concept | T. Kim | Lotus Elise |
| 50 | NOT RUN | Danh Tran | D. Tran | Nissan R32 GTR |
| 51 | NOT RUN | Cosmic Performance | P. Fuller | Subaru WRX |
Clubsprint Class
| | | | | |
| --- | --- | --- | --- | --- |
| POS | BEST LAP | COMPETITOR NAME | DRIVER | VEHICLE |
| 1 | 1:38.8600 | Scorpion AWD | N. Scott | Subaru WRX |
| 2 | 1:40.1610 | IS Motor Racing / Royal Purple Oils | D. Farquhar | Lancer Evo 8 |
| 3 | 1:40.2530 | Road Track Rally | D. Morice | Lancer Evo 10 |
| 4 | 1:41.1690 | Harrop | B. Schoots | Corvette Z06 |
| 5 | 1:41.2450 | Whiteline Performance | M. Tomaszewski | Nissan R35 GTR |
| 6 | 1:42.1130 | Hairy Lemon | R. Gooley | Lancer Evo 6 |
| 7 | 1:42.2610 | Fulcrum Suspension | S. Faulks | Subaru WRX |
| 8 | 1:42.4110 | NA Autosports | N. Ashwin | Lancer Evo 6 |
| 9 | 1:43.3850 | Anton Jones | A. Jones | Toyota Supra |
| 10 | 1:45.2240 | John Richardson | J. Richardson | Nissan R33 GTS-T |
| 11 | 1:45.2950 | IS Motor Racing | C. Tiqui | Lancer Evo 9 |
| 12 | 1:46.0770 | Gorilla Industries | S. Standley | Toyota Supra |
| 13 | 1:46.5220 | Tunehouse Racing | N. Halstead | Subaru WRX |
| 14 | 1:47.6730 | Pulse Racing | N. Adams | Nissan R33 GTR |
| 15 | 1:47.7050 | Tunehouse Racing | David Lord | Subaru WRX |
| 16 | 1:48.5300 | Justin Gaujenieks | J. Gaujenieks | Lancer Evo 7 |
| 17 | 1:49.1510 | Nichols Williams | N. Williams | Toyota Supra |
| 18 | 1:49.3490 | IS Motor Racing / Bing Lee | D. Steinwede | Lancer Evo 8 |
| 19 | 1:49.4360 | GCG Turbos | G. Stewart | Subaru WRX |
| 20 | 1:51.1780 | Saba Hanania | S. Hanania | Mercedes C63 |
| 21 | 1:51.4470 | Japlink Motors | A. Mckie | Lancer Evo 5 |
| 22 | 1:51.9220 | Russell Thomas | R. Thomas | Subaru WRX |
| 23 | NOT RUN | Scott Stewart | S. Stewart | Lancer Evo 6 |
| 24 | NOT RUN | Tunehouse Racing | F. George | Subaru WRX |
| 25 | NOT RUN | Andrew Richmond | A. Richmond | Nissan R35 GTR |