The all new Toyota 86 makes its debut at the Sepang International Circuit today, revealing one of the most iconic Japanese RWD cars to have ever been in existence, and if you're in our generation you'd probably and fondly remember a certain animated black and white drift car nearly grazing barriers as it hurriedly returns home from delivering tofu - Initial D
Thanks to overwhelming requests from both motoring enthusiasts (you guys) and motoring journalists from all over the world, Toyota has finally worked hard with their partners to resurrect a small, light-weight coupe popularly known as the AE86 that was unveiled in 1983.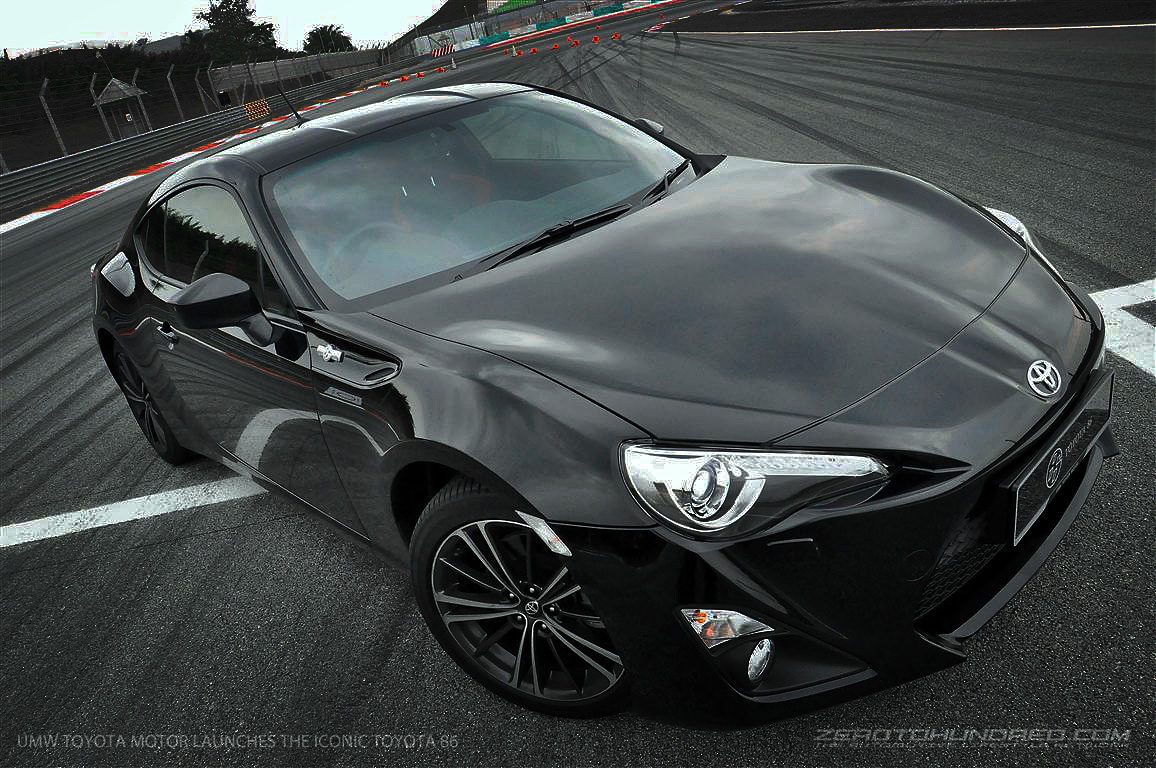 Undoubtedly been built with the motoring enthusiast in mind, the exterior is nothing but sporty, curvaceous and ultimately attractive; having been infused with the 'fun to drive' genes of a front-engine, rear wheel drive layout adopted from Toyota sporting legends like the Toyota 800, 2000GT, and the iconic AE86 which follows the popular convention of a 'true sports car' drive train configuration.
Having been allowed to take it out on the track at Sepang for a short stint, we found it to be remarkably neutral in handling with minimal roll as you shift up and down gears smoothly with the paddle -shifters of the automatic transmission. Managing the balance of the car around corners feels great with just a hint of understeer, exploding a tonnage of fun-factor for the driver and allowing you to literally put that car into over-steer, if you get it just right.
Toyota 86 Specifications and Prices
Zerotohundred: 8.2s (AT), 7.6s (MT)
Top Speed: 225 km / h
Engine: 1998 cc D-4S flat-four boxer engine (FA20)
Power: 197 bhp / 7000 rpm
Redline: 7400 rpm
Torque 205 nm / 6600 rpm
Weight: 1,230 kg
Fuel: 5.91L/100km Automatic / 6.5L/100km Manual
Fuel Tank: 50 L
Wheels: 17"
Tyres: 215/45R17 all round
Price: RM243,000 Manual / RM249,000 Auto
Official Link: http://www.toyota.com.my/toyota-86/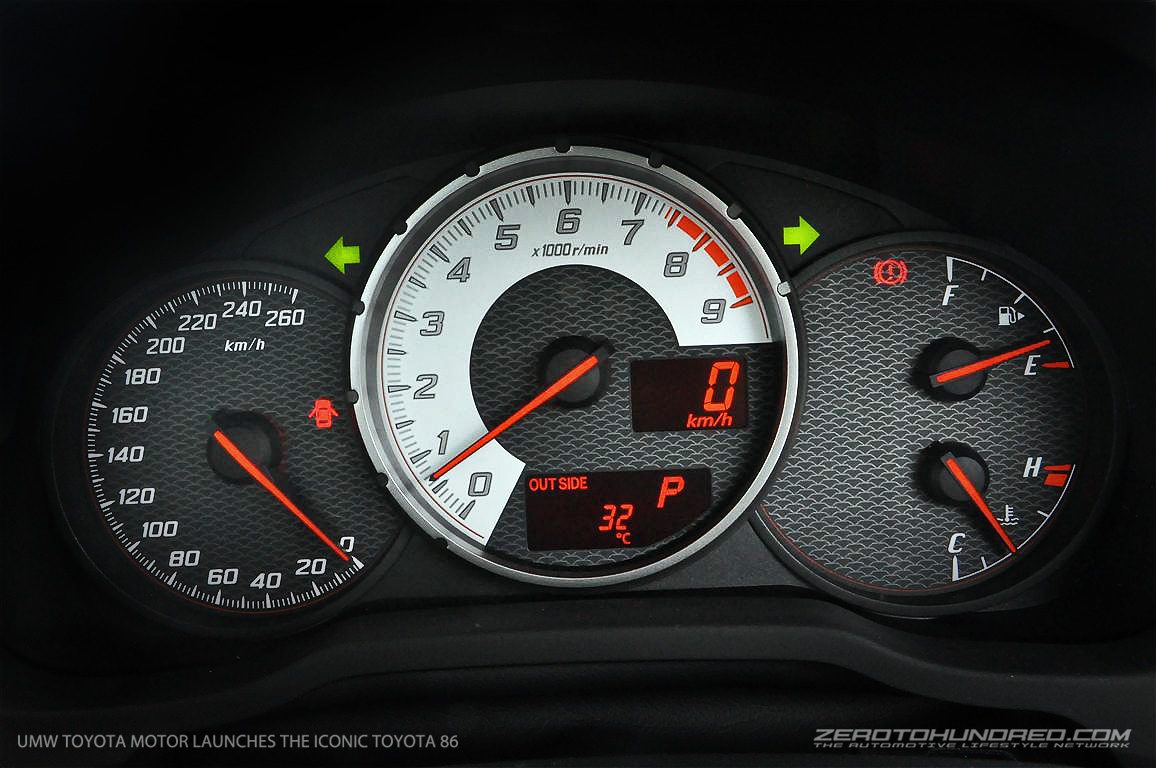 En. Ismet, President of UMW Toyota Motor, said today "Toyota went the extra mile to engineer the most neutral front-rear weight distribution that ensures stability and predictability in precision handling. This sports car is aimed to provide constant driving pleasure no matter what the road conditions are. The All-New Toyota 86 is a genuine lightweight sports car with advanced design and dynamics aimed at providing drivers with enjoyable and engaging driving experiences".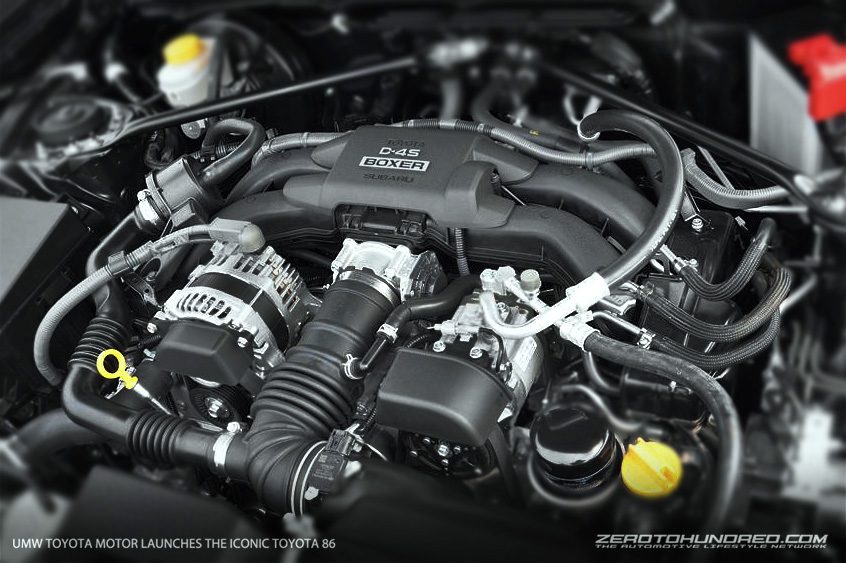 The new 86 obviously looses the original 130bhp and 150Nm of torque 1.6L four-cylinder 4A-GE engine and has instead adopted a 197bhp 2.0L D-4S flat-four boxer engine that includes Toyota's direct injection. (our engine code is FA20)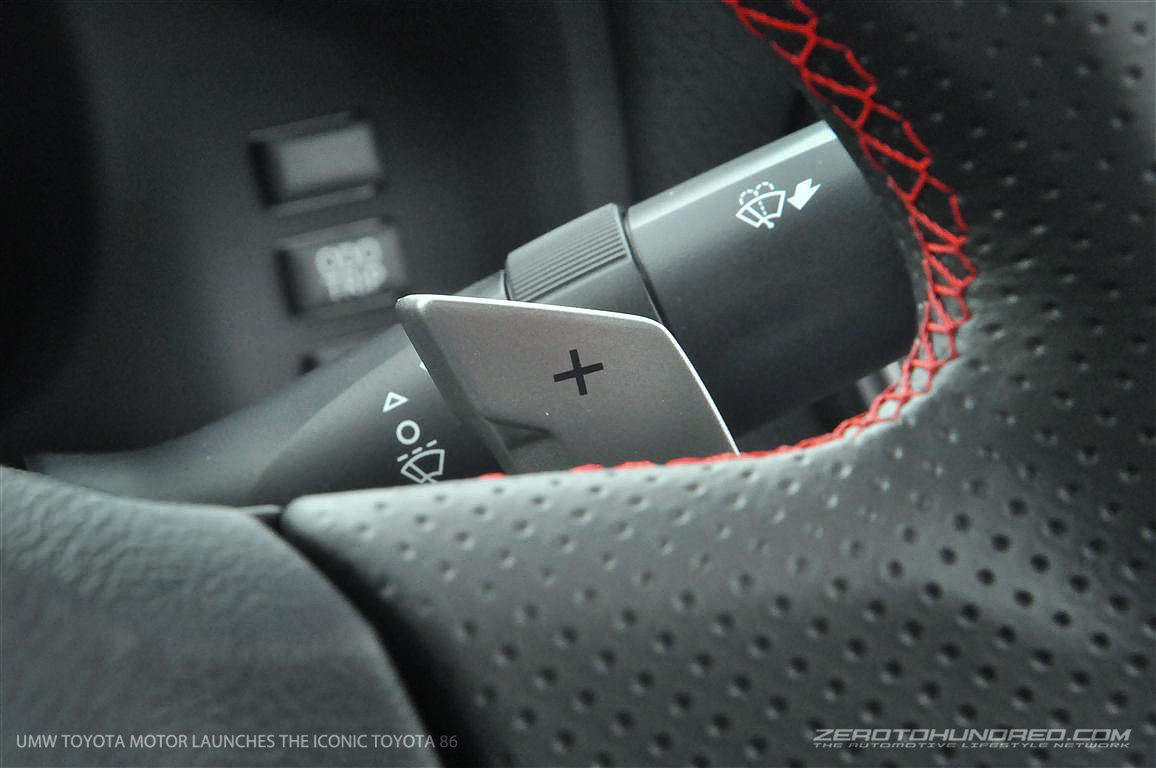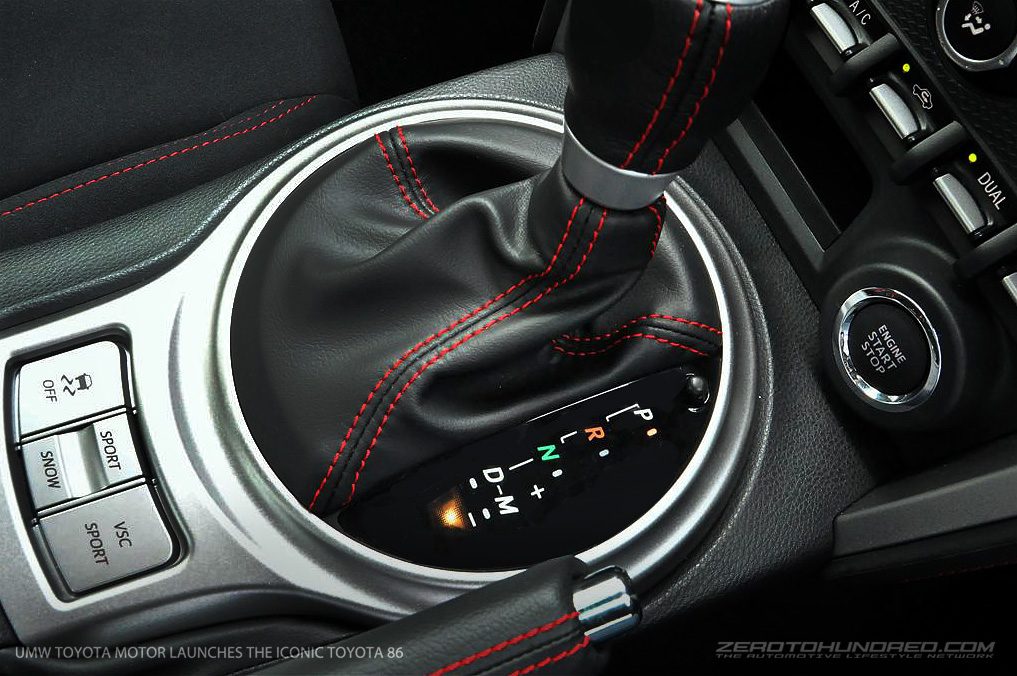 Your choice of a 6-speed automatic or a 6-speed manual transmission gets mated to the flat-four and has both will come well equipped with Traction Control (TRC) and VSC (Vehicle Stability Control). A VSC Sports function is also available for both variants, which allows the driver to take over by turning off most of the driving aids. Of course, ABS with EBD (Electronic Brake-force Distribution) and BA (Brake Assist) comes as standard.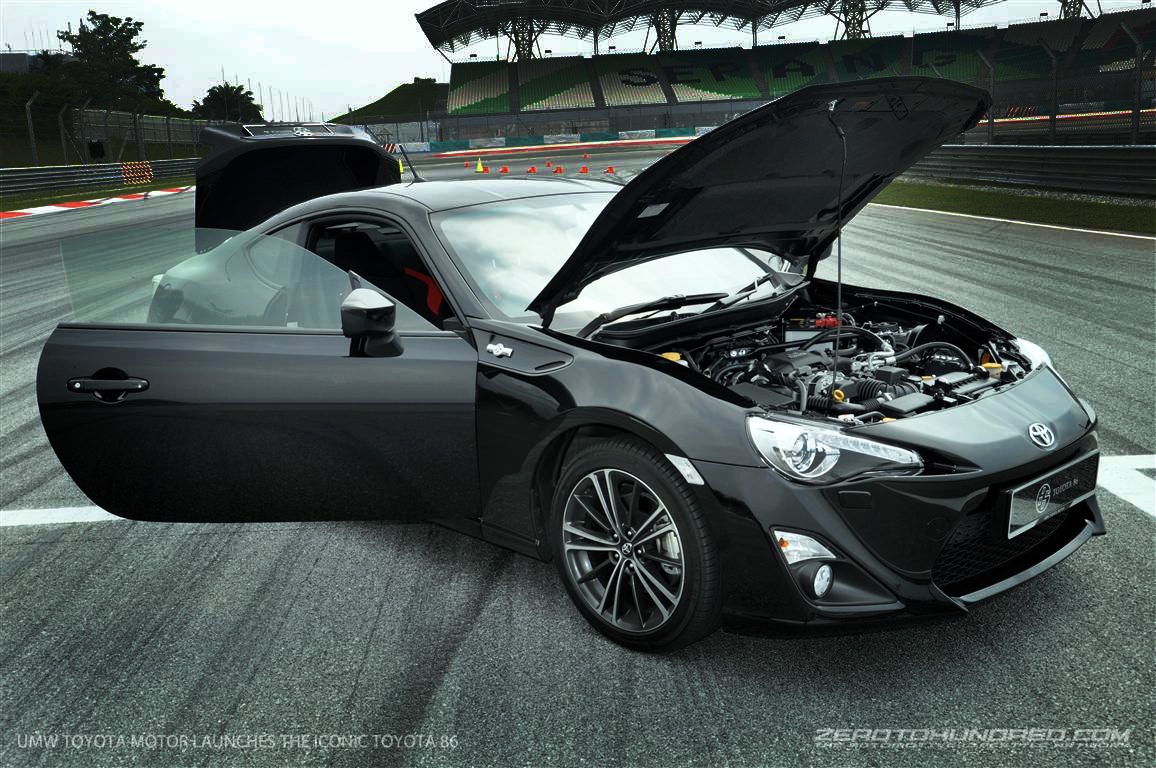 Bookings have already begun for the All–New Toyota 86 on 9th April 2012 and currently, there's over 30 orders for the All-New Toyota 86 with the hope of selling 140 units over the next six months. We wonder if that's going to be enough to satiate the demand for the new 86 over here.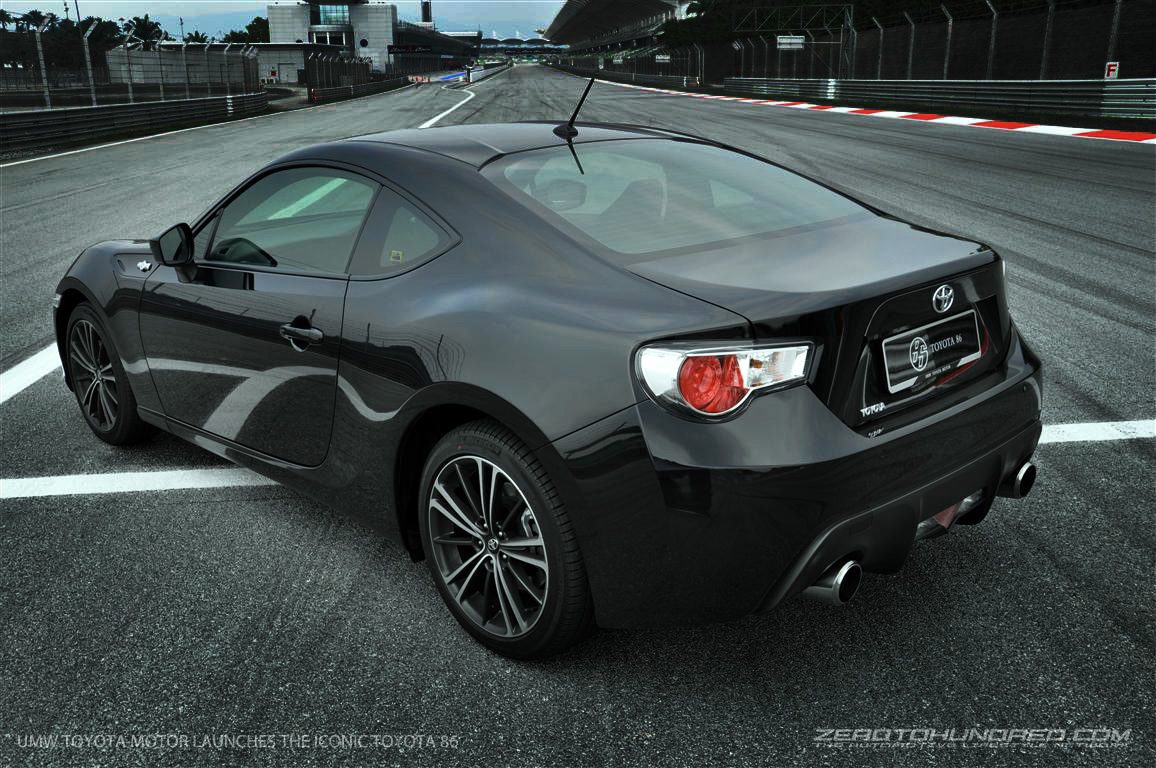 If you're old-school and want a manual transmission to come with your particular Toyota 86, the On-The-Road (OTR) price starts at
RM243,000
and stops
RM6,000
more at
RM249,000
for the automatic variant.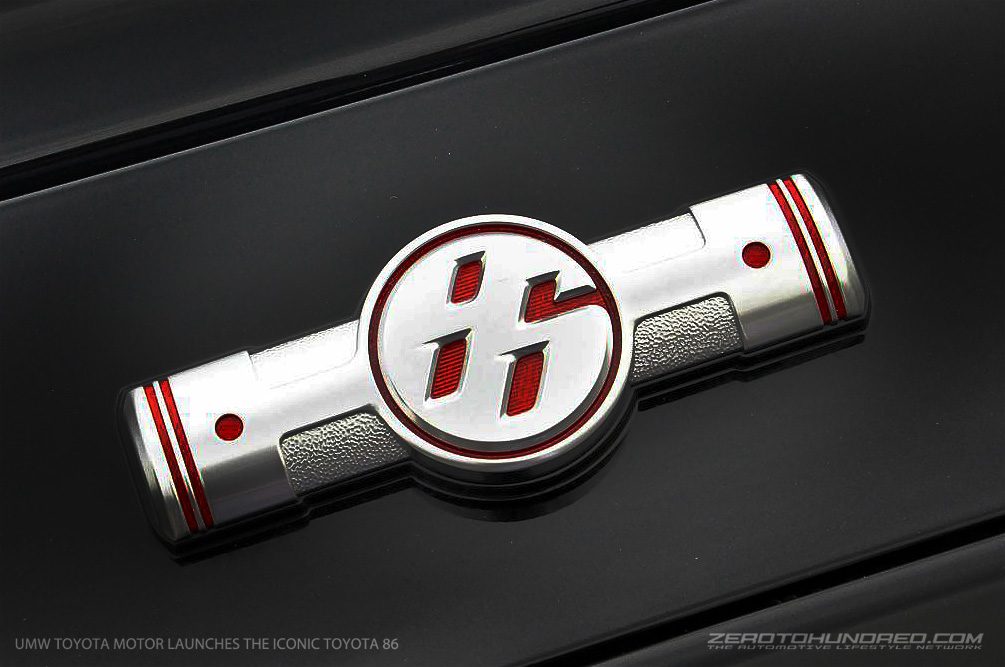 Buyers are also spoilt for choice with six colours to choose from to drape that sexy 'Hachi-Roku': Satin White Pearl, Crystal Black Silica, Sterling Silver Metallic, Lightning Red, Galaxy Blue Silica, and Orange Metallic.
Toyota 86 in Malaysia Related Posts:
The legacy of the All-new Toyota 86 - YouTube
Message from Chief Engineer, Mr Tetsuya Tada - YouTube
The development focus of the Toyota 86 - YouTube