Jul 26, 2010
305
1,368
593
He goes by a few names. Commonly referred to as Tandem Assassin or the Prince of Drift. While those names immediately reflect a vicious hunter that spares no room for compromise while going sideways, he is an easy-going guy off the wheel, who is more than willing to share his passion and enthusiasm towards cars and motorsports.
The guy in view here is none other than Malaysia's own professional drifter, Tengku Djan Ley. That's his hibernating AE86 which was his weapon of choice, a power handicapped Nitrous-injected NA that trumped some of the best in D1 Gran Prix a few years back!
And with the latest introduction of the all-new Toyota 86 into the Malaysian market, there are few individuals relevant or suitable enough to describe how the much anticipated, Toyota rear driven sports coupe perform as the reincarnation of the classic AE86.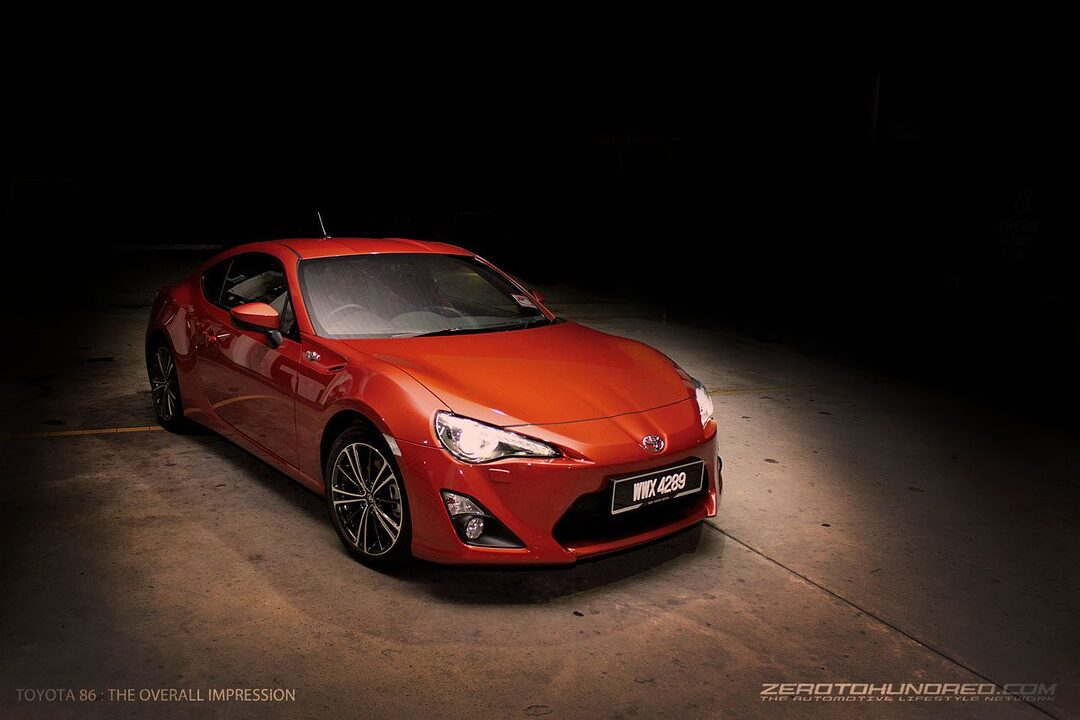 Tengku Djan has been kind enough to spare some of his time, even with his busy schedule prepping for the next round of Formula Drift Asia in Singapore, for a short interview session in sharing his valuable insights towards the new 86 with us at Zerotohundred.com
'(00)
: So with the new Toyota 86 already making a debut, how similar is it to the original AE86? Does it inherit any DNA derived from the old Hachiroku?
Djan
: Yes, definitely. I would say it's the connection between man and machine, so you're talking about the driver's input or the output of the car to the driver. It is about the whole driving experience, where it is very rewarding to drive.
When you drive either the old or the new 86, be it crusing, fast, or spirited driving, or even throwing it sideways. You could feel the connection with the car, and you will come out with a smile on your face.
Pinned on the wall of many fanboys and girls
What they have done really well here is to extract the essence of the original 86. The AE86 was a 1.6 and back in its days, it was state-of the-art technology. Twin-cam, 1600cc, churning around 130 horsepower, it was probably one of the fastest car back in the days. So with this 2.0-liter Boxer engine, it brings back the spirit. You have to use the revs, to drive it.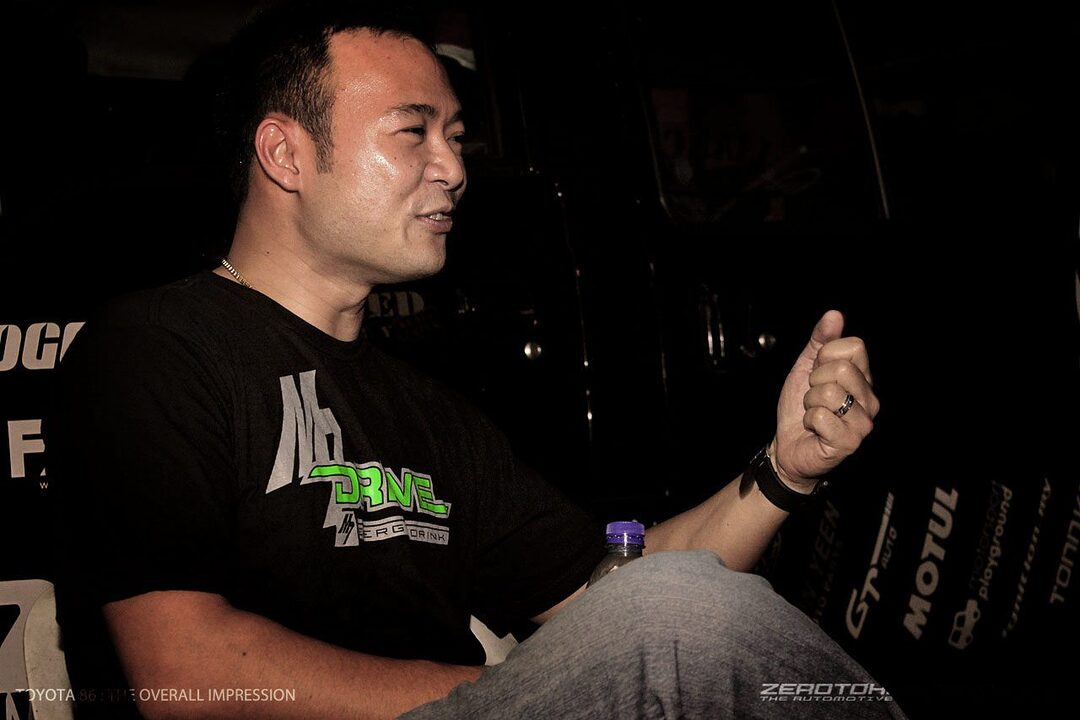 '(00):
When you drive the new 86, are there any comparable cars of today that comes into mind?
Djan:
To tell the truth, there are not many cars which I have driven lately that had given me that satisfaction or connection. But for this, I would say the BMW M-series of today still gives a lot of rawness out of the vehicle, just the same as what the 86 has been able to provide.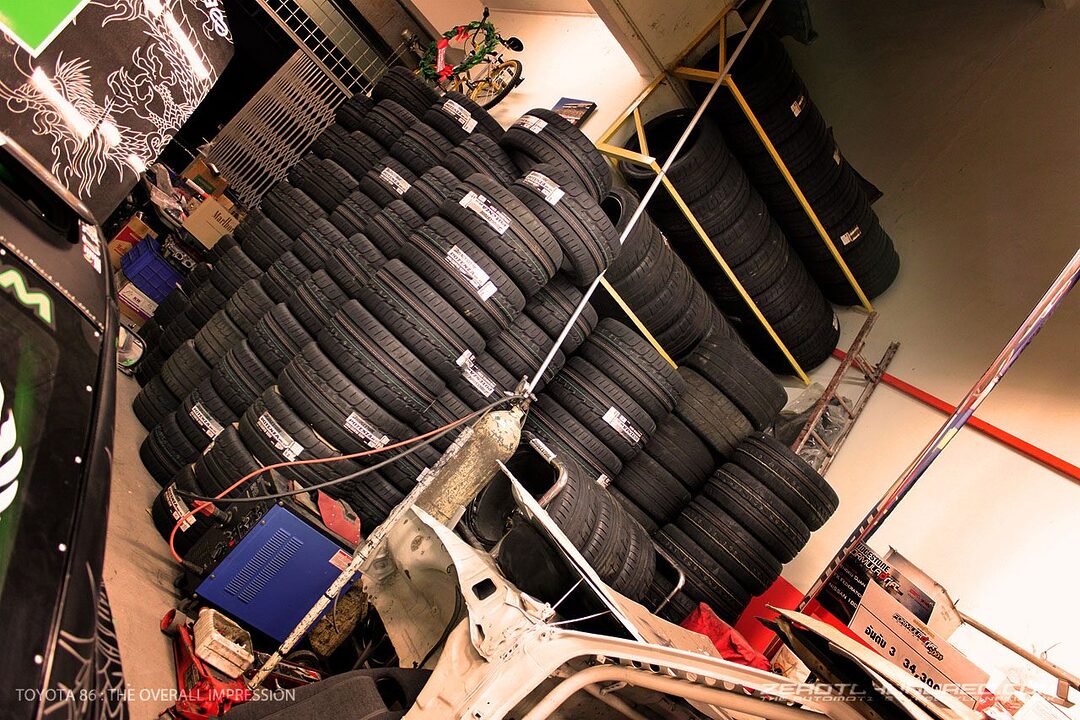 That's how much rubber Djan consumes in months an average Joe need in 2 lifetimes
'(00):
The new 86 has been portrayed as the reincarnation of the AE86, bringing the old spirit into today's car. So does this new 86 meet every single expectation that you have on the car?
Djan:
Yeah, I would say it would have made it to today's standards. I think they've done a really good job in trying to keep the weight low, I believe it's about 1200kgs, if not, slightly less than that. Which is in today's standards is respectable. Cars today need to meet the current crash requirements, and that requires a lot of structural integrity. That's why you see the newer cars in terms of weight; they have been gaining a lot throughout the years. The Boxer engine is a great choice; it's got pretty low Center of Gravity. So you're talking about optimizing the handling in the vehicle. It's a high-revving, high-compression engine, comes with a six-speed manual, or in this case an automatic. But again, the car feels very alive, the car feels very mechanical, the ergonomics are great and you have all the bare necessities which you need, they haven't given you so much luxury and had kept it very pure.
Djan's other favourite rear-wheel-drive beast
'(00):
How would you rate this car, on a scale of 1-10? And is there anything from your point of view that the car could improve on?
Djan:
I would say a 7 ½ to an 8. I would also like to have a little more power. But then I think I understand why; they're trying to meet their expectations being an entry-level sports car, keeping it lively enough. Keeping the car interesting for the customers.
'(00):
What about handling wise, what are your thoughts?
Djan:
I think the car handles really well! It is very responsive, reacts to your inputs, which is very important when you're talking about a driver's car, which the car totally does. You more or less drive it, utilizing the throttle, which is great because it is a RWD car, so it actually reacts to throttle input. So in terms of the chassis balance and the overall feeling of the car is great. I was actually considering buying one even before Toyota Malaysia even launched it.
His new Mutagen injected Drift car for 2012
'(00):
Some of the interviews that I've conducted earlier mentioned that this is a good beginner car for a RWD platform. Do you agree?
Djan:
Yes, I believe so. It's got the right amount of horsepower, so it is not intimidating to a driver. It has got the crisp handling, so it gives you the real essence of a RWD car. Again, as I mentioned, you can drive it with the throttle, so that's very important in RWD cars because there's a lot of cars today that are RWD, but are very numb in terms of driving. Where, if you throw/floor it around a corner, you actually get a lot of understeer from it. But this brings you back to the essence of driving a RWD, where you have to brake in a straight line, you can't get off the throttle mid-corner, because if you shift that balance, the rear end is going to step out.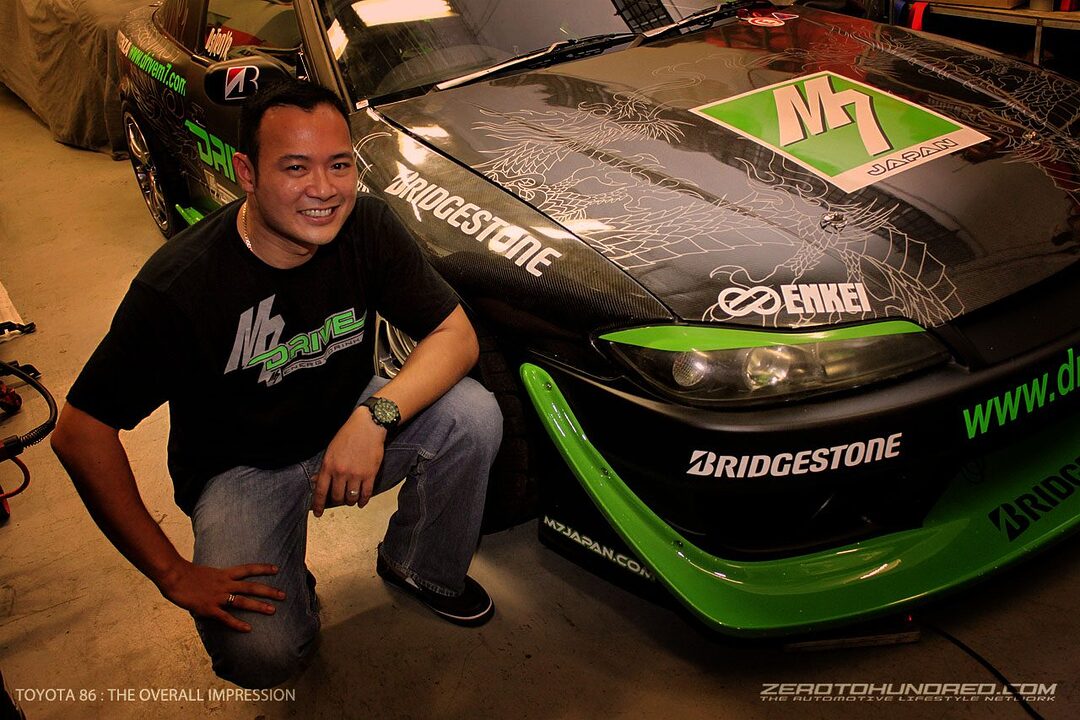 So it brings back that essence in driving. It teaches you how to drive properly. I would say the next closest thing would be a Lotus Elise. Of course, it is more hardcore. But again, if you talk about the essence of it, it is a very similar platform.
Read our upcoming tribute to the AE86 through its current successor, the New 86. (soon)
Toyota 86 Specifications and Prices
Zerotohundred: 8.2s (AT), 7.6s (MT)
Top Speed: 225 km / h
Engine: 1998 cc D-4S flat-four boxer engine (FA20)
Power: 197 bhp / 7000 rpm
Redline: 7400 rpm
Torque 205 nm / 6600 rpm
Weight: 1,230 kg
Fuel: 5.91L/100km Automatic / 6.5L/100km Manual
Fuel Tank: 50 L
Wheels: 17"
Tyres: 215/45R17 all round
Price: RM243,000 Manual / RM249,000 Auto
Official Link: http://www.toyota.com.my/toyota-86/
Toyota 86 in Malaysia Related Posts: