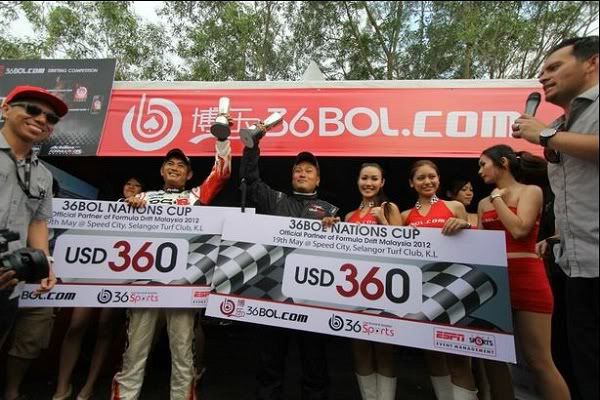 Team Japan won the 1st ever 36BOL Nations Cup at Achilles Formula Drift Malaysia 2012, Presented by Canon
Tengku Djan & Ah Fai enters knockout stage as top seeds; Djan and Ivan Lau garners loudest cheers and finished at 2nd-place.
Daigo Saito and drifting legend Manabu "Max" Orido did Japan proud, standing head above shoulders against a stellar international field to emerge as champions of the first ever 36BOL Nations Cup at the Achilles Formula Drift Malaysia 2012, presented by Canon.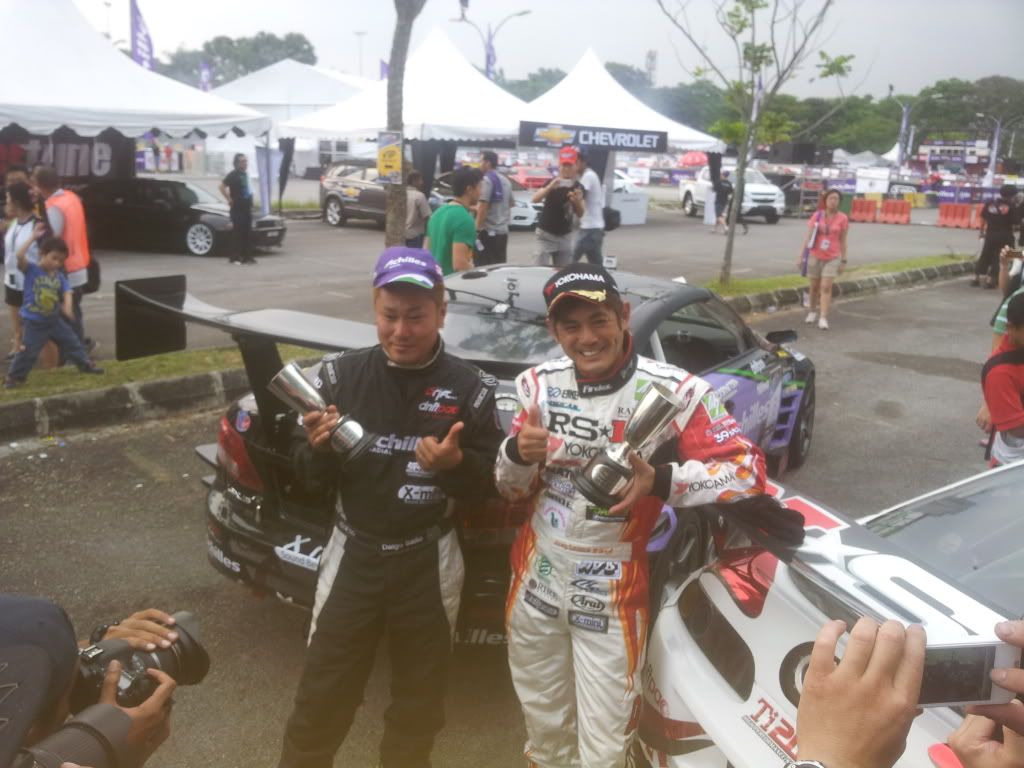 The dynamic duo, who was last year's finalists, produced a scintillating run together, banking round the clipping zones with synchronised precision, and impressing the judges with their impeccable coordination and style – earning the all-star duo a perfect score of 30.
Tengku Djan Ley and compatriot Ivan Lau earned the loudest cheers from the partisan crowd, but lower two points and grabbed the silver. They thrilled the home crowd with an impressive run featuring teamwork, coordination and precision drifting. Thailand's pair of Saranon Pornpatanarak and Chaiwat Panthayangkool finished third.
Unlike traditional Formula Drift tandem battles, the 36BOL Nations Cup focuses on teamwork and coordination where a pair of drivers from each country puts together the two best tandem runs in unison. The team with the most stylish run wins.
Said Orido, "We're happy of winning the first ever 36BOL Nations Cup. Driving in-sync is challenging, although not as hard as driving against each other. This new category did bring a different dynamic to tandem drifting, and it was good to see the spectators getting behind the local drivers."
The 36BOL Nations Cup champions from Team Japan navigated the course effortlessly, thrilling fans and judges alike with fearless wheel-to-wheel driving. Said Daijiro Yoshihara, Formula Drift USA Pro Champion Driver and Formula Drift Asia Judge: "The follow car in a synchronised run has a tough job – keeping up with the leaser while maintaining his style and emulating the line, Daigo did an excelptional job of this. This, coupled with Orido's immense awareness as the lead car that made the run a perfect combination"
Tengku Djan, who is making his comeback to the Achilles Asian Drift series, was in top form with Ah Fai who led the pack in qualifying, with an high scores of 94 and 90 respectively.
Said Djan, "It's great to be back. I had a good showing today, but it will be a totally different playing field as we enter the tandem battles. Some of the drifters who did not do particularly well today might have great runs tomorrow, so it's anyone's game. I don't want to disappoint the fans, and I will give it my all to get to the finals on 20th."
Visit
36BOL.com - Online Casino and Online Gambling in Asia | Online Gambling Malaysia | Online Gambling Australia
for sports gaming.