Mar 20, 2012
2,882
1,353
1,713
Greetings folks :wavey:
Many automotive users like us would always find a way to improve our ride in the sense of performance, aesthetics, fuel consumption, ah-beng-ness, etc etc. The car makers will not give us everything unless we give them our everything. Therefore we can find many after market parts out there, anywhere.

While some would spend thousands to churn what's from their car engine, others would only want to spend perhaps a few hundred bucks or less than that in modifying their ride to improve 1 second of 0-100 sprint time. Hence we often see products that seems so miracle as claimed by the manufacturer, but they do not cost a fortune. For example, Surbo. It was a hit last time when many people are asking about it and some even swore by it.

There are Surbo, cyclone, mini air compressor that supposed to function like a mini supercharger, etc etc. They cost so little, but claims so give up to 20-30% hp and fuel efficiency. This made many of us wonder...why arent they selling well nowadays? I guess I dont have to answer that question, do I?
So I came across this product, called Firestorm Ignition Coil Booster. Just like the small tiny mini gadgets that are said to give this and that bla bla bla, the Firestorm (FS) also claim that it can improve power and fuel efficiency, but did not state by how much. They even have a video to support their claim that the product works:-
FireStorm Ignition Coil Booster.flv - YouTube
I searched for its reviews and surprisingly, most reviews are positive. There are a few negative reviews as well of course, as some does not agree that it works in their vehicle. I requested some data and explanation from the seller, as below:-
The FireStorm works by increasing the voltage frequency as in a Pulse Width Modulation (PWM) circuit.

The voltage pulses at HIGH FREQUENCY and this directly LOWERS THE CURRENT, which means that the electronics and ignition coils do not get as hot as in normal operation before the FireStorm is installed due to the lower operating current, as well as due to the increased efficiency of the voltage.

Other voltage amplifier boosters like the MSD, Haltech HEI and other devices that raise the voltage to 16V, 18V and up to 20V will also raise the input current which causes more heat in the electronics and ignition coils. This will shorten the life of the electronics in the engine.

The FireStorm is NOT A CAPACITOR or VOLTAGE STABILIZER as such circuits will need Grounding to the car body or to the car battery negative (-) terminal. The FireStorm Booster is installed in a series configuration similar to the original fuse without any additional wires.

DO NOTE the wire position. If terbalik, wngine wont be able to start.
A DYNO Chart test result on a Proton Preve IAFM. The square black spot is actually the seller's name so I blacked it out. Oh ya, simota is out of the discussion ya.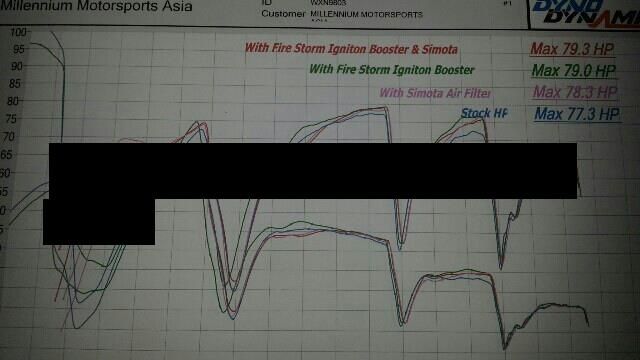 There is a 1.7 bhp of increase using FS compared to stock. That is 2.2% of increase. Too bad the torque is not displayed. An increase of 2.2%, in my opinion, is negligible.
So performance increase is out of the question. So it is all up to the part that got me interested, the fuel consumption. This simple test of mine is all about fuel consumption (poor man, no money pump petrol). If you would like to know my butt-feel, I would say that after installing FS, the low power band is smoother. It feels like you have just serviced your car.
Instead of testing using the hypothesis "FS can improve fuel efficiency", I am giving it a biased test. Why I say biased? You will find out soon, read on.
NOTE: THE HYPOTHESIS, PARAMETERS, PROCEDURES, RESULTS, and CONCLUSION ARE ALL MY OWN FINDINGS AND HAS NOTHING TO DO WITH THE SELLERS. I AM NETHIER A SELLER NOR HAVE ANY NORMAL OR ABNORMAL RELATIONSHIP WITH THE SELLER, NOR HAVE ANY BENEFITS FROM THE SELLER. THE WHOLE PROCESS CAN BE DISCUSSED AND ARGUED.
Test subject: Firestorm Ignition Coil Booster
Hypothesis: Firestorm does not improve fuel efficiency
Car: Perodua Myvi 1.5
Fuel: Petronas Primax 95
Procedure:
1. Pump in full tank and install FS
2. Drive normally. Adapt when necessary
3. When fuel indicator reaches reserve level, pump to full tank, milage and liter used are recorded.
4. Repeat step 1-3 for 2 times (3 tanks with FS in total)
5. 4th tank, uninstall FS
6. Drive normally. Adapt when necessary
4. Service the car !! <--- this is the biased part. My car had already done 9000km when the 3rd tank with FS finished. The first tank without FS was actually done with 200km before serviced, and 200km after serviced.
5. Fuel reaches reserve level, refill, and milage and liter are recorded.
6. Repeat set 5 until the 3rd tank.
Basically I did 3 tanks with FS, and 3 tanks without FS.
Result:
With FS:
1st tank - 70% highway cruise at 80-100kmh, 30% traffic jam and city driving.
- RM56.95
- 29.97 L
- 498.7 km
- 16.64 km/l
2nd tank - 50% highway cruise, 50% traffic jam and city driving.
- RM60.43
- 31.80 L
- 479.0 km
- 15.06 km/l
3rd tank - 70% traffic jam and city driving, 30% highway cruise
- RM55.18
- 29.04 L
- 419.0 km
- 14.42 km/l
Without FS:
1st tank - 80% highway cruise, 20% traffic jam. 200km done after servicing.
- RM58.02
- 30.54 L
- 450.3 km
- 14.75 km/l
2nd tank - 70% traffic jam and city driving, 30% highway cruise
- RM58.07
- 30.56 L
- 421.3 km
- 13.79 km/l
3rd tank - 50% highway, 50% traffic
- RM58.69
- 30.89 L
- 443.8 km
- 14.36 km/l
Average fuel consumption with FS : 15.373 km/l (0.12 cent/km)
Average fuel consumption w/o FS : 14.300 km/l (0.13 cent/km)
Difference : 1.073 km/l (0.01 cent/km)
Conclusion: Hypothesis rejected. Findings show that FS help improve fuel efficiency by an average of 1.073 km/l
So, if my findings are accurate, lets calculate the return of investment. This device cost RM230 the time I bought it. Please bear in mind that no one is held responsible for price being displayed here and that the price might be changed from time to time or from various sellers. The price is only a reference for the ROI calculation.
Assumptions: 1 tank per week (30 Liter), RM1.90 for RON95.
1 tank will give additional 32.19 km. Lets take the average of 15.373 km/l, thus equivalent to 2.094 L of petrol benefits. That would be RM3.98 of savings per full tank of 30L.
RM230 / RM3.98 = 58 times of 30L = 58 weeks = 14.5 months = 1 year 2.5 months
Advantage:
1. Easy installation in most car
2. Save fuel (based on this test only)
3. Lifetime warranty
Disadvantage:
1. No receipt
2. Until now I still do not know who is the manufacturer. I only know that it is from Penang.
My understanding on how it saves fuel (please correct me if I were wrong):
Our car AFR is pre-set to a certain figure by the manufacturer. The ECU would adjust the parameters based on the feedback from the sensors (MAF, O2, knock, etc). A bigger spark would result in a faster flame propagation thus yielding a better fuel burning completion. Fire needs oxygen and the bigger the flame, the more oxygen it would consume. The O2 sensor will sense a low reading of oxygen (running rich) and reduces the amount of fuel to be injected.
Thank you for reading. Happy driving