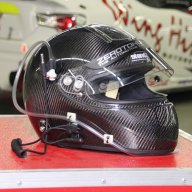 Jul 6, 2000
5,554
3,223
5,213
Review: BMW F90 M5 Sepang Circuit First Drive + Turn by Turn Impressions
Actual pull from this 600hp new era 4WD BMW M5 sedan is brutal in real world acceleration but no where near as barbaric as say, a 911 Turbo in case you're wondering. Even so, it is not wrong to say they are just about as quick from zerotohundred, after all it's milliseconds difference we're talking here, for a full sized business saloon to posses such staggering performance.
The 600hp Executive Beast has arrived
BMW's maddest 5 series has arrived Malaysia and was recently introduced at Sepang Circuit in conjunction with the BMW M Track Experience 2018. For the first time ever, power is sent to all four wheels in the new M5 by default. This is possible via BMW's M xDrive 4WD system featuring various driver customizable modes.
Imagine 600hp and 4WD. That's like a recipe for a 911 Turbo killer, which makes the new M5 so much more tempting as the ultimate business athlete. One that can finally go head to head with the likes of supercars and beyond. Previous M5s were all pure driving machines but it is this faithful 4WD F90 gen that'll be taking the M5 to a whole new level, with its grip amplifier so to speak.
The 3 main M x Drive modes range from 4WD, 4WD Sport and pure 2WD. Yes, 2WD and that enables the M5 to be manually flicked to RWD. Which literally encourages you to go catch a drift or bake a donut.
Extensive use of carbon and aluminium is a signature trait of any modern M car and you can bet there's plenty here. Aluminium bonnet is a given and help to showcase the precise sculptured lines which visually continues to the roof which is made from carbon fibre (CFRP).
Producing the colossal power and torque figures is BMW M's TwinPower Turbo 4.4L V8 engine. This new F90 M5 makes 600hp at 5,500 - 6,700rpm while its supreme torque of 750nm is available from as low as 1,8000rpm and remains flat right up to 5,600rpm. The new torque number is in fact 70nm more than the previous F10 M5's 680nm.
The new F90 M5 with its new found traction and power will claw the tarmac on all fours to achieve Zerotohundred in a phenomenal 3.4 seconds. This is in part contributed by newly developed turbochargers and a huge maximum injection pressure of 350 bar which allows for shorter injection times and improves fuel atomisation for a sharper engine response.
Drivers can choose from five different drivetrain configurations based on pre-set combinations of the Dynamic Stability Control (DSC) modes (DSC on, MDM, DSC off) and M xDrive modes (4WD, 4WD Sport, 2WD).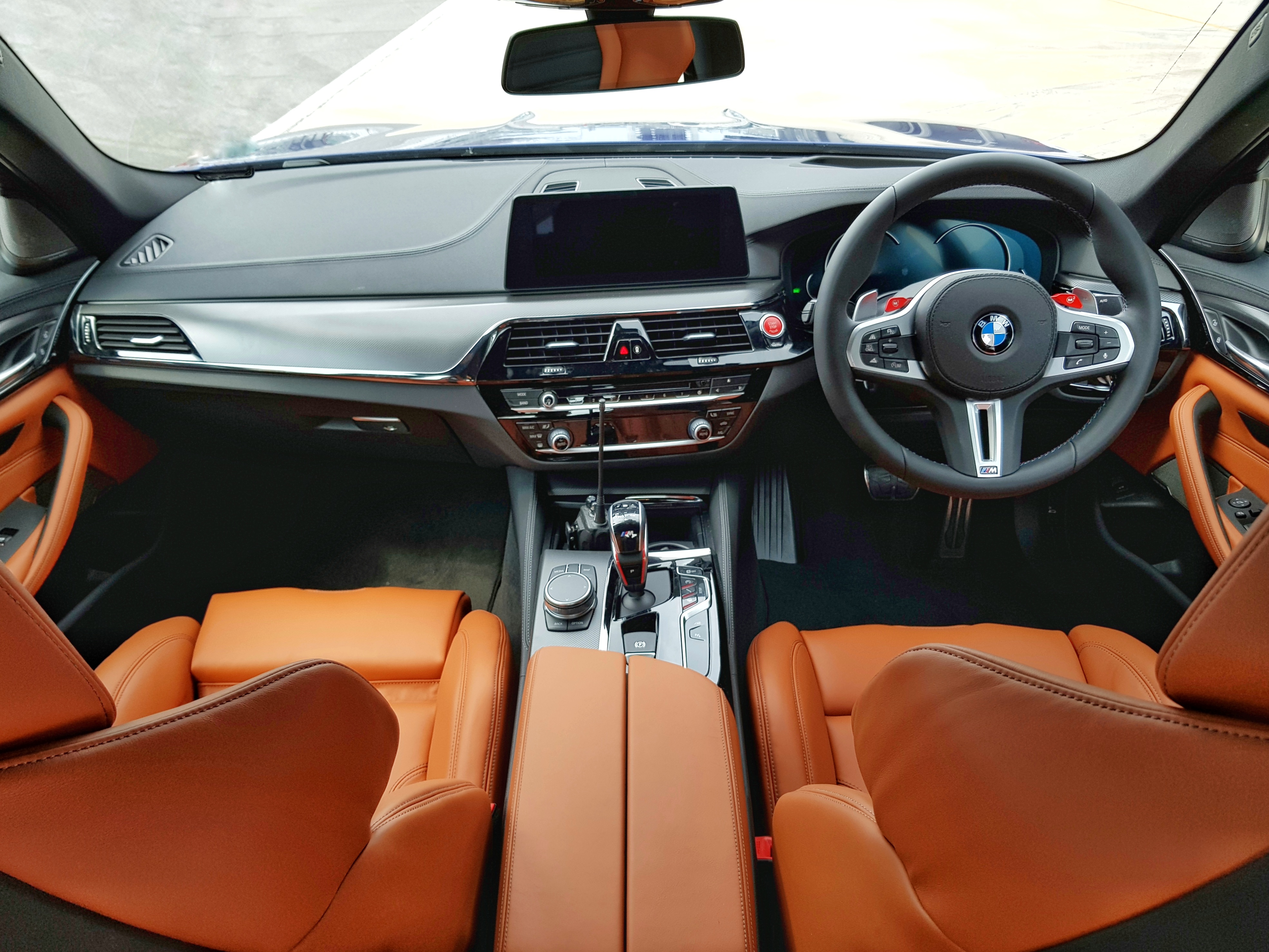 Transmission wise the M5 utilizes a new torque converter 8 speed M Steptronic transmission with Drivelogic and can be operated sequentially through the short gear selector or the shift paddles. When in D, the M5 allows its driver to select between 3 Drivelogic modes:
Mode 1 for efficient and comfortable driving

Mode 2 for shorter shift times

Mode 3 for extremely short shift times
Turn by Turn Review of the M5 via all 15 Corners at Sepang Circuit
Read on to find out what I thought of the F90 M5. But first, check out my one full attack lap in the 600hp beast with co-driver Denis Wong.
Main Straights
There is great immediacy to its power delivery that is close to being NA-like, yet pushes strong and flat torque especially in the mid range. It does taper off pretty early thereafter. Might have been the hot mid afternoon heat at Sepang that's to blame.
I did find it a bit hard to gauge the shift points initially, where I missed a few upshifts pedalling a tad late. I think I was fooled by the overly encouraging engine music from the cockpit. It's hard to tell if was artificially synthesized but it does sound good.
Turn 1
For what the M5 lack in ferocity, it makes up with finesse. The super sedan feels almost drama-less, while a sensation of lightness emanates from the M5 despite its near 2 ton bulk. It is also very calm, which resembles the more mainstream but decadent G30 530i, the non M 5 series. There is something about this generation's BMW 5 Series that feels especially sharp and nimble.
Turn 2
Immediately, the M xDrive 4WD advantage becomes apparent at the downhill left T2. I was able to supply the M5 with a half throttle before the crossing the apex. Then, even before the steering gets completely unwound, we are already at full power. It's a catapult ride from then on, which was never possible with older M cars that's for sure.
Turn 3
Now, this is where it becomes weird. There is actual understeer whilst going flat out through Turn 3, which almost isn't a corner, most of the time anyway. There is a sense that the front is washing out while trying to hug the inside of the right downhill ramp.
But it's probably the tired tyres, as the M5 was out on track all day before I took the last test session. Still, the Michelin PS4S tyres performed superbly and remained impressively predictable despite the condition they are in. I'd say more than half used?
Turn 4
The M5 was squirming its tail under braking before Turn 4 as well, hinting at the rather late braking. Even so, it makes intended apex despite the tantrum, but upon exiting the uphill right, mild understeer can be felt here.
Turn 5
Nevertheless, while ascending the uphill ramp after Turn 4, the M5's claimed 600hp figure remains unquestionable. Despite its original purpose and natural handicap, this new M5 can literary dart through the circuit like an overgrown R35 GTR would.
But getting the 1,900kg super saloon to hug the entire T5 is another story. This is where one needs to be aware of the M5's inherent mass. Charge in too hot and be prepared to brace for understeer and then oversteer as it tries to combat the law of physics. Still, its capabilities surpass the need for it.
Turn 6
The M5 makes the left to right transition for Turn 6 like a champ and it was at this point that I realised its superb agility. However, the dreaded understeer still haunts it in the middle of the high speed right hander. A slight throttle lift solves it immediately and then it's a rocket ride to the double right of turns 7 & 8.
Turn 7
Braking for T7 is a dramatic affair for the M5 as it squirms vigorously while negotiating the downhill terrain that trails right. Fortunately, the 4 wheel traction helped it retain more than enough composure to get itself set up for a near perfect exit out of the double right.
Turn 8
Despite going over the edge between T7 and T8, with 2 wheels still within track limits, I felt the line was spot as the M5 rotated just enough and I was able to put power down way early to capitalize on the clear path ahead. It is precisely this moment where i felt the M5 was most intuitive in the way it drives. Definitely feels like the M engineers put in a lot of thought, effort and development into making it drive the way it does, especially more so now with 4WD.
Turn 9
The next most awesome part are the brakes. Stopping power is indeed super impressive for this behemoth of a sedan. But what's more appealing is brake feel.
Any performance car these days can stop like a champ, but the M5 retains that intricate crispness and accuracy, especially when modulating off the brake pedal to nail the slow and tricky left hander like Turn 9. These aren't even the M Carbon Ceramic ones which will cost RM95K on top of the car, that will provide a whole new level of stopping force, lap after lap.
Turn 10
Turbo lag is non existent in the cutting edge M developed 4.4L twin turbo V8, but boost surge is very apparent and you can almost hear the chargers spooling at times, especially when exiting hard climbs such as Turn 9, where it rockets up the ramp, heat seeking for the next T10, with no effort at all.
Turn 11
Just like in T7 under braking, the M5 just wants to sway in either direction at the touch of the brakes. Get it right and the M saloon will reward with a bonus rotation into the downhill right for an early throttle into the open road ahead. Then, the M5 thundered through the short straight, like a 600hp car would, building speed towards boss corner Turn 12, worryingly fast too. This is an executive saloon after all
Turn 12
This is hands down the climax corner of Sepang Circuit. It is a corner with a narrow entry window for success. A corner that many drivers cringe even to visualize. It is quite literally a downhill roller coaster ride that takes you on a dramatic high-speed left then violently right..
But, a slight lift before an early entry into T12, aiming for the inside to clip the curb did the job perfectly. It was max power from then on for an immediate right to latch onto high-speed Turn 13, even for a brief moment.
Turn 13
It is here that the M5's new chassis, suspension and drivetrain really come alive, to perform at its best, while masking the extremities yet deliver motorsport inspired handling at the same time. There's no under or oversteer here, just glorious grip and plentiful speed charging towards Turn 14.
https://www.instagram.com/p/Bi8gLSinqSN/?hl=en&taken-by=zerotohundred
Turn 14
The adventure ends here. In a split second after riding Turn 13, I apply a specially prepared dose of braking as to not upset the M5 since the braking zone into Turn 14 trails aggressively to the right. Even so, the M5 continues to tickle the steering wheel with pronounced squirms as the tyres moan signalling the pinnacle of grip under braking while steering.
As it completes the said phase, I then seamlessly proceed to steer the M5, out on a late apex, so to be able to open fire early out through Turn 14 onto the back straights for a victory drag toward the final corner.
The Back Straights
Despite blasting by the back grandstands and paddling through the gears at speed, this was where I can take a short break to collect my thoughts. I have admit it was in fact a drive of dreams. One that is unlike any other, that thrilled me even more than better circuit suited candidates. But before I knew it, we're already way past 200kmh by mid straight and here comes T15.
https://www.instagram.com/p/BjeUzJPn1dK/?hl=en&taken-by=zerotohundred
Turn 15
Hard braking for yet another late apex into the final Turn 15, which is one of Sepang's slowest hairpin corner where the inside features an off camber crest. There are 2 common techniques to tackle Turn 15.
I prefer to take a late entry and meet the apex at the very end for a clear exit out. Whereas others prefer to roll their speed all throughout the outside, never ever clipping the inside. You'll notice more GT and Formula drivers practicing this technique as they've lower ground clearance and shorter suspension travel which might see more advantage this way.
As the M5 almost complete braking phase, rolling on its remaining speed, rotating beautifully mid corner, its rear end unexpectedly steps out, signifying excessive entry speed. Despite the M5's clear ability to nail the corner, its exhausted tyres can no longer claw at 100 percent. A brief correction solved it right away and it's full throttle from then on. Nevertheless, these Michelin PS4S tyres were on the ball throughout, just no longer sticking at 100% having served several drivers before me.
Exiting the final corner with 4WD advantage, I was able to feed all 600hp even before the straights and the M5 succumbed beautifully. Perhaps a little too willingly, or can I say peacefully? There's so much talent in the M5 at corner exits it just seems unreal judging from its physique and purpose.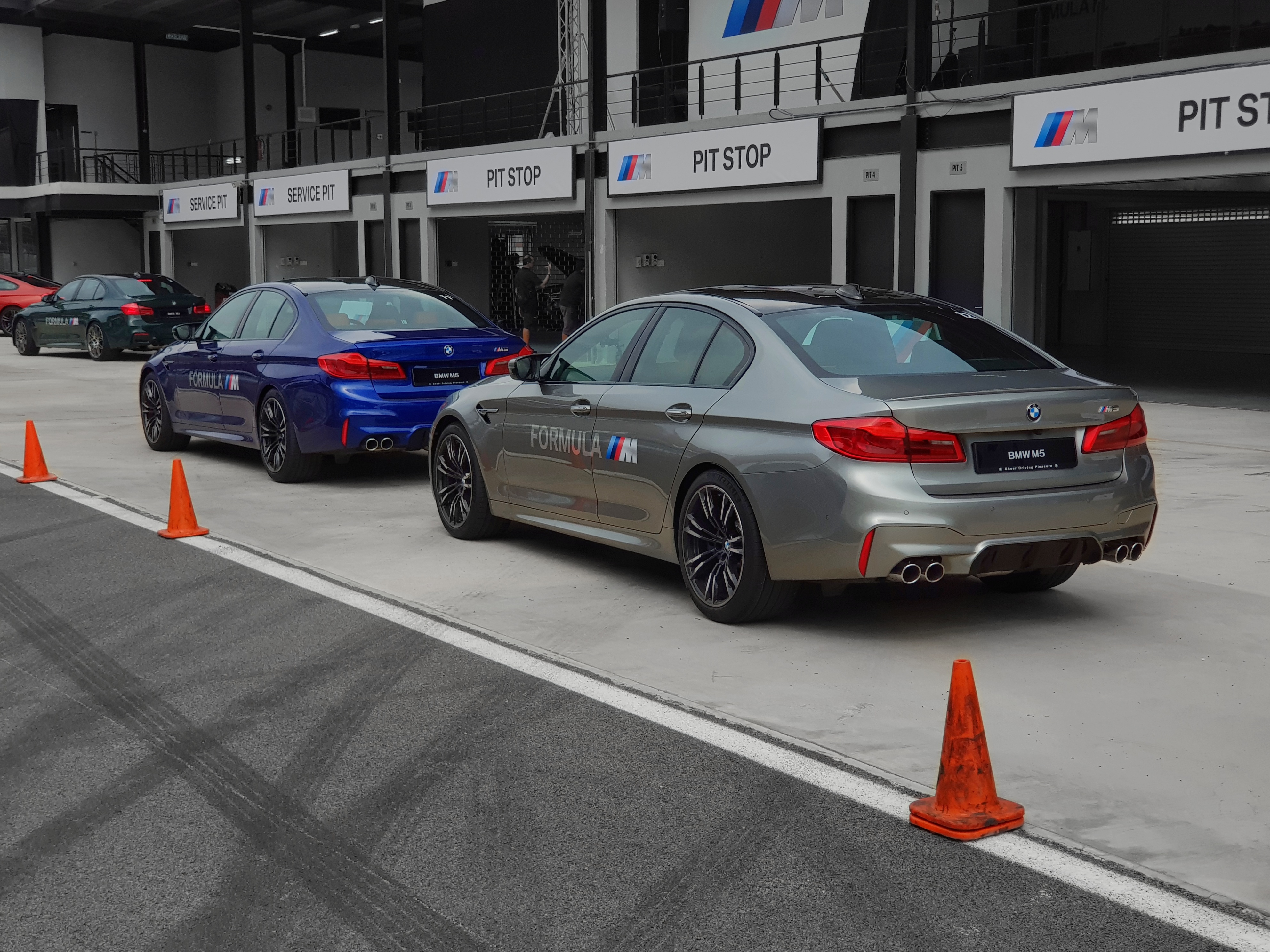 The Front Straights
If you've driven a road car at Sepang Circuit, you'd know it'll take a while to cross the start / finish line. With this 600hp family express, reeling in the chequered strip takes but a few snaps of the finger.
I didn't have a timer with me but the first hotlap felt pretty good, like an easy mid 2:30s kind. It was hardly a qualifying lap, but it's definitely a fast lap even considering I had on board with me, co driver Denis Wong (Countersteer.my and very recently Autobuzz.my).
2:32.6 was the lap time recorded. A blistering figure indeed for such an unassuming but unmistakably exclusive business sedan, even when considering the bombastic spec sheet, it's still a 1.9 tonne large sedan.
Now, let's say for example we take Denis out of the equation and put in fresher tyres, I reckon this new M5 would dip into the 2:29s even. That'll easily put it on par with superstar cars like the GTR, even 911s and so on. How mad is that?
Lap times are almost always about horsepower and the accessibility of that horsepower. The new M5 ha accessibility of that power comes from new 4WD traction that allows it claw out of corner exits while capitalising on that massive 600hp to rapidly build speed.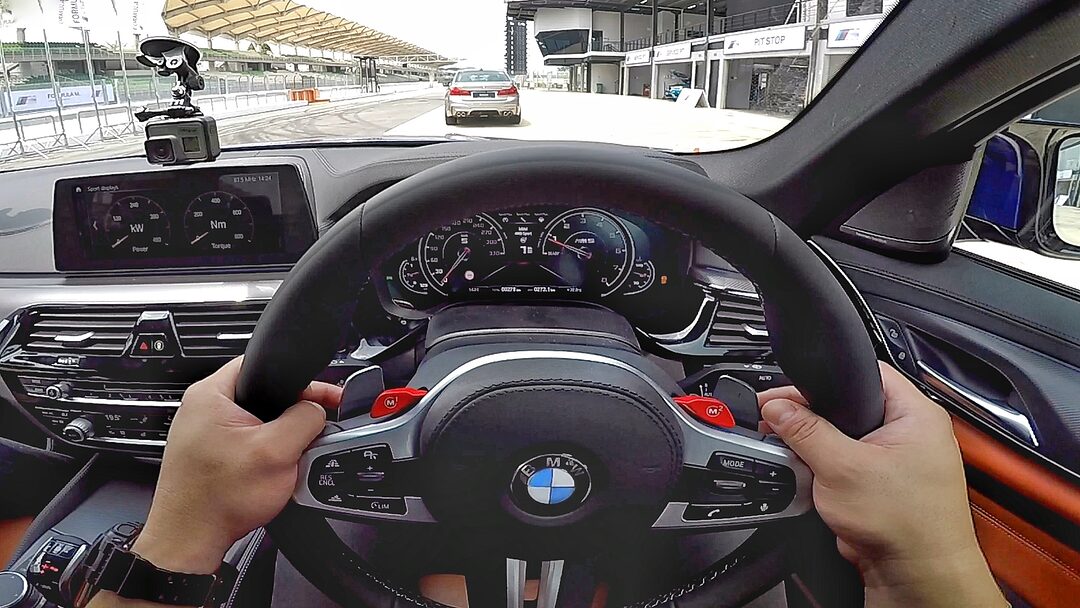 Verdict
The new M5 wouldn't have been this capable if it had stayed true to its rear wheel drive only heritage. 4WD makes the super saloon come alive and allows one to access all of its stupendous 600hp / 750nm from the get go way easier than ever. At corner exits, almost all of its full power can be harnessed much earlier with its new found grip, via the introduction of 4WD which wasn't possible in any of its predecessors, even if their lives depended on it.
What used to be a thing in the past, to light up the rear tyres in a corner for no apparent reason is now a thing of the past. Discerning drivers demand efficient motoring these days which, in handling term equates to grip and it is only with 4WD that this crucial traction can ever be extracted.
However, should you find the need for slip, slide and donuts, you still can with the M5 by pressing a button or 2. In which case, the M xDrive will disengage drive to the front axle to enable and in fact encourage one to drift. Unfortunately I did not get around to try its RWD mode. Although I did experience first hand, how savage the M5 can be when left ungoverned as seen in the drift stunt above.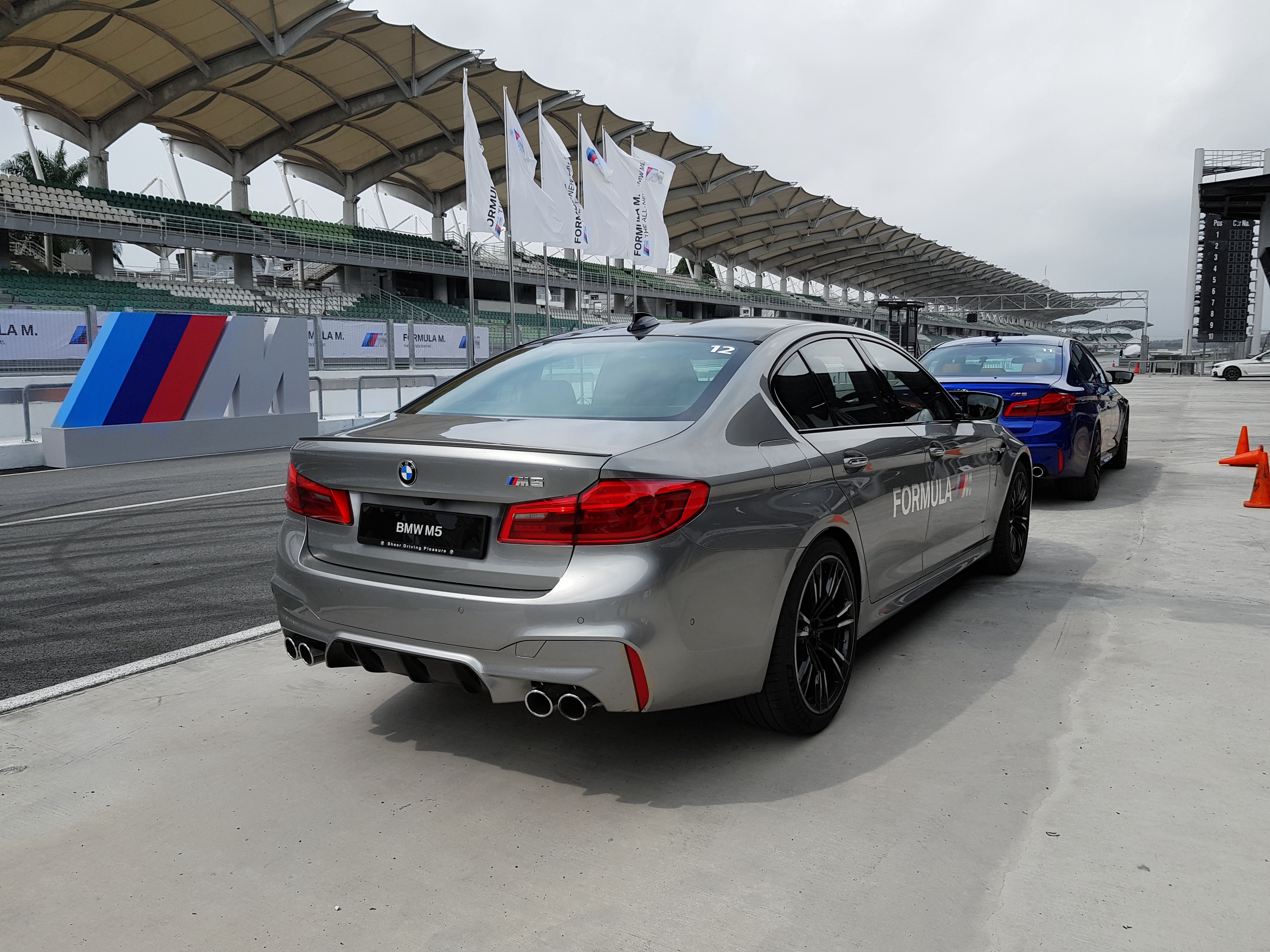 4WD Feel
What's most important in this new era of M cars is its never before seen 4WD feature. I had high expectations for the M5, after all the 4WD concept had tremendously altered my perception of current 4-MATIC AMG cars for the better. Plus I'd been driving the current M3 and M2 all noon and I was eager to feel the new four wheel driven M5.
Immediately, the difference can be felt and it is mostly at the corner exits. Especially in T2, T9, T14 and T15 where conventional RWD like all the M cars before this first ever 4WD F90 M5 required a significant V line driving method with least amount of steering angle before squeezing the throttle to get the best exits, or in layman terms, patience.
Get on the power too early in a RWD car and it's only going kick the tail. But with this 4WD M5 I can practically feed power way before the apex and it'll claw itself out as a 4WD was made for. It's a brand new experience, to be able to do this in a M car with its new found grip amplifier.
I hear and read people expressing their disappointment toward this new M5, being not as pure as the last one, the F10 M5, or not keeping true to its RWD-only heritage. All previous M5s were stimulating cars yes, the sound it made with the high revving, individual throttled 6, 8 and even 10 cylinder engines. Not only that, people loved previous M5s for being the natural born drift executive. Not many high powered saloons had the poise like BMW's M Car did too.
But you know what? This new 4WD beast is the only M5 you should ever bother with. Forget about RWD, sound, heritage, habit for a moment and you'd be thoroughly convinced with the outright driving performance this new M5 has to offer.
https://www.instagram.com/p/BjZKDclH9g_/?hl=en&taken-by=zerotohundred
https://www.instagram.com/p/Bi_7h6fHqaQ/?hl=en&taken-by=zerotohundred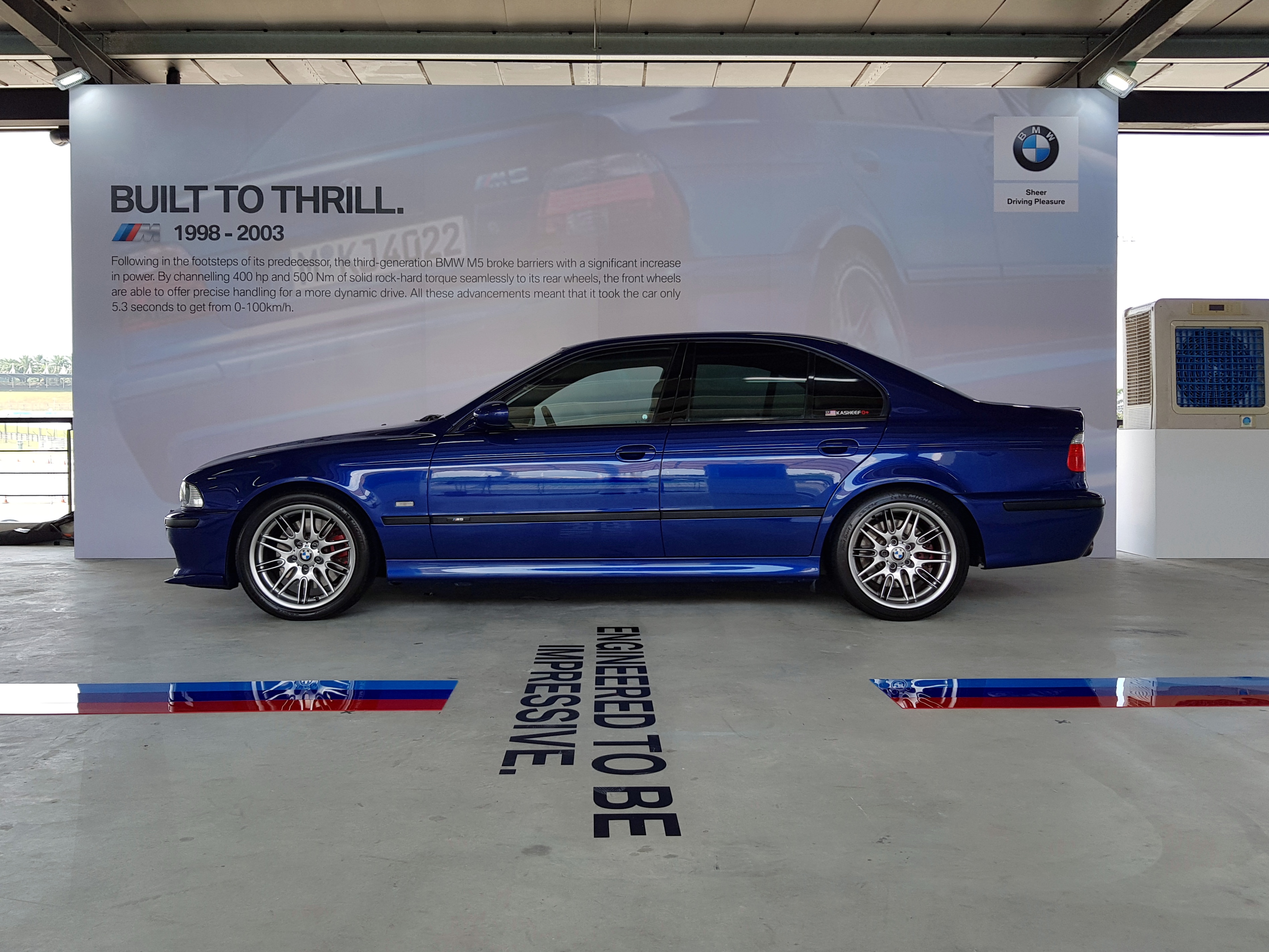 Predecessor E39 M5 from the early 2000s was on display
Continue reading the Post.