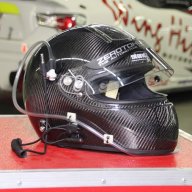 Jul 6, 2000
5,561
3,229
5,213
<a href="http://www.zerotohundred.com/newforums/features/171843-grass-racing-autosports-autocross-championship-round-2-2007-a.html">
<a>
Shah Alam, July 15th 2007 – Grass Racing Autosports or more commonly known as GRA ran their 2nd Autocross Round in Shah Alam Car Park in the wet! Rain did not dampen the spirit of the drivers.
Words and Pictures: GRA
The event sponsored by tire makers BFGoodrich Tires, proved that being a rain soak day adds not only more stylish sideways driving but also provided more entertainment for the spectators. It was a cool fun wet day for everyone.
A total of 100 cars competed in the 2nd Round of the GRA Autocross Championship. Sponsored by BFGoodrich Tires along with partners Red Line Oil, Meguiar's and Arospeed, the clouds over the car park created more hype than expected. Clerk of the Course, Ian Khong changed the layout to slow down the cars after the Pro-Grass drivers voted for a wet race!
The event this time had the Grass Class running in the morning session as usual. More than 50% of the entries this round was totally new to the sport of autocrossing. Kenneth Chiew in a Proton Wira 1.3 emerged 1st in his class. It has been a long time since a non-Kelisa has taken top spot. Another outstanding performance was Hock in a Honda EF taking the 1600cc class. Fighting for the 1800cc class of Class C was Jason Foo and Dennis Woo, with Jason winning by a mere 0.41 seconds. In Class D, Kim in a Toyota MRS was 1st with Chiew in 2nd piloting a Smart Roadster and Timothy in a Toyota Camry 2.2GX (A) was 3rd. In the Series Production Class for Automatic Cars below 1600cc, William driving a one year old Suzuki Swift took top spot followed closely by Kenny in a Proton Satria Neo and Timothy in a borrowed Toyota Corolla 1.6 SEG. In the faster Grass Class for cars beyond 2501cc, Mike in a Mitsubishi Evo7 emerged 1st, with Cheng in a Toyota SEG Supercharged coming in 2nd. Seasoned rally co-driver Gary in a BMW 328i managed a 3rd this time around.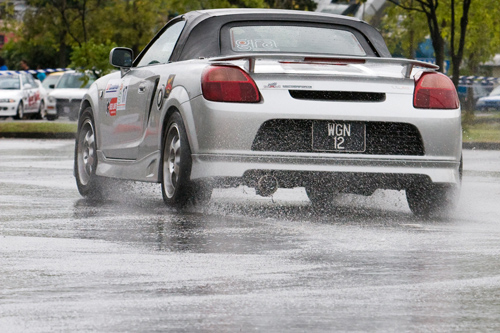 The afternoon session would possibly be written in history books. No organizer has ever conducted a full wet race from start to finish for an entire class in the history of autocrossing. Well for GRA, the heavens must have been smiling as it rained all afternoon. Some drivers were caught with dry tires and had to struggle to find grip.
The Pro-Grass drivers started in the order of their finish in Round 1, thus Ivan was in car No.1 without the entry of the Lotus team. Ivan running with BFGoodrich Tires, was trailing Julian from Team Redline for nearly then entire race. It was a really close battle amongst the both of them. In the last and final run, Ivan managed to clock the fastest run of the day and took 1st Overall position from Julian relegating him to 2nd. Mickey in his Toyota MR2 was 3rd Overall.
In the 1300cc Pro-Grass Category, William emerged as class winner. Round 1 winner Chan Y.K could only manage a 3rd in this round. For the 1600cc class, Clement in a Honda EK4 took top spot, a surprising win over Galen in 2nd and Jason in 3rd. In the 1600cc-2000cc, Julian took 1st with Soo and Gareth in 2nd and 3rd respectively. In the Class OD, cars beyond 2000cc, Ivan in his Subaru Impreza took 1st, with Mickey in an MR2 in 2nd and Mike in an Evo7 in 3rd.
Seven ladies participated in GRA Round 2, and for the Fastest Lady of the day, the trophy went to Kylie in a Honda Civic. Team G won the team award with Andy, Kenneth and Nigel setting the fastest combined total time.
" BFGoodrich Tires has always advocated good controlled fun and the rain possibly gave us the best opportunity today, explains Mr. Ronald Sutardja General Manager of BFGoodrich Tires. The GRA community is very closely knitted and when we needed umbrellas for our marshals, the competitors donated theirs instantaneously, that's what makes GRA special and different ", explains Jiannin, Organizer of GRA.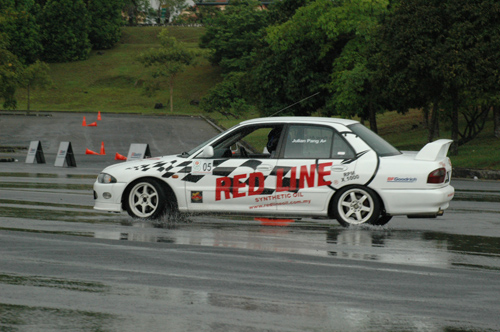 Mr. Howard Goh of Red Line Oil and Arospeed explains, "… we thought that the rain would reduce the number of spectators but amazingly more turned up, it was really good to see the spectators braving the rain throughout the afternoon".
Mr. Johan Wong and Ms. Esther Lim from Meguiar's said, "..having more car clubs in the GRA series added a different flavor to the event. It was good to see the entire car club coming to cheer their members in the race, this is what building communities is all about ".
The race ended just around 5pm, with Ivan doing a figure 8 'doughnut' special to the claps of the spectators. The BFGoodrich Tires, Red Line Oil & Meguiar's racequeens were in action right after, with the rain finally stopping for GRA's group photoshoot and cheer.
Lookout for Round 3 in September 2007, for further details log onto
Welcome to grassracingautosports.com