Staying ahead in the digital and social media age is one of the cardinal routes to success, hence Goodyear Malaysia has launched its very own iPhone application, the Goodyear Highway Helper, as well as revamp its website for the ease of its consumers.
The free downloadble application from the iTunes store provides quick access to important contant information such as emergency numbers as well as useful onces like tow trucks and taxi services. Apart from that, it also contains info such as car maintenance advice, safe driving tips and troubleshooting guides for when your vehicle acts up. Furthermore, the application can also help you search for the nearest Goodyear dealer if you pull a flat. It's also loaded with games to help you kill time while waiting for the taxi or tow truck to arrive.
"We developed the application to provide added value to our customers, especially when they need it the most, said Nasution Abdul Rahman, Managing Director of Goodyear Malaysia.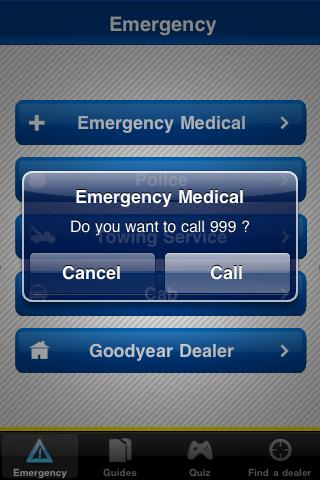 Apart from the application, Goodyear has also revamped their website, giving it a fresh look with the addition of a 'Request for Quote' function that allows users to search for the right tyres for their vehicles and get a quote on the price for reference.
This allows customers to check and compare prices online before making a final purchase. The 'Dealer Search' function on the website has now been linked to Google Maps to make it easier to refer to.
Lastly, the 'Carousel' feature on the website allows users to get a quick overview of the latest happenings at Goodyear Malaysia as well as new products with just the scroll of the mouse.
For more information, visit the revamped website at
www.goodyear.com.my
. The iPhone application can be downloaded at
http://itunes.apple.com/my/app/goodyear-highway-helper/id358373452?mt=8
.