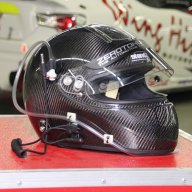 Jul 6, 2000
5,553
3,223
5,213
First Impressions: 2019 Honda HR-V Hybrid
The first noticeable thing upon engaging D via the futuristic, egg shaped shift-by-wire knob is the HRV's new ability to glide off the line without engine power, effortlessly forward or backward at the touch of the throttle pedal. In the city or while commuting at car park speeds, pure electric drive is truly one of the best feature in modern hybrid cars. When packaged with the dual clutch I-DCD transmission, a first in any hybrid car, offers a drive that is seamless, well sorted, and refined. It literally hovers off the line, which its pure petrol HRV counterpart could never deliver.
Power
While full electric drive only happen from zero till about brisk walking speeds, the hybrid motor continues to assist engine propulsion whenever necessary, such as overtaking or driving up a hill, while remaining virtually undetectable. This provides a noticeable immediacy in engine response, which can only be attributed to the introduction of its hybrid ability and dual clutch transmission. In the small town roads of Langkawi island with 3 adults on board, power from the HR-V hybrid can be described as full, instant and sufficient. It feels evidently more punchy and light footed compared to the full petrol HR-V, despite the added weight from hybrid motor and batteries.
Sport button when activated provides a real sense of added grunt as the hybrid motor ignores energy regeneration to supply greater torque assistance, while its dual clutch transmission delay upshifts to keep engine revs at its peak. Definitely not a simple gimmick and is a worthy drive mode addition to the HR-V Hybrid.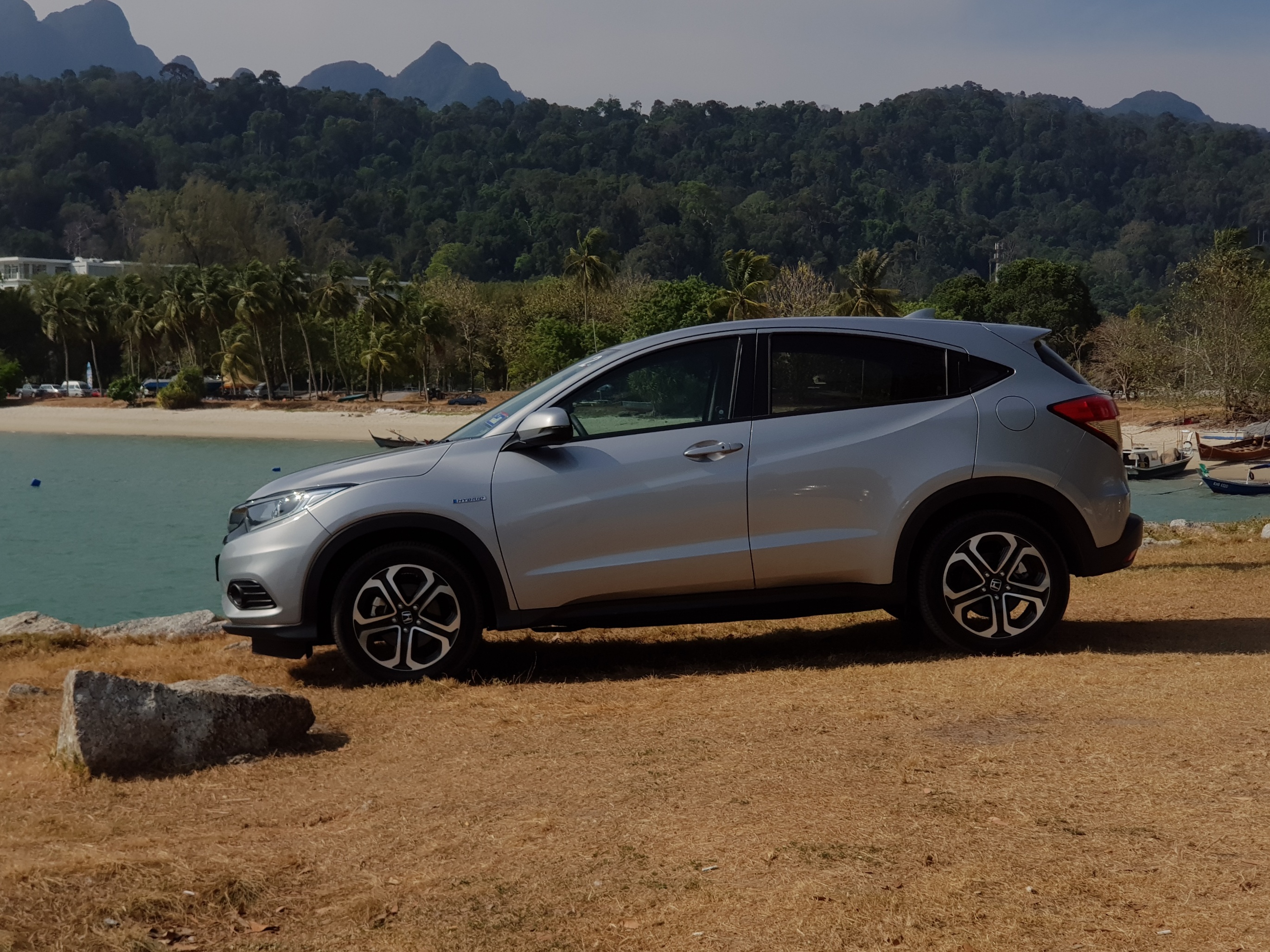 I-DCD Dual Clutch Transmission
Steering shift paddles are awesome to use. The weighty flaps are finished in gloss piano black, feels nice on the fingers, have just the right click, travel and resistance. This dual clutch box is easily the best part of the HR-V hybrid apart from its electric drive. In fact, the I-DCD beats all of Honda's previous attempts at drivetrains with smoothness of an auto, rapidness of a performance car and the sportiness of.. well, okay it is only mildly sporty so try not to expect GTI pew-pew-pew shifts here because it will not. However it does make up with seamlessness and intuition.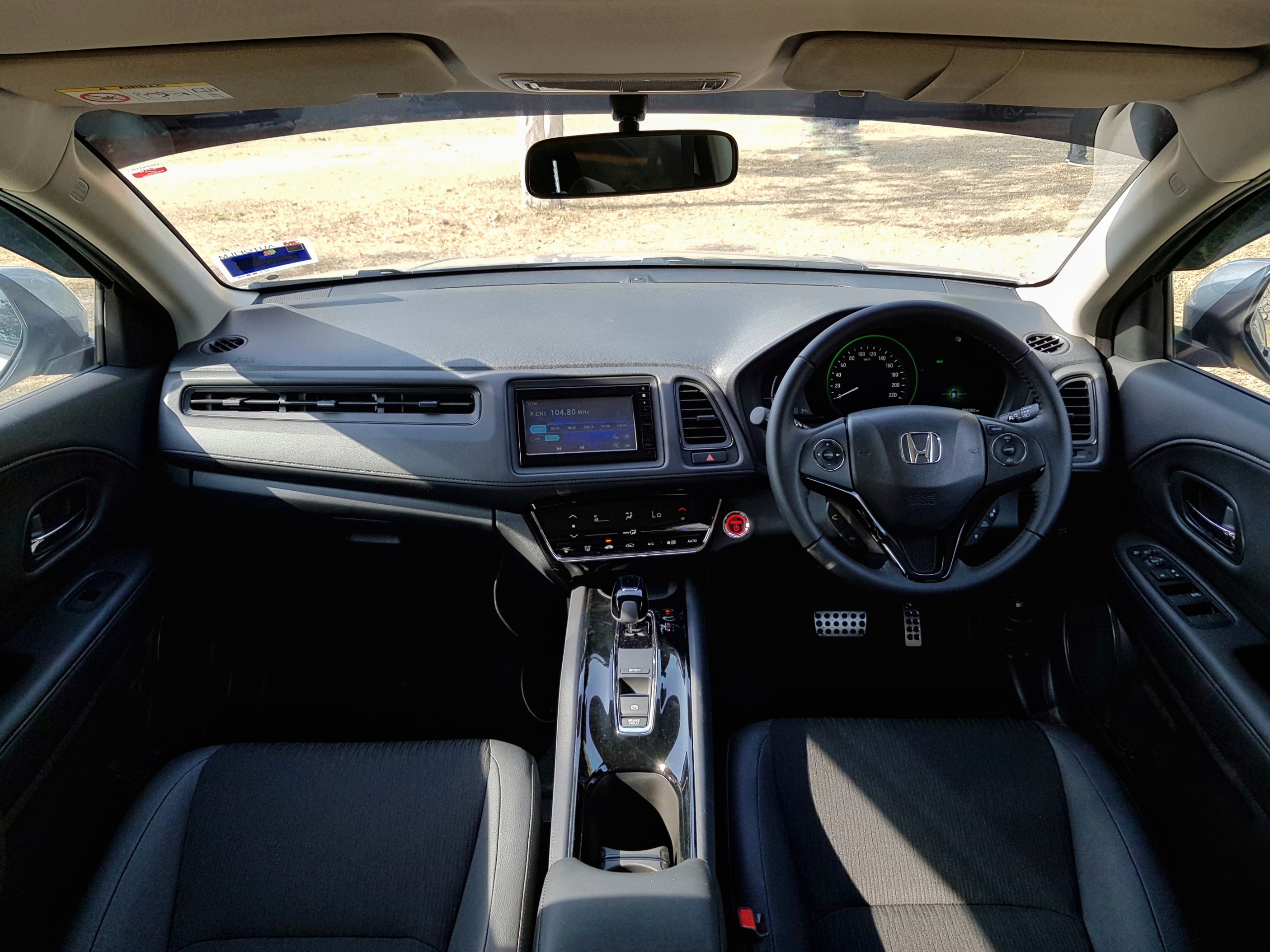 The I-DCD never frustrates, there is zero free play between gears or throttle inputs. This brilliant ability has plenty to do with the hybrid's electric motor supplying instant torque when needed the most, such as moving off from standstill or partial to full throttle applications. But this isn't a regular dual clutch box either, the I-DCD is made for and only the hybrid engine, as featured in recent Hybrid versions of the Jazz and City models.
There are additional cutting edge benefits in the form of increased energy recuperation and efficiency that are possible only because of Honda's I-DCD strategy. Something to do with it being dual clutch where the odd gears 1, 3, 5, 7 are connected to the motor, while the even gears aren't, which allows the engine to disengage from transmission at will, while still being connected to the hybrid motor, so on so forth. That's the gist of it. As you can tell, there are a number of scenarios in which this versatility can come in handy.
Ride & Handling
This will be based on first driving impressions from mixed test scenarios within Langkawi Island only. There were plenty of hill driving which is nice and brings out the best in the HR-V Hybrid. The roads there are known to be less than ideal, mostly b roads and are littered with dips, bumps and potholes. Interestingly, with the added battery weight from its hybrid package, the HR-V Hybrid remain composed on all four corners, just as well as the full petrol one does. There is definitely a hint of bulk, but at the same time the suspension feels even better sorted than the petrol, has good amount of firm for real sense of sportiness, is planted and just as nimble, if not more.
Continue reading the Post.