Known Member
Senior Member
Known Member
Senior Member
Normally there are 2 source of leaking from them. The rubber surrounding the door loose or damage liao OR most likely the water proof plastic sheet inside the door got holes or not seal properly.

I would suggest to dismantle the door panel and change or reseal the plastic sheet that prevent water from seeping in thru the door ala windows gaps as a first measure to check if water comes from there.

[snapback]61422428[/snapback]​
Last week found out car got wet carpet smell.
So i check around the car and found out it wet only at the center front passenger side.
I thought it get through from front engine area ( Actually it get through at the side door and slowly wet at the center area )
So unlucky, i thought only defected proton kena only because i saw many people complaining rain water get through inside the cabin area.
Search around the net, i got so many possibilities the water can get through.
So i go troubleshoot the under area, front engine are but all rubber still intact.:hmmmm:
Without thinking much, i dismantle the seats, centre console to get the carpet dry first.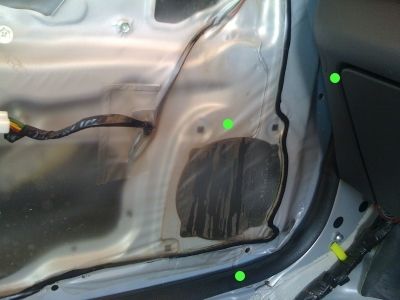 Troubleshooting this common area first because all of the persona owners wet at this area
It really wet at here and speaker area also got little water get through.:hmmmm:
Press the black thingy to get better seal back.
Water get through from light green -> dark green -> then all water collected at red -> slowly drip to yellow area -> blue
Silicon spray suitable for rubber i think ( correct me if i'm wrong )
Read somewhere, the solution is change the door rubber ( i dont have money now)
Finally got idea through one blog i read about door soundproofing few years ago ( can't remember what the name)
Spray some silicon lubricant to help the transparent hose get in ( having difficulties here because only around 20cm hose get in only)
I think i need to find smaller hose to fill all around affected area
Water still get through but no so fast as earlier
The carpet already dry and it's getting dark
I start reassemble back everything vaccum, etc
The Ennnnnnnnnddddddddddd