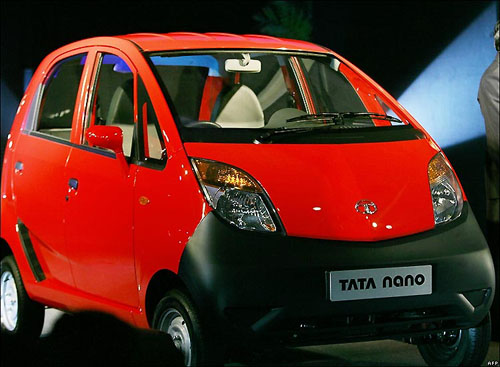 Today the Tata Nano, cheapest car was launched by Tata Motors in India's biggest motor show in the capital, Delhi.
The car will be available later this year for 1 lakh (100,000 rupees) or US2,500 (RM8,250).
[youtube]fX64M_1qN0s[/youtube]
Of course, the 4 seater will be a pretty basic car, ie no air conditioning, no electric windows, and not even power steering, but one can expect 2 deluxe models which include air conditioning to also be made available.
Thanks to the Nano, Indian car sales are predicted to quadruple to $145bn by 2016. Ratan Tata company chairman said that the launch of the Nano was a landmark in the history of transportation. Initially it is believed that Mr Tata spoke of delivering a 1 Lakh car in the near future. But after more than 4 years and with the increase in labor cost & raw materials, Tata has kept their promise despite criticism by many.
At present just 0.7% of people own a car in India, compared to 55% and 47.6% of people in Germany and France, respectively.
Western firms such as Volkswagen and Ford are also rushing to increase their presence in India, as it represents a giant untapped market.
Environmental critics have said that the car will lead to mounting air and pollution problems on India's already clogged roads. But Tata said the car had passed emission standards and would average about 25km per litre of petrol. The firm also said it would introduce a diesel version of the Nano at a later date.
As for performance figures, it has a 33bhp (wheel or crank?) 0.624 litre engine mounted at the rear of the car, and has a claimed top speed of 72 km/h. If or not the car can achieve those speeds when you have 4 adults in it and try to drive uphill, is another question altogether. Clearly it wasn't targeted for motor enthusiasts, but with a price tag like that, who's to complain, especially when all you need is something to get you from point A to B?
At the unveiling ceremony Mr Tata said: "I observed families riding on two-wheelers - the father driving the scooter, his young kid standing in front of him, his wife seated behind him holding a little baby. It led me to wonder whether one could conceive of a safe, affordable, all-weather form of transport for such a family."
At the start of this year, US car giant Ford announced that Tata would be the likely buyer of its UK-based Jaguar and Land Rover luxury brands, reflecting the Indian company's global ambitions.
When you compare the 624cc Tata Nano with its price tag of RM8,250 alongside the 659cc litre basic Perodua Kancil 660EX and its current price tag of RM22,513 it puts it into perspective just what Tata has achieved.
Source: Youtube, BBC
Last edited: