The RX350L is a lengthened luxury express that can fit 3 rows of seating. The ultra quiet cockpit is special and feels pampering in a Japanese way, if you get my drift. It's kinda like efficient luxury, which isn't quite as exquisite as the European alternatives but makes up with reliability and being more economically sound.
All buttons, knobs and levers are expertly tuned for a certain weight, feel or click that defines Lexus. Even though on the surface, it may look like a simple button, I assure you it's different in a Lexus. Even the rate at the window wind down or up has a unique touch to it.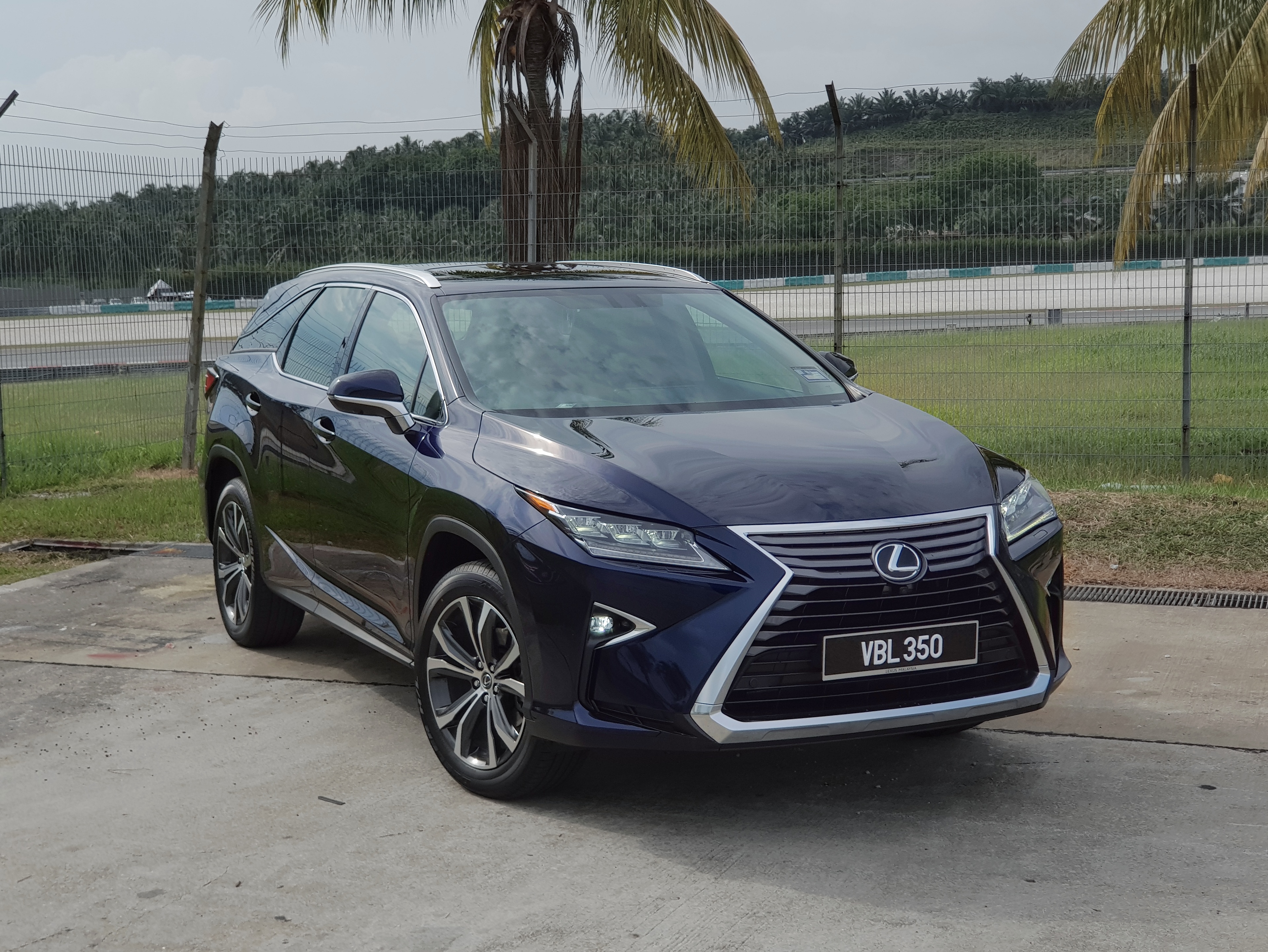 2018 Lexus RX350L
Engine: 3.5L V6 Naturally Aspirated
Power: 289HP
Torque: 358nm
Zerotohundred: 7.9 seconds
Top Speed: 200km/h
Transmission: 8 Speed automatic
Weight: 2,095kg
Price: RM475K
Website: https://www.lexus.com.my/en/models/rx/rx-350-L.html
Drive
Drive within its comfort zone, coax it, go with its flow and the RX350L will reward with its creamy smooth ride. It is super calm and well damped. If you're wondering how it it drives, here's a simple explanation from me. It is not quite like a longer SUV but more of a taller MPV, for example an Alphard at a higher altitude.

Ride
98 percent of the time, it swiftly sail through the city with a lot of grace and serenity that can't be found in any lesser counterparts. It is very well damped and maneuvers through town with ease. It's the remaining 2 percent, that when driven on bad roads, succumbs to faint body shake, which might have to do with the extended rear end. Other than that, I'd say the chassis is acceptably rigid and the ride is superb.

Transmission
Transmission is an 8 speed automatic, which is decent in city operation and work best sailing through the city or at a cruise. If you're not planning to drive an RX350L enthusiastically, that's fine but if you are then you'd likely find the autobox a little primitive compared to what's available today. The next downside is absence of paddle shifters. Some cars do okay without, depending how its transmission manages rolling speed. The RX350L would have benefitted with a pair of flaps for sure.

Power
Power wise, the RX350L's 3.5L V6 produces 289hp and 358nm, which drive all four wheels through Lexus own Active torque Control AWD system that actively distribute torque to either axles in 100:0 to 50:50 ratios depending on driving situations. As for delivery, the big NA V6 is silky smooth and provides good shove from the low down in the city. Other than that, the engine, when paired with the said automatic transmission feels a bit too relaxed. I think the 2L Turbo from the NX 200t would have made the RX a bit more perkier. Otherwise, it's still a decent engine, has decent power, and makes for effortless drive.


Extension
Moving on the highlight of the RX350L, its 3rd row seating for an extra 2 pax. Having accessed this additional row personally, I'd honestly say they're not full sized seats and can only fit small adults or kids. It does come in handy should there be a need to ferry 2 additional humans.
But what's really interesting is the electric folding feature of the 2 seats. Now if cargo is the priority, one can easily rid both seats via a push of a button, which seamlessly fold and tuck the backrests, freeing up immense real estate.

Verdict
For most, the non extended RX and NX would prove to be more strategic in satisfying their SUV needs. These regular sized SUVs drive better, look a lot more proportionate and is easier to operate. I can't think of a good enough reason to justify the RX350L's extra 110mm length. But if exclusivity and extravagance is the order of the day, then yes, the RX350L's grand appearance is a sight to behold while its pronounced rear end is sure to get a discussion going. All in all, it thoroughly fulfils every aspect that make a Lexus, a Lexus. On a separate note, I especially enjoyed the ventilated front seats which made the recent hot weekend much more enjoyable.