I've had the pleasure of meeting and greeting the AMG 43 army a couple of months ago at AMG's 50th event in Sepang.
Having been acquainted with every except the SLC43 and E43 in homeground Sepang, I am well informed that the 43 series is sort of an introductory ticket into the world of exclusive AMG cars.
Sounds kinda crude but who cares, when you can literally pick any one of the 43 spawnings and be guaranteed eternal happiness. Yes it is that good. Plus, there is no concrete suspension here like in the 45 or the excessiveness of the 63 to trade off with.
AMG 43s are not like the 63s nor even the 45s. They might alll come from home of AMG Affalterbach but its engines aren't handmade. So AMG 43 cars aren't as pure, therefore less painful to own. Even aesthetically, it is more sedate.
It does however offer plenty of performance and is in some ways even more efficient in getting the job done than its higher grade 45 and 63 brothers.
The following review will be based mostly on my impressions in Sport + Mode

First Impressions
Unlike the hot hatch minded 381ps 4 banger AMG 45, New 43s feel sophisticated. Its twin turbo 3L V6 is super smooth, pumps 360 ish hp, 367hp to be exact in this GLC43 SUV. Even up to 400hp in the E43 business sedan.
It certainly is an interesting proposition, the AMG 43 line. I can't really determine where it stands in the performance sedan world but it's close to that of a GT car, yes even the GLC43. All AMG 43 cars get 4 Matic AWD (except the SLC43) and that, my friends make all the difference in today's fast Mercs. Without power to the front wheels, big power AMGs are stuck being hot rods. Which explains why the new E63s is 4WD, even the all time sharp M5 has followed suit. 4WD is the future of monster saloons no doubt.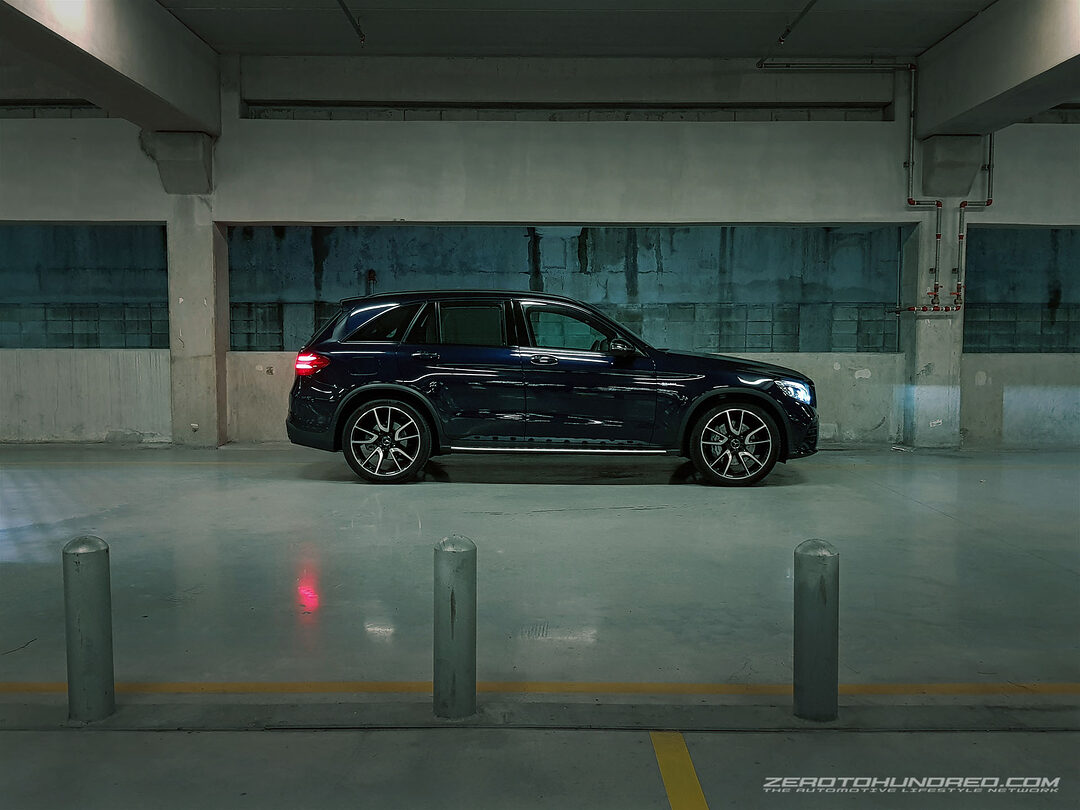 From the outside, subtle differences make all the difference between a AMG GLC43 and GLCregular. There's the 21″ uniquely AMG 43 wheels, which sort of peek out from the body a fair bit too, hinting its bad assness. Underneath that are AMG big brakes.
Other than that there's not much going on outside, but then you take a second look and find that the GLC43 sits lower and just plainly look better than stock. There isn't a GLC63 in existence yet, at least not officially but t. ews and pictures are out and it's going to be yet another monster AMG. Think C63s 500hp 4L biturbo engine in a GLC with 4WD. But before that comes, the GLC43 is still the pinnacle of performance GLC klasse right now.

2017 MERCEDES AMG GLC43

Engine: 2,996 V6 Twin Turbo
Power: 367 hp @ 5500-6000 rpm
Torque: 520 Nm @ 2000-4200 rpm
Zerotohundred: 4.9 seconds
Transmission: 9-speed G-Tronic with Paddle Shifters
Weight: 1,845kg
Price: RM538,888 with GST
Website: Mercedes Benz Malaysia

Cockpit
Stepping up into the GLC43, the very welcoming AMG chequered flag instrument cluster greets first, followed by the mostly black leather / alcantara + red stitching upholstery all throughout including the dash. Definitely a level above mainstream GLCs. The piano black centre console however is as plain as a normal GLC, which is IMHO the worst part of this otherwise very pretty cockpit.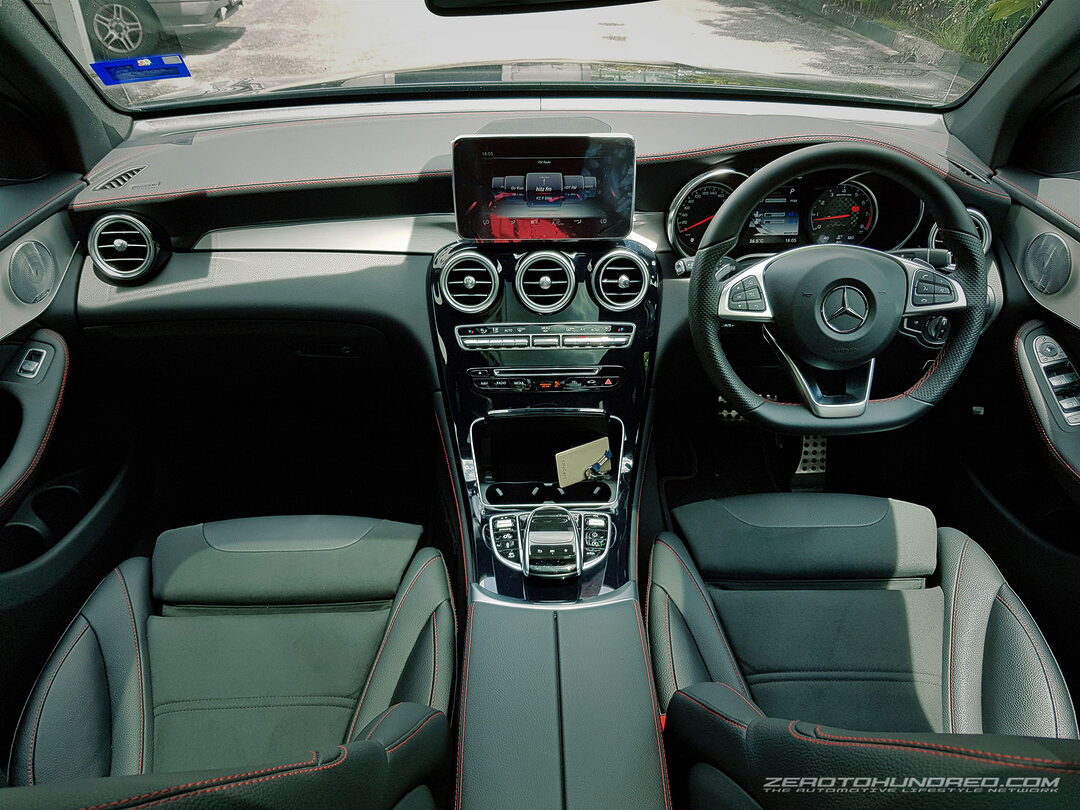 The GLC43 isn't made for comfort centric owners, although it tries to. With the advent of electronic damping and a small sacrifice in travel speed, its suspension while in comfort mode can sail along nicely. Just be gentle and not go too fast over humps and dips, it doesn't like it.
But mostly, the GLC43 is made to run. Which is weird I know, to relate a Merc SUV with athleticism. But it's the truth, this super SUV can get really darty, firm and flat. In Sport + mode, the dampers tighten up so much, it even drives like it's on coilovers.
It Sings
The super silky 3L V6 twin turbo engine really sings and is easily the best part about all AMG43s. At just about anywhere in the rev range, it sounds like pure magic. One can't be blamed for thinking the music is synthesised via in car speakers, it just sounds unreal. Especially so, when coming from an SUV.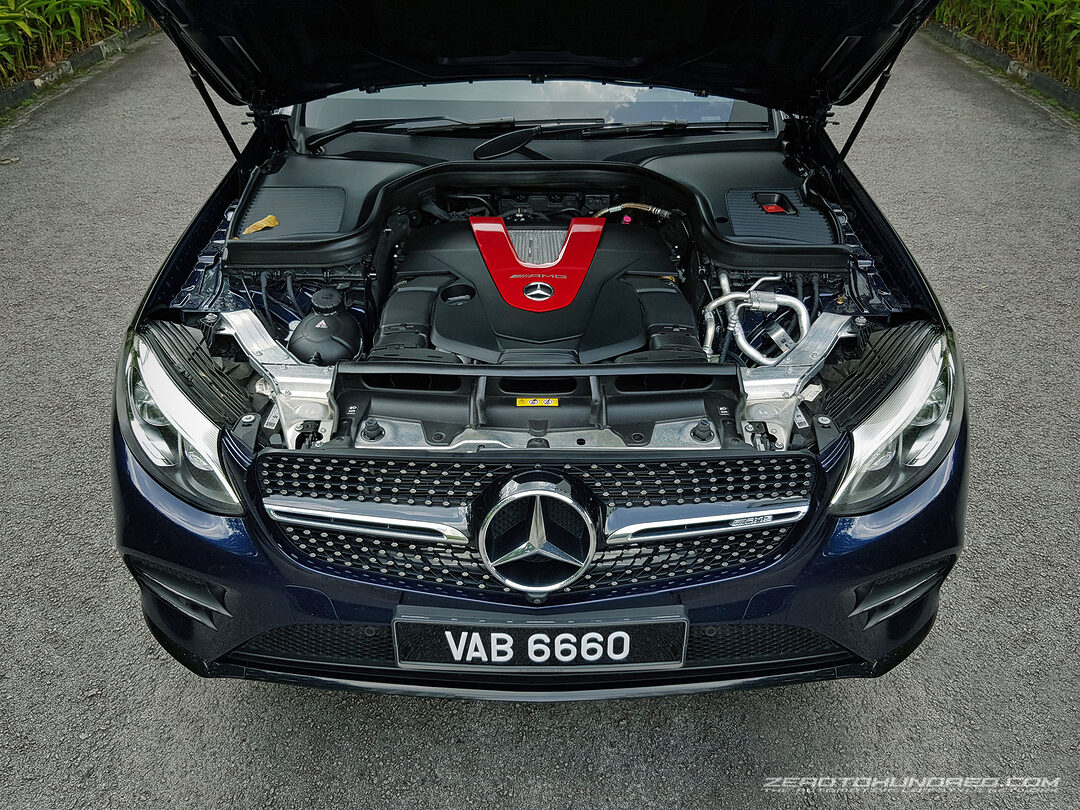 The way its exhaust howl in parallel with throttle supplied does resemble similarly arranged Nissan GTR, power aside. But in here it's silkier and there's more finesse. While its other enemy, Porsche's awesome new 991.2 3L TT flat 6 is a lot more raspy and less refined in a way.
There's no lack of power in the GLC43, although its engine can be a little too linear at the hill climb, hinting the SUV's bulk. Still, it doesn't disappoint either way. Throttle response is supercar like, for a 3L V6 TT, maybe even better than the very peppy AMG 45 series. Things just feel mechanical here, the subtle whines, the kick from the rear diff at upshifts and so on. They sure didn't skimp on retaining AMG's manly personality.
Engine not the only star here
I've complimented the GLC43's 9 speed G-Tronic autobox before but that was back in proving ground Sepang. Having lived with it for days, I am now certain Mercedes has perfected a slush box capable of beating the dual clutch variants. The 9 speed G-Tronic shifts flawlessly and comes with everything you want from a DCT. I'm talking equivalent fast shift times, pops and bangs, response as well as docile urban operation.
I'll even tell you where this brilliant autobox does better. With the automatic, you don't get that sensation of freeplay in between gears or when the clutch engage / disengages. So unlike DCT, there are no unintended dead zone jerks in Merc's 9 speed auto or most modern automatics for that matter.
That's not to say the GLC43 is any less dramatic, not one bit. The AMG division has been so detailed, they've even induced an intentional kick in Sport + mode that upon upshift, delays the rear diff engagement to inject a sense of sportiness.
The 9 G-Tronic transmission is a major component to the GLC43's exceptional performance. It literally is the heart of the heart of the car. 367hp in an SUV is by no means a small figure, but once you factor in the 4.9 zerotohundred in an almost 2 tonne body, you'll begin to appreciate just how impressive this SUV builds pace.

THE DRIVE
This SUV is not normal at all, as confirmed via a customary drive to benchmark hills Genting. Carving Karak's twisties, the GLC43 tracks very, very well. There's no roll, no amatuer moments from SUV related disadvantages at all. This thing is literally sports car on stilts. Unbelievable.
Which brings me to the steering. Aside from the subtle flat bottomed wheel which felt meaty in the hands and had just the right amount of turn, it is also precise in operation. It turns like a car would and actually felt direct, amidst the electronics and obvious physique. I would say the GLC43's steering is a feature worth noting, it's definitely a lot crispier than the already good BMW X5.
In the actual hill run, well, the bulk does come into play when trying to get the GLC43 to dance. Even so, the active damping and 4 matic drive continues to impress with its ability to remain flat and nimbler than most can. When driven well, it may even give hot hatch GTIs a run for their money uphil. Physics plague all SUVs but if there's any current SUV that welcomes competitive driving? it's this one.