Entering the jacked up AMG, I am immediately greeted by its noticeably higher seating position, almost in between that of a car and a real life SUV. This is not the sort of hot hatch I was expecting.
I have to admit. At first, I was intrigued by the gangster looks, matt black claddings and tall stance. The whole utilitarian idea of it, plus AMG 45 firepower just completes the mental package.
Knowing how the sedan and hatch equivalent drove, I assumed this one would be the most well rounded of the entire AMG 45 army, the mature one, the most liveable with. I was wrong.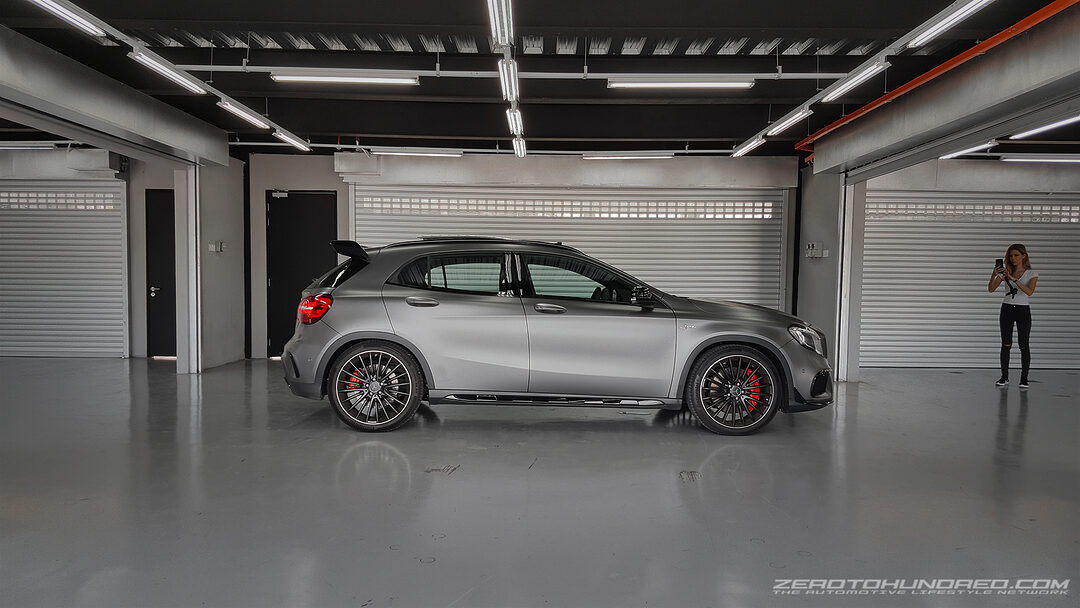 2017 MERCEDES BENZ GLA 45 AMG
Engine: Turbo 2L 4cylinder, aluminium block & head, direct injection
Power: 375 hp @ 6000 rpm
Torque: 475nm @ 2250 rpm
Zerotohundred: 4.4 seconds
Transmission: 7-speed dual-clutch
Dimensions
Wheelbase: 2,699 mm
Length: 4,417 mm
Width: 1,804 mm
Height: 1,494 mm
Weight: 1,580kg
Price: RM408,888
Website: http://www.mercedes-benz.com.my/
Prowling in the urban, its AMG suspension is unforgiving and reacts to every nook and cranny, any bump or dip. Yes you'd be wanting to avoid patches and potholes in this. It's bizarre to think Mercedes Benz would even sell it like that, with the kind of clientele they have, and we're not even in Sport mode yet.
The firmness is hardcore. It's not jarring or crashy, just very rigid. You feel everything, like a roller coaster locked on its tracks barrelling towards climax point, but you're only driving to the car wash. This non conforming attitude can be overwhelming at first, when getting to know the hyper beast.
However, one can dilute the drama by bringing operating speeds down by just a few kilos per hour than you would in a regular car. In this case, the ride becomes more acceptable, almost supple.
Igniting the hand assembled 381hp turbo 2L AMG engine via start button, found not in the A45 or CLA45 but only in the GLA45, you feel the exhaust traveling through and under you as its interior trembles to the burble, especially so at cold starts. This car is not normal at all.
It pops too. Even in Comfort mode the exhaust pops. It doesn't care if grandma's on board, or if the baby is sleeping. It pops when it wants.
Prod the metal button on the centre console that read "tailpipes" and the exhaust valve opens. This turns up exhaust volume by a notch. Just a notch, only but a notch. I wish it were more audible. I remember the CLA 45 being louder but not here. Maybe because it's not seasoned yet. This GLA 45 was under 4,000 KM when in my hands.

SINERGY
The newly updated AMG 45 powerplant is ferocious. After all, it stands as today's most powerful turbo 2L 4 cylinder engine. 375hp / 475nm may sound highly strung coming from a 2L 4 potter and you would expect some downsides when banging the engine at full chat. But no, the explosive lump remain super silky and makes effortless, robust power all of the time, day or night, to work or touge. Even while consuming RON 95 petrol.
Every mm of throttle input is registered and instantly delivered. Its boost delivery is ultra precise when at the limit as well. Think you were a tad too adventurous at the current bend?, simply retract throttle an mm or 2, immediately get back on and the GLA 45 responds with amazing grace. This engine is truly one of a kind.
Stealth Bomber
One should never assume the AMG GLA 45 to be yet another heightened, SUV-looking rich boy toy. It's not. Not just at least. This thing is a heat seeking missile. It is incredibly balanced when on the run, even when considering the unlikely body type.
But precisely because of its body type, just makes the GLA 45 that much more special. For example, I'm a big MINI fan in all its new generation and especially love the idea of a Countryman. It is in the non mainstream-ness of these hot hatchlings that make them so appealing.
However, as much as I enjoy the AMG engine 98% of the time, there's this thing in its initial revs that can make the car feel excruciatingly laggy. It doesn't happen every time, only in a certain scenario. For instance when exiting a speed bump and subsequently trying to gun off the line, it bogs down. I can't seem to figure the reason why, but nevertheless it's a mild snag. I suspect it's got to do with the dual clutch tranny.

DCTEETHING
You can't roll off a hump or a junction in 2nd. I mean you technically can but it'll take some effort. The GLA 45 simply hates moving off the line when not in 1st and it feels apparent.
The action in both up and downshifts in general are sweet, even in full auto mode. But it's the when and why's that get me. For instance, in Sport mode the auto up shifts are often a tad too late and downshifts too early. It doesn't seem to know if we are doing a sprint or a brisk walk. The solution? Just go full manual and problems solved.
FIRST ATTACK
I have just returned from an especially satisfying drive in the GLA 45. Now at the hill top, making my way through the resort, the thrill of the AMG still linger. It's likely one of the most satisfying touge I had. Unlike many of my previous runs, even with the A45 and CLA 45 incuded, this one, at the pinnacle, I felt extra relieved and contented.
Its got to do with a host of aspects from the GLA 45. Just look at it. It's far from sleek, it resembles the form of pitbull. It's tall, It's literally a SUV yet has no qualm about destroying all its sexier competition.
Most of all, It is a monster. The GLA 45 climbs like a rocket, while the combination of super quick DCT tranny and 4WD traction enables it to leap like no other. Braking power is second to none, with clamping force coming from huge front 4 pot AMG calipers.
But it's in the way the AMG claw the bends. There's Zero drama. Before even seeing the end of the bend, you can punch it and the GLA45 will carve that corner like nothing.
This is simply impossible with say, a 2WD king Megane RS which will wash out at some point despite its unreal front end bite. Even the 4WD Golf R just isn't quite as eager as the AMG.
 

 

The GLA 45 is a unique specimen. It is a spoilt royalty brat with a lot of talent. He wears a Suit and is POSH yet athletic. He is a brute and he Loves showing Off. He doesn't care if you feel uncomfortable. It is what it is and he's the best in the game.

 
Verdict
All in all, it's a matter of getting used to, the nitty gritties such as the tranny, time it right and it'll reward. The hard suspension? Live around it, live with it, you'll grow into it. There is nothing quite like it and the bling you get in an AMG is beyond compare.
After a weekend with the imperfect GLA45 MK2, I am convinced it's the naughtiest of the AMG 45s and hands down the baddest of all hot hatches today. It really is a special car. Hardcore, unyielding and full of character and I'm absolutely in love with it.