Sepang International Circuit is currently investigating to resolve early teething problems with their new track surface. Just last Friday, 8th July 2016, there were reports of water seepage on the circuit during a recent MotoGP tyre test session by Ducati, Honda, Yamaha for Michelin tyres. On the day before, Thursday 7 July, there had been a heavy thunderstorm in Sepang.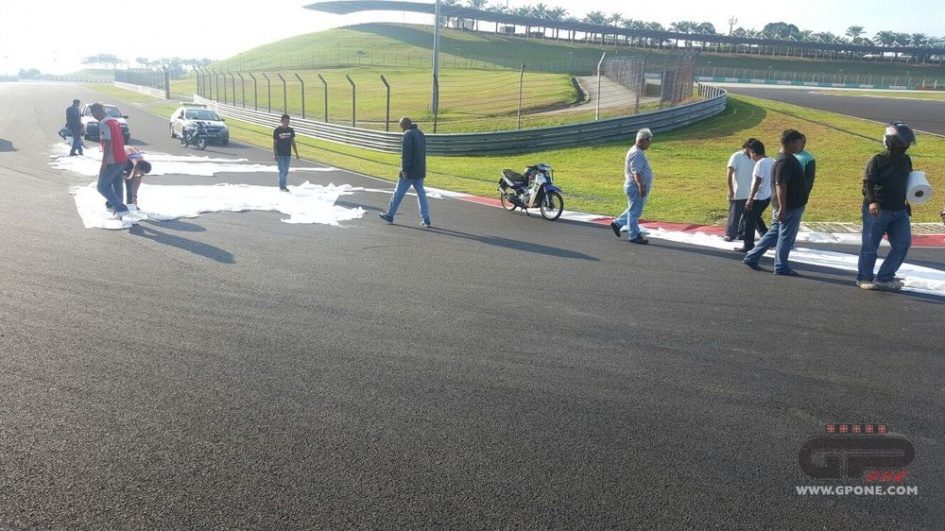 "We went to Sepang with HRC mainly to test for Michelin to try some new things they had for the new surface. I felt their new tyres were going in the right direction, but the track had a few problems with water seeping even though it was 40°C", says 30 year-old Brit, Cal Crutchlow #35 Team HRC
This was followed by rumours about Sepang International Circuit taking ad-hoc approaches to dry the affected track section utilizing only plain paper towels.
"MotoGP, Sepang test salvaged… with paper towels" Matteo Aglio – GPone
These are not regular serviettes
Sepang indeed assisted with the test session by deploying men to dry up the said patch with paper towels and these aren't regular tissue paper but industrial grade absorbent paper.
"We would also like to clarify that the paper used was an absorbent industrial grade paper approved for use in standard track maintenance by FIM, and not paper towels as reported. This type of paper has also been used at other tracks to aid in drying the track. SIC will share further details once the investigation is completed
Following the total resurfacing of the track and with the occurrence of heavy downpours, this presents an ideal opportunity to test the design and effectiveness of the new surface ahead of the upcoming 2016 FORMULA 1 PETRONAS MALAYSIA GRAND PRIX at the end of September and the Shell Malaysia Motorcycle Grand Prix at the end of October." – Sepang International Circuit
Sepang International Circuit is working with track design firm Dromo, which was tasked with the recent track resurfacing, and track maintenance contractor Nippon Road (M) Sdn Bhd, to investigate the hows and whys to ensure no more of such situation would occur.