Exciting news for car owners. Samsung recently introduced their latest Connect Auto device, designed to be the intelligent centre of your car. This ground-breaking connected car solution will provide added motoring advantage to both the consumers as well as the commercial industry. Commercial industry how? by enabling business owners fleet management capability to track their vehicles in real time.
This device plugs into your car's OBD 2 port generally located at the underside of the steering column or the center console.
Samsung OBD-2 Connect Auto Device provides:
LTE Wi-Fi and Hotspot
Car recovery via "Find My Car" via real time tracking
Secure communication via Samsung KNOX, defense-grade mobile security platform
Encourages safe driving via geo-fencing and driver rating algorithms
Emergency / Collision alerts notify driver's saved contacts
Fuel efficiency analysis helps drivers consume less fuel
Virtual mechanic checks car status and recommend needed repair / services
Journey logs generate email report to track expenses while traveling for work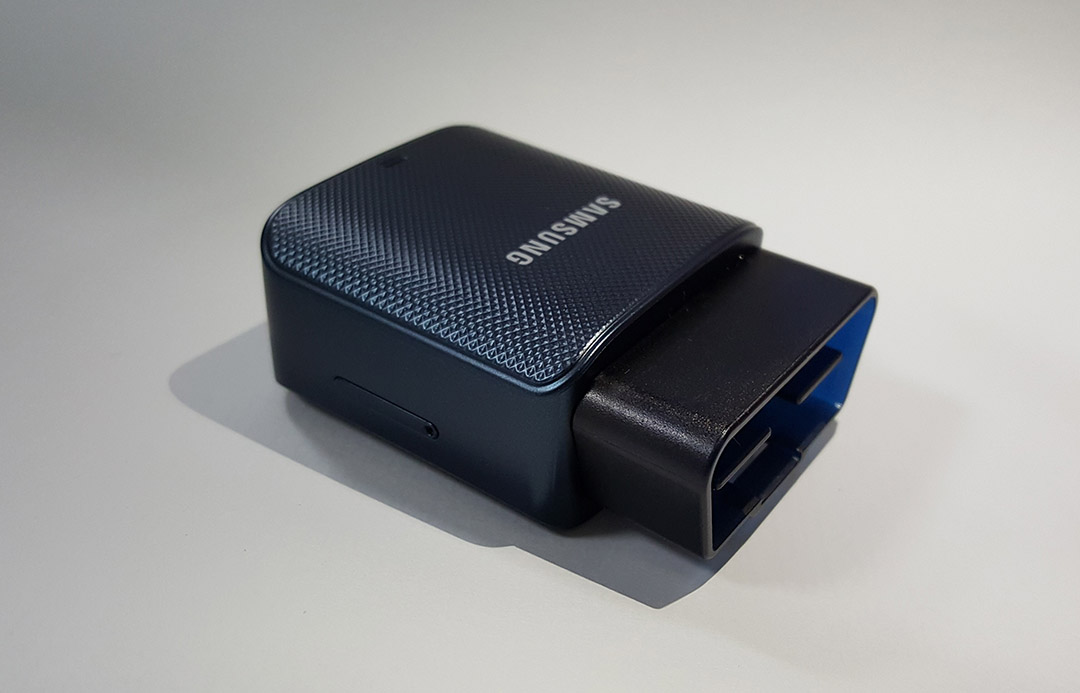 A beneficial change to Car Insurance
"This new mobile distribution platform is a potential game changer that we believe will bring usage-based insurance to the mass market," said Geoff Werner, Global Telematics Leader, Willis Towers Watson. "We are excited about collaborating with Samsung and Tantalum, leveraging our insurance analytics to encourage safer driving and help consumers get access to better insurance rates."
"AXA is delighted to partner with Samsung in the development of a secured Connected Car ecosystem that will bring peace of mind for our customers, provide them with additional insurance and assistance services and contribute to enhance drivers' behaviors," said Serge Morelli, Deputy CEO of AXA Partners and CEO of AXA Assistance.
Privacy and Security
Samsung Connect Auto is built on their flagship KNOX security and Tizen OS for interoperability. Samsung KNOX provides security from the hardware through software levels, including applications. This alone differentiates Samsung Connect Auto from competing products. Software developers can use Tizen and Samsung's Software Development Kit (SDK) to create additional services.
Safety and Peace of Mind
Samsung enables safe driving by utilizing geo-fencing and driver rating algorithms. In the event of an accident, emergency alerts notify driver's contacts and accident concierge services are also provided. A "Find My Car" app also helps in locating your car in real-time using LTE and GPS.
Fun and Eco-friendly
LTE Wi-Fi hotspot provides multi-user internet access for passengers to surf, stream content and play games. Fuel efficiency analysis assists drivers consume less fuel through proprietary algorithms that analyze distance traveled, time on the road and price per litre – a valuable feature for the transportation and logistics field.
Save Money
Virtual mechanic intelligently checks your car status from the on-board diagnostic port to recommend maintenance and repair services offered by a specialized network. This enables quick notification of performance and helps reduce repair costs. Drivers can leverage the solution's Usage-Based Insurance (UBI) feature by opting to share their vehicle data to receive valuable insurance offerings.
Be Productive
Professionals who are often on the road, a built in journey log generate email reports to help users track expenses while traveling for work, providing business mobility efficiency.
Z
He presses and then he releases - Specifically entrusted with publishing auto news, Zerogram is much like The Stig from Top Gear. He says nothing, lis...