Let's cut through the fats of history and get to the ribs of this rare fastback baby shall we? What we have here is Ford's latest and highly acclaimed 416hp 5.0L V8 2016 Mustang GT. An all-new, all-American, all-evolved Stang, that surpasses its predecessors in athletics while sporting freshly chiseled overal profile from likely result of an intensive bootcamp for Spartans.
This is also Ford's first-ever RHD Mustang in 50 years. That's how special the new 6th Generation Mustang is.
There's modern engineering everywhere too, 21st century independent rear suspension now empowers the Mustang with new found driveablity and above all, commendable handling. Fit for discerning new clientele who demand function as well as form, that any modern muscle car enthusiast can now truly manipulate.
Let me be honest with you, as I made way to Ford Malaysia to pick up the Mustang on collection day, I was anticipating #huge #impractical #tgifridaysonwheels. There was a sense of nervousness, It was like meeting Dan Bilzerian for the first time. An alien, yet massively popular, flamboyant, built and intimidating American figure known for being extravagant and excessive. That's how foreign the Mustang is seen here.
2016 Ford Mustang 5.0 GT

Engine: 5.0L V8
Power: 416hp @ 6,500rpm
Torque: 530nm @4,250
Zerotohundred: 5.6 seconds
Transmission: 6-Speed SelectShift® Automatic with Paddle Shifters
Dimensions: 4,784mm (L), 1,916mm (W), 1,381mm (H)
Weight: 1,690kg
Price: RM598,888.00
Website: http://www.ford.com.my/cars/all-new-mustang

Maneuverability
It was quite a ceremony getting acquainted with the famed 5.0. Because for the first time in half a century, one can finally get into the Mustang's driver's seat via the right door. Yes, the iconic Ford is now compatible with the rest of the world.
Some might think it'll be quite a pita chunk of American metal to manhandle on our Asian roads and they'd be half right. So, what's it like to drive the Mustang on Malaysian roads?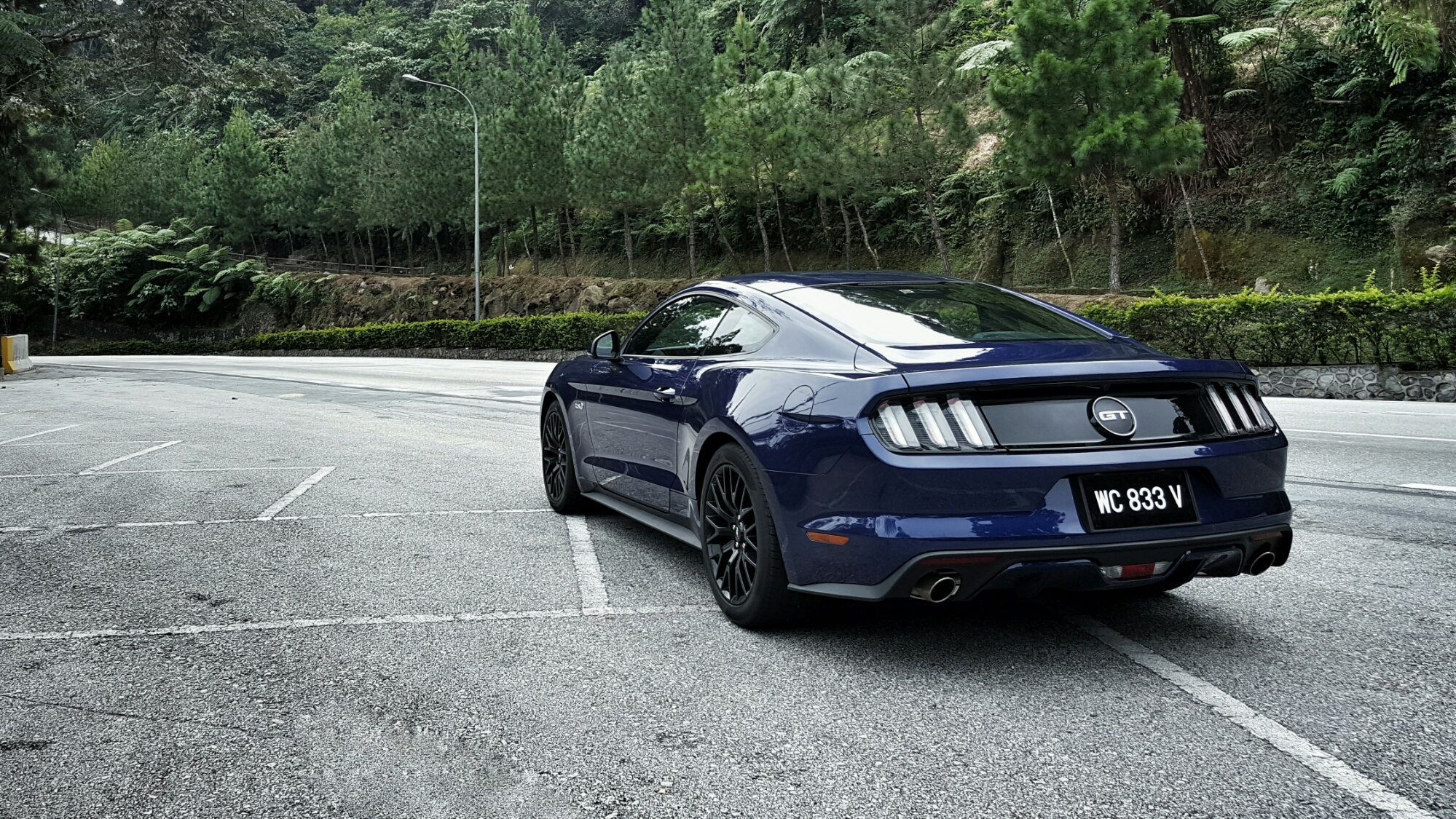 For starters, the cockpit may not be the most premium for the money, but it oozes a great sense of GT ambiance. Where the ideal driving position places your lower torso just inches after the driving wheels and that's how far back you'd sit in a Mustang. Gripping the multi adjustable steering wheel while being sunk into the bulbous black leather electric seat, I dial in that perfect seating position to commandeer the beast.
Having spent some time in it, I have to say the Mustang's cockpit is truly a special place to be in. Not forgetting the fact that just 2 years ago, no RHD Mustangs were officially made. So now, it fits just about anyone. Telescopically adjustable steering made this all the more possible.
What lies beyond the firewall is a monstrous 416hp 530nm 5.0L V8 perfected over decades of development. Although not exactly cutting edge, the massive lump compensates with bragging rights and plenty of firepower.
As if still too tame, Ford figured they'd shout more about the V8 by pumping the famed bonnet ridges further. Through the windscreen, all I see are a pair of raised fangs piercing through never-ending infinity engine lid ahead, eclipsing the horizon at times but a great conversation piece no less.
On the road, the Mustang is mind blowingly tame with none of that prehistoric fixed axle, leaf spring nonsense you have ever heard of. This new American brute is as compliant as any modern big sports coupe today or say the current BMW M6. I was impressed by the Mustang's deliciously damped chassis, one that is akin to European executive cars. Soaking up road imperfections, despite running on pure fixed rate, mechanical shocks and springs.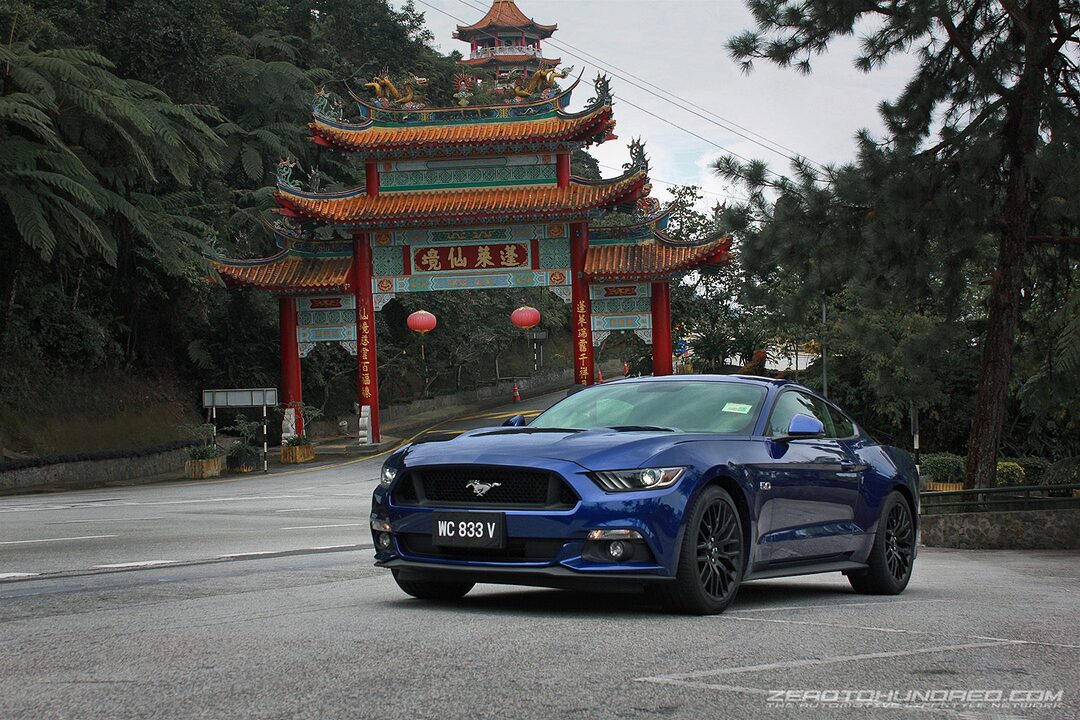 Prowling about Kuala Lumpur City Centre, the Mustang 5.0 trots superbly well while a deep throaty V8 burble accompanies its grand presence. Emitting a low throbbing bass at walking speed, the V8 responds to every touch of the throttle and quickly grows into a dirty trumpeting blare as its revs escalate. Like a cruise missile for the road, dropping jaws at every stop.
Cutting through the city, I continue heading to Genting Highlands, our preferred benchmark locale. A breathtaking mountain touge route with 18KM worth of pure uphill drive, featuring steep climbs and challenging twisties that is bound to extract the best of both man and machine.
To get there, we'll first carve the equally long undulating highway strips of Karak. Here, I was able to access the American's high speed talent. With urban civilization far behind us, the Mustang instantly felt right at home and more alive, breaking free from the narrow confines of the city. Resembling Alex the Lion when it discovered the Wild in Madagascar.
Here in its natural habitat, the Mustang's talent can be capitalized to the fullest. Designed to devour kilometers at speed, it copes amazingly well with its own weight and remains composed at the high speed banked bends. While this is partly contributed by its overall American sized frame and track, there's no denying Ford's done a fantastic job at engineering this brilliant chassis.
Anchoring the 1,700kg Mustang 5.0 calls for renowned stopping power and Ford didn't disappoint. An absolute joy to operate, these Brembo 6 pot calipers mean business and are featured on the front axle matched with huge discs measuring 380mm. Even while hauling ass uphill or staying committed at the hill descents, these babies continue to stay fresh. Despite skeptical initial bite possibly from prior wear, the brakes gets the job done and is confidence inspiring in all scenarios.

Wolf in cheap clothing it certainly isn't.
The Mustang's all-American interior is a special place to be in. Aviation theme surrounds the cockpit while its low seating position, audible boom and sheer real estate promotes great sense of power. If Darth Vader lived on Earth, the Mustang would likely be his daily.
Metal trims are drizzled across the thick padded black leather upholstery. Steel flick toggle switches are bespoke, general trims and levers pleasant. Built quality and choice of materials are good. It has that export quality, tightly fit mass production feel to it, which is comforting to know because the last thing today's affluent RKOI clientele need is kit car type problems.

Transmission
Did I mention we're in an automatic? yes only the auto is being retailed locally and that's what we got here. A 6 speed auto. Under default operation, shifts are swift and silky with no complains whatsoever.
However in full attack mode, it's just not the smartest transmission on the market, much less a sporty transmission. Upshifts are fine, but manual downshifts isn't the most seamless experience here unless we're in the low revs, because as the V8 sings, it is virtually impossible to get it to go down a gear especially 3rd to 2nd without causing a small jerk.
Fortunately, 530nm from the 5.0 V8 can destroy just about any degree of inclination so leaving the knob in D will more than suffice in most situations.

Power
Power is all down below. Just pure brute force that swells in the beginning but tapers off towards the top. A sensation that is almost Turbo diesel like, but more immediate. Doesn't scream like a BMW M V8 for sure, but in here there's just loads and loads of torque.
There's isn't much urgency from the Mustang's 5.0 V8 either. Instead, it makes up with plenty of shove. The kind of push where you can pick a high gear and ride the endless surge of torque to the top. A distinct propulsion only big displacement engines can provide.
Climbing the steep hills of Genting Highlands is effortless. However, 2nd gear is useless as the slightest jab of the gas pedal will light up the rear wheels in an instant. So the longer 3rd offers best compromise for grip and go. The good news is, even without accessing its first 2 gears, the Mustang remains competitive at the hill run

Handling
Steering is surprisingly responsive for such a car and there's an obvious sense of agility deep beneath. Carving the proving hills as I knead its chassis, it is obvious how the Mustang strives to impress and does get pretty athletic, but is inherently weighted down by its own mass.
Despite the bulk, I was intrigued by the Mustang's driving characteristics. Where the sensation of new-age engineering via fully independent, yet mechanical suspension is a refreshing change from today's heavily assisted, electronically damped cars. This, including double ball joint fronts, lightweight arms and knuckles add greater precision and stability to the 6th gen Stang.
Yet mischievously, it retains the Mustang's age-old loose end(s). If you're into the opposite-lock, smoking tyre stuff then good news for you. I on the other hand find it particularly engaging when coaxing the Mustang into its boundaries and then capitalizing on the 415hp V8 for an explosive getaway. That's when the 1,700kg Mustang 5.0 feel most like an unstoppable Tomahawk.
Having said that, there is a sense of purity from the Mustang unlike any of its European counterparts. Be it for promise of unadulterated performance or plainly an engineering deficit, discerned drivers will appreciate the non conforming attitude of this iconic Ford because they can access all of its muscle. But be warned, it bites. Even with traction control on and Engine program set to Sports + mode, the Mustang will not hesitate to kick the tail when you give it gas in almost any gear.

Parting Words
Because there's more to life than just living it a quarter mile at a time, the new 6th generation Mustang is not simply an improved version of a primitive beast as most would assume, but a giant engineering leap taking it closer to the likes of big Euro stormers from Stuttgart, Munich or Ingolstadt.
Priced upwards of RM590K, the Mustang GT 5.0 isn't just for anyone. It will never match the finesse and flair of Europe's finest, but rewards the discerning with exclusivity, soul and heritage unmatched by anything on the road today.
In any case, one might consider looking at a Diet version of the Mustang. Powered by a 2.3L Turbo inline 4, the 317PS/432Nm Mustang EcoBoost is almost everything the GT is but with a smaller engine. With rave reviews on its ownership practicality and brilliant engine, the RM488,888 entry-level EcoBoost alternative may just be the perfect pick to quench your desire to finally owning a Mustang.
To know more about Ford Mustangs in Malaysia, see here: http://www.ford.com.my/cars/all-new-mustang
Story By Tom Goh & Amirul Hazmi