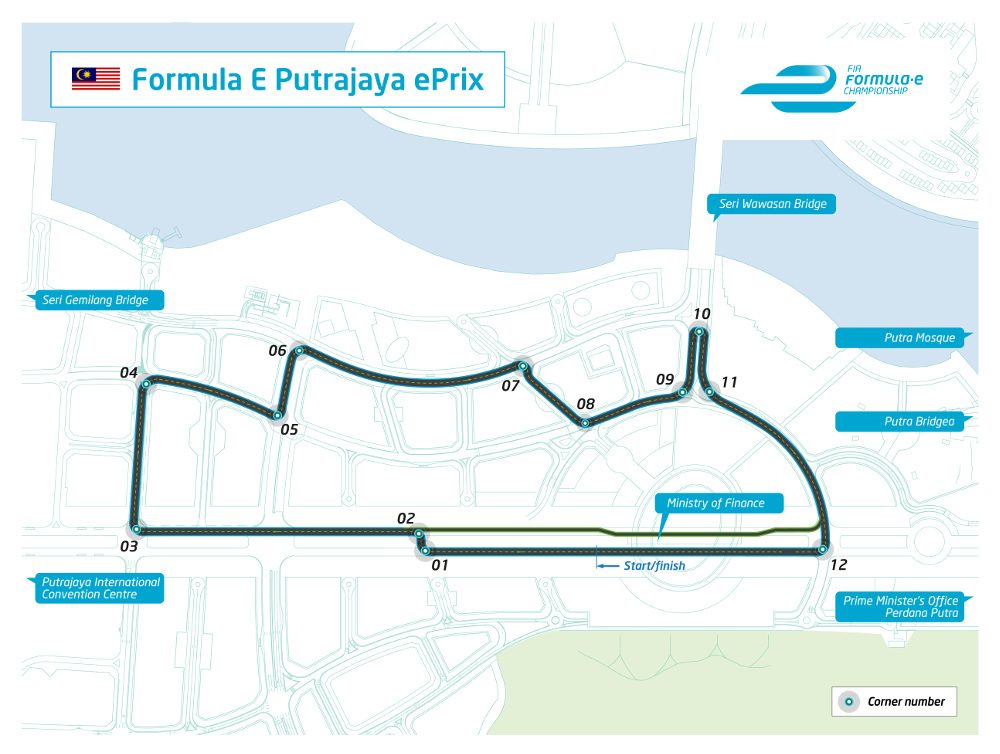 In 6 months time, Putrajaya will see its first Formula race! And unlike the current F1 even with decreased decibels, the Formula E being an all-electric race is going to be an even quieter one.  Formula E's mission is to promote sustainability, and as most of you would know it is also FIA's new full-eletric single seater championship taking place in 10 different world cities including Putrajaya in October.
Every race venue will operate on temporary city-centre race circuits and features 10 teams comprising of 2 drivers. A Formula E racecar is capable of speeds in excess of 225kmh (150mph) and is targeted at a new generation of motorsport enthusiasts. Formula E's mission is to promote sustainability.
Here are some details of the race and course layout for the FIA Formula E Championship Round 2.
Length: 2.56km (1.59miles)
Corners: 12
Top Speed: 225km (150mph)
Teams: 10
Drivers: 20
Location: South of Perdana Putra (PM's Office) Putrajaya
Follow Formula E:
About FIA Formula E Championship:
Formula E is a new FIA championship featuring Formula cars powered exclusively by electric energy. It represents a vision for the future of the motor industry over the coming decades, serving as a framework for research and development around the electric vehicle, accelerating general interest in these cars and promoting sustainability. Commencing in September 2014, the Championship will compete in the heart of 10 of the world's leading cities – including London, Beijing and Los Angeles – racing around their iconic landmarks. For the inaugural season, 10 teams, each with two drivers, will go head-to-head creating a unique and exciting racing series designed to appeal to a new generation of motorsport fans. Operating as an 'open championship', the series gives car manufacturers and constructors the opportunity to showcase their electrical energy innovations in a racing environment, designing cars to the technical specifications set out by the FIA.
About FIA & Michelin – Today's partners for tomorrow's mobility:
As well as being the official Formula E tyre supplier, Michelin is an official partner, at the international level, of the FIA Action for Road Safety campaign. This programme is designed to support the Decade of Action for Road Safety initiated by the UN, the aim of which is to save five million lives over the next ten years. This program is set up to educate and advocate for safer roads, vehicles and behaviours around the globe.