After almost 5 months since the last season, 2014's opening round of the TIMETOATTACK is perhaps one of the most dramatic yet , where with full cooperation from the weather and increased level of competition, lap records were repeatedly smashed throughout the attack, seeing counts of perished engines, bent fenders, beached cars, the lot.
But as dusk falls and finalized lap times documented, the fastest men of the day prevail and has since carved new milestones at TIMETOATTACK. Clocking over 5 seconds off 2013's fastest man by Aloysius Lek of LHB Motorsports' R35 GTR at 2:21.602, Desmond Soh from ST Powered trumped the entire competition with a 2:16.297 within the Time Attack Machines Class in his Evo 9, while Arthur Lo & Shaun Yip from Ascendant Motorsport clinched the fastest road car category at 2:17.653 in the R35 GTR!
The Time Attack scene here has seen an accelerated growth in all aspects since 2010 after 10 rounds of TIMETOATTACK events. This is easily noticeable by the spike in the level of competition at the recent rounds, for instance:
Race engineering of participating cars that has matured from moderate power and handling upgrades to now full-fledged race-engine territory, extreme weight reduction, and even active aerodynamics
Increase in participation numbers where, for novelty sake at 100 cars of before has now been lifted and grown to 140 cars, spreading across ever more thoroughbreds such as the FD2Rs, GTRs and even Supercars
Foreign participation from Singapore has never been greater and in many ways promoted exchange of resources of both countries in the sport. In fact, since 2013, the TIMETOATTACK top 2 spots in the Hall of Fame are currently dominated by Singaporean participants
Drivers who are much more in tuned with the Time Attack game, having graduated from the trackday scene has gained a whole new level driving determination and precision. It is now a game of race qualifying
Local tuners are most receptive of the TIMETOATTACK, with most of them fielding all-out engineered time machines with support from dedicated race engineers in the quest for that magical and elusive lap time.
We shall now leave you with the the top times through TIMETOATTACK's iconic Hall of Fame charts! Feel free to click for large poster print friendly supersized versions!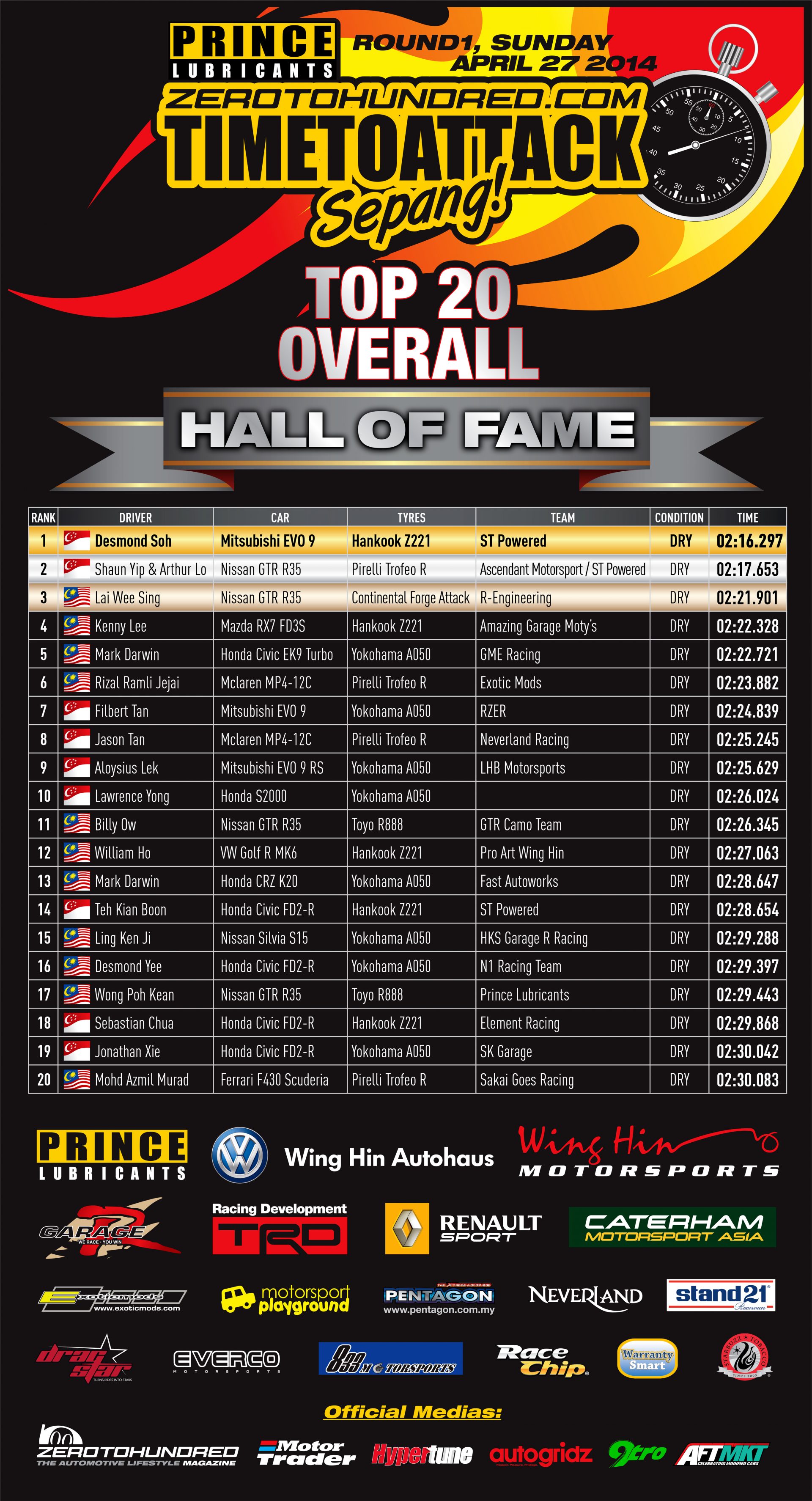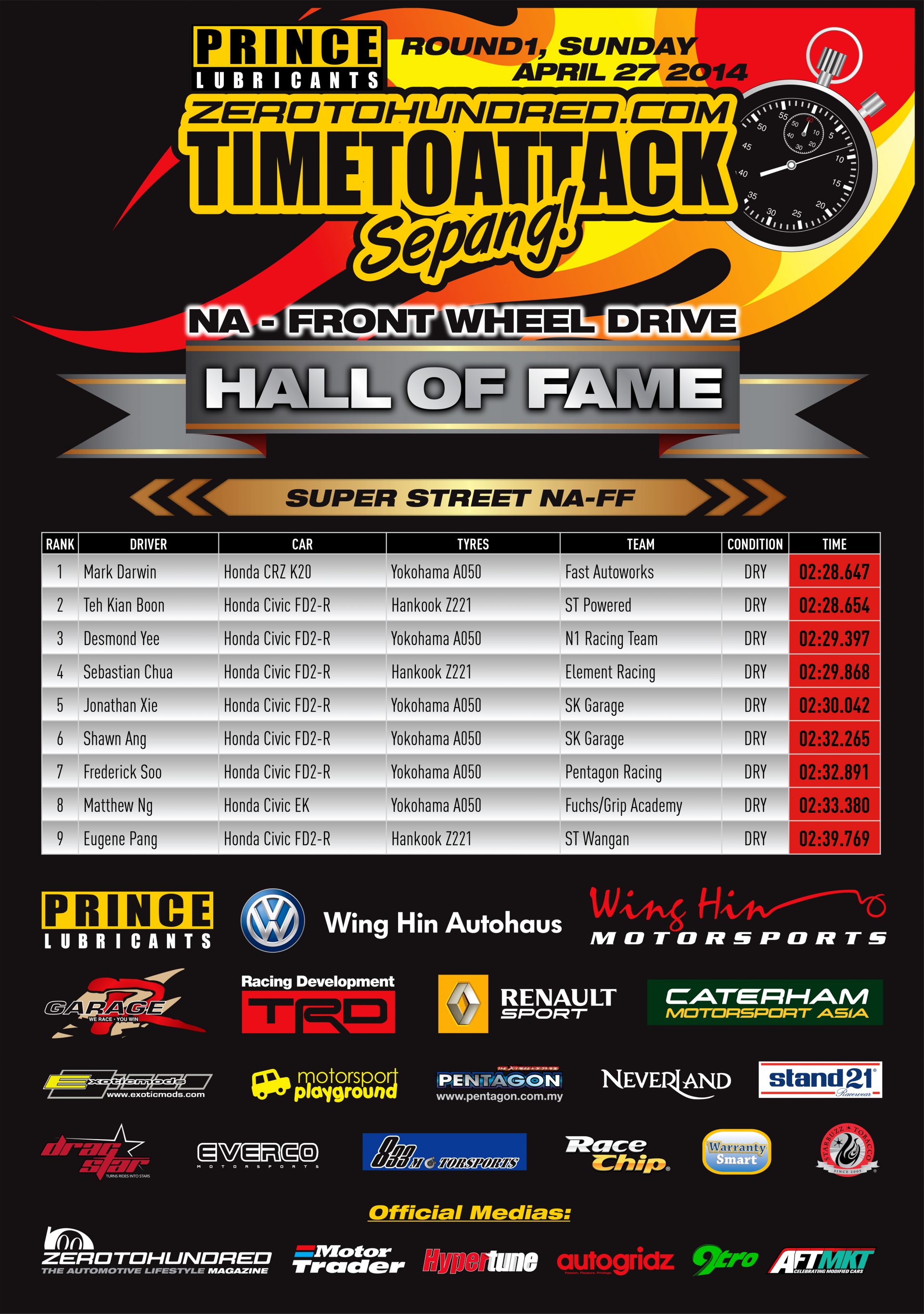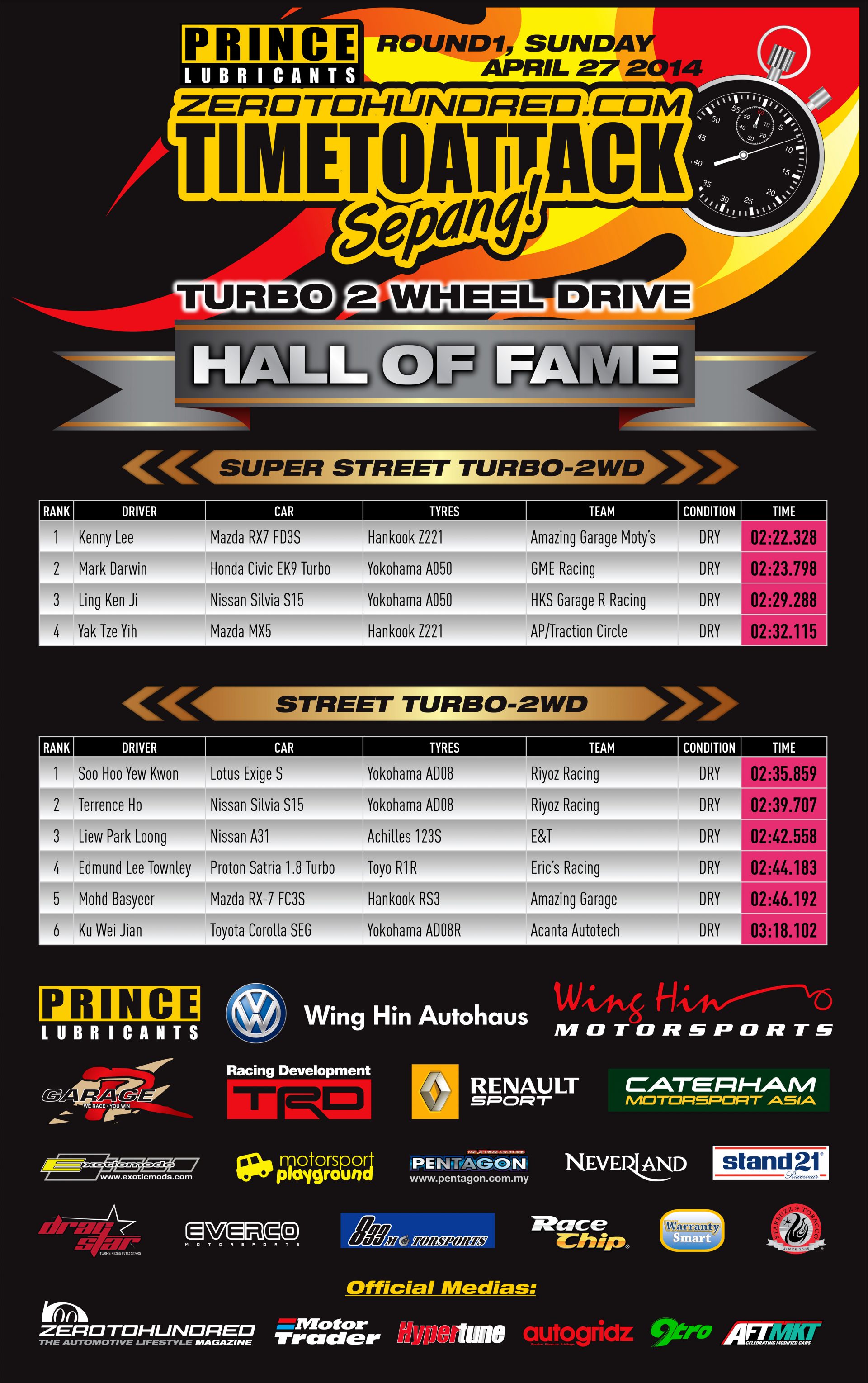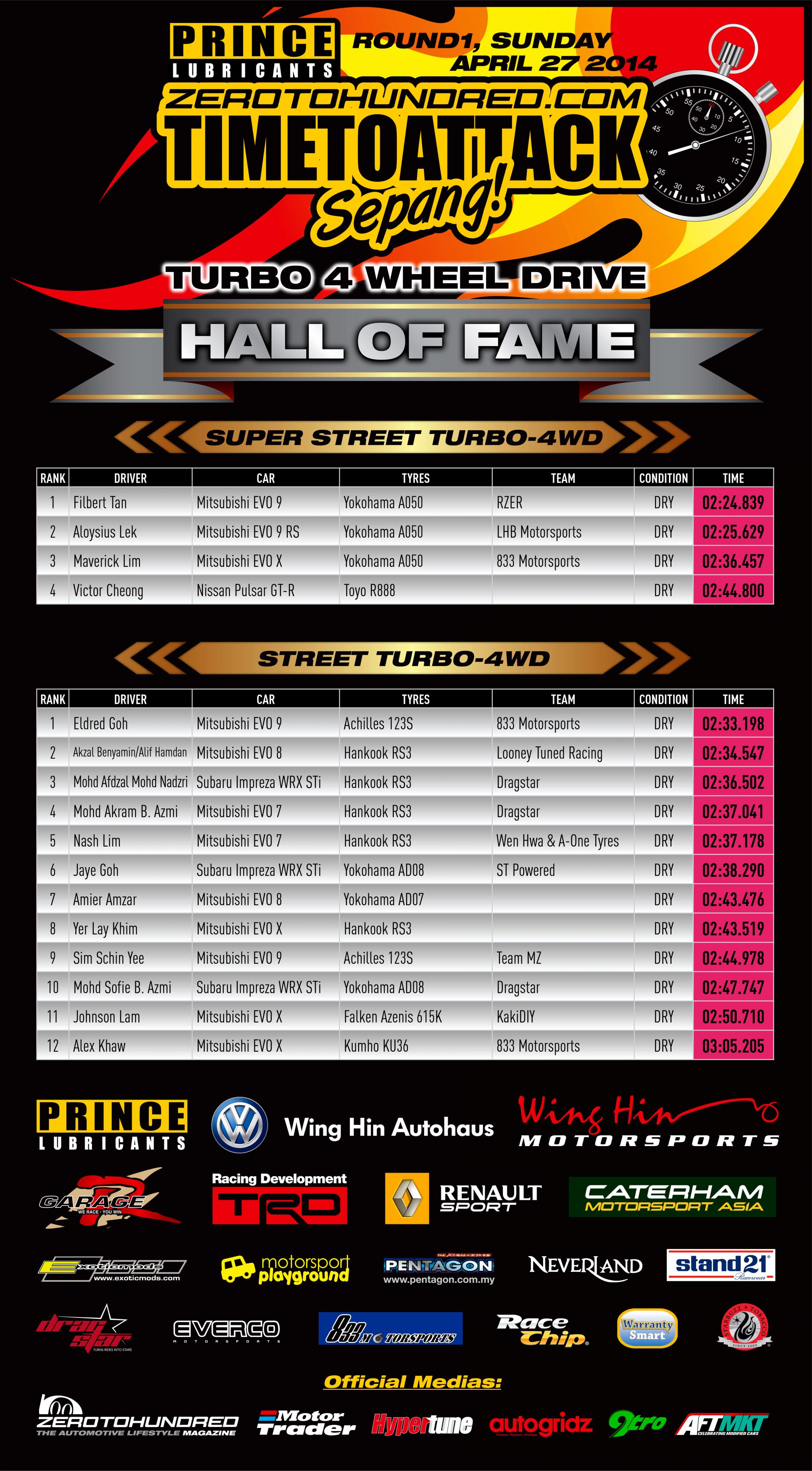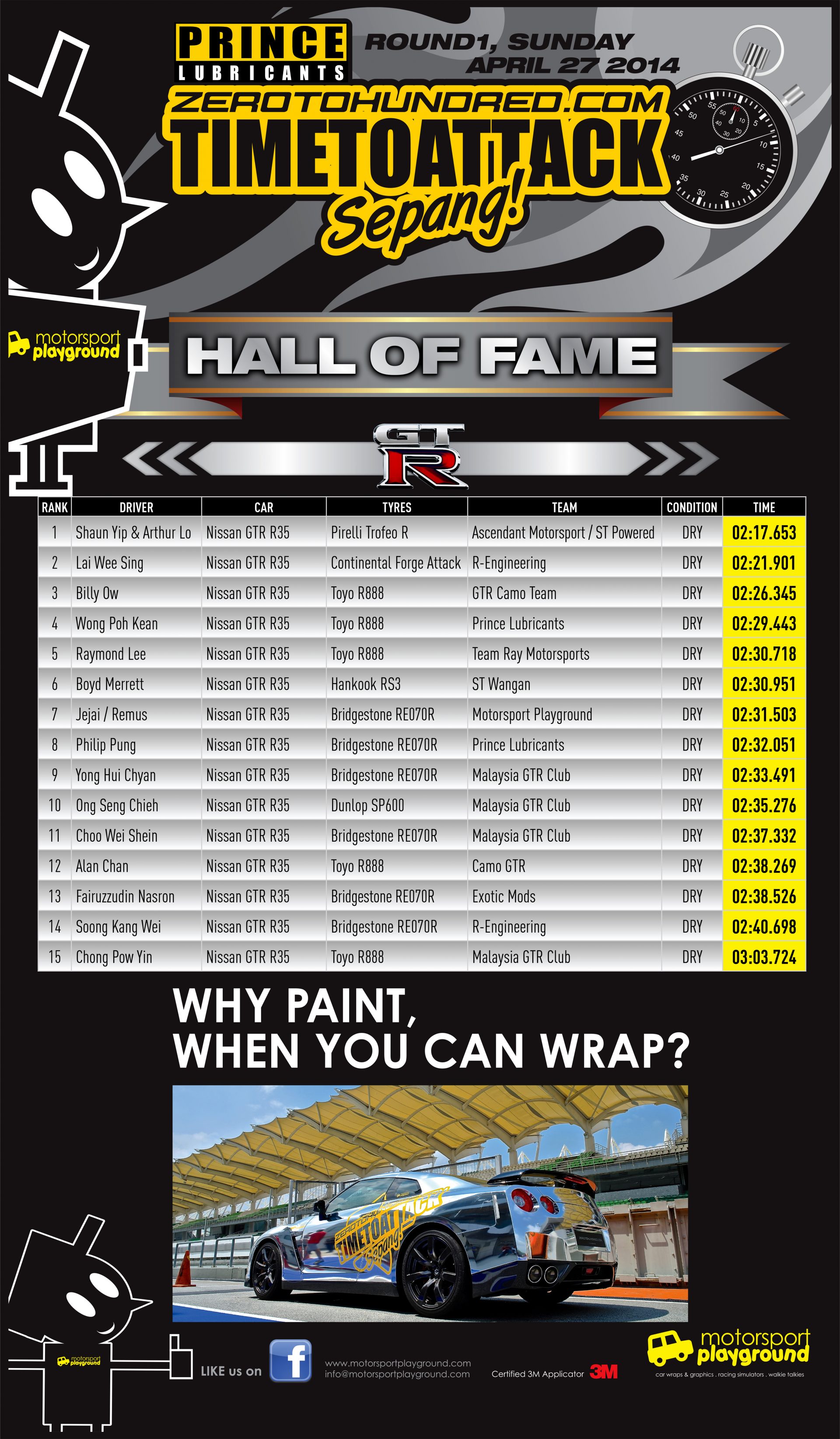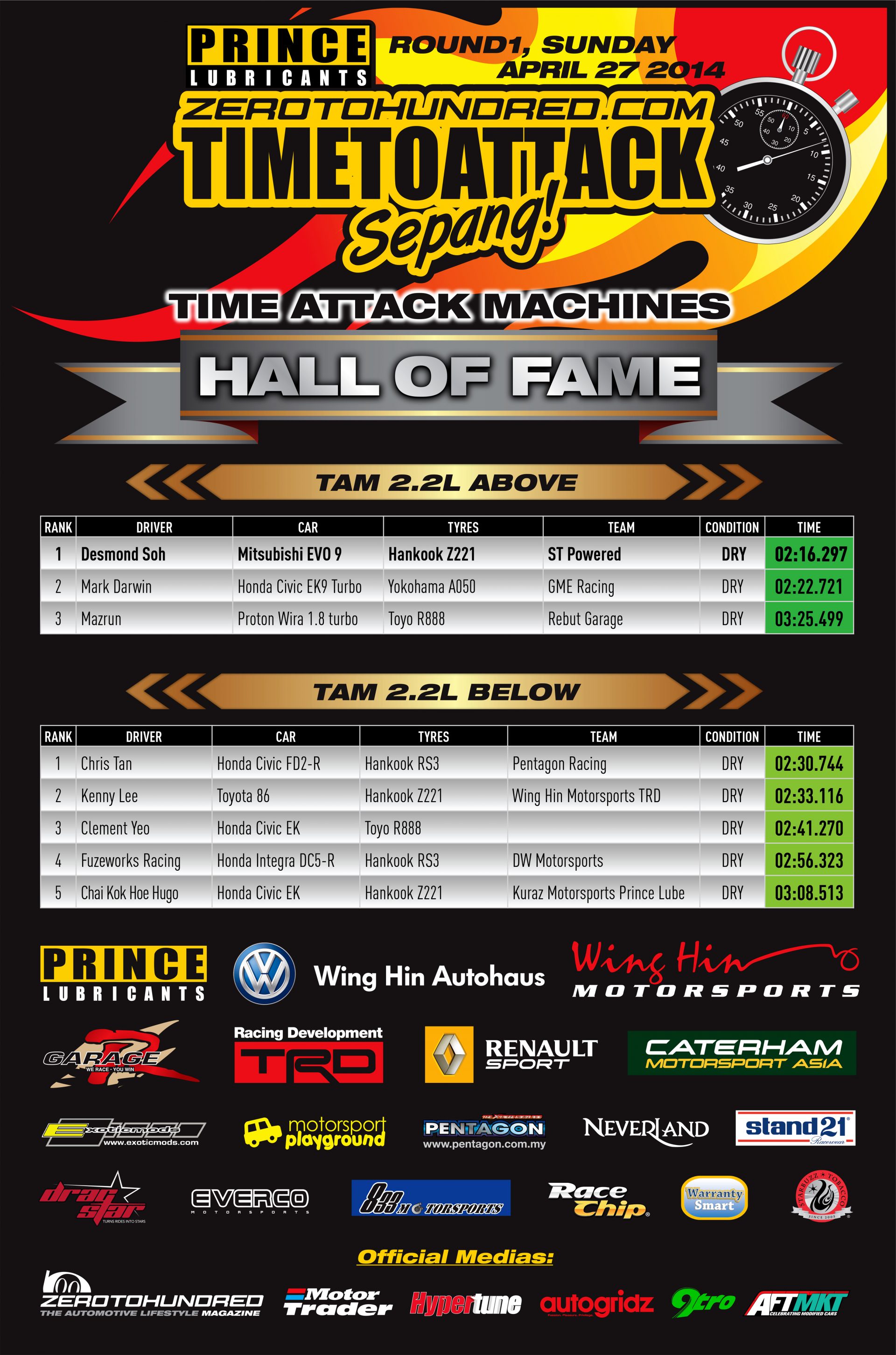 Follow TIMETOATTACK and Zerotohundred!