Having been around for almost a decade now, here's the third generation Suzuki Swift that was just launched here in Malaysia in January, to take over the reigns from the previous generation 1.5L Swift to take over the reigns of being a small and fun driver's 5-door hatch back.
So here it is in its current guise, not departing in the looks department from its predecessor, only to loose 0.1L from its displacement, this particular Swift that's currently being manufactured in Thailand and coming to us in CBU form has gotten some updates no doubt, though many would mistake it for a previous generation model, but our point simple – nothing seems to denote that its a new generation till you take a peek at the spec sheet.
Under the hood lies 1.4L (K14B) powerplant that churns out 93bhp at 6,000rpm and 130Nm of torque at 4,000rpm while mated to a 4-speed auto transmission – loosing just about 6bhp and 3Nm of performance from its larger 1.5L predecessor. Even though the new Swift is a tad down on power, it's not out of the game just yet with a kerb weight of just 1,000kg.
The exterior of the Swift, again, isn't anything to shout about, with the most significant of changes taking place in the form of a newly styled set of 16″ alloy rims wrapped by Bridgestone Turanza 185/55 tyres and a some stickers slapped onto the front fascia and just above the side skirts to help it become a little more distinguishable from before. A closer look at the rear wheels and you'll be happy to note that semi-hidden from the eyes are a set a rear-disc brakes, replacing the drums from the previous generation, and is now fitted as standard.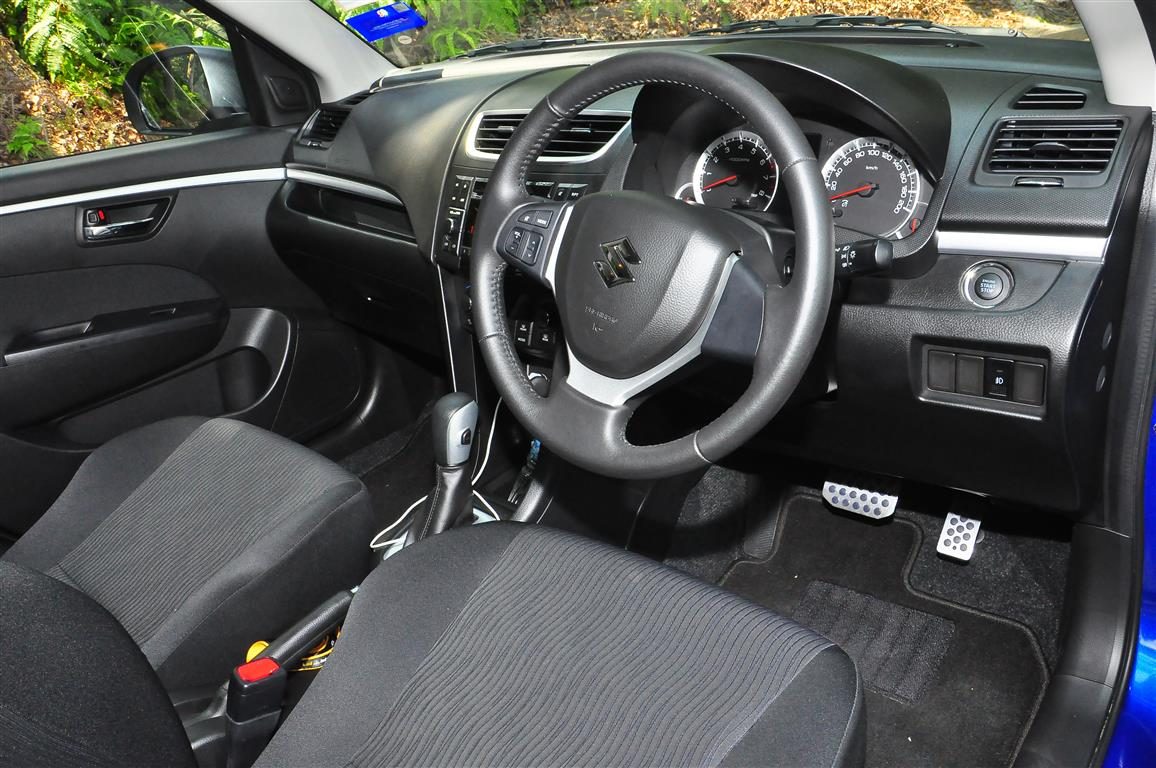 The interior is where the new Swift has received much of the changes, sporting some solid looking design that feels quite well to the touch (plastic is plastic) but thankfully it doesn't seem visually cheap to the eyes, while everything else is rather well-placed and simplistic right till you park your rear-end into the cloth-covered seats and you'll realize how surprisingly plush it is; right before you poke your finger at the "Engine Start/Stop" button to bring to life a crisp sounding engine start-up.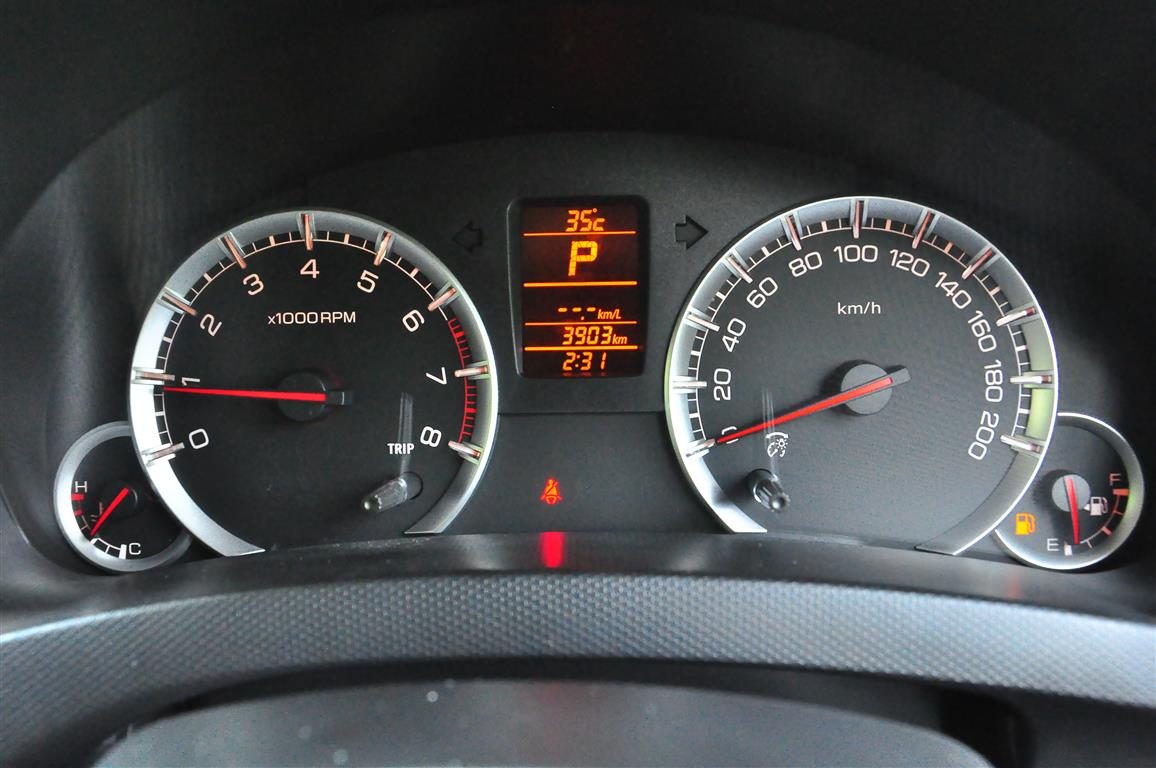 After driving it for awhile, you may soon realise how punchy the new Swift's K14B engine is and is yet able to putter around quite well at a lowly 1,500rpm – around 60km, to which it'll register a maximum of 30km/L on the display located right between the tachometer and speedometer. It can even display your range in km as well as your average fuel consumption. In short, this is actually a rather versatile engine.
The steering is nicely wrapped in leather allowing it to feel robust with thick amounts of stitching and when you're going through the steering's motions, you'll realize how nice and light it is at low speed, before it tightens up when at speed – Electro-actuated steering.
However, though there were some initial appeal upon entering the new Swift, we should mention first of all that we do like how it handles, it just that the stiffer suspension from its predecessor could have been retained for an even more sportier appeal to go along with it's punchy engine.
The suspension may carry a whole load of comfort with it, but when faced with some unavoidably deep holes in the road and you may find your self bottoming out the suspension at low speeds. Not every ideal when you're not the type to slow down considerably for speed bumps.
That said, we felt that the suspension ought to be uprated significantly, and once that's done, the major chink in the new Swift's armour would be resolved, even though it still feels like it'll turn on the dime giving off that nimble feel about it from.
It isn't so much of a let-down from the previous generation Swift, but we felt that it was the main factor as to why the Swift became so darn popular in the first place. Sure it may seem rather similarly styled (to one of out local makes) with a little less rear leg-room and all, but it did feel rather enjoyable straight out of the box.
And the new Swift is still fast straight out of the box, we often found ourselves zipping by traffic, wide-eyed and smiling while at it, pushing the K14B engine to red-line at times, and with a 42L fuel tank, we managed to nurse it to about 400km-odd after we were done with our inappropriate road antics. But with its ability to putter around at 1,500rpm, we're pretty sure you'll see yourself breaching the 500km mark on a full tank of petrol.
In order to justify red-lining the engine, it was only to give us an idea as to how intrusive the wind and engine noise was while at speed and intrude both did with much of the wind noise coming from the large wing mirrors.
There's still plenty of head room from within the cabin, as those in the rear will realise though rear-leg room still isn't that fantastic and so is the boot space or rather lack-there-of with enough space for you to through in a few nap-sacks and voila, it's full.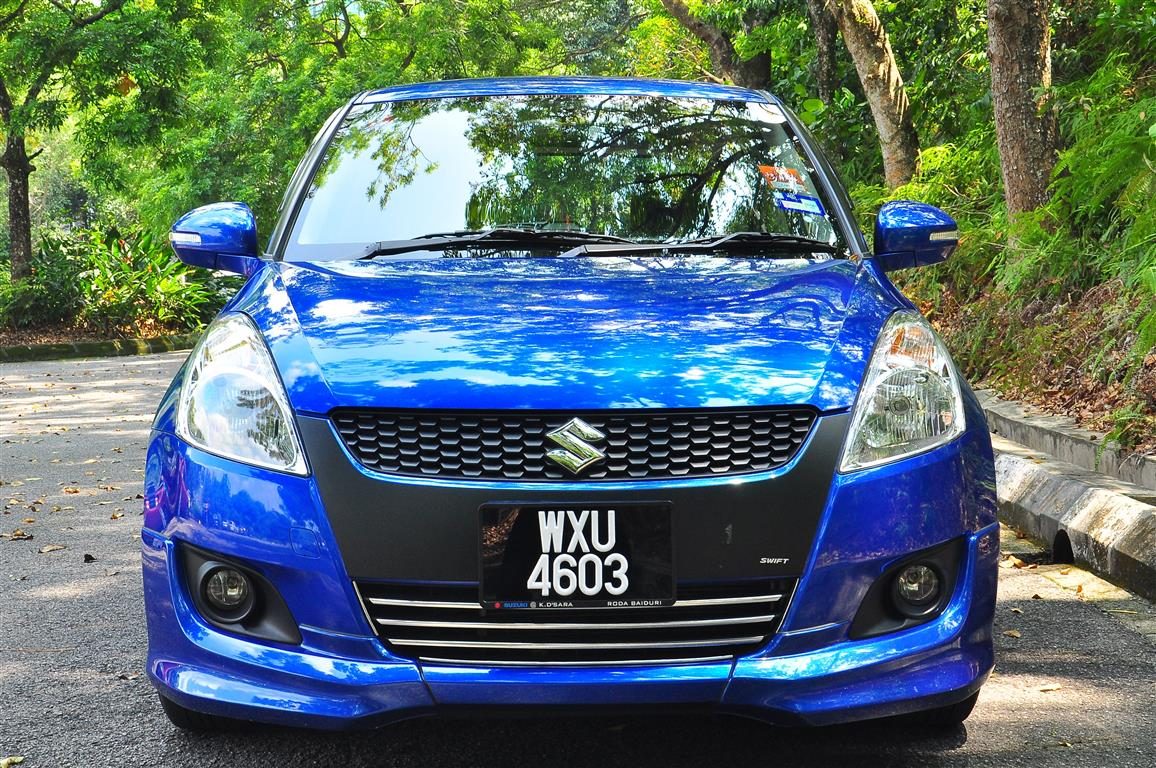 Taking a look at the new Swift as a whole, we'd still say there's much of appeal to be had even though the suspension was a rather disappointing though it still hasn't lost that ability to pivot itself rather well out on the roads to retain that nimble feel. But there are those out there who will find greater appreciation for its comfort-tuned suspension (especially with the ladies). And with an OTR (with insurance) price tag of RM77,888, it still stands RM4,000 higher against the Kia Rio's RM73,888 that was launched recently with more bells and whistles.