This might be hard to believe, but I first heard that there was an LFA in town, when doing my daily browsing on Zerotohundred.com. Yes, despite contributing here myself, news of an LFA in Malaysia had flown under my radar, and I had no idea one was headed down here. To set things straight, I made my way to Wing Hin's Lexus showroom in Sg Besi, and set an appointment for some private time with the elusive machine.
You see, the LFA is a very rare breed of supercar. Malaysia has a pretty special cache of rare exotics (think Veyron, CCX, SLR, Enzo, Mirage GT), but as far as I know, there are no LFAs here. Only 500 units will be built; each one meticulously built by hand. Production rate is a whopping one unit per day, from Lexus' dedicated factory in Aichi prefecture, Japan. Constructed largely from carbonfibre composite, each unit is sold at an accrued loss to Lexus. The unit you see in our pictures isn't even a production model; it is a development unit that belongs to TRD Japan, on-loan to Wing Hin. Exclusive? Very much so…
A majority of the LFA's chassis and body work is made from the magical lightweight black stuff – carbonfibre. Although the car was initially slated to be constructed from aluminum alloy, extra weight needed to be shed in order to achieve Lexus' benchmark time at the Nürburgring Nordschleife. The decision to switch from aluminum to carbonfibre led not just to extended development times, but also cost a very significant amount of money. It wasn't just the additional time needed for research – Toyota accomplished in one year what would normally have taken ten; production time was also extended. The autoclave that bakes the LFA's CF parts works non-stop day through night, and is capable of producing just one car a day.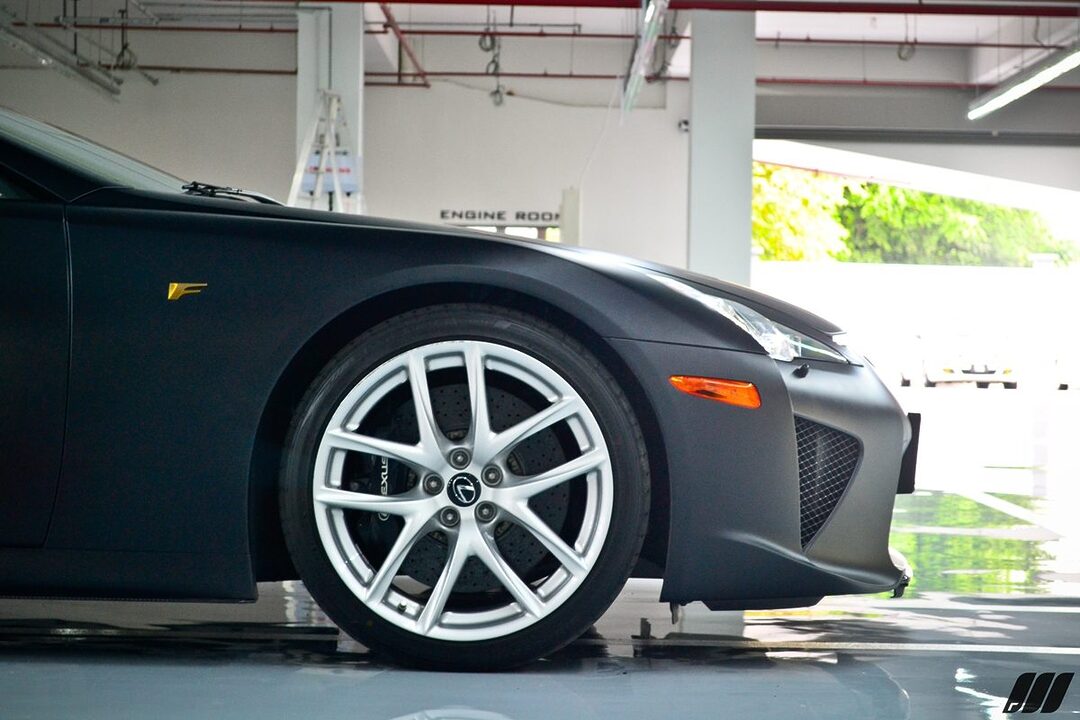 Looking at the LFA, you get a distinct impression of its Japanese roots. It doesn't look as mental as a Continental supercar would, but yet there is a sense of engineering perfection. Every edge, ridge, and vent is there with a function. Take the edges on the side mirrors as an example – they're there to direct air towards the scoop over the rear fenders, which itself feeds the radiators. Despite its sedate looks, the LFA has a relatively low co-efficient drag of 0.31cd and Lexus claims their car produces more downforce than any of its rivals.
Powering the LFA is a Yamaha sourced V10 engine. Many of our readers would have already watched videos of the LFA online, but these videos can't quite convey just how raw the engine sounds like in person. Turn the key in the ignition, step on the brakes, then press the 'Start' button; and the hairs on my arms prickled as I listen to the LFA come to life. Most V10 powerplants have a bassy tone, but this one sounds very different – especially when revved towards its 9,000rpm red line.
The engine is hand-built by Yamaha, before it makes its way down to the Lexus factory where it is assembled with the rest of the components. Following on Lexus' lightweight goal, no expense was spared to keep weight pared down. This is reflected by the materials used in the construction of the engine: titanium, magnesium and aluminum. Lexus says that the result from this is an engine that is the size of a V8, with the power of a V12, yet weighing only as much as a V6. And if I didn't mention before, it sounds phenomenal; the car's wailing shriek close to that of an F1 machine. My biggest regret that day then was that the SD card in my GoPro had ended up getting corrupted; I did my best to salvage and compile whatever videos I had left for this entry.
Although a vast fortune, not to mention a ten year development period, was spent to put the LFA to production, its performance figures seem somewhat sterile. 552bhp/480Nm and a zerotohundred sprint of 3.7 seconds means the LFA isn't even able to best the crop of baby supercars from the Ferrari or Lamborghini stables. With so much effort spent on keeping a low mass, an almost even 48:52 weight distribution, and on that spectacular soundtrack, I suppose you could say it was to create a car that would feel perfect when driven, instead of a ballistic performance machine. In some ways, a Toyota 86 cranked up to 20 notches or so, would be an apt description. Unfortunately, we weren't allowed to head out on open roads with the car; it would have been interesting to see how it performed on our regular test roads.
While the LFA is now no longer on display at the Lexus Malaysia showroom in Sg Besi, the full fleet of cars for sale are still available for viewing there. This facility is one of the four 3S Centres in Malaysia, with ten service bays, and a very welcoming guest lounge that eschews the renowned Lexus hospitality to all visitors. It is a prominent landmark now in Sg Besi, so be sure to drop by for a visit if you're in the area.
Lexus Malaysia Sungai Besi
No.314, Jalan Sungai Besi,
57100 Kuala Lumpur.
Tel. No: +(603) 9222 2268
W
From taking pictures of supercars on the streets, Won has taken his hobby to a whole new level, by regularly contributing to '(00). Owner and purveyor...