Everyone needs a set of Big Brake Kit or BBK, unless you're a regular A-B commuter, and a car is nothing more to you than a depreciating investment, then mods are not for you. If not, then this review may just help with your quest for affordable braking performance and of course, style. But what has style got to do with brakes? In today's tuning scene, I'd say half the car owners out there place as much importance on style as they do on performance. Who can blame them? If you're going to put on bigger wheels, you'd 'need' bigger brakes, so why not look good while you're at it?
Above: The MINI with front K-Sport 330mm BBK fitted. Barely nestling beneath the 17X7 OZ Ultraleggera wheel.
The Aftermarket big brake market were at a point dominated by big brands such as Brembo, AP, Mov'it, Tarox and so on, costing either an arm or a leg and sometimes both. But up until the recent years, Taiwanese manufacturers jumped on the tuning bandwagon and were not shy to release their own BBKs with applications for almost any car make and models in 4, 6, 8, 10 and even 12pots! And yes, we've all heard how cheaply made and dodgy these Taiwanese products were. Not to mention the kiddish anodized finish and bad English. Ever heard of XYZ brakes?
But today, you'd be glad to know how much they've advanced in their choice of materials and built quality. At least, for the K-Sport brand I'm introducing in this article. On first impression, I'm pretty impressed by the look and finish of the kit. This kit in particular is a 8-Pot caliper system with a 330mm rotor and is made for the 2002-2005 R53 MINI Cooper S. Perfect for our Signal Green MINI. The Yellow powder coated calipers matches perfectly.
For RM5500, you get what you pay for, and everything you need, including the 8-pot calipers, 330mm floating discs, large brake pads, mounting brackets, rubber-sleeved steel braided brake lines and the instruction manual. You only need to buy your own new brake fluid. Now I don't recommend installing a brake kit on your own, or with just any mechanic. Experience is crucial when it comes to aligning the calipers, making sure there is no excessive contact between the rotors and calipers. The risk here is that any unnecessary abrasion may cause the calipers to heat up, severely lowering braking efficiency and in some cases, causing the caliper to seize. Definitely not a desired sensation for anyone.
For the record, our Green MINI wasn't a stocker on puny brakes. It was equipped with Brembo Gran Turismo 4 Pot calipers with 320mm slotted rotors up front. Participating in regular hill drives and track days meant that stopping power is crucial and greatly dictates the performance of the MINI. Fortunately, the MINI never had problems stopping in most situations. But even with the Brembos, intense downhills or circuit driving will fade the brakes, almost too early.
Here's a comparison, 320mm VS 330mm and 4-pots VS 8-pots. Rotors wise, 10 mm is only a marginal increase in disc diameter and the additional caliper pistons do not necessarily mean an astronomic increase in biting power, so why bother you ask? The biggest advantage in increasing rotor and caliper size on an already decent system like in say, a Brembo equipped Evo or WRX is really not in the bite, but how it bites and how robust the brakes are in resisting brake fade. Equating to better brake modulation and even more hard stops per session.
Notice the difference in pad size. Brembo 4-Pot on the left and K-Sport 8-Pot on the right. Visually, there's almost 200% increase in pad size. One might think that the clamping force on the rotors would improve greatly, but this is not entirely true. Again, the real advantage of increasing the size of the calipers and rotors of a braking system is, in essence to increase component materials in which the heat can dissipate. The greater pad size also allows for a longer pad life, meaning less pad replacements.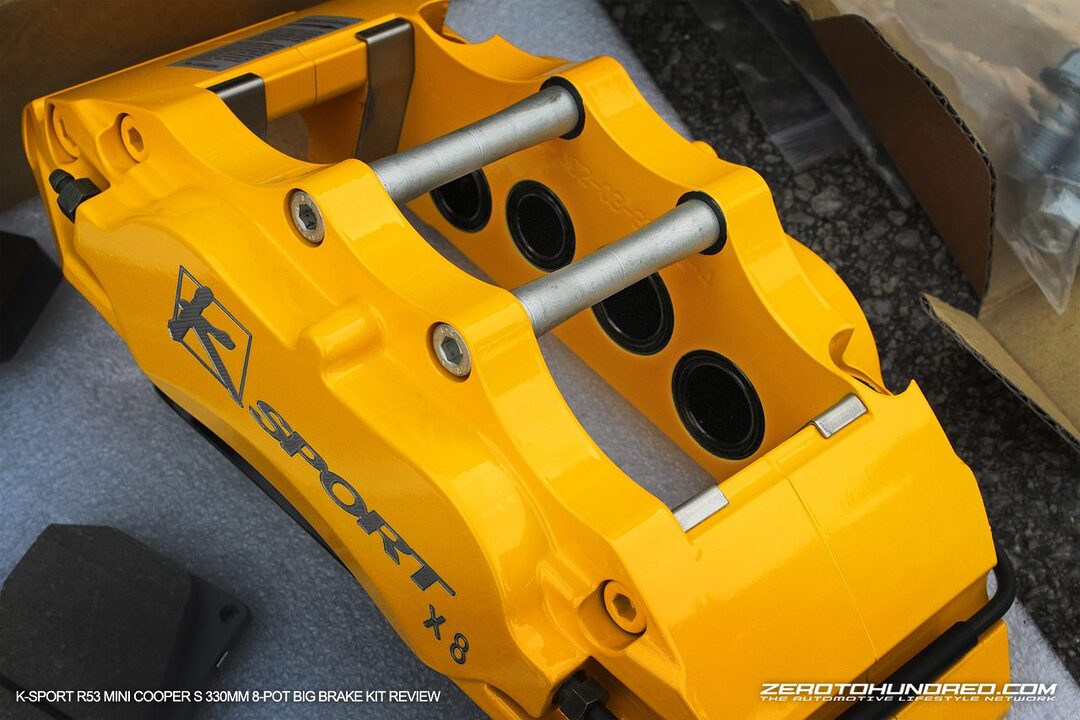 Notice the differential bore sizes on the caliper, a design feature in all performance brake calipers to combat uneven or tapered pad wear. Having driven on the K-Sport BBK for about 5000km now, I've come to appreciate the purpose for more pistons. Any 4 or 6 pots should stop as well as a similarly sized 8 pot caliper. But the difference here is how the foot pedal pressure is distributed among the pistons. This results in a braking feel that is highly progressive and provides greater control of the brake pedal pressure. Perfect for a daily driver.
Here's a comparison of the rotors. 330mm K-Sport on the left and 320mm Brembo on the right. The grooves embedded in the discs clears gas and dust build up during spirited driving. Just like Brembo, and other known aftermarket big brake systems, K-Sport offer floating rotors in all their kits as well. Having a separate bell and rotor not only eases production to support more car applications, the true benefit of floating rotors is that they save more weight as opposed to a solid cast-iron rotor. Rotor hats / bells are typically made of aluminum. That 10mm increase in rotor diameter from our previous Brembo GT isn't much, but would deem beneficial, since any increase in material is a good increase for better heat dissipation.
My Verdict:
Feel wise, the K-Sport 8-Pot 330mm BBK is fantastic to say the least, even coming from years of experience with the Brembos on the MINI that were not exactly lacking by far in specifications and performance. The most obvious difference between the 4-pot Brembo and the K-Sport 8-Pot now is that I have better, more minute control over the brakes that weren't there before. It's that progressive feel that is perfect during heavy traffic conditions or when certain amount of trail braking is required. To put it simply, like the measurements on a ruler, I now have brake pressure modulation in centimeters compared to inches if you know what i mean.
The biggest difference is when the brakes are put through its paces. Previously, on the 4-pots, there's an anticipation of brake fade after negotiating a set of corners on a typical hill run. Where the need brake earlier or to back off on the throttle sets in to ruin the fun. Now, with the massive K-Sport 8-pot calipers, every squeeze of the brakes is as fresh as the one before, and the confidence level increases with more drive time, as It tempts one to brake even later before every bend.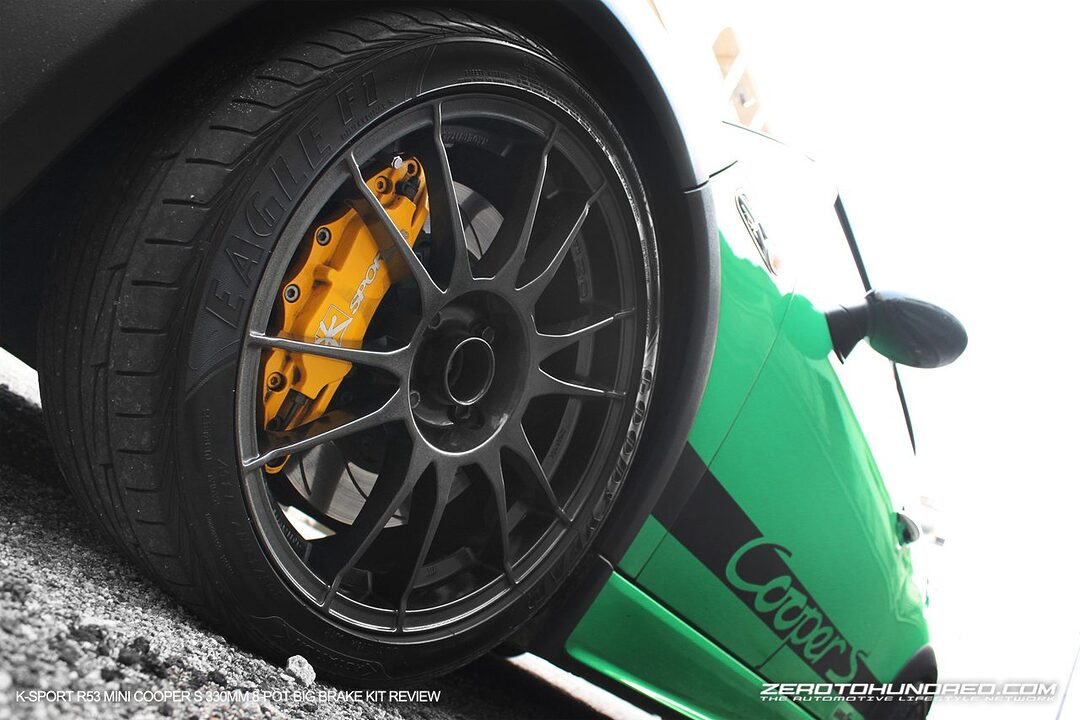 How much better or worse are the K-Sport BBKs when compared to similar APs or Alcons? I'd say for real world driving scenarios, the differences in performance are marginal if any. I now question the need for premium European brands for real world applications when today, we're able to access more affordable alternatives promising similar features.
Granted, in professional motorsports, like in a grueling endurance race, where winning and safety are paramount, it is always wiser to choose products that has been tried and tested for generations.
This review might not be a comparison between stock brakes and aftermarket BBKs, but with the obvious advantages gained when upgrading from an already good set of brakes, what more to expect on a car with stock brakes?
What the K-Sport 8-Pot 330mm BBK Kit includes
8-Pot Lightweight Caliper
High quality brake pads
D.O.T. Compliant Stainless steel brake lines
Machined aluminum hats
Carbon steel brackets
330mm Discs (x2)
Buying the K-Sport BBK
Good news for anyone planning to purchase K-Sport BBKs. Malaysian K-Sport Distributor is currently offering a 10% discount off their BBKs till Dec 16 2012. This applies to all their BBK range with Rotors ranging from 286mm all the way to 421mm and calipers from 6-pot, 8-pot to the massive Super 8-pots.
Above: The Super 8-pot on 380mm rotors.
Here is a price list of K-Sport BBK Models and Sizes. It supports most cars you can think of, such as Nissan 370Z, Honda CR-Z. Mitsubishi Evo and Airtrek, New MINI, Most VW Models and more. If you need to make sure if K-Sport support your car model, do send them a mail or give them a ring.
K-Sport Front Big Brake Kit (BBK)
Rotor Size
286 x 26mm
304 x 28mm
330 x 32mm
356 x 32mm
380 x 32mm
400 x 36mm
421 x 36mm
Caliper Type
6-Pot
6-Pot
8-Pot
8-Pot
Super 8-Pot
Super 8-Pot
Super 8-Pot
Retail (RM)
4,600 Kit
4,800 Kit
5,550 Kit
6,050 Kit
9,300 Kit
10,450 Kit
15,150 Kit
Discounts for K-Sport BBKs
1. The 10% Discount will end on the 16th of DEC 2012 (TIMETOATTACK Round 3 – 2012)
2. 10% discount applies to Zerotohundred.com registered members only.
3. Customers are to purchase through K-Sport Distributor Malaysia only.
4. Discount Promotion is limited to currently available stock only.
5. Price is subject to change and while stocks last.
Please contact K-Sport Malaysia:
Name: Joey
Phone: +65 8222 6591
Whatsapp: +65 8222 6591
Email: [email protected]
Facebook: http://www.facebook.com/pages/MY-K-Sport-Racing/