Sepang is a buzz of activity this week, what with several races going on all the way through to the weekend. Amongst which will be the Porsche Carrera Cup Asia (PCCA), where Team Sime Darby Auto Performance (SDAP) will be participating. As we reported before, Team SDAP will be represented by Tan Sri Azman Yahya and we get the opportunity to speak to him before race day. As Tan Sri Azman takes his seat in front of us, he carries the air of calm and confidence, unfazed by the attention from us media folks. Without wasting his time, we jump straight in with our questions.
Q: How and when did you start off in motorsports and what are your early experiences?
A: I started motorsports many years ago, but for serious racing, I started in 1999; right after Sepang was open. I did a lot of track days in Batu Tiga in those days, and used to ride bikes as well. But that stopped after 1994 – big crash. The crash was not at track, but at Frasers Hill and interestingly I don't remember anything from that as I lost consciousness and woke up in the hospital. It happened when I was younger and much more reckless at the time. Later on in 1999, Datuk Mokhzani, Aminuddin Omar and myself decided to enter in the first MMER 12-hour race and we did it with a bit of difference, because we wanted to race for charity, so we called our team Race For Charity (RFC). We got pledges from friends; for every lap we did, they could pledge some money. We really thought we'd do maybe 80 laps, but we finished fourth and raised quite a lot of money – about RM200,000. So we were quite competitive, until 2004 which was my last race; the year I won the Malaysia SuperSeries (MSS) and we won the MMER open car category.
Q: And you've not raced in Sepang since 2004?
A: I did one race for Aston Martin, buying into a weekend race back in 2007 but that was it.
Q: So how are you prepared for the race this weekend?
A: Not prepared at all – unfortunately; with the Ramadhan, Hari Raya, work, and Porsche has a 21-day blackout ruling where you cannot practice before the race. I did a couple of shakedowns just to get used to the car, but unfortunately during that two days we had rain and gearbox problems, then I spun off and we had to change the radiator so I didn't have enough track time.
Q: But do you think you might still have an edge over the rest since you've raced here before, and won?
A: To be honest with you, getting used to the track is possibly the easiest part. Getting used to the car is more difficult. The track is OK once you know roughly the layout and racing lines. The car is a pure race-car, derived from the 997 but built from scratch up as a race car. It has 450hp, sequential stick shift gearbox, pure racing brakes, no servo, no ABS; this car has absolutely nothing and can be quite tricky to handle as it can lock up quite easily. Also, a very unusual handling characteristic since it is a rear engine car. You have to really wrestle the car to get fast times. That's the difficult part, you have to get used to that.
Q: What is the sort of competition or difficulty do you think you will be facing this weekend?
A: I'm a guest driver so I'm not fighting for points. The PCCA has two categories of drivers; Class A which is a bit of the professionals made up of 12 drivers and they will be all out. Then they have the 16 gentleman drivers; Class B for those who do not drive professionally and I'll be racing with them. Of course, there are some Class B drivers who are really fast; almost professional, just two seconds behind the pros and have been racing for a number years. I think it is good that Porsche really focuses on the customer – if you look at it, the entire Porsche Carrera Cup was really made for the customers.
Q: What drives your passion for racing? What do you like about racing?
A: Everything! I'm Director of SIC and I'm also the Chairman of Motorsports Association of Malaysia and I've always liked motorsports. When I was in Europe, I used to follow Formula 1 in the 80s. I've also bought and sold many sports cars but I've always had a Porsche; usually a GT3RS. I have a Cayenne Diesel, a 997 GT3RS, and the new 911. My GT3RS is perhaps my favourite car.
Q: What is your favourite road-going Porsche then?
A: Ah… the GT3RS, that is a driver's car. Not as an everyday car of course – that one is left to the Cayenne of the 991. The GT3RS is closest one you can get to a real car. The old Cup cars that I used to race back in 2002/3 were probably closer to the GT3s of that time, but the new generation Cup cars were built as a race car.
Q: What are the main differences between the handling of your GT3RS compared to the GT3 Cup car you're racing?
A: For one, the Cup car is left-hand drive; a major difference, and you have to get used to that. The Cup car also has absolutely no driver aids, a mechanical, sequential gearbox so you have to slam it in. The set-up of the car is also completely different; very light, much lighter than the road car. It runs on slicks, so it has a lot of grip, but if you go over the threshold, then it can be easy to slide. The GT3 Cup cars are all identical, so at the end of the day, the results will be determined by the individual team set-ups.
Q: When you were in Europe, did you ever drive or race on any of the tracks there? And how do they compare to Sepang?
A: Driven yes, but never raced – on various tracks in the UK. Sepang is a modern F1 track – very technical and you have to know the track well to be able do good times. It has several very tricky turns; turns 5 and 6, and 12 and 13 are very technical. You enter wrongly, or you get the speed wrong and you easily lose a couple of tenths of a second. Turns 3, 7 and 8, you need balls-lah basically. You make a mistake there and you don't lose a couple of seconds – you lose the car. In fact, yesterday I believe two Ferraris were completely written off at Turn 3, same place where I crashed. One car even caught fire!
Q: Do you have a personal target of how well you want to do this weekend?
A: Honestly, I don't really know – I've not competed in these cars before and I don't know how well my competition drives so I suppose I'll find out after qualifying! But the idea is to showcase to other Porsche customers that even a normal customer can drive if they want to, and for us to hopefully finish the race! I look forward to seeing more of my friends and Porsche customers to race in this together. Sime Darby has been very supportive with getting the customers to enjoy the spirit of Porsche – they arrange track days with professionals to guide customers with their cars. I see that there's a lot more enthusiasm now amongst the owners to come to track and it is important for them to understand the limits of their cars; and you want to know the limit on track and not on the road of course.
Q: Are there any professional racing drivers out there that you idolize?
A: If you ask most that understand motorsport, I think 90% would say Aryton Senna. He was probably one of the greatest racing car drivers, ever. I was quite fortunate that I saw him racing back in the 80s when I was in Europe. There were other great racing drivers out there of course, but for me Senna was the best.
—
With time running short, we concluded our interview with Tan Sri Azman and bid him good luck on his race. We have our fingers crossed for him to win the race on Sunday of course, so stay tuned to Zerotohundred for the results.
** Please note that the flow of the interview has been edited to ease progression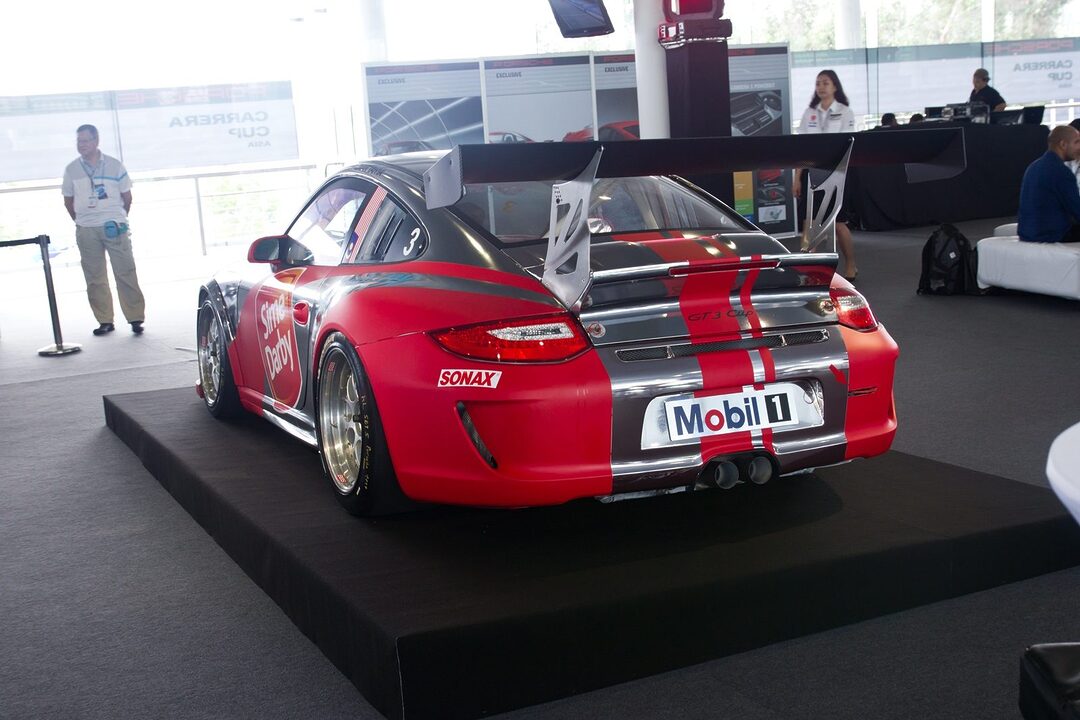 Porsche Carrera Cup Asia 2012
Rounds 7&8 – Provisional Entry List
No. 1 – Keita SAWA (JPN)/LKM Racing Team
No. 3 – *Azman YAHYA (MAL)/B/Team Carrera Cup Asia
No. 5 – Yuey TAN (SIN)/B/Dorr McElrea Racing
No. 6 – ZHENG Ting (CHN)/B/BBT
No. 8 – Benjamin ROUGET (FRA)/Team Yongda Dongfang
No. 9 – WANG Jian Wei (CHN)/Team Betterlife
No. 11 – Ringo CHONG (SIN)/Team Kangshun
No. 16 – Wayne SHEN (HKG)/B/Modena Motorsports
No. 20 – Rodolfo AVILA (MAC)/Team Jebsen
No. 21 – Francis TJIA (HKG)/B/Open Road Racing
No. 23 – Paul TRESIDDER (AUS)/B/Hewlett Motorsport
No. 25 – Christian CHIA (CAN)/B/Open Road by ART Motorsports
No. 27 – Adrian Henry D'SILVA (MAS)/B/Nexus Racing
No. 28 – John SHEN (HKG)/B/Modena Motorsports
No. 31 – *Eric LO(HKG)/PS Racing
No. 37 – Davide RIZZO (ITA)/BBT
No. 55 – Marc CINI(AUS)/B /PS Racing
No. 66 – Rose TAN (CHN)/Team C&D
No. 68 – MAK HingTak (HKG)/B/OMAK
No. 78 – ZHANG Da Sheng (CHN)/Team Basetex
No. 81 – HUANG Chu Han (CHN)/B/Asia Racing Team
No. 83 – Dr. MA Chi Min (HKG)/B/Dr. Ma Chi Min
No. 86 – Martin RAGGINGER (AUT)/Team Eagle – Jiejun & Junbaojie
No. 88 – Egidio PERFETTI (SUI)/B/Seminole Racing Team
No. 95 – Kevin CHEN (USA)/Asia Racing Team
No. 96 – LI Chao (CHN)/B/Asia Racing Team
No. 98 – Ho-Pin TUNG (CHN)/Budweiser Team Star Chase
No. 99 – Alexandre IMPERATORI (HKG)/PICC Team Star Chase
W
From taking pictures of supercars on the streets, Won has taken his hobby to a whole new level, by regularly contributing to '(00). Owner and purveyor...