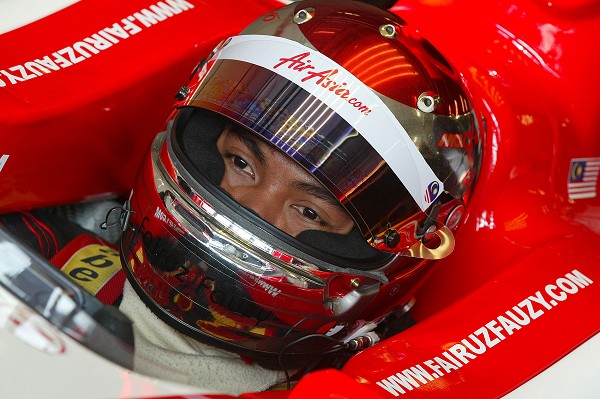 Malaysia's F1 Aspirant Stuns Competitors by Achieving Success in both Races over the weekend. The MOFAZFortec Motorsport Team's did not let the bleak and cold weather in Nurburgring hamper their tremendous spirit over the weekend, as they soldier on to compete in Round 8 of the World Series by Renault Formula 3.5 faced with the challenge posed by the technicalities of the historical circuit which has seen many F1 races triumphantly held over the years.
The weekend begun with the Qualifying sessions, which saw the team's Malaysian driver, Fairuz Fauzy blazing the track in Group A, taking the top spot with a lap of 1' 45" 598, battling it out head to head with championship leader, Bertrand Baguette from International Draco Racing and regular contender Comtec Racing's Jon Lancaster. Both Fairuz and his teammate, Sten Pentus, showed their best performance and qualified for the SuperPole line up.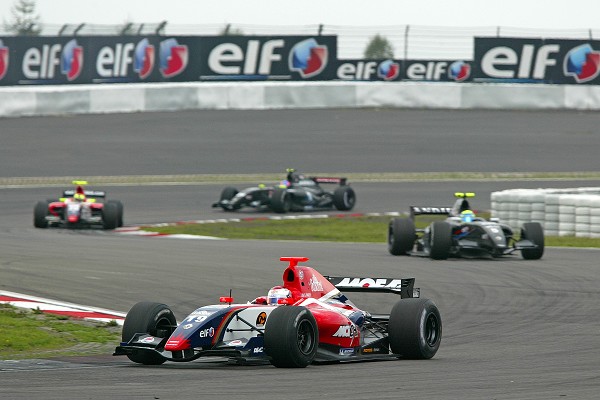 The Superpole session saw Fairuz giving Charles Pic, Brendon Hartley and Oliver Turvey a run for their money, but luck sided with Hartley who claimed his first pole position in the championship.
Race 1 saw Fairuz Fauzy using his radical skills to pressure the other drivers in front of him whilst maintaining his tyres to last the whole session consistently. Starting from 5th position based on the reverse-grid procedure, Fairuz strategised by sticking close to the pole leaders bumper to bumper for the first 5 laps without making any sudden moves.
However, by lap 9, Fairuz cunningly overtook Jaime Alguersuari, who is also currently driving for the Formula 1 Team Toro Rosso, and in turn, took the opportunity to sprint pass Oliver Turvey, while putting more pressure on Daniil Move and Jon Lancaster in front of him.
On lap 17, Fairuz drove brilliantly and snatched 3rd position from Daniil Move. After putting in much effort, Fairuz ended the race in 2nd position. Fairuz was quoted as saying that though the month and a-half break the drivers had after Portimao certainly made most of them rusty in many ways, he managed to make a good comeback after being forced down to 9th position at one point.
Sunday saw all the drivers raring to go and all revved up to undertake the gruelling task ahead of them, with 44 minutes plus 1 lap of adrenaline-filled racing waiting. Fairuz was the first to enter the pit for his mandatory stop, taking advantage of fresh tyres earlier on in the race to better manage tyre longevity and performance as a defensive strategy undertaken by the MOFAZFortec Motorsport Team.
Lap after lap of battling it out and bearing constant pressure on other contenders paid off for Fairuz, when in the last laps he secured 3rd position and held on to it fiercely to end with a double podium finish for the weekend.
When interviewed, Fairuz was quoted as saying,"Alhamdulillah, I am thankful for the blessings that the team and I have received on this glorious day of Aidilfitri. I must say that having such a strong support network, especially with AirAsia coming on board as our official airline, has helped boost the overall confidence and motivation for every member of the team".
It was definitely a rewarding week for the MOFAZFortec Motorsport Team, who rallied through a successful campaign through the 3 gruelling days, and indeed a challenging week as well for Fairuz Fauzy, what with all the rampant rumours spreading around on the internet promulgating his candidacy for Formula 1 for the 2010 season, and giving his all to achieve another global victory for Malaysia.
Team MOFAZFortec Motorsport will be back in action on the 23rd – 25th of October 2009, when they battle it out to secure the top 3 positions within the World Series by Renault 2009 Finals at Motorland Aragon, Spain.
With the great performance in Nurburgring, MOFAZFortec is now 5th in the overall team championship, and Fairuz Fauzy has also claimed 5th overall in the drivers' championship.
On the sites, you may also browse through screening times of live and recorded World Series 2009 race meetings made available to you through Eurosport on Astro Channel 814.