Please be careful". That was good enough advise for me and I made a dash for their baby as soon as I was handed the keys. We made way towards the east-coast highway and Bukit Tinggi and were joined by the R3's lesser sibling, the standard Proton Satria Neo. The first impression of the car is that it looks good, no credit to Proton here but to R3, the colour and the bodykit fits perfectly with the entire aura of the car, it looks purposeful and almost looks as if it is aerodynamically inclined to create downforce but don't get too excited. Our car rode on 17″ Enkei wheels wrapped in Bridgestone Adrenalin but expect the actual car to ride on Advanti's with the same rubbers.
The ambiance of the cockpit is completely different than that of a standard Neo, its racing character lands it some pretty useful swaps. The red on black Recaro SR4 are supportive and comfortable but not somewhere I would want to be if I had a long distance journey to cover. An aching waist and thigh were the result of sitting in the Recaro's for a prolonged period of time but that could be due to my build size.
The MOMO Tuner steering wheel feels just right and though the steering wheel spacer adds to the racer feel it can be quite annoying for normal street driving because it creates too much of a gap between your grip on the steering wheel and the switches placed right behind it. Imagine this, you need to make a left turn, you have to take your hands off the steering wheel to be able to signal, a heavy down pour and you need to do so again just to turn on the wipers and the lights. Unless you have really long fingers E.T. style, it proves to be really inconvenient during high speed lane switches but I guess thats the price you have to pay to have that racer feel.
The interior is further highlighted by the presence of an aluminium R3 gear knob and R3 floor mat set and get this, a bluetooth dongle for your I-Pod, sweet. One thing I must say though, with all those interior upgrades, I'm fairly surprised that the original slippery rubber pedals were carried over instead of having grippier aluminium ones fitted. Strange considering this is a car tuned by racing enthusiasts.
The Campro engine that powers the R3 is no stranger to Malaysian critiques, since its introduction it has been the subject of complains and dissatisfaction. The Campro for the Neo R3 has been tuned to counter such criticisms though how well it does its job is equally dissatisfying for a car that looks this good, it should have some extra power to go along with it. The figures for the 1600cc Campro engine stand at 100kw (135bhp) at 6100 rpm with a max torque of 164Nm at 4200rpm, this is made available by contracting a freer flowing but JPJ compliant exhaust system and an altered mapping system. The R3 felt happy staying at revs beyond 4,600 though engine vibration becomes very apparent after 5,800rpm it was still sniffing for more throttle input but stray below the sweet spot and you will need a lot of patience for it to pick up pace again.
We clocked a 0-100 time of below 10 seconds and a top speed of 193km/h which took a long time to reach, so long that we had to beg it to keep going. Just for comparison, the regular manual 1.6 Satria Neo produces an equally meager 82kw (110hp) @ 6000rpm and 148Nm of torque at 4,000rpm from its multi point fuel injected engine. The R3 engine bay also features an R3 Alloy Campro Cam Valley Cover, an R3 Campro Allow Oil Cap, and a R3 Brake Master Cylinder Cap.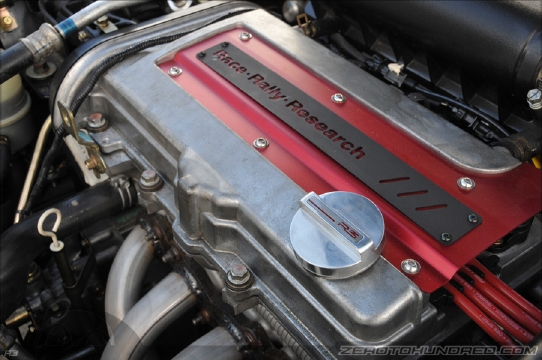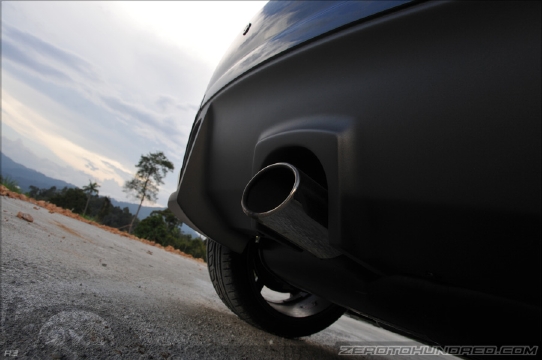 So the engine doesn't complement the car but the handling is a completely different story. This is a fun car to drive, in fact you have to change your driving style to suit it, otherwise it is quite punishing. Through the twisties it was engaging, turn it too hard and it understeers, turn it smoothly but too fast, it oversteers, lift off the throttle and you spin out, trust me, this car will not forgive you if it catches you day dreaming while driving.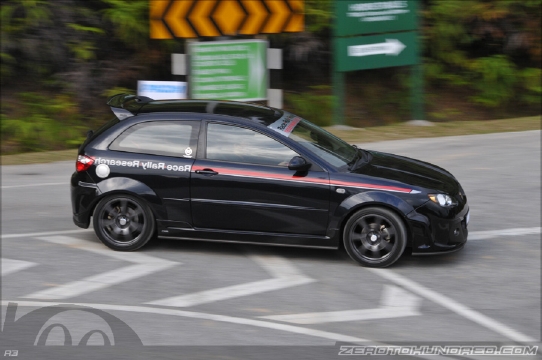 Riding on 17″ wheels wrapped with Bridgestone Potenza RE001 205/40R tyres proved to be a good choice, although the tyres on our test car were not in their prime, they still managed to supply a good level of grip and it was only when pushed hard did they break loose. The 17″ wheels provide useful information about the road which is channeled to you through the steering wheel. In return, your steering input is precise and lag free, it's not exactly a BMW but its good enough. I cant really comment on the brakes because our test car had the standard brakes fitted which were sufficient but experienced fade after a while but the production version will feature slotted discs with R3 Mintex pads that should fix the problem.
Body roll was evident through tight corners but was manageable, you just have to manipulate the roll just right so as not to have the car slip under you. The R3 Performance spring set with lowered ride height and a revised geometry do their job well to keep the car composed but during constant high speeds it was quite intimidating. Not only did the side mirrors and wipers threaten to fly off there was so much vibration inside the cabin that it felt like a massage chair but massages are supposed to be good, this was totally scary.
The ride felt un-composed at speed but it was not wobbly, it still felt alert but rather unassuring, not something you would want to feel during speeds in excess of 160km/h, it was not planted at all, oh and there are no airbags to save you. The gear shifts are great from click to click, its slightly aft of a short throw but enough to keep the revs from dropping. Rev matching is difficult because of the pedal positioning but after some getting used to it was just fine, remember, you have to suit the car, the car refuses to suit you.
So why would you want the R3 Neo over the standard Neo? Well, besides from the obvious visual advantages the Neo R3 has, I seriously can't find a reason why I would want the lesser standard Neo. The R3 generates an addictive wheezing sound from the air intakes where else the standard one is boring and quiet. The standard Neo handles quite well and has a great seating position but the R3 is far more superior in that aspect, it is faster too, both in a straight line and through bends though only by a shade, the R3 is the more engaging and fun car to drive while the standard Neo is just that, a standard car. I figured that the only reason why I would not want the R3 if I had to choose between the two is if I did not know how to drive a manual, that's it.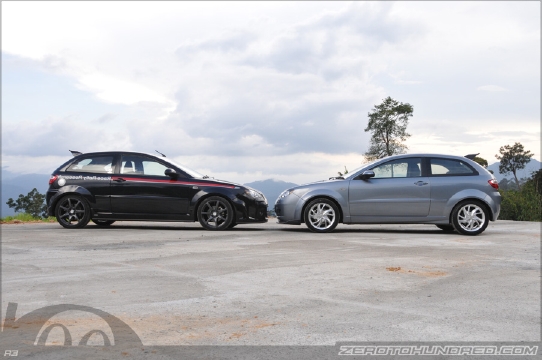 The R3 Neo is a great car for a person who is just getting acquainted with the Motorsports industry and does not intend to leave the car stock. With so many tuning capabilities and products on offer from R3 itself, the R3 Neo could be just the right car for all us after it is tuned right. With about 200hp at 7,000rpm and 220Nm of torque this will be the car every motorhead should have and would want to have, how are they going to achieve that? Well, thats why I'm a writer and not an engineer but I have no doubt about the capabilities of the guys at R3, word is, they are already working on a turbo kit for the R3 Neo but the sad news is, like its predecessor, only limited units of the Satria Neo R3 will be built, the first 10 have already been bought and the second batch of 10 units are already spoken for. But you could always take in your standard Neo and convert it, that's an idea, you could customize it however you want, maybe even throw in a GSR engine, just make sure you have the guys tune the handling to suit the new engine.
So, conclusion is, the R3 is a great entry-level car, suited for those who love driving and love tuning, only if you can get your hands on one that is.
Images by Tom, Angeline, & Lamb
Special thanks to Sharun for trusting us with his Satria Neo