Aug 3, 2009
1,819
48
1,648
Salam and hello.
I am putting up for sale my 2000 CL1 Honda Accord Euro R.
RM82k gets it. I am negotiable by a couple thousand.
With that eighty-two thousand five hundred ringgit, you shall receive:
1 (one) Honda Accord Euro R (imported 2009) car with 1 (one) VERY healthy 220PS H22a with a helical LSD 5 speed transmission. Has done 150000km. A VERY clean interior with comfortable yet very sporty Recaro seats.
VERY healthy as in serviced every 15000km with ENEOS FULLY Synthetic motor oil. The Cusco LSD oil still has 20000km to go. Timing belt another 15000 km as well. Good fuel consumption. WILL RUN HAPPILY on RON95. On average, I'm getting around 600km for every RM100 of RON95, driven in normal conditions, with the sporadic VTEC crossover a few times a day. Highway cruising will use up around RM50 for a normal trip JB-KL @ 120km/h
Driven fast, never abused. Taken to the drag strip a few times. Feels like a champion.
It is riding on Mugen Showa 5-step suspension.
M7 twin exhausts.
She comes with a Torneo rear conversion kit. the factory Accord trunk lid, lights and bumpers are included in the deal. I will also throw in an extra Torneo bootlid for good measure.
Car is available for viewing within the district of Johor Bahru.
Car will be sent for repaint once deal has been finalised. You can request it to be painted a different colour, but I'm limiting the paint to RM3k only. which will be included in the purchase price.
So DO NOT miss this once in a lifetime chance to own one of Honda's most glorious engineering products.
Calls only. 017-7160165. Bien. I'm not sure about the loan, but I shall provide with details and documents of the car for that purpose (title, AP, customs form, Japanese docs)
ps: ownership transfer can only be done AFTER 11th June 2011. This is because the car is bounded by the two year limitation imposed on student APs.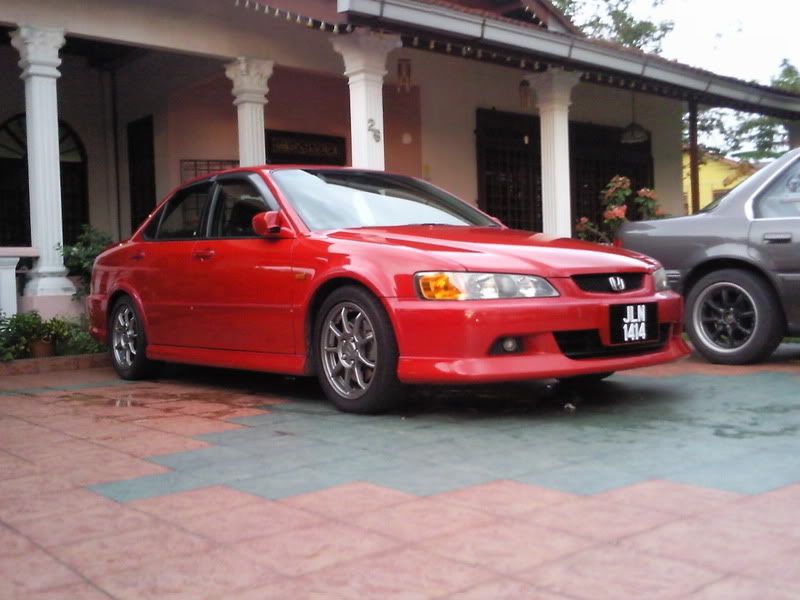 Last edited: