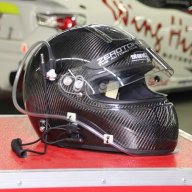 Jul 6, 2000
5,487
3,192
5,213
WapCar Interview: "Why is Zerotohundred racing in a Toyota Vios?"
WapCar, Malaysia's newest car buying website met up with yours truly to understand better, the thrill and spills competing in the Toyota Gazoo Racing Festival with a Vios racecar:
"Zerotohundred.com is an automotive enthusiast site most popularly known for its automotive forum in the early days of the internet. Look up ZTH on Instagram and YouTube, you'll be treated with adrenaline-pumping content from the all-new Toyota GR Supra to Ferraris. However, this weekend (9 – 10 November 2019), founder of ZTH, Tom Goh will be behind the wheel of a Toyota Vios for the Season 3 Toyota Gazoo Racing Festival Toyota Vios one-make series.
We caught up with Tom to find out why are big names like himself, Prince of Drift, Tengku Djan Ley, Boy Wong, Mark Darwin and many more are actively racing in Vios' and why TGR Vios Challenge matters for the development and progress of motorsports in the country"
Full Article:
https://www.wapcar.my/news/Video-Why-is-Zerotohundred-racing-in-a-Toyota-Vios-792
Continue reading the Post.